What is Maintenance Management Software?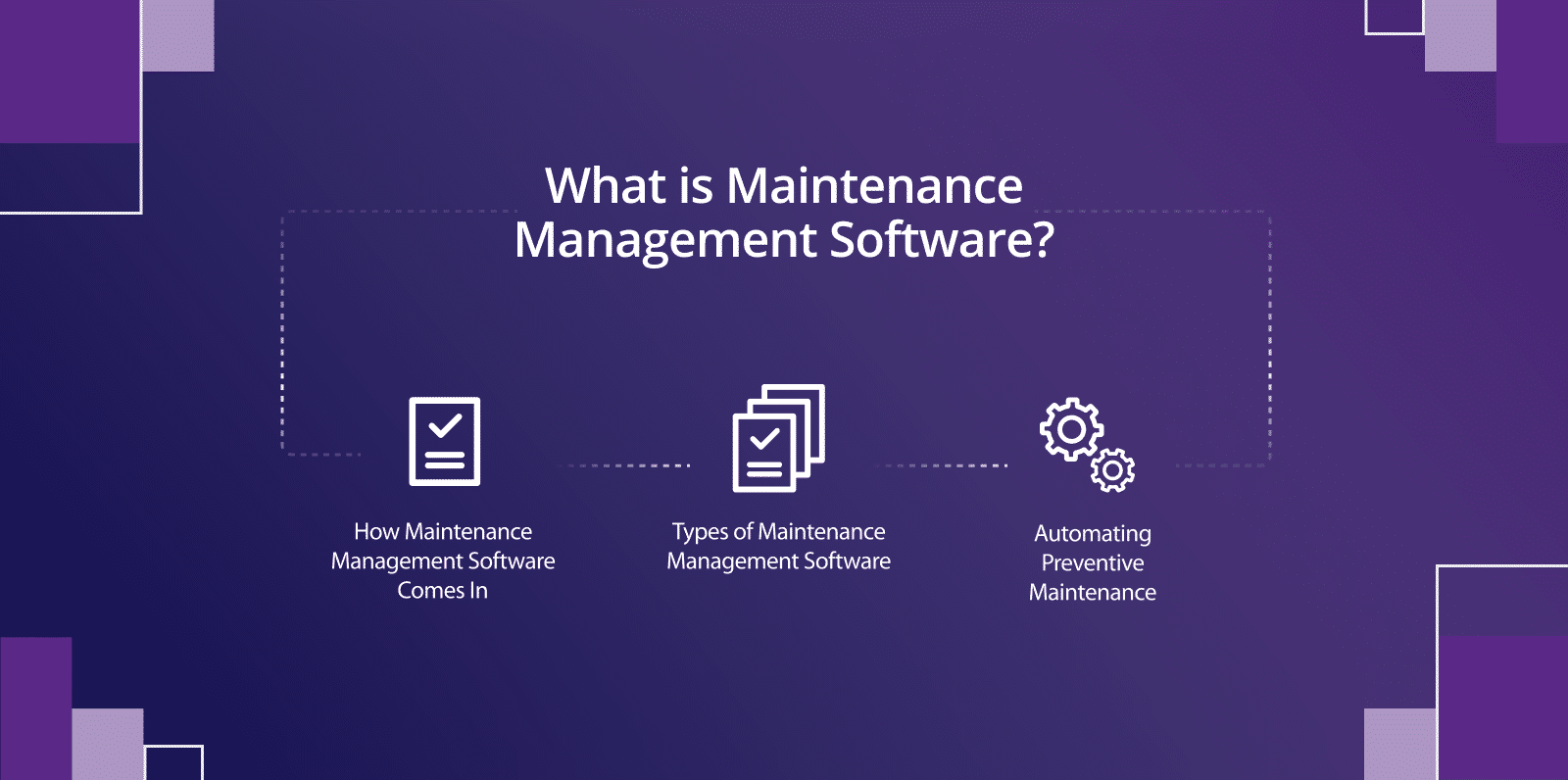 Explore how maintenance management software centralizes information, streamlines processes, and optimizes asset management. Learn the different types and discover how each can reduce downtime, ensure safety, control costs, and boost operational efficiency across your organization.
What is Maintenance Management Software?
Maintenance management software allows facilities management teams to organize, plan, track, and analyze maintenance work regularly done in their facility. It centralizes the maintenance information to optimize all maintenance management.
The overall goal is to optimize your organization's asset management, streamlining processes to reduce time, resources, and costs while increasing productivity and operational efficiency.
There are different types of maintenance management software. Each varies in function and complexity, but the overall goals remain the same: reduce downtime, maintain safety and compliance, control costs, manage people and processes, organize information, and coordinate preventive maintenance. For this reason, it's important for facility maintenance managers to understand the benefits of maintenance management software and which types will help their organization.
What is Maintenance Management?
Maintenance management is simply defined as maintaining the resources and assets of a business facility. The main objective is to ensure the optimal functionality, reliability and longevity of your organization's assets.
A maintenance management program introduces regular monitoring of machines, facilities, equipment, and tools. The aim is to stop or reduce downtimes caused by faulty equipment and equipment failures, and waste of resources caused by inefficient maintenance processes.
Facilities managers are usually in charge of all maintenance processes. That means it's their job to work with maintenance teams to establish regular protocols for maintenance requests, schedule preventive maintenance tasks, and keep clear records of maintenance history.
Why is Maintenance Management Important?
Facilities management teams need effective maintenance management to keep production and operations running smoothly. It also reduces the chances of unplanned downtime while improving the reliability of assets and equipment. Research shows that a company can incur up to 10 times the cost of a regular maintenance program by running a piece of equipment up to its point of failure.
With sound maintenance management, assets, and equipment operate at optimized levels. Without it, your company risks profit losses due to breakdowns, safety issues, high emergency maintenance costs, and low efficiency.
How Can Maintenance Management Software Help?
Maintenance management software can help you more easily organize, plan, track, and analyze maintenance jobs. It makes the maintenance management program more visible, connected, and efficient to the rest of the organization, because all information is easily accessible across departments and functions within your company. This increased visibility promotes transparency and strengthens team communication to ensure tasks are not missed or unnecessarily repeated.
The key features of maintenance management software include:
Asset management: keeps track of the assets needed. It can correct repairs, track scheduled repairs, and create benchmarks in real time. It also automatically records and updates maintenance metrics on any asset as the changes happen.
Work order management: provides detailed information on each work order to help managers set priorities, generate work orders, track customer requests, issue work to the team, and look at the costs of each job.
Preventive maintenance: helps facilities maintenance managers become proactive in scheduling their tasks. Preventive maintenance management provides stability in assets, minimizes downtime by providing data history and the inspection of assets, and saves assets and equipment from failure.
Inventory management: manages inventory to make sure everything is available for upcoming maintenance activities. This software also ensures there are no duplicate parts.
Reporting and Analytics: extracts data to generate custom reports and graphs. This helps management make informed decisions.
Types of Maintenance Management Software
There are different types of software that help in facilities management. Organizations are utilizing more technology as a solution to traditional methods of maintenance management. This software has a direct impact on different roles that all have a connection to internal maintenance processes.
These are the four main types of maintenance management software:
1. Computerized Maintenance Management System (CMMS)
CMMS maintenance software manages the operational maintenance of an asset's lifespan. Companies use CMMS software for scheduling, automation, management of inventory, keeping detailed records, and more.
2. Enterprise Asset Management (EAM)
EAM software provides a view of all assets throughout their entire lifecycle. This includes the asset's design, construction, operation, maintenance, and replacement. Having these insights gives you a significantly clearer picture of asset health.
3. Asset Performance Management (APM)
APM brings different software tools together to improve the reliability and availability of assets. It also consolidates data from all of these software tools to make it easier for a manager to find all in one place. This is also used to monitor potential problems and overall equipment effectiveness in real-time.
4. Facilities Management (FM) Software
FM software lets organizations integrate their work order management software with their maintenance systems on a single web-based dashboard.
The Top 6 Benefits of Maintenance Management Software
1. Reduce downtime
Maintenance software ensures equipment availability, reduces waste and rework, boosts production, and extends asset life.
2. Maintain a safe and compliant workplace
You can track and manage incidents, permit documents, audit documents, plus establish SOPs for health and safety using management software.
3. Control costs
Maintenance management software allows you to reduce labor expenses, track and manage warranty costs, and purchase fewer parts and spares by being on top of your asset maintenance regime.
4. Enhance people and process management
You can organize documents and assets, perform work order management, schedule maintenance and labor, get more insight into vendor relationships, and spend less time on administrative tasks.
5. Organize information
Maintenance management software allows you to customize and automate reporting, track maintenance metrics and KPIs, and build detailed asset histories.
6. Coordinate preventive maintenance
You can create triggers for maintenance, use condition monitoring sensors, and standardize preventive maintenance tasks easily using maintenance management software.
Who Uses Maintenance Management Software?
As this previous section showed, maintenance management software has a lot of benefits. However, you can only reap these benefits by using it in the best way for your business needs. This will vary depending on your unique organization. Yet, there are some general ways that people from various roles and industries use the tool.
How to Use Maintenance Management Software Based on Roles
Maintenance management software serves, supports, and informs various roles within an organization, enhancing efficiency and informed decision-making. Here's how different roles in your company can leverage maintenance management software:
Maintenance Managers
Maintenance managers use this software to schedule maintenance, create task lists, assign work orders, and have all the necessary resources in one accessible place.
Technicians
Technicians can receive, view, and mark work orders complete. It also allows them to make detailed notes on the condition of each asset. Inventory management software also provides them with information on what parts are available or if they need them ordered.
Equipment Operators
Operators can submit work requests and document any breakdowns. This makes it easy to view any scheduled tasks and complete them.
Inventory Managers
Inventory management teams can set minimum quantities for parts to ensure they aren't overstocked. In some companies, there are certain parts that are standard and always used. With this software, tracking those parts can be automated. When analysis and reviews are necessary, the manager can run reports on inventory and associated costs.
Executives
Executives can use this software to access reports on production to see how things are going, costs to determine where inefficiencies are, and other searchable data to help make informed decisions.
How to Use Maintenance Management Software Based on Industry
Maintenance management software is a cornerstone in optimizing maintenance processes across industries. It improves asset reliability because maintenance management software ensures smooth operations, reduced downtime, and greater efficiency. This leads to cost effectiveness and enhanced customer experiences across various industries.
Healthcare
All forms of healthcare, whether medical, dental, or veterinary, greatly benefit from maintenance management software, because precision and care are paramount.
Temperature control: Ensure drugs and sensitive medical equipment are stored at optimal temperatures, preventing any compromises in quality.
Proactive maintenance: Predict and monitor potential issues with medical devices, minimizing equipment downtime and safeguarding patient care.
Education
Educational institutions can streamline maintenance processes and enhance efficiency of their educational programs with maintenance management software.
Easily request submission: Teachers and staff can submit maintenance requests so they can get instant access to the assistance they need.
Reduced disruptions: Scheduled maintenance can be planned efficiently, reducing classroom disruptions and enabling staff to better organize their activities accordingly.
Spa or Fitness
Maintaining a hygienic and functional spa or fitness facility is crucial for customer satisfaction.
Asset tracking: Keep track of spare parts and the entire maintenance management process, ensuring timely upkeep.
Reactive maintenance: Address issues promptly to uphold client satisfaction and safety, in addition to prioritizing preventive maintenance.
Hospitality
In the ever-changing hospitality industry, maintenance management software helps your maintenance teams quickly attend to problems and verify that they have completed all required maintenance tasks.
Quick response: Maintain clean and well-repaired guest rooms by enabling swift responses to maintenance needs.
Preventive maintenance: schedule preventive m
Maintenance between guest visits, regardless of the room's condition, upon departure.
Restaurants
High equipment maintenance standards in restaurants are essential for safety, efficiency and customer satisfaction.
Asset management: Use software for asset tracking, preventive maintenance scheduling, and food safety compliance management.
Cost savings: Efficient maintenance reduces utility bills, enhances sustainability and ensures your refrigeration units meet all requirements with asset management software.
Financial Services
Better asset management and performance means higher productivity in the financial sector. Unexpected mechanical downtime can also impact customer trust.
Productivity enhancement: Prevent unplanned downtime with regular maintenance checks for various equipment and systems in the building.
Issue reporting: Employees can use the software to report issues or malfunctions. The software can then prioritize these issues and assign them to the appropriate maintenance professionals, ensuring uninterrupted service.
Grocery
Maintaining fresh products and preventing stockouts are top priorities for your grocery store.
Mechanical issue resolution: Address mechanical issues to prevent food spoilage and maintain product quality.
Insights into shipments: Gain real time insights into incoming shipments and stock needs through fleet maintenance.
Retail
One of the biggest challenges of retail facility management is monitoring multiple locations. Using maintenance software to consolidate data into one centralized location makes this challenge much easier.
Centralized data: Consolidate data from multiple locations into a single system, simplifying national or global facility management.
Consistent programs: Ensure uniform asset maintenance programs across all locations, even for facilities that stay open 24-hours, such as convenience stores.
ServiceChannel—Your Maintenance Partner
No matter the software solution you choose, automating preventive maintenance is guaranteed to improve your organization's asset life, maintenance, and maintenance management. Although there are a lot of benefits to maintenance software, you may face some challenges if it's not implemented correctly.
Contact ServiceChannel to find out how you can bring this technology to your facility, all the benefits, none of the challenges. Not only can we provide the software you need, we'll also help you create viable processes and policies, train staff, and ensure every aspect and detail of your program is covered.