What is CMMS? (Definition, Meaning & How CMMS Works)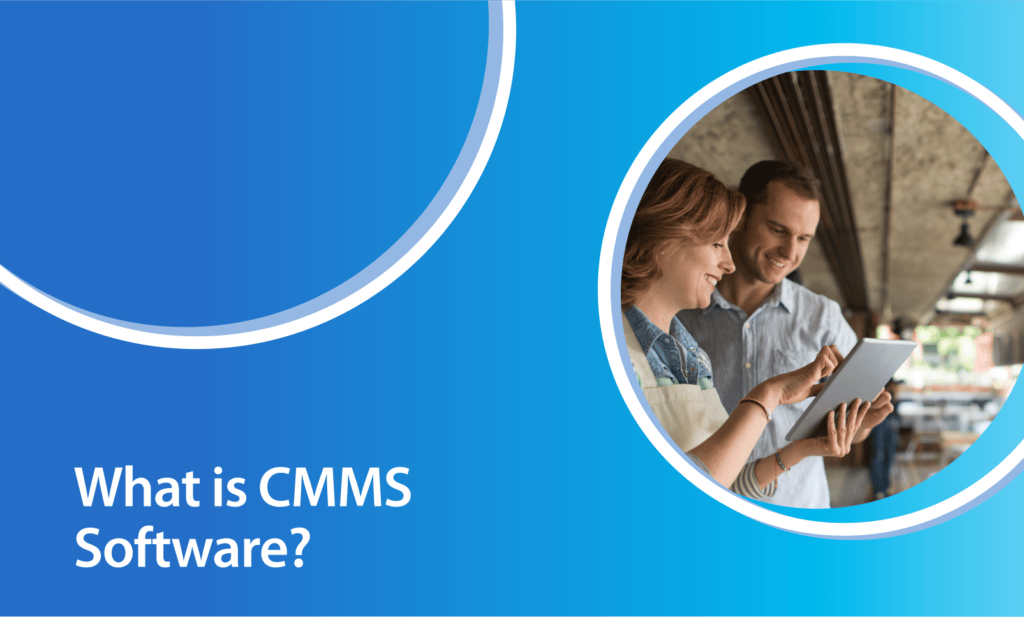 What is CMMS?
Before computers went mainstream, organizations had to rely on paper to keep up with maintenance records. However, things have accelerated rapidly to the point where they no longer require paper or scattershot spreadsheets for those requests. Instead, large and small enterprises use a more modern CMMS systems to create more efficient maintenance operations, typically as part of an overall enterprise asset management (EAM) strategy.

A CMMS is a software solution that allows companies to automate, manage, and streamline all maintenance operations. This software is often used on the web or through a mobile app.
What Does CMMS Mean?
CMMS stands for "Computerized Maintenance Management System." CMMS is a component of computer-aided facility management software, or CAFM. The primary differentiator between CAFM and CMMS systems is that while CAFM has a broader focus on facilities management, modern CMMS software is entirely focused on maintenance. CAFM and CMMS software are most effective for improving your operations when they're integrated. Together, they can revolutionize the way your organization manages maintenance tasks and provide a centralized platform to streamline your operations.

Here, we take a closer look at CMMS software to gain a better understanding of each component.
Computerized:
CMMS is a computer software program designed to track company assets. For example, any work orders for asset management get logged and tracked within the maintenance program itself. In addition, organizations rely on a CMMS to produce reports and keep up with any assets that may require preventative preventive maintenance tasks. That way, companies can extend the lifespan of assets while reducing costs and generating higher profits.
Maintenance:
The Maintenance portion of CMMS refers to one of the primary purposes for the software. It's designed to improve the way organizations manage assets maintain and repair the assets in their facilities. One of the biggest challenges for companies is making sure that their equipment is maintained and repaired to decrease downtime and improve operational efficiency. Additionally, CMMS maintenance software helps to ensure that your facility is making informed maintenance decisions such as not making unnecessary equipment purchases.
Management:
The management component is an essential part of a CMMS. It's what allows users to gain a 360-degree view into the current state of facility maintenance and allow facility managers to quickly take action on maintenance needs. For example, an organization can use the CMMS to set work order schedules, make inventory forecasts, and create reports that provide snapshots of the state of a company's whole asset health and management strategy.
System:
The system is what ties together the features housed within a CMMS platform. The capabilities provided by a CMMS vary depending on the system type. Ideally, an organization can find a CMMS provider that integrates easily with its current maintenance practices.
On-Premise vs. Cloud-Based CMMS
A CMMS can run on software that's cloud-based or on-premise. On-premise CMMS software—and all of the data in the system—lives on the company's local server and is accessed via any PC connected to the local network. On-premise software involves a more complex installation and configuration than cloud-based, and it costs more up front.
Cloud-based CMMS software hosts all of the maintenance data in a central off-site database. Anyone with a compatible device and the right permissions can access and modify the data. A cloud-based CMMS is easy to set up and implement, has lower startup costs since you don't need to set up an internal infrastructure, and makes it easy to scale based on your needs. Cloud-based CMMS continuously backs up your data for quick and easy recovery after a disaster—and it can be accessed via a mobile app so your maintenance manager or team can log in from anywhere to view performance data in real time and create or manage work orders.
What does a CMMS system do?
Imagine having a comprehensive system that centralizes maintenance data, automates processes, and provides real-time information at your fingertips. That's precisely what CMMS offers – a digital hub that empowers organizations to make informed decisions and streamline their maintenance operations.
A CMMS software holds all maintenance information such as preventive maintenance schedules, work orders, logs, asset management, work histories, vendors, part inventories, maintenance reports, and purchase orders. At the core, CMMS software operates as an app that can be run on the web, desktop, or mobile.
The core capabilities of a CMMS include:
Preventive Maintenance Scheduling
One of the most valuable features of a CMMS is its ability to schedule and track routine maintenance tasks, depending on specific triggers, time periods, or asset usage. By implementing preventive maintenance plans, organizations can minimize downtime, extend the lifespan of assets, and reduce the likelihood of unexpected breakdowns. The preventative maintenance features also make it possible to organize and connect assets to multiple work orders within the platform. CMMS enables managers to review and prioritize work orders, receive alerts when they receive a new work order, and receive updates upon completion of scheduled preventive maintenance work orders.
Work order tracking
At the heart of any CMMS lies the ability to create, assign, prioritize, and track work orders for both preventive and reactive maintenance tasks. The work order management functions of a CMMS form the platform's core and helps your business streamline and improve current processes. Users can efficiently manage and prioritize maintenance activities, ensuring that critical tasks are addressed promptly. CMMS software also contains manuals and work histories, and it includes a chat platform to facilitate communication among facility managers and maintenance teams. 
Asset Management
Keeping a comprehensive record of all equipment and assets—whether they're machinery, equipment, or infrastructure—is crucial for effective asset management for businesses across various industries. The asset management capabilities of industry-leading CMMS solutions help you streamline and further improve asset management and the overall efficiency of operations. CMMS stores the essential information and maintains comprehensive records on all assets, including asset specifications, warranty details, performance and utilization data, downtime, maintenance history, and documentation. Easy access to this information facilitates informed decision-making regarding asset maintenance, repair, and replacement. It eliminates the need to keep up with multiple record-keeping systems for assets and helps your maintenance team ensure they're following industry compliance standards.
Material and inventory management
A CMMS provides a centralized repository for keeping up with inventory across different storage areas to help you avoid delays caused by stockouts and make better-informed purchasing decisions. It helps reduce equipment downtime and improve maintenance efficiency through a dedicated module for managing spare parts and supplies, ensuring that the necessary items are readily available when they're needed. Companies can use it to keep up with distributing, repairing, and reclaiming equipment as needed. In addition, organizations can manage their suppliers, track inventory costs, and automatically order new supplies through a CMMS.
Reporting and analysis
A CMMS offers advanced reporting for different asset maintenance data categories, like material usage, labor costs, asset history, and asset availability. Through automated data collection and analysis, organizations can identify trends, patterns, and potential issues with their assets to help establish proactive preventative measures for issues like keeping up with software updates and making needed safety repairs.
Facility managers can use the computerized maintenance management system software to run reports based on unique KPIs. They can track and analyze information such as the downtime percentage, percentage of preventive maintenance, asset uptime, work orders completed on time for work order management, the total cost of ownership, labor costs, and spare parts usage.
By analyzing this data, organizations can identify trends, pinpoint areas for improvement, and optimize their maintenance strategies. This proactive approach allows for timely maintenance interventions, prevents unexpected breakdowns, and minimizes downtime. By maximizing asset uptime, businesses can optimize their operations and deliver consistent results.
What are the Benefits of a CMMS?
When implemented correctly, CMMS software provides numerous benefits for companies in any industry. 
Enhanced Security
A cloud-based CMMS improves the security of facilities in a few ways. Because your organization's data is stored off-site in a centralized database, rather than on decentralized, internal servers, it offers a higher level of security—and a fast and easy route to disaster recovery. It also helps reduce the workload and threat impacts on your IT department. Having a centralized database housing all of your asset information reduces paperwork—and the risk of misplacing or overlooking important information that could cause problems down the line. Cloud-based CMMS includes an interface that shows different levels of data and information, depending on the device it's being accessed from and who is accessing it. 
Data-driven decisionmaking through streamlined reporting
The insights gained from the information housed within the CMMS database can lead to better decisions around assets. For example, companies can see exactly what equipment may need replacing or may require preventative maintenance. By using a CMMS, maintenance teams no longer have to rely on paper trails and spreadsheets to determine what may be happening with an asset, making it faster and easier to make the right decisions concerning equipment maintenance, repair, and replacement.
In addition to providing real-time data tracking maintenance tasks, a CMMS platform allows you to generate reports to monitor key performance indicators for different maintenance categories, including asset availability, performance metrics, repair and labor, maintenance costs used, response time, and overall equipment effectiveness. Together, these metrics provide a clear picture of your asset performance and help drive continuous improvement initiatives.
Better compliance with industry standards & regulations
Companies bound by specific industry equipment and maintenance standards and regulatory compliance can leave themselves better prepared for an audit by investing in a CMMS. Instead of frantically digging through reams of paperwork and electronic records spread out across the company, you can tap into your CMMS database to pull reports containing all necessary information, reducing the risk of penalties, lawsuits, and costly downtime associated with non-compliance compliance audits.
Easier transfer of knowledge
Too often, organizations rely on one person who understands everything that's happening with company assets. But if that person leaves, an organization ends up having to scramble to assemble all of that knowledge and impart it to the person taking over the role. A CMMS contains all of the information, organized in a variety of ways for various purposes. Passing knowledge along is seamless with a CMMS, and it ensures consistency during a transition of personnel.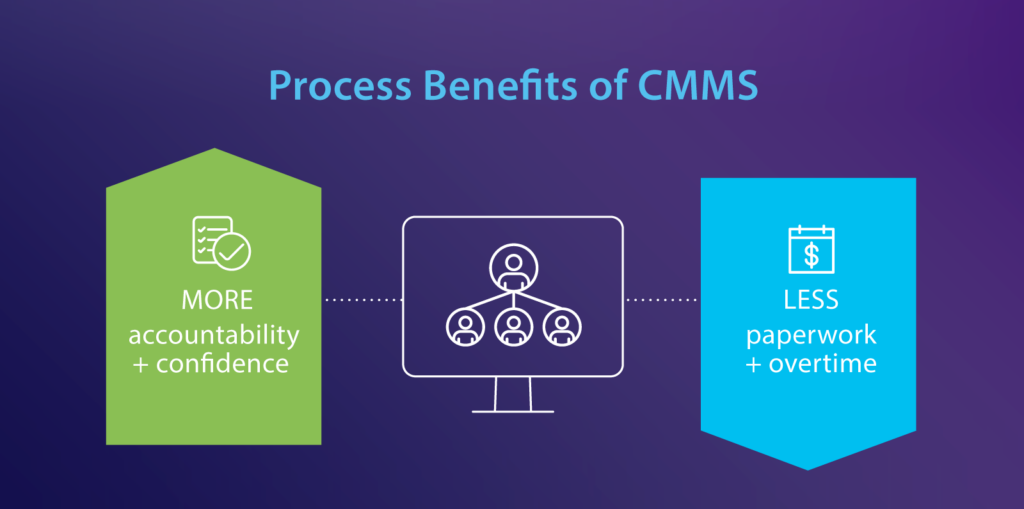 Reduced Downtime
Real-time data and automated workflows enable faster response times and minimize downtime. While it's nearly impossible to eliminate downtime in all instances, a CMMS platform makes it easier for companies to keep resources balanced and asset maintenance backlogs at a manageable level to help prevent unplanned downtime. A CMMS also makes it easier to conduct asset inspections and spot potential problems before they balloon into issues that impact productivity.
Lower Costs Across the Organization
One of the primary benefits of CMMS implementations is cost savings through effective preventive maintenance management that helps you improve energy efficiency, reduce maintenance costs minimize equipment breakdowns, avoid costly repairs and emergency purchases, and eliminate excess inventory. Through the automation of workflows and work orders and the comprehensive reporting capabilities of a CMMS, companies can create more accurate budgets and allocate resources more efficiently.
Additionally, a CMMS saves time and increases productivity by streamlining maintenance processes, automating repetitive tasks, and improving resource allocation, all of which reduce operational costs. For example, a CMMS drastically cuts down on the time maintenance teams spend tracking down assets on foot, and it improves speed and accuracy around repairs. It also allows By setting up predefined workflows and preventive and reactive maintenance triggers, you can virtually eliminate manual intervention and human error and ensure that maintenance tasks are carried out promptly.
How to Choose and Implement a CMMS
A CMMS is an investment in the present and future of your organization, so it's crucial to understand how to choose and implement the right CMMS. that best suits your needs so you can get the most out of its features. Here's how to narrow down the choices and find the ideal CMMS option for your business.
Identify your "big picture"
What problems are you trying to solve, and what are your ultimate goals for your organization with a CMMS in place? How much do you expect to grow in the near-term and the long-term? Choose software that can handle increasing amounts of data without reducing speed—A highly scalable system will reduce the need to upgrade your system, allowing you to plan and budget for the long-term.
Determine your budget
Keeping in mind your company's projected growth and the ultimate savings a CMMS will deliver to your organization.
Make a wish list
Based on your big-picture goals, decide what features are non-negotiable, and what features would be nice to have?
Shop around
Look at the features of various CMMS products, how they align with your ultimate goals, how much they cost, and what experiences customers have had with them.
Once you've chosen the right software, implementing a CMMS requires careful planning and execution. A high quality, cloud-based CMMS vendor like ServiceChannel will work with you every step of the way to get your CMMS up and running, which will involve migrating data to the CMMS platform and training your team to use it, including:
Setting up preventive maintenance schedules
Running and analyzing reports
Continuously monitoring and improving the maintenance process.
Getting the Most Out of Your CMMS
A CMMS is only as valuable as you make it—using it properly and taking advantage of all of the benefits it has to offer is the best way to fully reap the rewards.
Monitor Employee Use
After your team starts using your new CMMS, monitor how they use it for the first few months. If you see mistakes, like mis-categorizing or forgetting to include certain information, using specific features improperly, or not taking advantage of the features, correct them early on.
Provide ongoing training
Staying on top of new features and capabilities plays a vital role in successful CMMS implementation. Provide comprehensive, ongoing training to your maintenance team and other relevant employees to ensure they understand how to use the CMMS effectively.
Utilize the reporting and analytics features
A CMMS offers unmatched options for data tracking and reporting to help you discover gaps and failings in your preventive maintenance system. Invest time in learning and using the reporting capabilities in your CMMS. Then, regularly pull and analyze these reports to look for ways you can improve.
Rely on Your Provider Customer Service Team
It's easy to ignore features of CMMS that you don't understand or know how to use, but you'll be missing out on fantastic tools and won't be getting the most benefits out of your software. If your best CMMS software provider offers customer service availability, use it—reach out and ask for guidance about anything you don't fully understand. They'll be happy to help you master your CMMS.
Getting Started with CMMS Software
CMMS software is revolutionizing how facility management and maintenance are conducted in most organizations. CMMS offers immense benefits to businesses of all sizes and across various industries. From improved asset management to cost savings and increased productivity, adopting a CMMS can significantly enhance your organization's efficiency and competitiveness.
CMMS FAQs
What is the difference between EAM and CMMS?
Enterprise and asset lifecycle management (EAM) software is a facilities management software that gives companies a high-level, holistic view of everything happening with all of their physical assets throughout their entire asset life- cycle. While EAM software generally includes some features of a CMMS—like asset tracking and maintenance planning—it isn't as comprehensive and granular as a CMMS, and it doesn't provide the same level of data collection, reporting, and analysis that can help you streamline your entire maintenance operation and reduce operational costs.
What is the difference between ERP and CMMS?
Enterprise Resource Planning (ERP) software and CMMS software are both types of facilities management software, but they have key differences. ERP software manages all aspects of an organization's operations and is often connected to other modules—like finance, maintenance, and procurement—for cross-functional visibility and reporting. A CMMS, by contrast, is a software solution built specifically for managing and maintaining all of a company's physical assets. A CMMS is hyper-focused on the complex, minute details of equipment and facility maintenance, like work order management, asset tracking, preventive and predictive maintenance scheduling, and inventory control.
Which CMM software is best?
ServiceChannel's own computerized maintenance management software system offers an extensive list of features, and our user-friendly platform, strong customer support, and service provider marketplace provide you with everything you need to streamline your maintenance operations and improve your bottom line.