Facilities Manager's Guide to Successful CMMS Implementation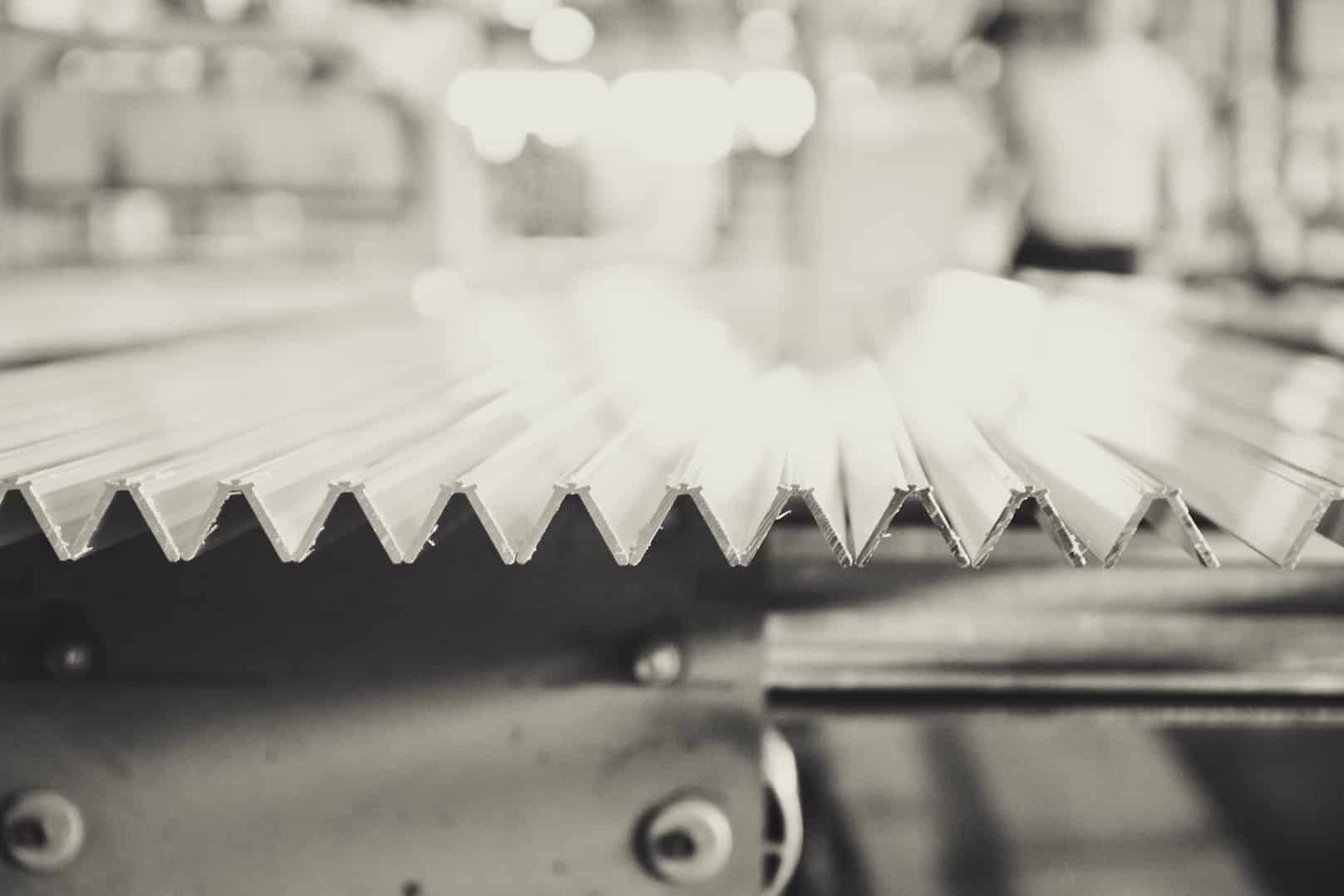 Implementing a computerized maintenance management system (CMMS) requires considerable time to plan and launch. Not only are you moving from one system to another, but you are also implementing a cultural change. However, you can achieve a successful CMMS implementation project plan with the right approach.
Here is a quick guide to ensuring the CMMS implementation process goes smoothly.
What is a Good CMMS Implementation?
An exemplary CMMS implementation requires that you understand why you are implementing the system in the first place. Organizations often choose a CMMS setup to help them achieve their cost-savings, downtime, or safety goals. Others do so to standardize their maintenance processes. 
Of course, you'll only achieve your goals if the right people use the system consistently. So, one measure of a successful implementation is user adoption. Another measure of success is whether the company has moved forward to become a more innovative culture.
Breaking Down the Phases of CMMS Implementation
A successful CMMS implementation begins when you realize you need a system and continues until after you've taken all the CMMS implementation steps. It takes place in four phases.
Research
Plan
Implement
Operate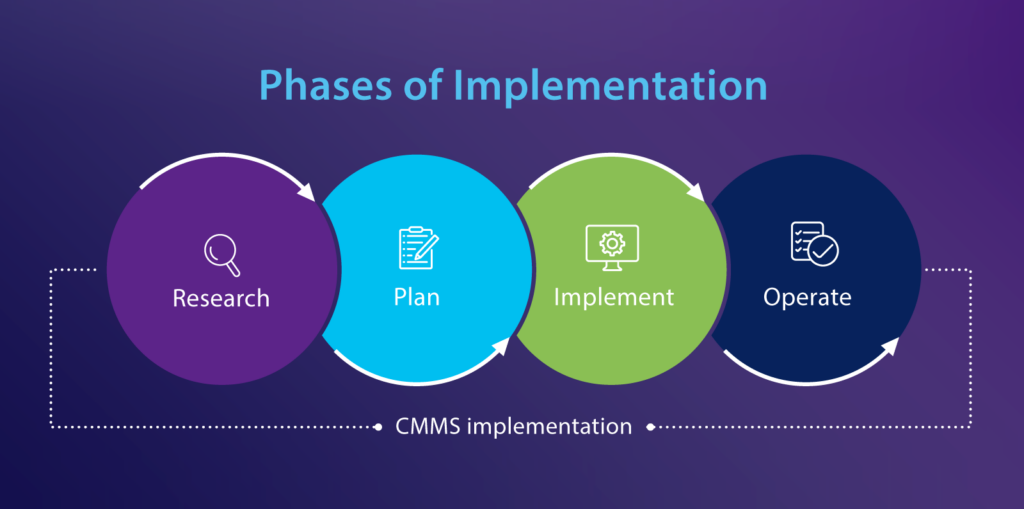 Research
During this phase, you study your current maintenance system to determine where the gaps exist. You also gain buy-in from management and appoint a task force that includes representatives of each department in the organization as well as IT staff.
Questions to Ask
The research phase is critical because you need to understand where your company currently is relative to benchmarks so that you can choose a system to help you bridge those gaps. Gaining buy-in throughout the company is critical so that all departments will support your implementation.
Key questions to ask are:
Where is my company on key KPI benchmarks relative to my competitors? KPIs might include Mean Time Between Failures, Overall Equipment Effectiveness, and Mean Time to Repair.
Which key stakeholders are most important to a successful implementation?
Plan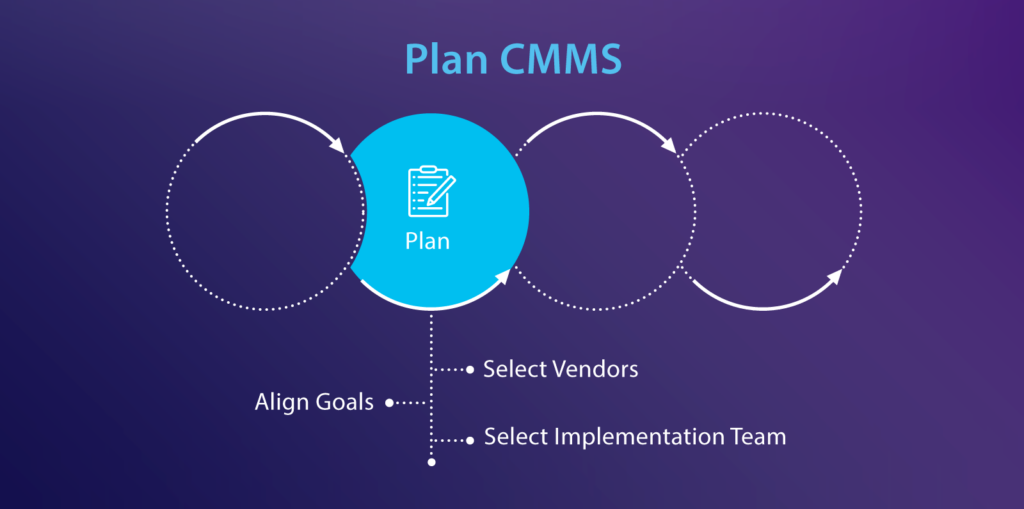 Once you've completed your research, CMMS best practices are to set the goals for your implementation, determine the scope of your project, and prioritize your needs. Then, you begin your search for vendors.
Selecting Your CMMS Vendor
Most vendors offer the opportunity for free demos. Watching these demos will allow you to see the CMMS software features and interfaces. The best vendors will provide options for preventive maintenance, asset management, and analytics tools. Rate each vendor and choose the one that best meets your needs.
When considering maintenance vendors, the ServiceChannel Marketplace can help you source, evaluate, and choose a CMMS vendor that meets your needs in one platform.
Aligning On Goals
The task force will examine the data from the research and prioritize your needs before you begin to look at vendors. You'll want software that aligns with those goals. Once you've chosen your vendor, you'll also work with them to create an implementation plan to ensure your goals are met with minimum disruption to your operations during the process. You and the vendor will also create a timeline for each project phase.
Select Your CMMS Implementation Team
A dedicated migration team will enable you to sift through data and clean it out before transferring it. Your CMMS vendor can advise you on who to include on the team, but, in general, you'll want representatives of any group that will work on the system. Without a dedicated implementation team to help clean the data, you may encounter some unwelcome surprises during the CMMS implementation process.
Implementation
The CMMS implementation phase includes data migration and training. Your vendor may help with the training of administrators and system users and the data migration.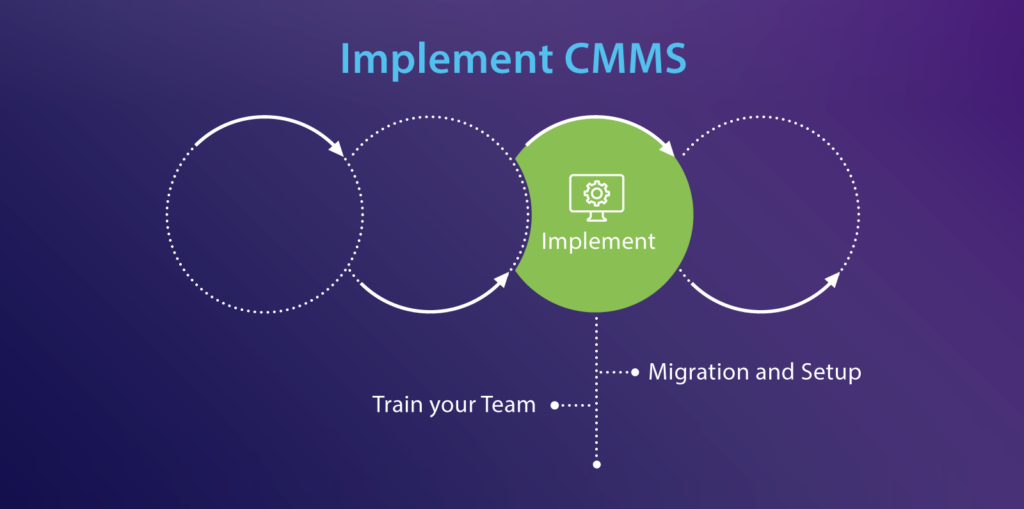 Migration and Setup
Data migration is crucial to ensuring your CMMS has clean, accurate data. You can migrate and set up data in one of two ways. The first is manually adding resources, buildings, inventory, equipment, and users. The second is to move the information from an Excel spreadsheet into the new CMMS software in batches. Your vendor can guide you to the best way to migrate data in your situation.
Training Your Team
Your vendor will generally provide training. Typically, they will train administrators first so that the administrators support and understand the process throughout implementation. Then the administrators will have a role in training their team. Before starting the CMMS implementation, the maintenance team will thoroughly study the comprehensive CMMS implementation guide to ensure a smooth and successful transition to the new system.
Operate
You've done your research, chosen a vendor, migrated your data, and trained your team. Now, you begin to use the system, continuing to improve the process as you go.
Begin Using
Everyone should use the new system and only the new system. While beginning to use the system seems an obvious next step, getting everyone to do so may take more work than you expect. Some people naturally resist change, and they may try to submit work orders just as they did before. Resist this by offering additional training, counseling, and information on why the CMMS is critical to your company's success.
Test and Adjust
Set a date a few weeks after the launch for your implementation team to meet, examine how the system is functioning, and whether your company is achieving the CMMS KPIs as expected. If you believe you could do better in achieving your goals, work with your vendor to make adjustments.
Why CMMS Implementations Fail
Unfortunately, many CMMS implementations fail. The three common CMMS implementation challenges are poor user engagement and CMMS training, lack of management support, and lack of clarity in goals and roles. Involving users and management at the very beginning of the process, listening to their comments, and putting their representatives on your implementation teams will gain the buy-in of users and managers. Taking the time to clarify your goals and to ensure everyone understands them can also make the difference between a successful or failed implementation.
Getting Started With CMMS
ServiceChannel can help you understand CMMS and make the decision to start a CMMS implementation. We provide top-rated facilities management software to help you achieve your maintenance KPIs, and we can help ensure a successful implementation. We serve leaders across various industries, including restaurants, grocery and convenience stores, retailers and luxury retailers, spas and fitness centers, financial services firms, and educational institutions.
ServiceChannel Managed can also help you source your maintenance providers through collaboration with our team so you can focus on your daily operations. Learn more about the ServiceChannel platform here and discover how ServiceChannel can support your entire facilities management ecosystem.
CMMS Implementation FAQs
How do you implement a CMMS?
To implement a CMMS, follow these steps:

1. Assess your maintenance costs and needs and define clear objectives for the system's implementation.

2. Select a suitable CMMS software that aligns with your requirements and budget.

3. Gather and organize all relevant maintenance data and assets to populate the CMMS.

4. Train employees on how to use the CMMS effectively and transition within your set timeframe from manual to digital maintenance processes.
What are the core components of CMMS?
The core components of a CMMS include work order management, asset management, preventive maintenance scheduling, and inventory management. These components help streamline maintenance operations and improve efficiency by centralizing data and automating processes.
What are some recommended best practices for utilizing a CMMS effectively?
To utilize a CMMS effectively, consider these best practices:

1. Ensure accurate and up-to-date data entry to maintain the reliability of asset information.

2. Implement a comprehensive training program for users to maximize the system's potential and begin with your administrators.

3. Regularly review and optimize preventive maintenance schedules based on equipment performance data.

4. Use the CMMS's reporting and analytics tools to make data-driven decisions for continuous improvement of maintenance management processes.