Breaking Down How CMMS Benefits Your Facilities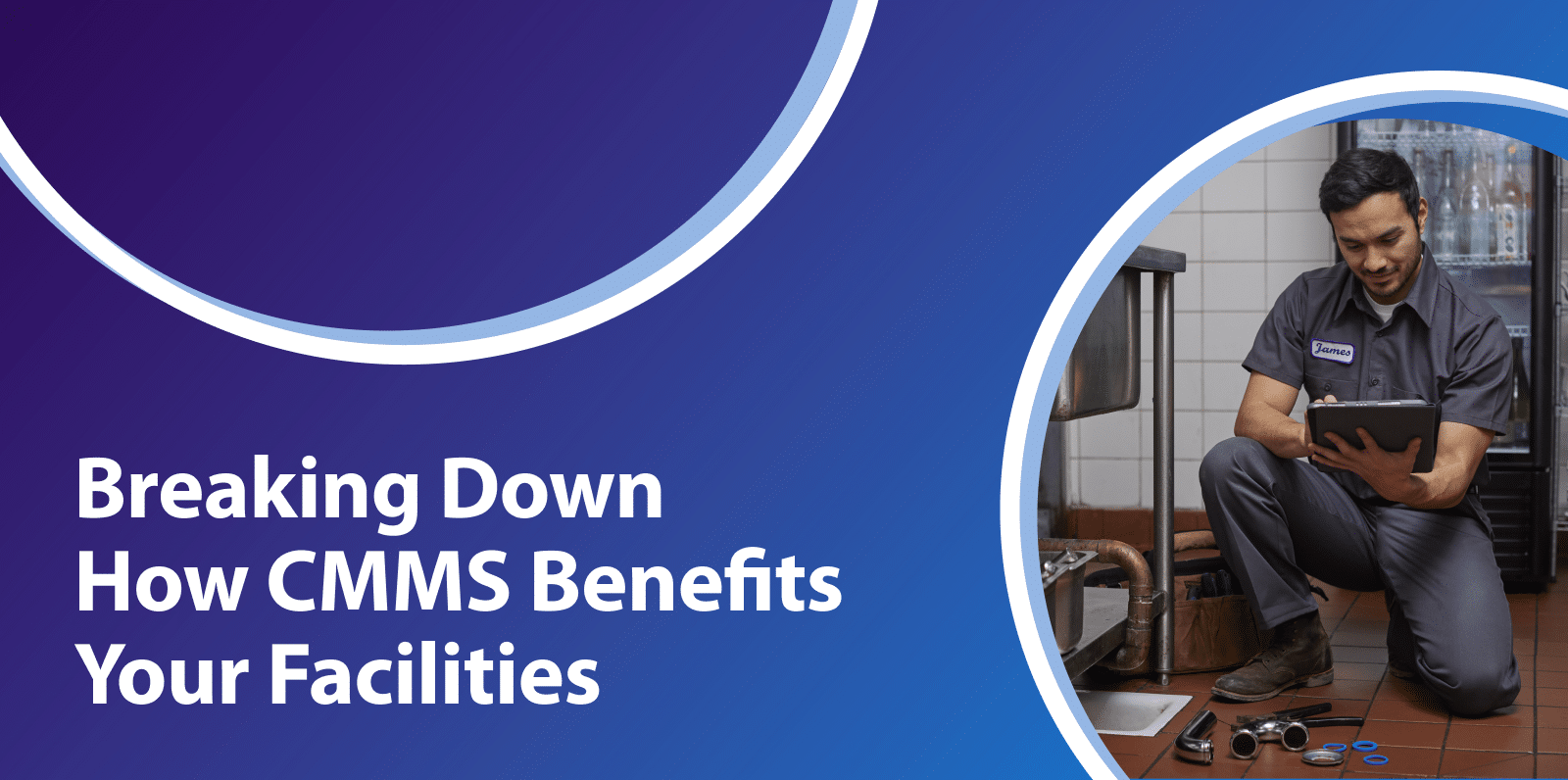 Using computerized maintenance management systems (CMMS) software can be one of the best decisions you make to centralize maintenance processes and information to keep things running smoothly.
What exactly is a CMMS in facilities management? A computerized maintenance management system that helps organize and manage assets, inventory, work orders, accident reports, tasks, and other maintenance activities all in one platform.
CMMS software is important because it is a central hub that houses everything from how-to videos and manuals to more detailed information on equipment.
Learn the different ways CMMS benefits your facility and how a CMMS can control unexpected costs and other financial benefits, better maintain your equipment and assets, and create automated processes for the whole team.
Financial Benefits of CMMS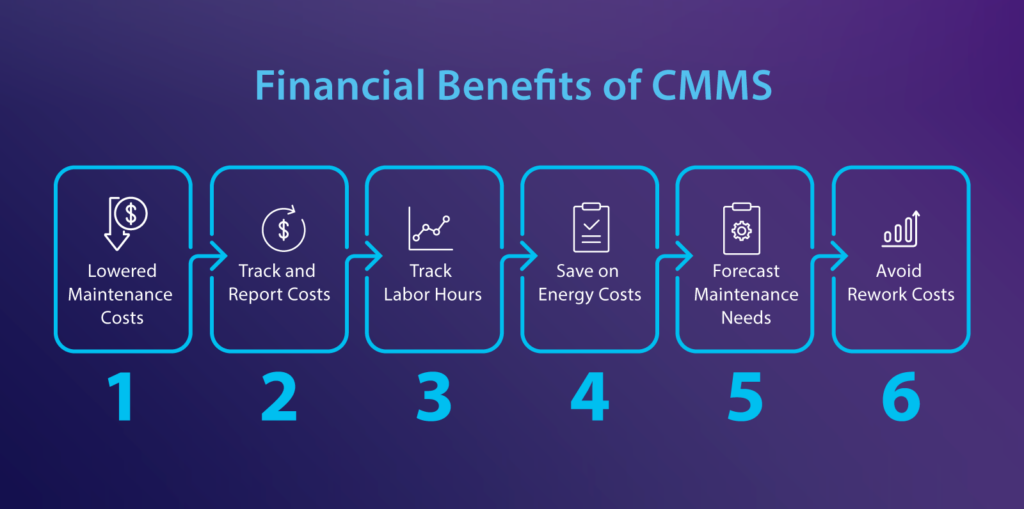 The system helps in controlling unexpected costs while adding the flexibility to forecast and make sound and proactive, rather than reactive, decisions. This makes it beneficial for industries outside of retail operations. Here are a few advantages of CMMS in regard to budgeting and other recognized savings across the board.
Lowered Maintenance Costs
The system helps in avoiding wear and tear from existing equipment and other assets. That means you won't have to replace them as frequently, and you won't have to worry about breakdowns.
Track and Report Maintenance Costs
Having one system where you can see everything, including work on the backlog, work in process, and work completed, makes it easy to see how much labor, parts, and other repair costs are adding up. This helps with forecasting and planning for future budgeting needs.
Track Labor Hours
Knowing how much time it takes to do a certain job due to the condition of the asset helps improve productivity, safety, and efficiency. This also helps standardize how things are done in the maintenance department to reduce risk.
Save on Energy Costs
When maintenance operations are on track, energy production is lessened. Properly maintaining assets to work more efficiently saves time, energy, and money.
Accurately Forecast Maintenance Needs
A CMMS stops bottlenecks and backlog, which helps save money. This also increases the lifespan of the assets. Schedules for preventive maintenance tasks, repairs, and inspections are automatically triggered to avoid missed deadlines and dates.
Avoid Rework Costs
Rework costs time, money, and energy. This can get expensive if it keeps occurring. The software helps the maintenance team plan and schedule preventive maintenance ahead of time to keep costs low.
Equipment & Asset Benefits of CMMS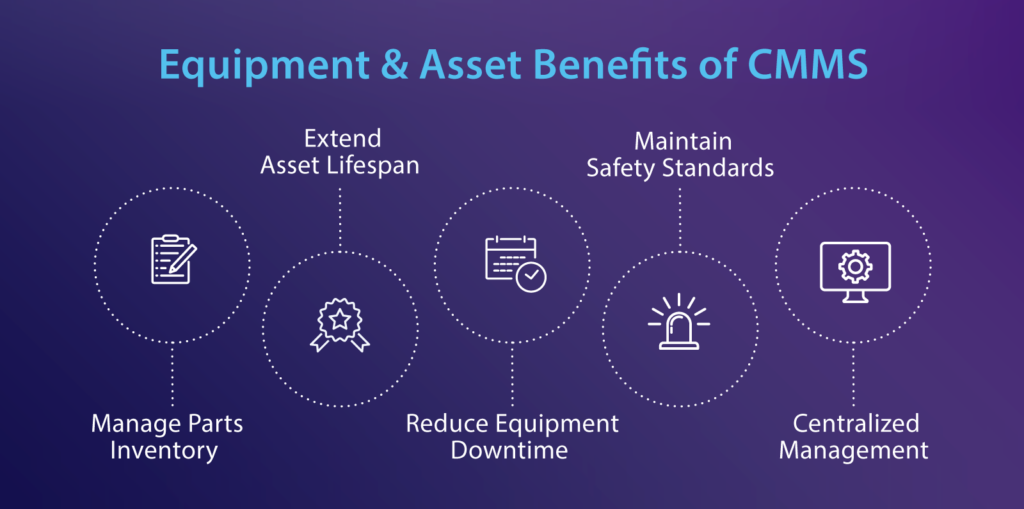 CMMS software benefits can alleviate any tracking and reporting issues associated with the equipment and assets. Maintenance decisions are made based on real-time metrics that help forecast and decrease maintenance and capital expenses.
Manage Parts Inventory
You'll no longer worry about whether you have the inventory you need to get a job done. This system automates processes that track and work with inventory management based on assets, work orders, storage capacities, inventory costs, and more.
Extend Your Equipment & Asset Lifespan
Routinely used equipment must be monitored and serviced on a regular basis. The system indicates how certain assets are performing, what needs to be serviced, and what needs replacing in enough time to avoid downtime. Putting these assets on preventive maintenance schedules helps to extend their lifespan while performing at optimal levels.
Reduce Equipment Downtime
Going without an asset you need because your system never indicated the equipment needed servicing can leave the company in a bad position. A CMMS reduces those unplanned occurrences with asset management while also calculating the likelihood of other assets breaking down to keep you prepared. 
Maintain Compliance and Safety Standards
If you're working with equipment, you must operate within regulatory guidelines. A CMMS keeps accurate records of all training, purchases, maintenance, warranties, guides, safety protocols, paperwork, and more. This makes it very easy to access the information for employees or in the event of an audit.
Centralized Maintenance Management
One system with many functions. A CMMS has everything in one place, conveniently accessible. From preventative maintenance to safety tasks, this software keeps things efficient, adaptable, and mobile.
Process Benefits of CMMS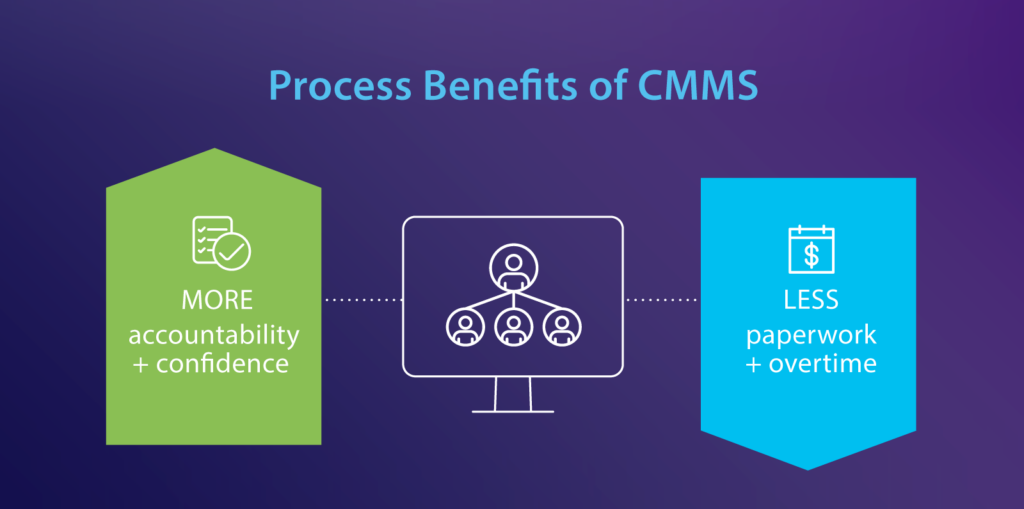 CMMS software automates processes to make things easier for everyone on the team. This also helps in focusing on areas that can be improved or restructured. This allows more accountability with less paperwork, reduced overtime, and confidence in assets and workloads.
Improved Productivity & Efficiency
Teams that have the benefit of automated maintenance schedules know what they need, what needs to be done, and how long it should take. This helps with ordering inventory, keeping track of assets, and properly coordinating schedules.
Increased Team Accountability
Standardized processes help save time, increase efficiency, and work faster. Automated work requests leave a trail of accountability for each team member and manager while operating in real-time for work requests, preventive maintenance, and autonomy to get the job done.
Schedule & Monitor Preventive Maintenance Activities
Automated tracking of each asset makes it easy to schedule and monitor any preventive maintenance activities needed. The system is designed to "trigger" warnings when an asset is due for maintenance, or when it should be retired.
Streamline Processes
With real-time reporting, managers can use the CMMS to identify trends and processes that stifle productivity. Managers can create workflows, accessible templates, and checklists to follow that remove cumbersome steps for a streamlined process.
Increase Visibility
Managers can keep better track of employees and their schedules to properly distribute the work. The CMMS also increases the visibility of processes, safety, and removes obstacles.
Improved Communication
Real-time back-and-forth within the CMMS keeps a record of communication. This also makes it easier for technicians and managers to communicate without having to track someone down to get what they need.
Detailed Record Keeping
One of the best features of the CMMS is its recordkeeping ability. All paperwork on every aspect of the business is recorded and easily accessible in the event of an audit or inspection. This keeps everything above board and lessens the likelihood of human error.
The Importance of CMMS for Facilities
Facilities that do not operate with a CMMS face high risk and low productivity. When using a CMMS, facilities managers can recognize financial, equipment & asset, and process benefits that save time, money, and efficiency.
Ensuring your facility has a CMMS in place keeps your assets protected while enhancing the value of your team. Learn more about the ServiceChannel platform and how we provide a powerful CMMS that meets all of your facility's needs.
Benefits of CMMS FAQs
What industries benefit from a CMMS system?
Numerous industries benefit from a CMMS system, including manufacturing, facilities management, healthcare, transportation, utilities, hospitality, and government sectors. Any industry that relies on equipment and assets for its operations can enhance maintenance efficiency, reduce downtime, and optimize resource allocation using a CMMS system.
How does a CMMS improve maintenance efficiency and effectiveness?
A CMMS improves maintenance efficiency and effectiveness by centralizing maintenance data, automating work order processes, and streamlining preventive maintenance scheduling. It enables better resource allocation, timely task assignments, and data-driven decision-making in maintenance departments, resulting in reduced downtime, increased equipment reliability, and optimized maintenance practices.
What are the disadvantages of CMMS?
The disadvantages of CMMS may include initial implementation complexity, cost considerations, the need for comprehensive user training, and the importance of maintaining accurate data for effective operation. Still, many find the advantages of CMMS outweigh the minor disadvantages.
What is the most unique and powerful feature of CMMS?