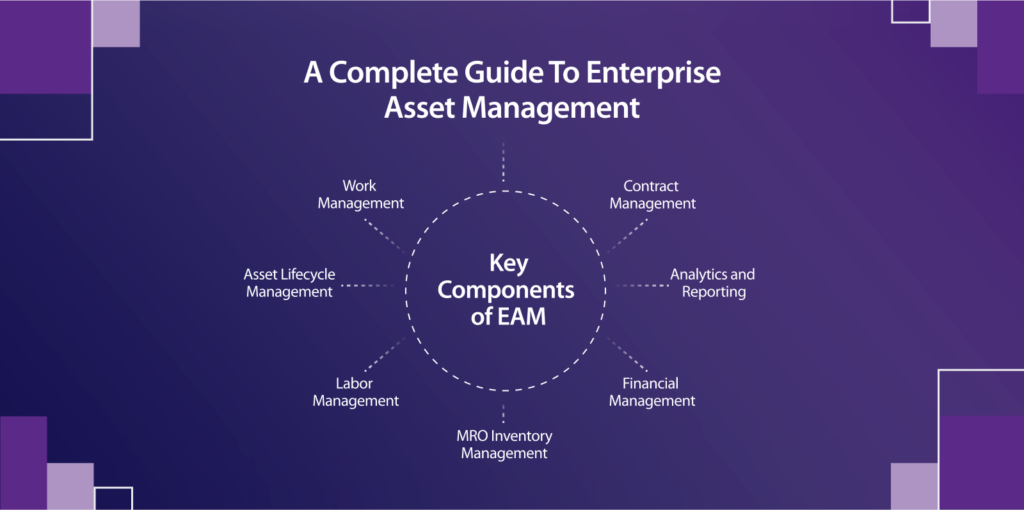 A Complete Guide To Enterprise Asset Management
What is EAM?
EAM, or Enterprise Asset Management, is the use of multiple systems, sensors, tools, and software solutions to help maintain, control, and manage operational equipment and business assets. Using EAM is a way to optimize the operation of a business while also boosting performance and longevity.
EAM is utilized to plan, execute, and maintain projects and activities that are most relevant to your business.
Why is Enterprise Asset Management Important?
Enterprise asset management helps to manage the data, analytics, and even the physical assets of a business without requiring manual effort. Using EAM is not only a way to optimize your current operation for improved functionality and results, but it is also a way to gain valuable insight into the inner workings of how any business is currently being operated.
Key Components of EAM
Work Management
Use EAM solutions for work management purposes, such as handling maintenance requests, scheduling maintenance appointments, and even tracking ongoing repairs in progress. Using EAM for work management purposes helps to save time while helping to streamline your maintenance operation.
Rather than requiring a full-time employee to manage repair and maintenance requests, the EAM solution does all of the manual work and organization itself. With an EAM solution, your employees can spend more time tending to repairs, updates, and replacements when necessary, rather than inputting and tracking data.
Asset Lifecycle Management
Asset lifecycle management is one of the most important elements of operating a successful business or corporate entity. Controlling the asset management process is key to maximizing productivity and efficiency. Whether you are selling just one specific product or if you provide services to thousands of individuals, knowing how to effectively manage your company's assets and their life cycles is an essential task for any operations professional, whether for enterprise or small business.
Using EAM's asset lifecycle management features can help you to better procure and commission assets while also helping to maintain and/or repair assets as necessary. You can determine what you're spending across the lifespan of different asset classes. You can also uncover how to extend the life cycle of your critical assets, saving money and reducing downtime.
With asset lifecycle management, you can keep track of and monitor the operation of your business from one centralized location. This offers you valuable insight into the performance of different departments of your business, from accounting and investments to maintenance, business operations, and sales.
EAM software is useful to better understand what areas of your business operation are being run smoothly, and which areas require more attention and streamlining for better performance.
Managing the labor required to keep your business running is a complex endeavor. Many companies handle this manually, which is typically a full-time job that requires constant ongoing oversight and administrative efforts. Using work order management software within your EAM solution for labor management streamlines this process and provides you with more time to focus on growing other areas of your business.
Labor management features within EAM solutions help to track applicants, assess prospects, provide guidance and training, and even offer certifications for both contractors and employees. Using labor management features in an EAM solution can help you to better monitor contractors, service providers and internal technicians while easily having the ability to audit, edit, or adjust schedules and duties.
Labor Management
EAM solutions for labor management are not only ideal to help streamline the operation of a business, but they are also extremely helpful in reducing the time that is wasted each day. Rather than focusing on schedules, employee contracts, and hours worked, allowing an EAM system to do the work helps to optimize your operation and overall efficiency.
MRO Inventory Management
Managing stock and inventory is foundational for any successful business that provides goods and products. The best EAM software solutions provide stock and inventory management functions, or MRO inventory management solutions. MRO (maintenance, repair, and operations) inventory management is important to the success of enterprise operations.
Manage inventory, purchasing agreements, shipments, and even demand for specific products and/or materials. Not only is MRO inventory management useful for goods you stock and sell, but also for parts and operational equipment you require for your business. MRO inventory management within an EAM solution is optimal for tracking production schedules and ensuring that all manufacturing responsibilities are managed and maintained.
Contract Management
Managing contracts individually can quickly become laborious and overwhelming, especially when doing so manually. As your business continues to grow, you will likely require more contractual agreements and business deals. Handling contracts on an individual basis and manually demands more time and resources than it should. From requesting proposals for the right kind of service providers to keeping track of contractual agreement dates and renewals, the right EAM solution can make a significant difference in managing your business or entity.
EAM's contract management solutions help with managing, drafting, and tracking contractual agreements with employees, vendors, and even business partners or customers. Use EAM to track compliance, financial expenditures, and even expiration dates of contracts to keep your business running as smoothly as possible.
Analytics and Reporting
Analytics and reporting are essential to running a competitive business today. Without trustworthy and reliable analytics, it becomes increasingly challenging to determine which areas of your business are thriving, and which areas require more attention. Analytics from customer-facing activities and locations provide valuable insight into the wants, needs, and demands of customers. And when it comes to EAM, data-driven reporting provides valuable insights into the overall maintenance of your operations, asset performance, the quality of work from service providers, and the status of your inventory.
All these insights can help you better understand the pain points across your business. You can identify where downtime is compromising organizational performance, assess your network of service providers to see if they are meeting your needs, and identify trends across your operations that are essential to delivering on your business goals.
Using analytics and reporting from your EAM solution also provides valuable insight into the most useful metrics and data on everyday business performance. Track specific KPIs, or Key Performance Indicators, and manage a variety of aspects of your business from labor and assets to parts, downtime, and tasks.
With an EAM solution, it is also possible to utilize custom tracking tags, custom reports, and even unique dashboards to keep track of analytics and reporting at all times.
Financial Management
Use EAM solutions to track spending, investments, and expenses. Keep track of operational costs, inventory costs, and individual investments. Monitor accounting departments and stay aligned with any financial goals you have set for your business or venture. Use an EAM solution to ensure you are on the right track with any budget or financial structure you have in place.
Use EAM solutions to prevent overspending or investing in inventory or contractual agreements that are not beneficial or conducive to your company's needs. The right EAM solution is extremely valuable and provides in-depth oversight into budgeting, expenses, and investments you need to remain aware of with your business at all times.
Benefits of Enterprise Asset Management Software
Increased Operational Efficiency
Using EAM is one of the fastest ways to improve workplace and management efficiency for any business, regardless of the size of the operation itself. EAM solutions are ideal for increased operational efficiency, removing the need for manual labor to complete repetitive, predictive, and menial tasks. A good EAM strategy improves customer loyalty, lowers the total cost of ownership, improves your sustainability profile, and improves team performance, in addition to overall operational efficiency.
EAM provides an overview of an organization's operations, from procuring assets and inventory to managing contractual agreements and employees' timesheets. With the right EAM solution, spend more time focusing on what is most important for the future and growth of your business and less time fretting over information and data that can be automatically monitored, tracked, and processed.
By using EAM to manage the assets and lifecycle of your business, you can reduce the risk of human error. Reducing human errors and mistakes provides you and your employees with more time to focus on more pressing matters and areas of your business that require attention. EAM solutions are ideal for increasing operational efficiency whether you are contracting clients, selling products to a targeted audience, or even manufacturing parts of your own.
Optimized Inventory Management
Managing your company's inventory, suppliers, and even prospective partners is a full-time job in itself. The use of an EAM solution is ideal for those seeking a new method of optimizing the management of their inventory. From sourcing materials and equipment to managing stock and inventory, an EAM solution can help with all aspects of inventory management.
With an EAM system in place, track item statuses, availability, and even shipping times with just a few clicks. Track inventory planning along with financial budgets and logistics to ensure you are making the right decisions with suppliers and manufacturers every step of the way.
Use predictive bottlenecks to determine the best course of action when procuring new inventory or searching for new suppliers and/or prospective business partners. Optimize the overview of the current supply chain you are using to order and receive inventory to ensure it is running smoothly and on time. Streamline your inventory operations with an EAM solution that is highly customized for your business needs.
Enhanced Maintenance Management
A major appeal of EAM solutions is the ability to reduce overall costs of maintenance and ongoing services needed for operational purposes. Using EAM solutions is ideal to help reduce maintenance costs while simultaneously implementing a solution to track and manage maintenance requests, tasks, and completed jobs in one central location.
Using EAM for enhancing maintenance management helps to reduce the time spent on managing maintenance requests, maintenance workers, and even contractual agreements. A better ratio of repair and maintenance spend vs sales revenue means your total cost of ownership per location is going down, which is a win for the whole organization.
It is also possible to utilize EAM to implement predictive maintenance tools and programs, providing you with valuable indicators and/or warnings of needed maintenance even before there is a reported issue or problem. Using enhanced maintenance management solutions with your EAM software can ultimately help your business to become more productive without requiring as much downtime for maintenance, repairs, and replacements.
Extend Asset Lifecycle
Extend asset life cycles with the right EAM solution. Use EAM solutions to track, trace, and manage complex inventory, management, environmental, and even safety requirements for individual assets. Help extend the lifecycle of an asset by ensuring proper maintenance, preventative work, and ongoing monitoring of performance.
An EAM solution helps to extend asset life cycles by providing an overview of performance, maintenance requirements, and specific indicators that are individually crafted for your business model and mode of operation. Using EAM software is extremely beneficial for extending asset life cycles and identifying problem areas of any business or operation.
By extending the asset life cycle, you are also contributing to your business' sustainability profile by maintaining your equipment and keeping it in service longer, thus reducing the equipment waste produced at your facilities.
Reduced Maintenance Costs
Using EAM is optimal for reducing maintenance costs. An EAM solution provides a centralized location to track a variety of aspects of your business, from inventory and supplier management to employees and maintenance requests by customers and/or business associates. Using EAM to reduce maintenance costs is another way to streamline the operation of your business without overspending or wasting funds on unnecessary repairs, updates, and replacements.
Being proactive and scheduling maintenance requests automatically and in a timely manner is essential for functional operations today. Using the data collected with your EAM solution, monitor and track specific tools and equipment that are likely to require more frequent maintenance updates and/or inspections.
Avoid shutting down entire systems to determine a problem with an EAM solution in place. With the right EAM system, manage equipment, tools, and entire systems without cutting off access to all users and/or customers. Use EAM to keep track of individual repairs, maintenance requests, and completed tasks without requiring additional manual labor.
Accessible from Anywhere
Using enterprise asset management software is essential for managing business operations on the go and from anywhere in the world. Accessing your EAM system can be done via the cloud and remotely, providing the ability to manage and make updates to the system anywhere there is an internet connection.
Rather than feeling confined to one central location to manage the various elements and sectors of your business, EAM solutions make it easier than ever to take your work with you wherever you go. This enables teams to operate proactively from wherever they are instead of reactively. They spend less time putting out fires and more time focusing on the customer experience & business innovation/growth.
What Software Do I Need?
There are various types and formats of enterprise asset management software, and getting an ideal experience starts with understanding the type of software you need. Generally, there are three forms of EAM software: cloud-based, on-prem, and hybrid, each with its own use cases and benefits.
Cloud-Based EAM Software
Cloud-based EAM software is a SaaS (software as a service) type of product. It is entirely operated on the vendor's servers rather than on your own machines. It usually functions as a site or a mobile app (or both) that your team can access from anywhere.
Cloud-based EAM software allows your team to do everything remotely, from putting in work orders to tracking projects to scheduling maintenance and delegating tasks. It's ideal for teams that operate in multiple locations, and it has the added benefit of an easy and cost-effective startup experience.
You are, however, at the mercy of how well the vendor's servers operate. You also have less control over the tool from a security standpoint.
On-Prem EAM Software
In contrast to cloud-based software, on-prem EAM software is operated entirely on your premises. You install it on your machines and it only works within your facility. In most cases, you purchase these tools with a one-time licensing fee rather than an ongoing subscription fee.
On-prem EAM software doesn't have the mobility or convenience of cloud-based software, so it's not recommended for multi-location EAM teams. These tools are also generally costly and complicated to set up, so they require an investment and aren't a purchase you can try on a temporary basis.
On the other hand, it offers far more control and customization so you can make the software fit your needs. As a closed system, it also gives you greater capacity for security.
Hybrid EAM Software
In a hybrid EAM software, you have a combination of cloud-based and on-prem services. Some data and operations are based in your facility while others are managed remotely by the vendor. For example, the software could primarily run on-prem but it may have a cloud-based mobile app for certain remote tasks too.
A hybrid enterprise asset management tool can offer benefits and challenges of both on-prem and cloud-based EAM software. It usually has a complex set-up process like on-prem tools but it does give you some customization capabilities while also giving you the flexibility to use the tool from anywhere.
The Difference Between CMMS and EAM
Whether you are interested in a computerized maintenance management system, or CMMS, or you believe your business will benefit more from an EAM solution, it is imperative to understand the differences between both.
CMMS is typically considered a part of an EAM solution, as CMMS solutions can help with tracking employees, registering assets, and even managing work orders. In short, CMMS is typically considered a component of a larger EAM system or solution.
How Does EAM Fit Into My Industry?
For a wide range of industries, enterprise asset management can be a critical part of minimizing your long-term costs, controlling cash flow, and minimizing your risk for a problem that pauses down your operations. Let's look at how enterprise asset management software can benefit individual industries.
Retail
Every retail business needs EAM to minimize costs and stay operational, but especially large retail enterprises. Enterprise asset management allows you to better maintain your stores, warehouses, and other properties as well as equipment like forklifts.
Food Service and Restaurants
A single malfunction in your kitchen like an oven failure can cost you far more than the price of the repair – it can cost you in operational time and customer loyalty too. Enterprise asset management for restaurants can help you stay on top of maintaining all your expensive equipment as well as your restaurant facility.
Grocery
Maintaining your assets and facilities for enterprise grocers should be a top priority. EAM lets you keep all your equipment and properties functioning well so you don't find yourself with an unexpected repair cost at a difficult time in your balance sheet.
Financial Services
Within the financial services industry, the stakes are high for keeping your technical equipment and facility running smoothly. You can use EAM to not only keep your facility and assets running smoothly but also to manage security-related tasks like maintaining security cameras.
Convenience Stores
Customers rely on convenience stores to have what they need in a hurry. If you're not managing your assets properly and you need to close unexpectedly, you stand to lose customer loyalty every time because they want their convenience store to be reliable. EAM can ensure that this happens as little as possible.
Frequently Asked Questions
What is an enterprise asset management system?
An enterprise asset management, or EAM system, is a system designed to help manage various aspects of operating a business or facility. An EAM solution helps maintain the infrastructure of any business automatically.
Why is enterprise asset management software important?
Using EAM software helps to reduce maintenance necessities, save on costs, and ultimately provides more time to focus on other areas of growing your enterprise.
Who uses enterprise asset management software?
Facility managers, business owners, and corporate managers alike can all benefit from the use of enterprise asset management solutions.
What should I know about enterprise asset management software?
Not all EAM solutions are created equal. It is important to seek out enterprise asset management software that is suitable for your business model and the way you choose to operate.