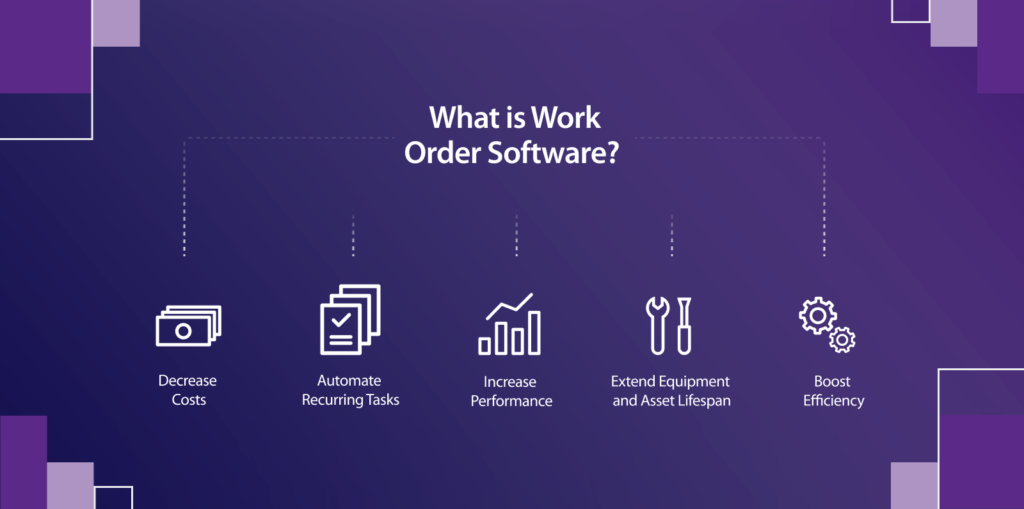 What is Work Order Software?
Work order management software is a solution that helps facilities managers and businesses efficiently organize their work order data through a single dashboard. With this software, teams can effectively plan, schedule, manage, and complete work orders for both internal and external clients. With a centralized place to create service requests, monitor real-time status updates, track completion, and leave feedback on work performed, location managers can easily manage work orders across a multi-location enterprise.
A well-designed work order management system is intuitive and comprehensive and makes it simple to manage the entire work order process from start to finish. Instead of having employees manually submit service requests, work order management software automates much of the process: With only a few clicks, a work order can be entered, approved, and dispatched to a contractor, streamlining maintenance operations.
Why is Work Order Software So Important?
Any experienced facility manager will tell you that an organized, efficient work order program is essential to long-term success. Hundreds of repair and maintenance requests can be funneled through a facilities management department in a single day. Quick, complete fulfillment of work orders is what keeps your locations running smoothly and your customers happy.
All too often, however, work orders are riddled with errors and can take weeks to be addressed. Delays, inaccuracies, and miscommunications can all become costly if they happen too frequently – and this is often the case when work order tracking is carried out on pen and paper.
Why reinvent the wheel every time preventative maintenance needs to be done? Work order management software automates the entire work order scheduling process. It will help your team:
Find the right contractor for the assignment.
Manage the services you need when you need them.
Pay through efficient and automated payments.
Analyze advanced data and analytics.
Components of Work Order Software
What can you expect from your work order software? While each service order software solution is unique, an effective product should include four essential components.
1. Work Order Request Form
A work order request form allows employees in any area of your facility or at any of your locations to submit a repair or maintenance request. Having a unified process for these requests allows your maintenance team to easily keep their maintenance tasks more organized and efficient.
2. Progress
When there's a maintenance project in progress, it can affect many employees' workflows, so maintenance personnel will want to know when the project will be done. A progress tracker on your work order software allows stakeholders to see the status of their submitted work orders and saves your maintenance team from answering frequent requests for updates.
3. Communication
There are times when your maintenance team needs to communicate with an employee who submitted a work order, whether they need to ask a follow-up question, give them a more detailed progress update, or whatever else it may be. When a work order software tool has communication capabilities built in, it allows all those details to remain with the work order so your records are organized and all in one place.
4. Notifications
In work order software, notifications help everyone stay up to date on the essentials. Notifications can alert your maintenance team or facilities manager when a new work order comes in, alert employees of status changes for the work orders they submitted, and so on.
Systems That Use Work Order Software
Because work order software is applicable and valuable for so many industries and organizations, multiple types of systems often include this tool. The most notable are enterprise asset management and computerized maintenance management software.
Enterprise asset management or EAM software is a system that manages and tracks the full life cycle of your organization's assets. This includes tracking the assets' implementation, maintenance, and more. Part of this maintenance involves tracking work orders.
Computerized maintenance management system software, or CMMS, is a system that centers on facility management, especially tracking the preventive maintenance, operational tasks, inventory management, and repairs of a facility. Work order management is vital to tracking maintenance needs.
Components of Work Order Software
If you're new to work order software or if you're considering whether it may be a fit for your business, it helps to understand the components of work order software. In most of these tools, you'll find four major pieces: a work order request form, progress, communication, and notifications.
Work Order Request Form
Effective work order software should serve as a unified platform for maintenance teams, workers, administrators, and fulfillment or production staff alike. A work order request form allows any staff member to report a concern or problem and initiate it into the pipeline with the essential information your maintenance team needs.
Progress
After a staff member reports an issue with the work order request form, keeping them informed of their request's status lets them know a solution is coming and cuts down on questions and follow-ups. Work order software can show the progress of each work order so everyone is up to speed on equipment downtime.
Communication
There may be times when a work order is missing details or when your own maintenance department or staff wants to message the staff about its progress, such as letting them know they're awaiting a new part or giving them an ETA. Communication capabilities in a work order management system allow maintenance departments, staff, and other team members to communicate in one place, keeping relevant messages attached to work orders for efficiency.
Notifications
As important as direct messages can be for work order management, they take time that isn't always necessary. An effective work order software tool should have automated notifications to keep everyone up to date on administrative tasks without adding work to anyone's day. For example, it may send an automatic notification that alerts a maintenance worker that they've been assigned a new work order or that alerts a staff member that their work order is complete, all the while keeping facility managers in the loop.
Key Benefits of Work Order Software
1. Decrease Costs
Reduce total maintenance spend by hiring experienced contractors at the appropriate price point for the job, validating time spent on the repair with GPS location tracking, minimizing overall time-to-completion for each task, and avoiding invoicing errors with electronic payments.
2. Automate Recurring Tasks
Use work order management software to forecast and schedule routine preventive and maintenance activities, avoiding emergency breakdowns and costly asset replacements. Better yet, save time with automated planned maintenance scheduling based on recorded asset requirements and use preventive maintenance work orders.
3. Increase Performance
Improve service provider and contractor performance by providing photographs, detailed repair history, and other relevant information about the asset directly within the work order management platform.
4. Extend Equipment and Asset Lifespan
A well-planned and executed preventive maintenance program can prolong the life of equipment and assets while also reducing the cost of upkeep. Emergency repairs are costlier – both in hard dollars and downtime – than preventive maintenance.
5. Boost Efficiency
Improve operating and administrative efficiencies by digitizing your work order management program, streamlining work order submission, and automating contractor dispatch. Eliminate wasted time sorting, prioritizing, and submitting manual invoices for approval, effectively streamlining maintenance processes.
Work Order Software Features
These unique features set us apart from other providers:
Simplified Sourcing
ServiceChannel gives you access to over 50,000 service providers, organized by specialty, insurance, licenses, experience, service areas, and more. Our platform helps you find qualified providers any time you open a new location or require a new trade.
Warranty Management
Don't pay for work that's already covered by a warranty. With ServiceChannel, you can send warrantied jobs to the proper vendor automatically – or simply review the work order internally and set the NTE to zero to prevent invoicing.
Customized Dashboards
Gain complete insight into spend by trade, category, priority, and provider based on your work order history. View trends and identify outliers.
Contractor Performance Monitoring
Our work order software lets you view contractor performance across key metrics. Monitor service quality and completion rate and provide constructive feedback in order to further improve operational efficiency, streamline maintenance operations, and promote constructive partnerships.
Contractor-Initiated Work Orders
Save time on repairs. With our work order management system, contractors can generate work orders while onsite for pre-approved types of work.
Mobile Access
Create, edit, or reassign work orders on the go, check up on alerts, and monitor progress using the ServiceChannel Mobile Facility Management App.
Risk Management
Our work order management system ties into our contractor management software, making it easy to monitor contractor insurance, certifications, and rates. ServiceChannel prevents contractors from being assigned work until they complete all requirements, and we alert you when requirements are out of date or expired.
Electronic Invoicing
Contractors can invoice electronically through our work order program, eliminating paper invoices and reducing processing costs. Invoices are submitted against the appropriate work order, enabling quick comparisons against work performed for more accurate approvals.
How Software Fits Into Your Work Order System
Every organization has a work order system of some sort – even if that system is just walking across the floor and telling the facilities maintenance manager you have a problem. However sophisticated or informal your work order system may be, work order software can fit into it smoothly and, in many cases, improve it dramatically.
Work order software streamlines your request system and keeps all the documentation, communication, and reporting in one place. It allows facilities maintenance managers to assign tasks to maintenance employees quickly, track progress for various projects, and maintain data facility-wide. In many cases, work order software also allows equipment maintenance employees to submit work orders from anywhere, so you receive requests more promptly.
For organizations of all sizes, maintenance work order software can offer a scalable and simple solution to your needs. Whether or not you already have a form of work order system, an all-in-one solution of a dedicated work order maintenance software or tool can streamline the entire work order management process for efficiency, cost-effectiveness, and consistency.
FAQs About Work Order Software
What is a work order management system?
A work order management system is software that helps businesses manage and track work orders throughout their lifecycle. It lets teams create, assign, prioritize, schedule, and track work orders from start to completion. This system helps organizations streamline their workflow, improve productivity, and enhance customer satisfaction.
What software keeps track of orders?
Work order management software keeps track of orders. It enables businesses to create, assign, prioritize, schedule, and track work orders from start to completion. This software helps teams manage and monitor their work orders throughout their lifecycle, ensuring that nothing falls through the cracks and everything is completed on time.
How does work order management software improve maintenance requests and efficiency?
With sophisticated work order management software, facilities managers can rest easy knowing that they'll be automatically alerted of any important priorities, new service requests, preventive maintenance tasks, work order status changes, or emergencies – 24/7. This simplifies work order prioritization and allows FMs to take a preventive, rather than reactive, approach to maintenance. 

By accessing the data already stored within the facilities management platform and automating the work order process, your organization gains efficiency not only in the work order submission process but also in overall time-to-resolution. The FM team can monitor real-time status updates, communicate with service providers, track any outliers, and make sure invoices are paid on time. There's less tedious manual labor and a greater degree of accuracy – which translates into a better experience for both employees and customers.
Why is mobile app integration important for work order management software?
Mobile work order management software enables FMs, location managers, and in-house technicians to dispatch, manage, and use work order tracking software from anywhere at any time. In addition, work order mobile apps enable third-party service providers and contractors to receive work orders and respond promptly – even while on the road or at a different job site straight from their mobile device. 

Mobile apps also make it easy for dispatched technicians to check in and out of locations they're servicing using GPS tracking, contact FMs when needed, and update work orders with important information. 
What is work order software used for?
Work order software is part of computerized maintenance management systems (CMMS), allowing facilities managers to effectively track and see maintenance histories and manage all work order information through a single dashboard. By creating a centralized location to make, monitor, and track service requests and leave feedback on work performed, FMs can easily manage work orders across a multi-location enterprise.

Ultimately, work order management software supports both contractors and suppliers, as it reduces the duplicate entries of data, virtually eliminates human error, and enables both parties to view status updates in real time.

To successfully integrate work order management software into the facilities management program, both property management and new and existing contractors must be fully engaged in the process. For that reason, FM teams need to focus on training and onboarding contractors so they can take full advantage of everything that work order management software has to offer.

How does the work order management system support contractors?
Integrated work order management software can support and ultimately benefit contractors in the following ways:
Increased Accuracy: Reduce or eliminate conflicts around payment and time spent on a repair with GPS check-in/check-out capabilities and automated invoicing
Improved Efficiency: Contractors receive a quicker response to proposals, can communicate more easily with FMs and location staff, and have full access to important details about the job or asset
Quicker Payments: With electronic payment capabilities, contractors can track invoices and find out when their payment will arrive after every work order. Contractors can also be paid in bulk for multiple jobs completed during a given period of time.
How do you create a work order management system?
Creating a work order management system requires technical expertise and many resources. Here are the general steps involved in creating a work order management system:
1. Define the requirements: Identify the key features and functionalities that the system should have based on your business's needs.
2. Design the system: Create a design that outlines the architecture, data model, user interface, and other technical details of the system.
3. Build the system: Develop the system using programming languages, frameworks, and libraries that fit your requirements.
4. Test the system: Conduct thorough testing to ensure the system meets requirements and is free of bugs and errors.
5. Implement the system: Install the system on the hardware and software infrastructure.
6. Train users: Provide training to users so that they can use the system effectively.
Note that creating a work order management system is complex and time-consuming. Many businesses choose to use pre-built software solutions instead of building their own from scratch. Check out ServiceChannel's work order management software solutions and see how we can help you streamline your process.