What is the Difference Between CMMS & EAM Software? (CMMS vs EAM)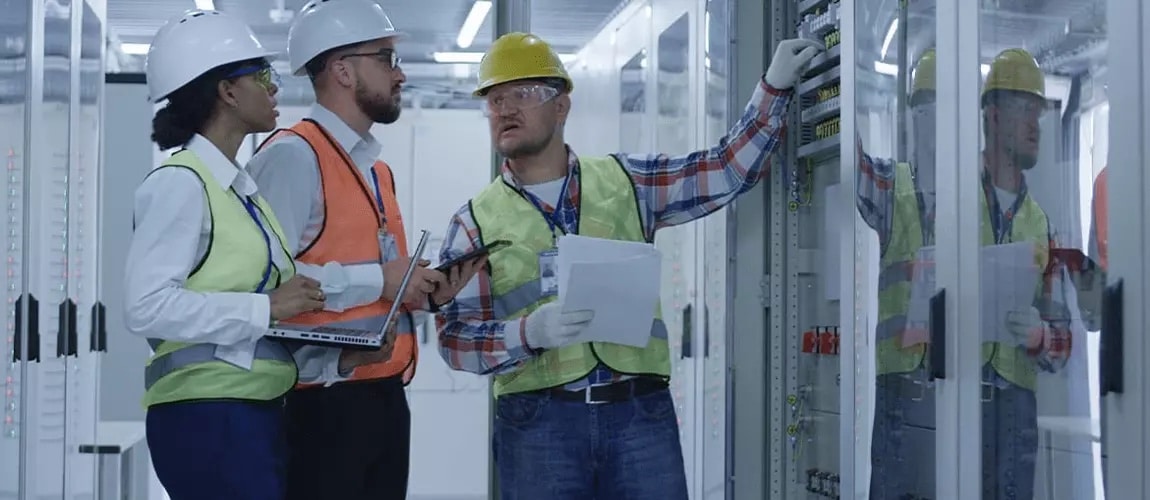 As you start looking for solutions capable of handling your asset management requirements, you're likely to run across a lot of tools that seem to fit your business needs, including those classified as either computerized maintenance management system (CMMS) or enterprise asset management (EAM) software. While there are similarities between the two, it's important to understand the difference between EAM systems and CMMS systems to help ensure that you pick the right platform for your asset management process.
CMMS vs. EAM systems
While CMMS and EAM software are similar, they have some key differences. The primary difference lies in the scope—most organizations use CMMS software to deal with operational management issues for maintaining assets, while an EAM solution focuses on the entire lifecycle of an asset—everything from purchasing an asset to deciding when it's ready for disposal.
EAM software usually contains all the functionality of a full CMMS system, including monitoring asset health, preventive maintenance scheduling, managing maintenance operations across the organization. But EAM systems offer extensive features that go beyond CMMS capabilities to help organizations manage business issues around asset management, such as procurement, risk and compliance, process management, and life cycle cost tracking. Since these lifecycle planning capabilities aren't typically found in a CMMS, EAM tools are popular in larger organizations that have assets across multiple locations—or a single site containing many assets.
What Does a CMMS Do?
CMMS software is a program that helps companies track assets. Typically, companies create work orders that outline work to be done associated with different company assets. That could be anything from moving a printer from one building to another or fixing the hard drive on a company computer. In addition, assets often require ongoing preventive maintenance and efforts.
A CMMS solution gives your company a centralized way to organize and keep up with assets that require preventative maintenance. In addition to helping you manage maintenance operations, CMMS asset management capabilities include generating reports to help you determine how well you're doing operationally. CMMS software is also helpful for identifying and tracking asset issues before they lead to extended downtime and expensive repairs. The right CMMS can fill also your needs for work order and inventory management software.
Benefits of CMMS software systems include:
Simplifies work order creation and makes it easier to track the work order status
Helps ensure your company is meeting industry compliance standards
Provides an easy way to share information about assets among employees and across departments
Eliminates unnecessary paperwork and electronic processes
Helps managers efficiently allocate company resources
Automates everyday asset management and inventory management activities
What Does an EAM System Do?
Enterprise asset management software gives larger and more complex organizations a complete 360-degree view of what's happening with the company's physical assets. This software solution offers enterprise grade support that tracks what happens to each asset throughout its lifecycle, including design, maintenance, and disposal. In addition, an EAM system helps companies track and maintain documentation and data associated with managing multiple sites containing physical assets.
Facilities management teams and maintenance departments can use an EAM system to create work orders, assign them to a technician, and track their progress. Companies can leverage the automation capabilities of EAM software to track maintenance requirements and automatically schedule asset maintenance. In addition, users can track the levels of and demand for materials required for asset management and preventive maintenance tasks.
EAM tools are also designed to help with labor management issues. For example, managers can assess, provide training for, and issue certifications to employees throughout the enterprise. EAM systems offer additional features that help you:
Track service contracts: Stay on top of compliance matters and asset spending by storing asset contract information within an EAM system. Users can create and manage contracts directly within an EAM platform. That helps them stay on top of agreements made with different vendors, customers, partners, and workers.
Manage finances: Companies can leverage EAM software to keep up with data around the total cost associated with work orders. From there, they can integrate other financial software to help manage project spending and accounting matters.
Create analytics and reports — EAMs typically come with capabilities that help businesses analyze the performance of assets, including asset uptime and downtime. Improved maintenance management helps you pick up on potential issues before they become bigger problems that lead to downtime. In addition, an EAM system can capture the business intelligence and KPIs that are most applicable to your industry to help guide decision-making.
Which Solution is Right for You?
EAM and CMMS solutions are both maintenance management systems that can help you better control and maintain your company's physical assets to reduce energy usage, ensure optimal asset health, meet maintenance KPIs, and monitor asset performance.
Organizations that want more control over asset management around maintenance scheduling and project management purposes may want to consider CMMS software. It can help your company with:
Better asset visibility: Managers can quickly pull up information on an asset, including the purchase date, the maintenance history, audit trails, and any breakdowns.
Automation capabilities: Users can automatically create work orders, reorder parts, set up shifts for workers, and compile information for audits.
Field workforce management: Keep up with what's going in with your internal and external workforce by unifying your control over those teams within a central platform. A CMMS helps employees stay connected to the home office and communicate data updates in real-time.
An EAM software purchase might make more sense if your organization requires a more holistic, full-scale asset and maintenance management software platform that follows the entire asset lifecycle. They're helpful for companies needing to manage many large and small assets, including transportation fleets, manufacturing equipment, and computers.
EAM systems are good for:
Picking up on issues: EAMs help companies resolve problems with assets and establish more stable facility management operations.
Monitoring and maximizing asset usage: Companies can extend the lifecycle of various assets by collecting information from IoT devices and feeding it back to the EAM software. From there, they can use the data to determine the availability of assets and their reliability.
Keeping up with aging assets and infrastructure — EAM solutions help companies employ more informed maintenance strategies to assess the risk of different assets and equipment. Organizations can use the insights gleaned from the EAM system to modify business processes and improve their return on asset investment.
Contact ServiceChannel, and set up a demo to see how CMMS and enterprise asset management systems can transform your organization's maintenance operations with multi site support and asset tracking across the entire asset life cycle. We offer cloud based subscriptions to enable maintenance teams to monitor and manage asset performance and maintenance tasks remotely, across multiple locations.
CMMS vs EAM FAQs
Is CMMS part of EAM?
Yes. CMMS is a subset of EAM software, which is a broader maintenance management software that encompasses various aspects of managing an organization's assets throughout their lifecycle, from the procurement stage through disposal. EAM solutions encompass a wider range of functionalities beyond maintenance management, including asset lifecycle management, financial management, resource planning, and more.
What are two types of CMMS?
The two types of the computerized maintenance management software systems are on-premises and cloud-based systems.

On-premises computerized maintenance management systems are installed and hosted on local servers within an organization's infrastructure. The organization is responsible for managing the hardware, software, and data storage associated with the CMMS.

Cloud-based CMMS, also known as software-as-a-service (SaaS) CMMS, is hosted on remote servers and accessed via the internet. The CMMS provider manages the infrastructure, including servers, data storage, and software updates, relieving organizations of the burden of managing the technical aspects. Users can access the CMMS through web browsers or mobile applications.

Both types of CMMS have advantages and pitfalls. Organizations should evaluate their specific requirements, budget, IT and network technology infrastructure, and data security preferences when choosing between on-premises and cloud-based CMMS options.
Is ERP and EAM the same?
No. Enterprise resource planning, or ERP, focuses on managing overall business processes and resources, while an enterprise asset management system, or EAM, specifically deals with the management of physical assets within an organization.

While the primary goal of EAM software is to maximize the value and performance of assets while minimizing downtime and maintenance costs, the aim of ERP software is to provide a centralized system for managing and automating multiple business functions and processes across different departments within an organization, such as finance, human resources, procurement, inventory management, sales, and customer relationship management (CRM).
Contact ServiceChannel to set up a demo of our platform. Learn for yourself how our platform can transform your organization's asset management capabilities.