Creating a Building & Facilities Maintenance Checklist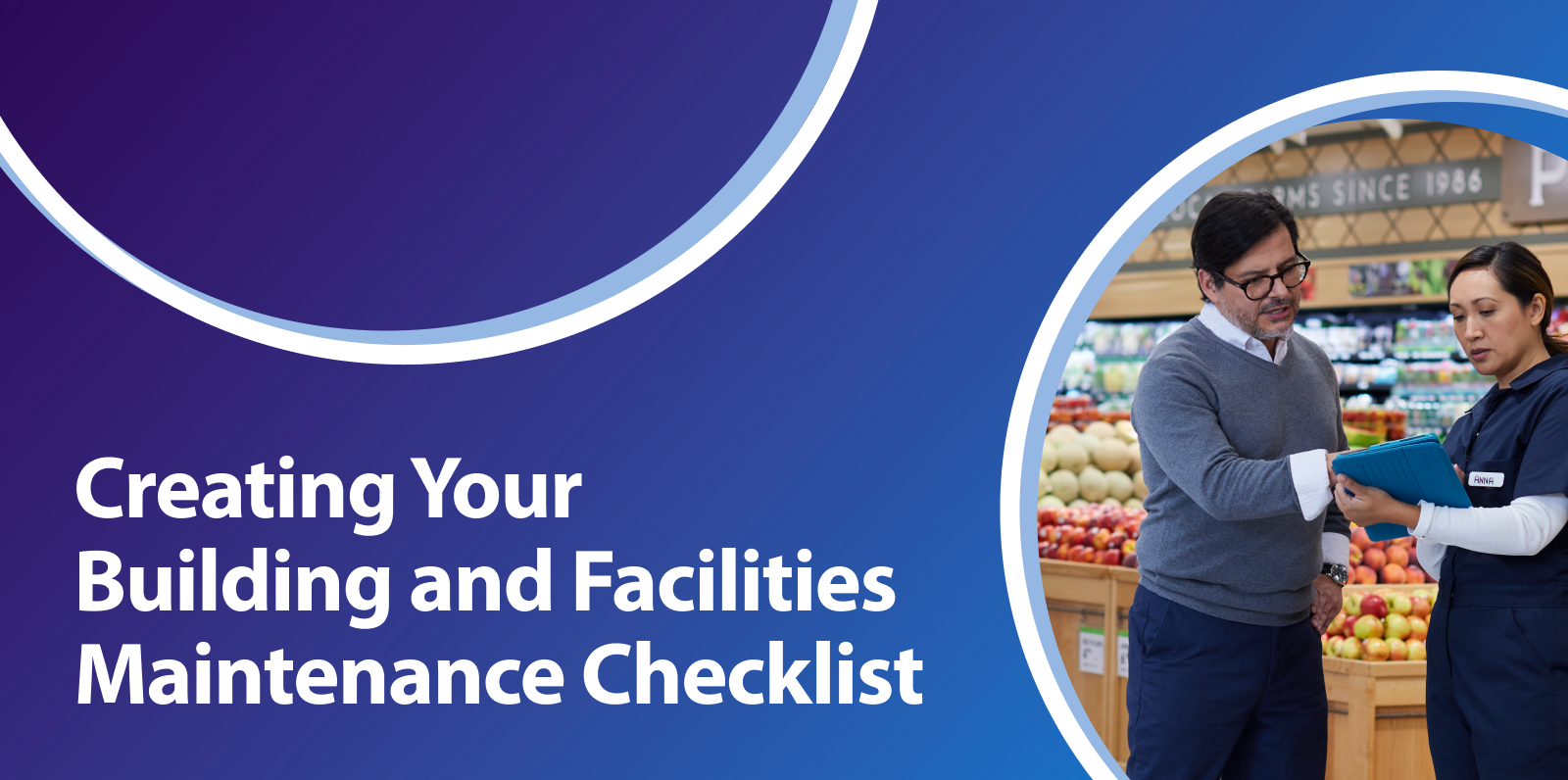 Successfully running a high-performing building and facilities maintenance department takes time, patience, and a solid routine. A facilities management checklist helps the team stay on task, keeps everything organized, improves scheduling, promotes consistency, improves safety, and reduces loss. A master checklist can consist of additional checklists to ensure each department runs smoothly. This may include a facility inspection checklist, building maintenance checklist, facility management checklist, or facility maintenance checklist.
What is Building & Facilities Maintenance?
Building & facilities maintenance involves the processes and people needed to ensure the building or facility runs at optimal levels both internally and externally. These two terms are used interchangeably because buildings are part of the facilities maintenance process. In most cases, facilities maintenance includes every type of facility in the program, while building maintenance usually only deals with buildings.
Building Your Facilities Maintenance Checklist
When building your facility checklist, you must consider the industry of the facilities. A big reason for this is that each type of facility has its own set of expectations and requirements. Your facility maintenance checklist should be structured in different categories based on the manufacturer's warranty requirements, usage, and assets.
Exterior Building Maintenance Checklist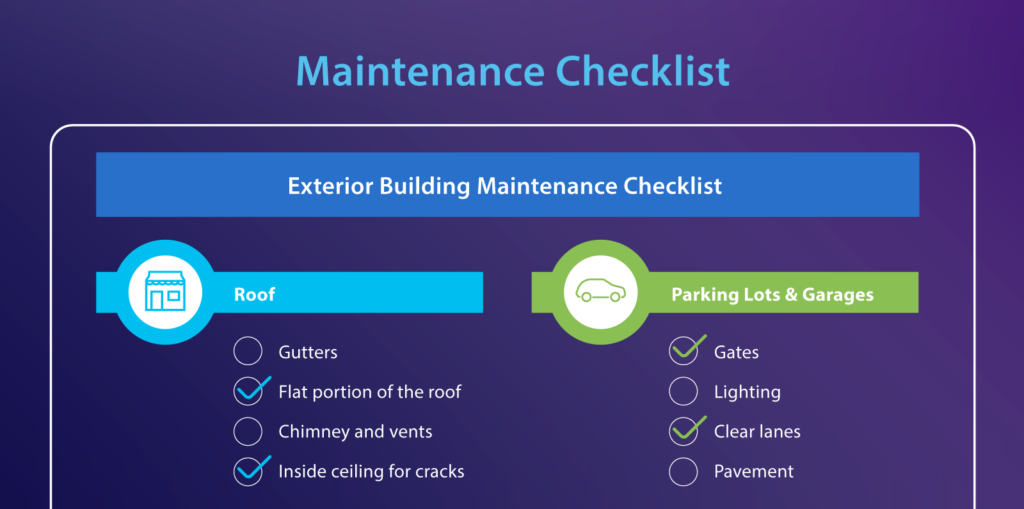 Roof
The checklist should begin with how much the roof should be inspected. Next, the items to be inspected, an area where notes can be made, and another area indicating if everything is fine, if there is cause to be concerned, or immediate repairs are needed. You should check:
Gutters
Flat portion of the roof for imperfections like blisters, cracks, missing shingles, or punctures
Chimney and vents
Inside ceiling for cracks
Parking Lots & Garages
Parking lots and garages are often overlooked but need continuous maintenance to keep up appearances, reduce the likelihood of accidents, and provide a safe haven for patrons and employees. These items should be on the list:
Gates and working condition
Lighting
Clear lanes
Cracks in the pavement or potholes
Windows & Doors
Windows and doors should be inspected annually, with internal and external cleaning as part of the inspection. Additional items include:
Cleaning door tracks and window sills
Checking the knobs and locks to ensure they are in good working condition
Replace damaged or worn windows or doors
Lubricate any windows or doors that stick
Seasonal Preparations
When temperatures change, the facility may also. Being prepared for these seasonal fluctuations makes a difference, especially in cold climates and when the weather starts getting warm. These types of inspections should be performed bi annually and include:
Exterior or exposed pipes to seal or insulate cracks
Deep cleaning the floors
Checking for signs of moisture that could cause mold
Calibrating HVAC thermostats to ensure they are in good condition
Interior Facilities Maintenance Checklist
Electricity
The last thing you want is an electric surge that could not only ruin the electrical infrastructure, but also damage equipment. Your wiring must be properly installed but monitored and inspected to make sure things remain that way. Here are a few things to check:
Wires are secured and supported
No corrosion around the fittings
Fittings are tight
HVAC
When the HVAC system goes down, things can get pretty hectic. These systems usually last between 10 and 15 years, but a semi-annual inspection should help in keeping it in good working order. These items should be on the list:
Clean or replace drains, air filters, and lines
Inspect all the wires and components they attach to
Check refrigerant levels
Check air flow
Assets & Equipment
When the equipment isn't working right, your entire operation can shut down. Proper equipment and asset management requires that they all have different types of tasks and inspections. That means the facilities maintenance checklist should be thoroughly planned based on manufacturer recommendations and performance.
Elevators
Malfunctioning elevators are never a good thing. Improving safety while reducing the number of breakdowns is important. Regular, ongoing inspections should be a priority and should include:
Opening and closing of doors
Replacing light bulbs overhead and in the panel
Inspect the smoke detector and fire alarm
Check for any visible damage
Fire Equipment
Maintaining your fire equipment is regulated by law. That means your fire extinguishers and carbon monoxide detectors must be checked annually to ensure they will perform when needed. Here's what should be on the checklist:
The weight and pressure are okay
Extinguishers are in the "on" position
Security Systems
The goal of any good facilities manager is to ensure employees, patrons, and operating equipment are safe. Any security system should be inspected on a routine basis to ensure everyone has the highest levels of protection when on your premises. Check for the following:
Control panel functions
Cameras and visibility
Door and window locks
Safety Requirements
Federal, state, and local safety requirements are constantly changing. It is your responsibility to remain up to date on any changes so your team will be compliant. The facilities management team should monitor the regulations every quarter so any issues can be immediately addressed.
Keeping Track of Your Maintenance Checklists
Your facility managers need the best resources to create a successful facilities management checklist. ServiceChannel is a great solution for optimizing your maintenance program. For more information, book a demo with our team today.