Building Management Software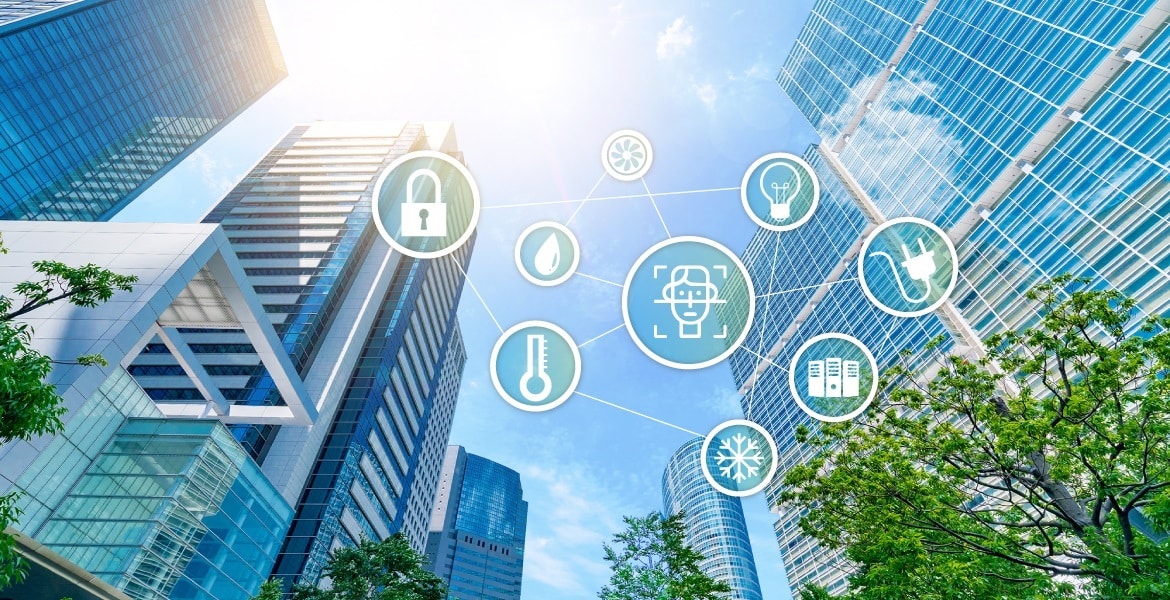 Building management software is part of an entire Building Management System (BMS) that monitors and manages building assets and equipment. There are five different types of building management software that assists in realizing issues before they occur and being able to react quickly when areas like performance are impacted due to equipment failures or factors affecting operations.
This software provides data insights with real-time tracing to realize patterns and improve operations; provides data that will help reduce operational costs; provides better experiences for tenants, and eventually increases the value of the properties in your portfolio from a single platform.
Benefits of a Building Management Software
Although there are different types of building management software on the market, there are multiple benefits to having this infused into your operational system. These are four main benefits realized through having this software:
Increased Efficiency
This software helps provide organization and structure by keeping documentation up to date. Personnel can track work orders, maintenance and repair programs, schedule maintenance to prevent breakdowns, and more. This helps in being proactive rather than reactive, and promotes an increase in and improved efficiency of the facility and organization.
Reduced Downtime
The software can also track the lifecycle of assets and equipment to properly plan, install, implement, and maintain. This ensures all areas of asset management are integrated — materials, tools, inventory, labor, and activity can work with other departments and facilities to keep things operational. This also helps boost the level of maintenance, have more visibility across the portfolio, and use real-time tracking of issues to make sure everything is being corrected to stay in compliance.
Reduced Operating Costs
Building management software helps reduce risk, streamlines the workflow process, and lengthen the lifespan of your equipment. This ensures you continue delivering quality without compromise.
Maintenance schedules are automated to enhance preventative maintenance measures, which also reduces repair and administrative costs.
Improve Overall Building Condition
Having a property inspection management component can help conduct regular inspections, with specific target areas and schedules and lists on what to check. Data is immediately analyzed and compared to previous inspections, identifying trends in equipment, areas that may become a problem in the future, and ensuring consistency across facilities. Failed inspection areas are immediately flagged, escalating the issues. This keeps tenants happy while increasing confidence and standardizing the level of excellence across your properties.
Building Management Software Features
Around the Clock Monitoring
From one platform, all assets can be monitored and tracked. This helps mitigate risk and streamlines workflows for enhanced productivity and operations.
Energy Analytics
Organizations can quickly realize where energy is being wasted, allowing personnel to make adjustments to the system or automating functions for better energy efficiency. This also helps simplify energy efficiency for reduced consumption and better outcomes.
HVAC Management
All HVAC operations can be tracked, monitored, and adjusted with advanced automation features to increase efficiency. The system also helps provide comfort throughout the facility with a scalable platform that reduces risk.
Utility Management
The efficiency of utilities is improved through the use of intelligent analytics that can track consumption and reduce use with the automation of lighting and other areas where utilities are most often used. This can also help with detecting issues that may be avoided or overlooked.
Fire Safety
When the fire alarm system is integrated within a BMS, it creates a unified system across facilities that has better response times, location-based data, better maintenance, smoke control, and improved safety and performance.
Energy Management
Energy reports can be generated to pinpoint areas where energy usage can be evaluated and reduced. The use of occupancy sensors, as well as indoor quality sensors, helps provide trends toward better energy use.
Security & Compliance
This helps in mitigating risk by having monitoring protocols in place that perform security assessments on all components on a recurring basis, having virtual local area networks that are monitored, one place for compliance checks and reporting, a quick way to revoke physical access and cyber access for employees and visitors, records of incidents and their responses, and more.
Frequently Asked Questions
What is BMS software?
Building Management Software is a technology that helps streamline, automate, and consolidate procedures and most operations for smarter facilities. Everything can be managed from one platform and allows for flexibility in tenant management, HVAC management, access control, maintenance, and more. This helps design a robust tenant experience, helps reduce cost, mitigates risk, and enhances the IT and administrative tasks within the organization.
How is BMS software used?
Building Management Software is used for space management, asset mapping, preventive maintenance, planning, organization, and more. Companies can improve their profitability, reduce the costs of operations, and streamline workflows that create an efficient and productive infrastructure.
What are the different types of building management software?
There are five types of building management software that include:
Computerized Maintenance Management System (CMMS): This is used by personnel for the management of maintenance and repair. Smaller organizations use this to reduce costs, increase efficiency and save time.
Computer-aided Facility Management (CAFM) Software: This software helps in planning, executing, and monitoring maintenance activities and spaces within the facilities. This provides a snapshot of the bigger picture of what's happening throughout the organization.
Facility Management Software: This software has the functionality of a CMMS but adds additional components that add benefits to the entire organization. With this software, the company can perform location-based asset mapping, maintenance management, asset management, management of preventive maintenance, and gathering of data to analyze with streamlined reports.
Integrated Workplace Management System (IWMS): This software helps organize resources within the workplace. When used correctly, the way the organization's resources are used is maximized from a single platform. It can manage space, assets and maintenance, projects, real estate, leasing, and environmental sustainability initiatives.
Enterprise Asset Management (EAM) Software: This software manages the lifecycle of an organization's physical assets and equipment in its entirety to enhance efficiency, improve quality, increase the life of the assets and equipment, and reduce costs. This is a good solution when organizations want to have an integrative system that combines information on maintenance with other information such as tools, labor, inventory, materials, and what's going on in other facilities and departments within the organization.
Want to Know More About Building Management Software?