The Ultimate Guide to CMMS for Your Facility Management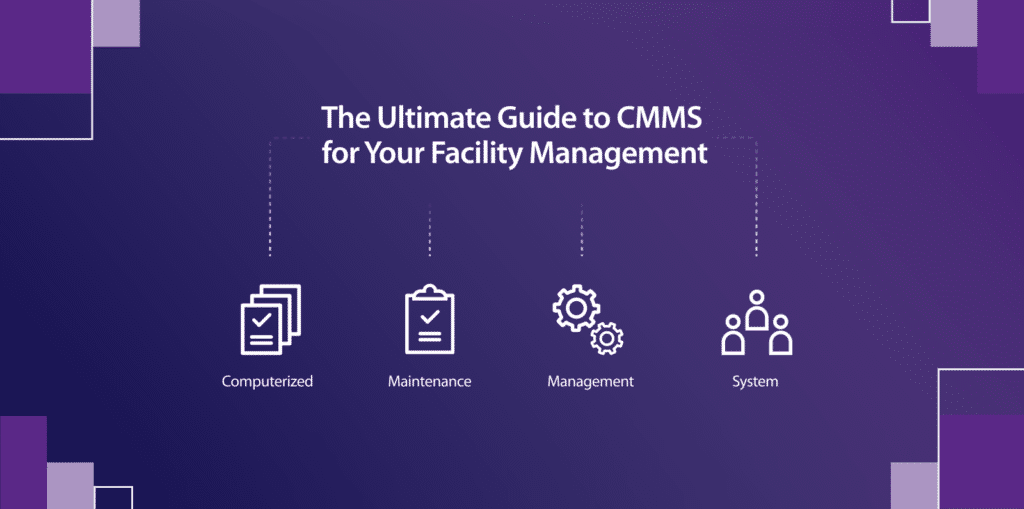 Facility management helps businesses keep their physical locations running smoothly, enabling them to provide exceptional customer experiences through repair and maintenance programs. It's a critical function; a lot goes into making sure an organization covers all their facility management bases.
For that reason, many companies turn to a CMMS solution to minimize the amount of manual work involved and improve facility performance. To help you find the right CMMS solution, we've provided this guide that outlines how these solutions can meet a variety of needs.   
What Does CMMS Stand For?
CMMS stands for computerized maintenance management system. A robust platform that uses automation to streamline processes that help companies track down assets located throughout a company's facility. In addition, they provide organizations with a centralized space for logging and tracking work orders around asset management.
Let's take a closer look at what CMMS is to gain a better understanding of each component.
Computerized
The word "computerized" refers to a CMMS being a software program designed to track company assets. For example, any work orders for asset management get logged and tracked within the program. In addition, organizations rely on a CMMS to produce reports and keep up with any assets that may require preventative maintenance. That way, companies can extend the lifespan of assets while reducing costs and generating higher profits.
Maintenance
The maintenance portion of CMMS refers to one of the primary purposes for the software. It's designed to improve the way organizations maintain and repair the assets in their facilities. One of the biggest challenges for companies is making sure that their equipment is maintained and repaired to decrease downtime and improve operational efficiency. Additionally, CMMS software helps to ensure that your facility is making informed maintenance decisions such as not making unnecessary equipment purchases.
Records of maintenance are also a critical part of this software. Ensuring that work orders, inventory supplies, and preventative maintenance are stored in a centralized location helps organizations know the state of their equipment and assets. This ensures that their assets are ready to serve their customers and guests and avoid costly downtime.
Management
The management component is an essential part of a CMMS. It's what allows users to gain a 360-degree view into the current state of facility maintenance and allow facility managers to quickly take action on maintenance needs. For example, an organization can use the CMMS to set work order schedules, make inventory forecasts, and create reports that provide snapshots of the state of a company's asset management strategy.
System
The system is what ties together the features housed within a CMMS platform. The capabilities provided by a CMMS vary depending on the system type. Ideally, an organization can find a CMMS that integrates easily with its current maintenance practices.
Having a CMMS makes it easier for businesses to share knowledge about company assets and other facility management information. That way, you don't have to start digging through old paperwork, spreadsheets, or try to locate electronic records. Instead, you can tap into your CMMS database to pull all the necessary information. A CMMS helps organizations with maintenance by reducing inefficiencies while increasing their ability to develop strategies for long-term success.
Benefits of CMMS Softwares
When implemented correctly, CMMS software helps companies increase efficiency around asset maintenance and control. In addition, platforms with robust automation capabilities can improve operations processes around asset tracking, leading to minimal downtime and better productivity among workers.
Below are some additional benefits of investing in CMMS software for your enterprise.
Reduce Downtime
If your business needs support to reduce equipment and asset downtime, then you should consider a CMMS solution that has the ability to efficiently manage your assets and allow you to identify maintenance needs before they become a problem. While it's nearly impossible to eliminate downtime in all instances, a CMMS platform makes it easier for companies to keep resources balanced. That helps them facility and asset maintenance backlogs at a manageable level. In addition, a CMMS makes it easier for organizations to conduct asset inspections. That way, they can spot potential problems before they balloon into issues that impact productivity.
Control Costs
In addition to reducing equipment downtime, CMMS software makes it possible to eliminate disparate solutions used to track assets in different departments. This allows your business to control costs while increasing efficiency and improving asset maintenance. Relying on one platform means you no longer need to track down asset information in spreadsheets or other inefficient tracking solutions. You can leverage a CMMS within your organization to help your team:
Keep up with all assets and physical equipment like machines and vehicles
Stay on top of supply levels, material stock, and other types of inventory
Manage your workflows and work orders
Track information like equipment budgets, invoicing, and service schedules
Increase Efficiency
CMMS software helps organizations modernize their inventory management processes, including repair, maintenance, and operating supply. Trying to keep up with these things manually can lead to lost time and consume a company's procurement budget. When your business is considering a solution, consider the time lost to your current manual process and evaluate solutions that allow your team to automatically control your asset management process and gain valuable time back.
Use the CMMS to help technicians track down equipment within an organization without having to hunt it down on foot. That cuts down on time spent tracking down parts and helps optimize inventory control operations. That leads to improved speed and accuracy around repairs and lower stockout costs.
Centralize Information
If your business struggles with information sharing due to how your information is stored, a CMMS platform could help you centralize your information in one convenient location. Instead of being forced to try and track down facility management information housed in different solutions, asset managers can rely on a centralized platform. When looking for a CMMS platform for your company, make sure that the solution you choose has capabilities that include capturing data and allowing users to set up automated processes that improve facility maintenance procedures efficiency. That way, managers have complete visibility into managing work orders and ensuring they get executed correctly. Organizations also track various items in one place like maintenance tasks associated with work orders, the entire history of a work order, and any parts ordered to resolve a work item.
Streamlined Reporting
Does your business struggle with reporting and analyzing your asset and maintenance data? A CMMS platform allows companies to generate reports for different maintenance categories with the click of a button. That way, you always have access to information around asset availability and labor costs. Use those insights to evaluate performance trends and find ways to improve upon your current maintenance processes. In addition, an organization can analyze the data within the platform to help them make critical decisions regarding the enterprise.
How Does a CMMS Work?
You understand the basics of what a CMMS has to offer, but how does a CMMS work? This valuable software is designed by maintenance management professionals who aim to make your work easier. The software can be customized to suit your facility's needs, but it typically supports various functions such as:
Resources and labor management

Asset management

Maintenance planning

Facilities support tracking
Important CMMS Features
Work Order Management
The work order management functions of a CMMS form the platform's core and can help your business improve their current processes. Using a CMMS, you can control various aspects of work orders, including:
    Assign priority to work orders
    Designating order types (ex. Repair, replacement, scheduled work)
    Setting up cause and remedy codes to use with work orders
    Assign personnel to work orders
    Account for any materials used to address a work order
    Reserve materials and equipment for work orders
Maintenance Scheduling
Efficient maintenance scheduling is a common issue experienced among businesses. A CMMS allows organizations to automatically generate work orders depending on specific triggers, time periods, or current asset usage. The preventative maintenance features also make it possible to organize and connect assets to multiple work orders within the platform. That way, companies can help prevent failures that could impact their ability to function.
Companies can improve labor utilization and save money by using CMMS software to:
    Help managers review and prioritize work orders
    Receive updates upon completion of scheduled work
    Rely on QR and barcode scanning
    Set up triggers around preventative maintenance
    Alert technicians when they receive a new work order
    Allow technicians to add notes and update the status of work orders
    Save planned costs and actual costs
    Keep up with the status of work orders
    Track downtime associated with different assets
Asset Management
If asset management is an area of improvement for your business, then consider a CMMS platform that puts asset management at the heart of the platform. The asset management capabilities in industry-leading CMMS solutions generate workflows that help companies improve overall operations. The insights provided by the solution help businesses understand the asset needs of their organization. CMMS also assists with asset management by:
    Providing clarity around asset dollar spend
    Making it much easier to maintain records on inventory storage
    Eliminates the need to keep up with multiple record-keeping systems for assets
    Helps organizations ensure they're following industry compliance standards
    Assisting companies in extending the life of assets through scheduled preventative maintenance
Inventory Management
A CMMS provides a centralized repository to help companies keep up with inventory held in different business areas, this can help your business better manage your inventory. In addition, companies can use CMMS software to handle the distribution of equipment and any associated repairs. That makes locating that piece of equipment easier when it needs reclaiming. Other ways that a CMMS helps with inventory management include:
    Ability to manage suppliers
    Track inventory costs
    Automatically reorder supplies
Maintenance Reporting
All assets and equipment wear down over time, but is your business able to predict when that wear down will happen and be prepared for repairs or replacements? Instead of being caught unaware by a breakdown that impacts operations, you can use the reporting capabilities of your CMMS to help establish proactive preventative measures for issues like keeping up with software updates and making needed safety repairs.
Set up KPIs that target the needs of your industry. That way, you can establish metrics that provide you with insight into maintenance trends and the performance of your employees. Use the information from your reporting to make sound operational decisions.
Mobile App
Does your staff rely on clipboards, paper forms, and logbooks to track their work efforts? Instead, consider a CMMS platform with a mobile app, that way, employees can give real-time updates to the database, improving communications around the status of operational work efforts. In addition, a mobile app offers users the ability to login and create work orders from anywhere. In addition, managers can use a CMMS mobile app to:
    Quickly set up schedules for employees
    Provide asset information
    Keep up with equipment warranties
    Look up the transaction history on a work order
Industries That Should Use a CMMS
Retail
CMMS software can simplify the often complex job of maintaining multiple retail store locations. You can make sure that you have enough stock on-hand to meet a store's needs or send them out to a different spot if needed. In addition, owners and managers can ensure that they stay on top of any maintenance requests. A CMMS makes it easier to keep up with any safety issues that might put you in violation of any local, state, or federal statutes.
Keeping operations running smoothly at a retail location improves the in-store experience. That can give retailers an edge over competitors by keeping costs down and increasing revenue. Streamlining operations with a CMMS allows store owners to maximize uptime for equipment. That way, they can eliminate unexpected repair bills due to unforeseen asset failures.
Retail owners can use a CMMS solution to keep up with:
    Maintenance teams
    Store workflows
    Compliance issues
    Service providers
    Maintenance teams
    Payments to vendors
To find the right fit for your organization, look for platforms that integrate seamlessly with enterprise software often used within a retail environment. That adds transparency across different systems, allowing store owners to make more informed business decisions that keep retail locations operating efficiently.
Grocery Stores
Using a CMMS within a grocery store environment gives managers a way to track what's happening with everything from inventory levels to the status of a repair for a store's air conditioning system. Things could get very uncomfortable for customers during warm weather with no consistent airflow. By staying on top of facility issues, owners can provide customers with a better overall experience.
A CMMS can keep up with assets like freezers, billing systems, or overhead lights. Imagine what would happen if a grocery store suddenly had no cleaning supplies. Customers might immediately turn around and walk out because of poor cleaning maintenance.
Tracking on-hand cleaning supplies with a CMMS can prevent issues like that from occurring. In addition, employing preventative maintenance strategies helps store owners track problems before they become a massive issue for customers and employees.
Other CMMS benefits for grocery stores:
    Avoid stocking issues that lead to customer complaints
    Monitor store performance using dashboards
    Get a detailed overview of the performance of assets and service providers across different store locations
Convenience Stores
Like many service-driven industries, convenience stores live and die based on the satisfaction of their customers. That typically starts with making sure that patrons have an optimal shopping experience from the time they walk in the door until they leave. That's one reason many convenience stores now offer more specially prepared foods and beverages.
A CMMS helps owners keep up with the operational challenge of maintaining a clean, well-maintained store. The platform can support a convenience store owner's need to:
    Track vendors tasked with performing routine maintenance on freezers and coolers
    Ensure HVAC repairs get completed, so customers remain comfortable
    Pull together lists of qualified vendors and contractors for repair services
    Keep up with property assets at different locations
    Automate work order creation and tracking
Restaurants
Due to the changes weathered by the restaurant over the past few years, it's more important than ever that they have some way of tracking inventory and assets. That way, they can better manage the influx of delivery orders along with the patrons who sit down to eat.
Having software to help with facility management ensures that restaurants make the best use of their available assets, like refrigeration and cooking equipment. If your establishment does offer delivery services, a CMMS can make it easier to track the location of cars. In addition, your CMMS solution can help you keep up with the repair schedule, so your cooks aren't left without an operating range during the lunch-hour rush.
Financial Services
Having the most accurate information available helps those who work in financial services do better budgeting. CMMS software aids in that process by gathering data associated with work orders, inventory, or money paid for repairs to ensure your financial institution is well maintained.
To start, you can use your CMMS to create a list of assets and any related data like purchase date and maintenance expenses. The data provided by your CMMS can help you spot trends that could spell trouble and drive decisions like continuing repairs on an asset or replacing it entirely.
How to Choose the Right CMMS
Your CMMS is an investment in the present and future of your organization, so it's crucial to choose the CMMS that best suits your needs. There are several ways to narrow the selection and find the ideal option for your business.
First, identify the "big picture." What problems are you trying to solve and what are your ultimate hopes for your organization with a CMMS in place?
Second, make a wish list for your CMMS. What features are non-negotiable essentials and what features would be nice to have if possible? Your big picture goals should guide this wish list.
Third, start shopping around. Look at top CMMS products to find out which features they offer, how they align with your ultimate goals, how much they cost, and what experiences customers have had with them. Take ServiceChannel for example: with an expansive feature list, a lengthy history of strong customer reviews, and a client-conscious price, this CMMS has everything most facility managers need for smoother operations and a stronger bottom line.
Getting the Most Out of Your CMMS
A CMMS can be a valuable asset in helping your maintenance team operate smoothly, but only if you're using it properly and taking advantage of the benefits it has to offer. As you implement a CMMS into your maintenance plan, make sure you're doing these tasks to fully reap the rewards.
Proper Staff Training
Your staff can only take full advantage of a CMMS if they know how to use it thoroughly and they understand its features. When you implement a new CMMS, conduct detailed hands-on training to teach each employee the ins and outs of the new system.
Your CMMS provider may have training materials that can guide this process. Either way, make sure each team member gets the chance to actually use the system during the training. Remember to also provide this detailed training for new employees during onboarding.
Monitor Employee Use
After your team starts using your new CMMS, watch how they use it for the first few months. If you see mistakes, like mis-categorizing or forgetting to include certain information or use specific features properly, correct those mistakes early on. Otherwise, those mistakes will become habits and when new employees come to the team, veteran employees will teach them incorrectly too.
Measuring and Making Improvements
A CMMS offers unmatched options for data tracking and reporting, so it can be a way to discover gaps and failings in your system. Invest time in learning and using the reporting capabilities in your CMMS. Then, regularly pull and analyze these reports to look for ways you can improve.
Utilizing the Customer Service Team
It's easy to have a particular feature of a CMMS that you don't know how to use and just decide to ignore it and avoid it. If you do, though, you're missing out on fantastic benefits from your CMMS. If your CMMS includes customer service availability, use it. Reach out and ask for guidance about the feature or menu you don't understand so you can enjoy greater benefits from your software.
Frequently Asked Questions
How does a CMMS work?
A CMMS works by helping facility managers automate and streamline the manual work that comes with facility management, including creating work orders and generating reports.
How do I choose CMMS Software?
Your choice of CMMS software should include factors like how well it adapts to your specific industry needs. Look for functionality like the ability to track assets anywhere in your facility and keep up with compliance regulations.
What is the difference between EAM and CMMS?
Enterprise asset management (EAM) software gives companies a high-level view of everything happening with physical assets within their organization. A CMMS helps facility managers handle the granular details of tracking those assets.
How Does CMMS support preventative management?
A CMMS platform lets facility managers know when equipment is due for scheduled maintenance, extending the asset's lifespan.
Where is CMMS data stored?
All information within a CMS gets stored within a centralized database.
What is the difference between ERP and CMMS?
Enterprise Resource Planning (ERP) is a software that can manage all aspects of an organization's operations and functions without the need for human intervention while a CMMS is hyper-focused on maintenance activities.
More Facilities Management 101 Resources
Now that you've learned what CMMS stands for, how it works, and different industry applications, explore our additional resources related to facilities management.