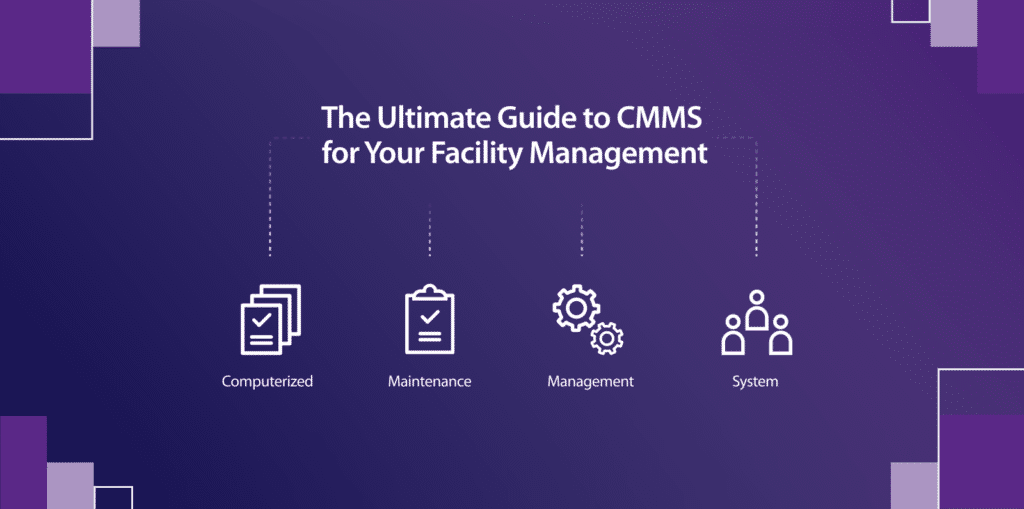 CMMS Facility Management Solutions for Every Industry
Facility management teams help businesses across nearly every industry keep their physical equipment across locations running smoothly. Facility management is a critical function, and it's a multi-faceted job that encompasses maintaining a huge range of expensive assets and complex systems. As technologies evolve and AI is increasingly used for predictive purposes, many companies, from startup to enterprise, are turning to a computerized maintenance management system, or CMMS, to help streamline their facility maintenance operations and improve productivity to meet their business goals.
Here, we look at what CMMS software is and does—and how various industries use it to minimize operational expenses, streamline maintenance activities, and improve the efficiency and lifespan of their assets.
What is a computerized maintenance management system, and what does it do?
A CMMS is a robust software application that helps organizations of all kinds manage and maintain their physical assets and reduce labor costs. CMMS software gives maintenance crews and other departments a complete picture of how well equipment is performing. It can automate many aspects of asset management to help you lower maintenance costs and get the most out of your company's repair and maintenance programs. It serves as a central platform for planning, organizing, and tracking maintenance activities across one facility—or across many locations—including tasks related to:
Refrigeration
HVAC
Plumbing
Electrical
Kitchen equipment
General repairs
Janitorial
A CMMS helps you manage nearly every aspect of your facilities, including:
Asset management and tracking, including every asset's purchase date, location, maintenance schedules, performance and maintenance data, and other critical details
Work order management, including automated work order creation and tracking
Preventive maintenance management, including automating planned asset maintenance scheduling and tracking
Reporting and analytics to help guide facility management decisions
The benefits of CMMS software include:
Improved inventory management
Reduced equipment downtime
Extended asset life
Higher level of safety and compliance
Data-driven decision making through easy-to-generate reports
Lower repair and maintenance costs
Higher worker productivity for asset managers
How Different Industries Use a CMMS
No matter what industry you're in, if you have four walls, you have a facility that needs to be managed—and properly managing the various functions of a facility requires communication, collaboration, and organization. Here's how various industries use CMMS software for asset management to reduce downtime and save time and money.
Retail Chains
CMMS software for retail simplifies the complex job of maintaining multiple retail store locations. In the competitive brick-and-mortar retail space, customer experience can make or break your brand, and it encompasses everything from providing a comfortable shopping environment in all seasons—cool in the summer, warm in the winter—to inventory management, ensuring you have enough stock on hand to meet demand.
Streamlining operations with facility management software helps retailers keep operating costs down by maximizing uptime and reducing unexpected downtime of equipment and minimizing repair and replace bills due to premature failure. A CMMS also makes it easier to identify and mitigate any safety issues that might put you at risk for a lawsuit or in violation of any local, state, or federal statutes.
With the right CMMS software platform, store managers can quickly schedule maintenance tasks with complete visibility for everything from lighting to HVAC
Retail owners use a CMMS solution to:
Streamline facilities management across locations
Automate workflows and work orders
Maintain various compliance requirements
Quickly and easily connect with service providers
Grocery Stores
Using a CMMS in a grocery store environment gives store managers a way to track what's happening with everything from inventory levels to the status of a service order. CMMS software helps grocery stores—from mom-and-pop stores to nationwide supermarket chains—manage and maintain their assets and streamline general store maintenance operations, from maintaining freezers and restaurant equipment to the lighting, heating, and air conditioning systems.
Streamlined preventive maintenance scheduling and asset tracking helps reduce equipment downtime and premature failure, and it ensures your freezers, refrigerators, ovens, and produce misters are always working in peak condition. Automated work orders enable quick response times for repairs, minimizing the risk of food spoilage and maintaining a clean shopping environment.
A CMMS helps your grocery store save money on food spoilage, equipment repair and replacements, and energy costs. It helps you maintain compliance and reduce overall operational losses, and it gives you detailed overviews of your facilities by location or across all locations.
Other benefits of facility management software for grocery stores include:
Reduction in resolution time and increase in asset availability
Fewer stocking issues that lead to customer complaints
Real-time asset monitoring using dashboards
Data analysis and reports to help inform decisions
Convenience Stores
Like many service-driven industries, convenience stores live and die based on the satisfaction of their customers—and customer satisfaction starts with making sure that patrons have an optimal shopping experience from the time they walk in the door until they leave.
Equipment downtime can be catastrophic for a convenience store's bottom line. A CMMS helps local and national convenience store owners keep up with all of the operational challenges of maintaining a clean store, ice-cold beverages, piping-hot pizza, and frozen-solid treats. By streamlining preventive maintenance for fuel pumps, refrigeration, lighting, and security and HVAC systems, convenience store owners and managers can keep their assets in top condition and keep the customer experience positive. A CMMS platform can support a convenience store owner's need to:
Track vendors tasked with performing routine maintenance on freezers and coolers
Ensure the timely completion of HVAC maintenance and repair tasks
Pull together lists of qualified vendors and contractors for repair services
Track and manage assets and asset availability across multiple locations citywide and nation-wide
Automate work order creation and tracking
Restaurants
In the fast-paced restaurant industry, great food and excellent service depend on well-maintained assets and systems. CMMS software is central to keeping restaurant equipment in top working order to avoid asset downtime and costly repairs—the right CMMS can help you manage planned maintenance so your cooks aren't left without a stove or your bartenders without ice during the Friday evening rush. It can help you avoid major plumbing and electrical issues, maintain compliance with industry standards and government regulations, and even manage your janitorial needs.
A CMMS helps restaurants with delivery service track the location of their vehicles and maintain their fleet to optimize mileage, maximize driver safety, and reduce vehicle repair costs. Whether you're a one-store operation or a local or national chain, the right CMMS can help you:
Streamline your preventive maintenance and repair activities
Maintain comfortable temperatures in your restaurant
Keep your facility free of pests
Keep your walk-in coolers and freezers in top working condition
Track the performance of your critical assets in real time
Financial Services
Modern financial services rely heavily on technology, and a CMMS helps banks and other financial institutions operate without interruption. From ATMs and security equipment to HVAC and plumbing, all of your assets and systems will work more efficiently—and with fewer unplanned outages—if they're properly maintained. A CMMS helps your facilities management team efficiently manage preventive maintenance, and real-time performance monitoring and automatic work orders make managing your facilities a breeze, whether they're small, modern buildings in the suburbs or skyscrapers in the financial district.
CMMS software has a range of benefits for financial institutions:
Asset performance trends reports help you make better decisions around your facility operations, saving you money across all maintenance categories.
Streamlined processes increase productivity and help reduce human error.
Automated workflows and task management help ensure your systems and equipment are operating properly and efficiently to ensure smooth operations and safeguard customer data.
Hotels
Hotels need to maintain clean, comfortable facilities at all times—and a CMMS helps your maintenance team quickly and efficiently address all of the little emergencies—a leaky faucet in room 304, a broken A/C in 716. From plumbing and HVAC maintenance scheduling to restaurant equipment and laundry machine performance tracking, a CMMS keeps the whole facility running like a well-oiled machine (because it is!)
A CMMS helps hotel maintenance managers:
Streamline maintenance processes across departments
Reduce overall maintenance expenses and inventory costs
Improve resolution time for maintenance requests
Address guest service requests quickly
Manage room maintenance efficiently
Spa & Fitness
Creating a clean facility and tranquil environment is essential for any type of spa or fitness facility, from a local yoga studio to a national fitness center chain. A CMMS helps spa and fitness center facility management teams maintain a high level of hygiene and cleanliness while keeping the service and workout spaces comfortable and properly lit. 
The right CMMS helps spa and fitness facilities:
Maintain appropriate water temperatures
Keep lighting and HVAC systems working efficiently
Automate preventive plumbing and equipment maintenance
Track maintenance tasks across the facility or across multiple locations
Education
Facilities maintenance departments for educational institutions—from single buildings to entire districts or campuses—ensures faculty and students are able to learn in a comfortable environment. FM maintenance teams are responsible for general maintenance, including janitorial, electrical, HVAC, and plumbing, as well as specialized equipment maintenance in laboratories, gymnasiums, cafeterias, and other facilities. Educational institutions use CMMS software to centralize and streamline work order requests and to automate workflows. Maintenance managers can access facility performance data of one asset or a group of assets across one or more locations to help drive cost-effective decision-making.
A CMMS for educational facilities management helps FM personnel:
Create and track work orders
Maintain comfortable temperatures and adequate lighting in classroom and gymnasiums
Ensure optimal security in classrooms, laboratories, and other spaces
Allocate resources more effectively
Reduce expenditures related to maintenance
Healthcare
The critical nature of equipment in healthcare settings and the vast importance of cleanliness and security make healthcare facility management teams some of the most important employees in a hospital, clinic, or doctor's office. A CMMS helps FMs maintain comfortable temperatures throughout the facility, keep important equipment and systems working properly, and improve the overall experience of employees, patients, and visitors.
The right CMMS can help healthcare facility management teams:
Prioritize maintenance and repair of critical assets
Monitor asset performance in real time
Automate preventive maintenance scheduling
Lower operating costs
Track and maintain assets for compliance
Reduce equipment downtime
How to Choose the Right CMMS
To find the right CMMS provider for your facilities, look for a platform that integrates seamlessly with your enterprise asset management software to bring cohesion and transparency across different locations and various departments and meet all of your maintenance needs. An integrated workplace management system approach to facility management enables your operation to make better-informed business decisions from top to bottom that keep your facilities—and all of the assets within—operating smoothly and cost-effectively.
If you're a large operation or have critical assets that can mean life or death, a cloud-based CMMS ensures speedy disaster recovery and makes data available on mobile devices—a must-have for busy facilities managers who are always on the go. Once your CMMS is up and running, get the most out of it by providing training and ongoing support for those who use the platform.
Our facility management software is easy to use, and we can help you integrate it with your enterprise asset management software to provide you with a holistic look at your entire operation. Contact us today, and see how ServiceChannel can transform the way you manage your facilities.
Frequently Asked Questions
Where is CMMS data stored?
All information within a computerized maintenance management system gets stored within a centralized database.
How Does CMMS support preventative maintenance teams?
CMMS platforms lets facility managers know when equipment is due for scheduled maintenance—and it can automate the work order—extending the asset's lifespan.
What is the difference between ERP and CMMS?
Enterprise Resource Planning (ERP) is a space management software that can manage all aspects of an organization's operations and functions without the need for human intervention while a CMMS is hyper-focused on maintenance activities.
What is the difference between EAM and CMMS?
Enterprise asset management (EAM) software gives companies a high-level view of everything happening with physical assets within their organization. A CMMS centralizes maintenance information to help facility managers handle the granular details of tracking those assets.
How do I choose CMMS Software?
Your choice of CMMS software should include factors like how well it adapts to your specific industry needs. Look for functionality like the ability to track assets anywhere in your facility and keep up with compliance regulations.
How does a CMMS work?
A computerized maintenance management system works by helping facility managers automate and streamline the manual work that comes with facility management, including creating work orders and generating reports.