The Complete Restaurant Preventive Maintenance Checklist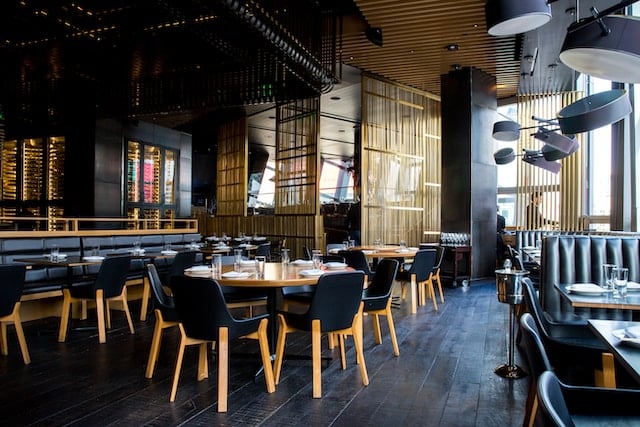 Restaurant maintenance lacks the glamor of other aspects of the restaurant business, such as developing new dishes or serving well-presented food. However, maintenance is critical to ensuring that customers have a quality experience in your restaurant.
Restaurant maintenance involves checking, repairing, and replacing equipment or systems. It involves proactively inspecting and fixing issues before they result in downtime or an experience that is less than optimal. For example, restaurant preventive maintenance would require checking the air conditioning system at regular intervals and repairing worn components before the system quits. Or it may require removing debris from the vents of ovens to prevent a breakdown.
When considering how and when to perform maintenance on your restaurant equipment it helps to start with the frequency the tasks should be completed and where. A restaurant preventive maintenance checklist is a great place to start and iterate upon to meet your individual needs.
What Areas Are Included in Restaurant Preventive Maintenance?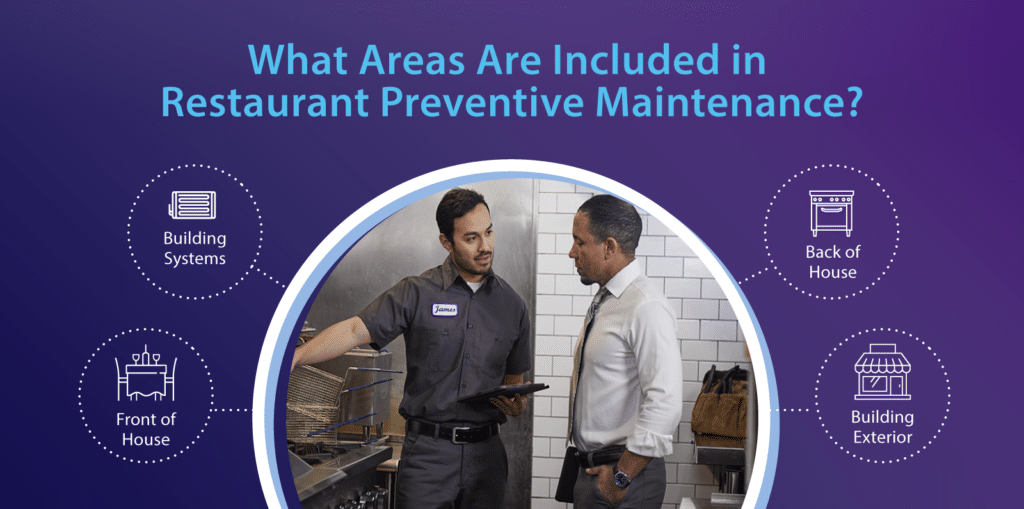 Everything about your restaurant impacts the customer experience, so restaurant preventive maintenance management must include all your company equipment, such as ovens, walk-ins, and point-of-sale systems. A comprehensive preventive maintenance program will help you save money in the long run by improving uptime and overall customer satisfaction. When developing your restaurant's preventive maintenance strategy, consider these areas:
Building systems; for example, the HVAC system
Front of the house; for example, the furniture or the point-of-sale equipment
Back of the house; for example, the oven
The building exterior; for example sidewalks and awnings
Each of these areas has tasks to be performed daily, weekly, monthly, quarterly, and annually.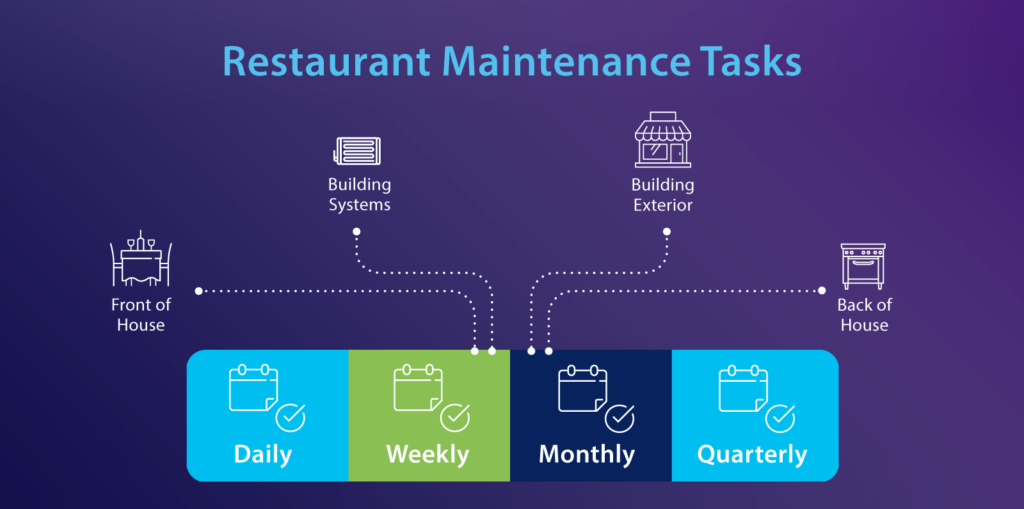 Daily Restaurant Maintenance Tasks
Maintenance tasks that restaurants should perform daily touch every part of the facility and are the typical checklist that one might think of when thinking of an opening or closing checklist.
Back of the House
Cleaning, brushing, and scraping fryers, racks, and grills
Emptying and degreasing drip trays
Cleaning the inside and outside of ovens and ranges and checking the door seals
Cleaning debris and wiping spills in refrigerators
Sweep or mop the floors or walk-in refrigeration units
Record internal temperatures in refrigerators and warewashers
Clean and sanitize all components of food preparation equipment
Drain the water from the warewashers and clean them with warm water.
Clean all utensils, countertops, bowls, coffee makers, and kitchen tools
Front of the House
Cleaning the furniture and all the POS equipment
Remove the soda machine nozzles and clean and sanitize them
Empty ice from the bin and clean and sanitize it and the ice chute
Clean stains from walls or carpets
Building Systems
Check for, identify, and repair any frayed wires
Inspect timers and power supply units
Building Exterior
Ensure ADA parking spots are clear of debris
Ensure sidewalks are clear of debris or hazards
Ensure all doors and locks are functioning properly
Weekly Maintenance Tasks
Similar to daily tasks, weekly preventive maintenance tasks are also often included in opening and closing checklists. However, these tasks often need more oversight to ensure they are being completed to keep your restaurant running smoothly.
Back of House
Replacing old oil in the fryer
Deep cleaning fryers and ovens or ranges
Clean the intake fan on a combo oven
Change the filter paper in the fryer or clean out the filtration system
Season the grill or griddle
Check to ensure door hinges appropriately align in walk-in refrigerators and freezers
Polish the stainless steel exterior of the range or oven, warewashers, and steamers or kettle
Clean the dishwasher filter
Test the water temperature and rinse pressure in the dishwasher or warewasher
Ensure drain lines are clear
Empty and clean overflow water trays in the refrigeration unit
Remove interior shelves in the refrigeration unit and clean the exterior and interior
Replace coffee machine filters
Pour drain cleaners down sinks
Clean stains off the walls
Reorganize stock rooms
Grease range valve knobs
Check refrigerant level
Ensure temperatures in the storage room are up to code
Front of House
Disconnect and clean syrup connectors on beverage dispensers, letting them air dry before reinstalling
Inspect the condition of the furniture
Look for cracks in the floor that might be a tripping hazard
Building Systems
Check inlets, circuit breakers, panelboards, and electrical distribution systems
Check refrigerant lines on HVAC systems
Building Exterior
Monthly Maintenance Tasks
Monthly restaurant preventive maintenance tasks have less of a direct impact on the health, safety, and satisfaction of your guests and staff and instead heavily impact the longevity of your equipment and tools.
Back of House
Checking for and eliminating grease buildup on the range exhaust and fan.
Remove the ice and thoroughly clean the bins
Descale the coffee machine
Wash floors and walls behind the equipment
Sharpen knives
Check fryers for gas leaks
Inspect gaskets for any tears
Front of House
Empty the ice from the top bin of the soda dispenser and clean and sanitize the bin and chute
Clean the condenser on the soda dispenser
Building Systems
Confirming that warning lights work correctly on systems
Survey all machinery and moving systems
Building Exterior
Quarterly Restaurant Tasks
Quarterly, or seasonally, restaurants should take additional precautions to ensure that all equipment, tools, and furniture are maintained for health, safety, and efficiency. These tasks are often more mundane than the daily, weekly, and monthly, but still equally important.
Back of House
Clean the condenser coil on the refrigeration unit
Inspect the compressor and clean the fan blades on the refrigeration unit
Clean and replace filters
Clean and organize stockrooms
Descale the combi oven
Replace water filtration cartridges on the ice machine (every six months)
Clean condenser and clean and sanitize interior bin on ice machine (every six months)
Visually inspect griddles and ranges, looking for cracks; replace any worn knobs
Test refrigeration temperature controls
Check refrigerant levels
Front of House
Check the appearance of signs and replace them, as necessary
Ensure floor mats still provide the right amount of cushion and safety
Tighten hardware on dining room furniture
Tighten restroom stall hardware
Building Systems
Ensure the HVAC system sits level
Inspect fan blades on the HVAC system
Clear debris around outside HVAC units
Building Exterior
Planting
Inspect the building enclosure for possible signs of failure
Who is Responsible for the Preventive Maintenance Checklist?
Responsibility for the items on the restaurant preventive maintenance checklist falls to different people within the organization, depending on the location of the asset and frequency of the task. For example, chefs and other members of the kitchen or back-of-the-house team will be responsible for most daily and weekly tasks. Likewise, front-of-the-house staff will be responsible for most of the daily and weekly tasks in their areas.
However, facilities maintenance staff are typically responsible for the monthly, quarterly, and annual preventive maintenance tasks in both the front and back of the house. The facilities management team is responsible for exterior and building systems tasks, regardless of their frequency.
Your Preventive Maintenance Partner
Building and facilities maintenance is critical for restaurants to continue offering an excellent customer experience. Proper asset management requires preventive maintenance, with tasks being performed at specific intervals. Ongoing monitoring and maintenance can prevent downtime, extend the life of assets, and control costs. Restaurants must maintain assets in the back-of-the-house and front-of-the-house and the building's exterior. They also must maintain systems, such as electrical and HVAC.
ServiceChannel partners with restaurants to help them improve their customer experience while also lowering operating costs. ServiceChannel can help ensure kitchen equipment continually operates optimally and provide a clear picture of maintenance. ServiceChannel can also help you find the best providers for your assets. Contact us to learn more about our restaurant preventive maintenance tools and services.