Trade Expert Q&A Series: Shooting the Breeze with Tony Johnson, HVAC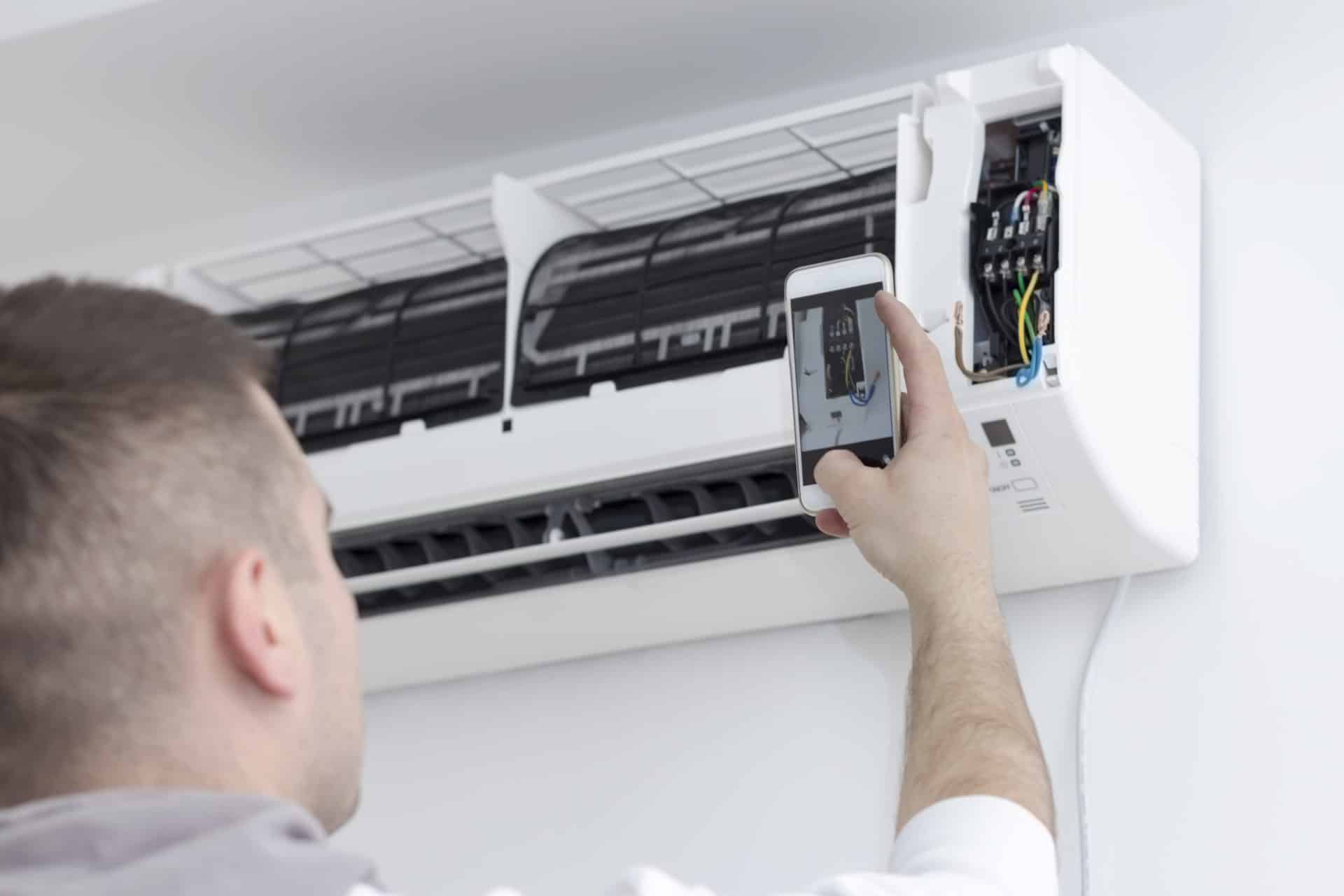 A jack-of-all-trades, there isn't much Tony Johnson isn't well versed in. In spring 2021, Tony co-founded the Trade Specialist Department, where he helped create the vision for it and find the right people — like Bruce, Aaron, and Millard — to staff it. In his role today as HVAC Trade Manager, he is almost exclusively focused on HVAC.
Tony is part of a generation that takes their jobs seriously, and his upward trajectory through the trades in one capacity or another has imbued him with a fount of knowledge — and a way with people. We caught up with him recently over Zoom and knew almost instinctively that he's from the Midwest — Iowa, as it turns out. Tony's unassuming demeanor belies his vast understanding of all aspects of the trades, from manufacturing, distributing, and sales to the technology driving modern advancements in HVAC, refrigeration, plumbing, and electrical.
So, what does a day in the life of an HVAC trade specialist look like?
My primary role is to review solution-based proposals submitted to us by service providers to resolve problems within our client's facilities. I ensure fair pricing and labor practices are used. I also support our facility coordinators, operations, provider development team, project management team, and our sales and marketing teams. And, of course, I provide technical assistance within the HVAC/R trades and many others.
I've been with ServiceChannel for a little over two years. I started off working in the Scout program and then came over to help get the trade specialist department up and running. I'm kind of the unofficial leader of the specialists team, which means I make sure they get the support and training they need to stay on top of new technologies in the field. And I've been in the business a lot longer than the rest of them, so I mentor them on best practices and how to handle certain situations.
How do you support your service providers?
We help ensure that only well-qualified service providers are on the platform and can serve our client needs in a timely manner. We offer ongoing training and assistance to our provider base to help ensure their success using our platform.
I'm also currently working with other ServiceChannel teams to design an asset-based set of problem and trade resolution codes or algorithms in order to create efficiencies within the work order process, which will make our workflow even more efficient. Once that's in place, it'll make everyone's jobs — ours, the providers', and the clients' — easier.
In addition to that, I develop and conduct company-wide training sessions, and I provide technical advice and support inside and outside the ServiceChannel platform for problems not necessarily related to the trades, such as mold mitigation and restoration projects, water damage problems, and COVID cleaning protocols.
Do you have experience in those areas?
I do. I owned two service master franchises for 10 years, and one of my licenses was fire and flood restoration services. I've done an awful lot of that in my day, so I can speak to it and I know what to look for in proposals.
We have a network of providers for water restoration, but not so much remediation, which goes a little bit beyond removing the water — it's more like tearing out walls and floors. But we're always happy to help our clients find someone they can trust to take that on.
One of our customers is a high-end furniture brand that has had a lot of humidity issues that have caused mold and mildew growth. They've also had the opposite, where it's too dry, and their furniture was cracking. I spent a tremendous amount of time with them resolving their humidity issues through HVAC solutions, but they had someone from the outside do the mold remediation. Our contact at the company likes to run stuff past me, so she'll send me remediation reports and quotes and ask about things like relative humidity and different processes.
It sounds like you have good relationships with your customers.
Oh, yes. I do a lot of that, you know, adding value for the client, even if it's not billable. It's just something I feel is the right thing to do.
How has COVID impacted your trade?
It has caused many corporate facility departments to downsize and contract with platforms like ServiceChannel for their facility maintenance needs.
When people started to get back into their offices last year, everybody needed to do a really deep, post-COVID clean. We have a network of providers that offer janitorial services, and so I helped vet their capabilities and get the right people on those COVID jobs. I provide the contractor with the square footage of the office space and let them know whether the client needs a standard post-COVID cleaning or if an employee has tested positive. And then the provider sends a proposal, which I review and send back for clarification if needed.
We also had a lot of techs retiring during the pandemic, so sometimes it was tough to find experienced service providers. And of course, there were supply chain issues and lengthy delays in manufacturing.
How have supply chain delays impacted your industry?
That's one of the biggest challenges facing facilities today. Pipeline problems are making it very difficult for our providers to source some parts and equipment, and they're experiencing longer than usual lead-times. Everything is still weeks out. So, one of my jobs is to provide real-time market data, such as average lead-times and price trends for parts and equipment, and I help our facility coordinators and providers find parts they need that have shorter lead-times.
What happens if the HVAC system in a large facility breaks down, and you can't get the part for a week? And it's in Florida, and it's August. How would you resolve that?
Well, if we can't find a temporary fix to get them by safely until the part arrives, we'll install temporary cooling, which are stand-up units that are connected to the water and electricity. We have rental companies that calculate the BTU needs for the space and go install the units. The same goes for temporary heating.
You said a lot of technicians retired during the pandemic. Has that had a big impact on business?
It has. Because at the same time older technicians are retiring, you have fewer people entering the field. I recently talked to an instructor at a trade school who told me that only three people had signed up for one of their programs, when they normally have 26. It's hard to get younger kids interested in that type of work. Another school I know of in Colorado had 15 techs getting ready to graduate, and there were 32 job placement orders. They didn't even have enough people coming out of the school to fill the current openings that various companies needed. There's definitely fewer people entering the career field today than there were 10 years ago.
Are there any trade organizations doing marketing and outreach to entice young people into the field?
Yeah, probably. I mean, there are all kinds of organizations out there, but I'm not aware of any particular one that really focuses on bringing new techs in to learn the trade. But there's a bunch of different organizations out there, and they're all starting to realize that they need to make an effort to attract people to the industry. Being a service technician pays well — maybe not so much right out of school, but a seasoned tech makes really good money.
And honestly, that's one reason why I got into it when I was in my 40s. I went to school, got straight A's all the way through, and made the dean's list. But I never planned on being a tech. I figured I'd be a service manager or open a business. But I also knew that I should be a tech for a little while if I was going to be an effective service manager, so I took a job and quickly realized I wasn't as smart as I thought it was. In school, I was good at both the academic part and the hands-on training, but it's different when you get out into the field. It takes time to really get proficient at these things.
What did you do before you went back to school in your 40s?
I was in the military for 10 years, and then I bought and operated my two ServiceMaster franchises for another 10 years. I had 50 employees, worked night and day, no vacations. In the end, I was ready to do something a little less all-consuming, so I bought a rig and went into trucking. I drove for around four and a half years, and then I hurt myself badly and had to rethink what I was going to do.
I opened a small janitorial business to pay the bills while I went back to school, and I picked HVAC because the need for heating and cooling isn't going anywhere — there's always going to be jobs for technicians — and I knew it paid well. And it's led to many things. I've been everything from a territory sales manager to a company-wide sales manager, and this is my third facility gig. And it's all been made possible by my HVAC background.
What's the word on the street for HVAC in 2022 and beyond? Any emerging technologies or changing industry standards that will keep you busy?
EPA regulations and rapidly changing price points for refrigerants is always something that's going on. Same with increased energy efficiency ratings for equipment. Smart technologies and asset management tools are being designed and employed all the time to assist in the decision process — like when to repair vs. replace — and improve the ability to detect potential part failures before they cause a unit to go offline.
Do you get a heads-up when EPA changes are coming down the line? And if so, do you reach out to clients to let them know?
There's always a lengthy phase-in and phase-out period. There's nothing official that notifies us of changes. You hear it from providers — you'll hear about it everywhere if you're keeping up on your trade. And you also learn very quickly by the cost of the refrigerant, which skyrockets when it's on the verge of being discontinued. For instance, when R-22 was first being phased out, the price quadrupled almost overnight.
We don't communicate the information to the client as a matter of practice because things change so fast, and the regulations could be completely different by the time a customer is ready for a new unit. It's an ever-evolving market, and decisions have to be made on a case-by-case basis. For example, you may have an older R-22 system that has some issues, and it requires 30 pounds of R-22, which is very expensive. So you have to know when it's time to consider a more efficient model that uses newer refrigerants, which will hopefully be around a lot longer than previous ones.
If a company has a 15-year old HVAC system, how much would they save just by replacing it with a new, high-efficiency system with the latest technologies and refrigerants?
It can be thousands over the lifespan of the equipment. It depends on how big a facility they have, how many units they have, and the tonnage, or BTUs. Everything in HVAC for air conditioning is all about the Seasonal Energy Efficiency Ratio (SEER) rating, which is basically a measure of a system's cooling performance … sort of like the miles per gallon for a car. As technology improves, the SEER rating of units in general goes up. The higher the SEER rating, the more the equipment's going to cost. And many times, you can recoup that through energy savings over a typical lifespan of a unit. But because there are so many variables you can't really say for certain exactly how much you'll save.
How long does a typical commercial HVAC system last?
It depends on several variables — the climate, the location, how much the system is used, how well it's maintained — things like that. Generally, you're looking at 12 to 20 years. A good benchmark for starting to plan for a replacement is 12 to 15 years.
And this is why a planned preventive maintenance program is so important. If you keep your systems in good shape, you can create a strategic plan for replacement — budget for it, prepare for it, and schedule it when it's convenient.
So, what does a planned preventative maintenance program entail?
A technician will come out twice a year, once in the spring for the air conditioning and once in the fall for the heating system to clean and inspect the unit. They'll tighten screws, lubricate the motor and fan, and replace old parts before they fail. Eventually, the machine will need to be replaced, but if it's maintained properly, it'll be on your terms. If it's kept up, it's more likely to reach its maximum lifespan. And since you know roughly when that'll be, you have time to consider your efficiency rating options, do the math, plan for the install, and get the equipment ordered early.
Otherwise, it'll start to nickel and dime you, just like an old vehicle does — once things start going wrong, they compound. So you've got a sudden, unexpected repair because of a loose screw, and the quote is $8,000 to fix it. The unit is 16 years old, and you have to decide then and there whether you're going to fix it or spend $20,000 to replace it.
If you could give a facilities manager the golden egg of HVAC advice that would save time, money, and heartache, what would it be?
It might sound salesy, but it's true — contract with one of the many ServiceChannel offerings. It'll make your life so much easier, in so many ways.
Check in next week to meet Aaron James, our resident plumbing expert who always knows what to do when you're in over your head.
Want to be the first to know when we publish our next Q&A? Join our mailing list and subscribe to our blog.