Trade Expert Q&A Series: What's Cooking with Millard Wilson, Kitchen Equipment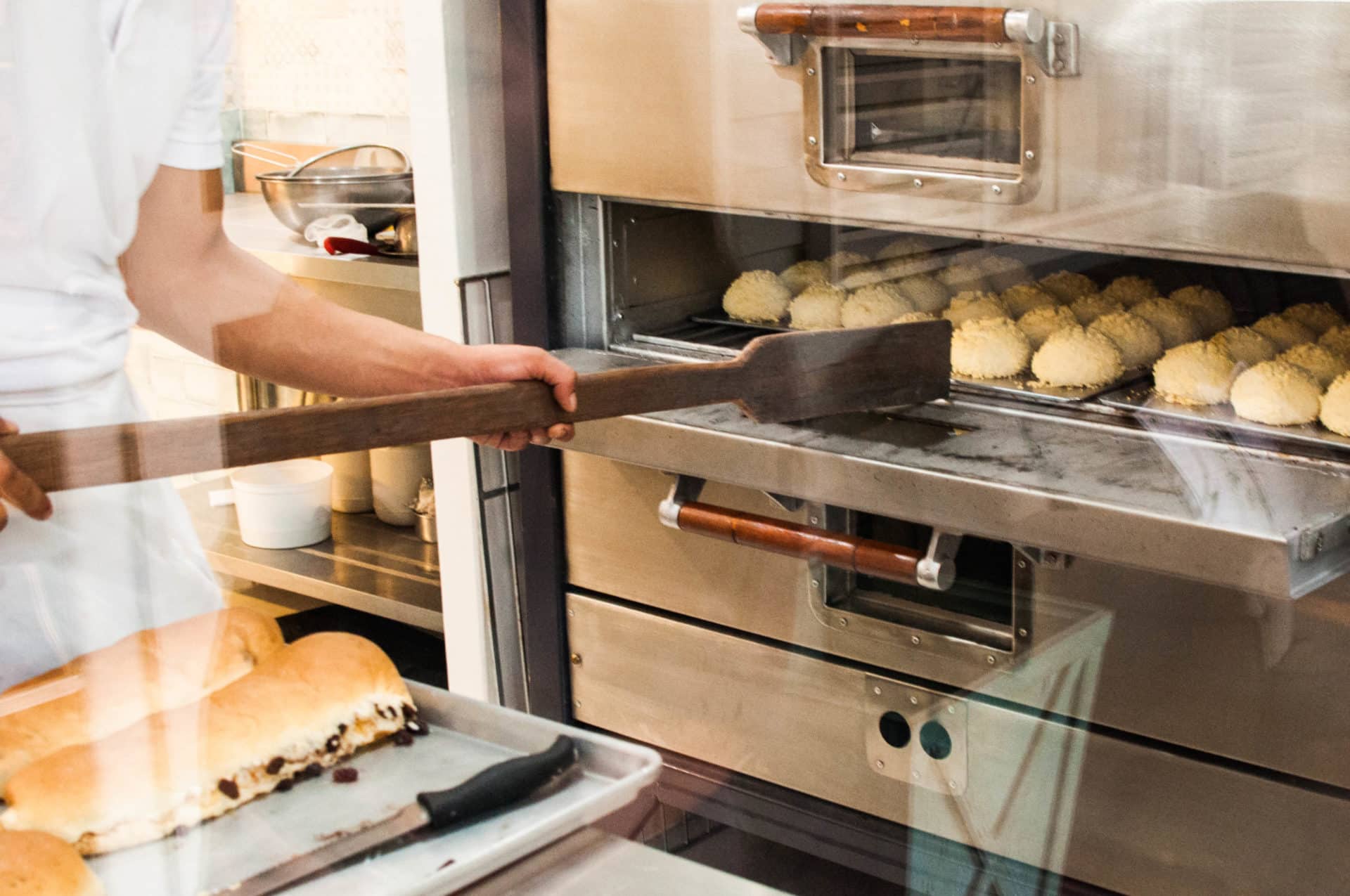 ServiceChannel's four in-house trade specialists are no joke — but they're pretty jovial guys who are always up for a casual and enlightening conversation about pipes, wires, coils, burners, and refrigerants. Considering it's the vast expertise of these four gentlemen that helps keep ServiceChannel at the #1 spot for facilities management platforms, we think it's a shame to keep them all to ourselves. So, during the month of May, Bruce, Tony, Millard, and Aaron will give us a little glimpse into what goes on behind the scenes as they work to keep your facilities operating at peak performance.
Millard Wilson knows his way around a commercial kitchen — and all of the equipment you could possibly find in one. Normally, you'll find him in his Savannah, Georgia home, working at his desk to keep enormous ovens, grills, coolers, and dishwashers across North America operating safely and efficiently. Today, though, his bright yellow polo shirt is starkly cheerful against the deep-blue Orlando, Florida sky as he gives us the 411 on all things commercial kitchen over Zoom. Behind him is the radome of the SS Liberty, which he'll soon board with his wife for a little well-deserved rest and relaxation in the Caribbean. As you're about to see, Millard is the kind of guy who is happy to take one last work-related call on what is surely a hectic, getting-ready-to-go-on-vacay kind of Monday — although you wouldn't know it to look at him. In fact, he looks like he's just returning from a seaside retreat, with his relaxed shoulders and easy smile.
And that's why we're so glad that Millard joined the ServiceChannel team last year as our commercial kitchen equipment trade specialist. We like his enthusiasm — and that bright yellow shirt that seems to match his warm personality.
Millard, how long have you been with ServiceChannel?
They offered me the position a year ago. And it's funny, because as a technician in the field, I always saw ServiceChannel as the high end, the pinnacle of the industry. They were who you wanted to run a call for, because it was just so easy, so well thought out. And then to get the opportunity to work with them was quite surreal for me, to be honest with you. It was at the height of the pandemic, so when they reached out, I was thinking, this is a scam — why would ServiceChannel come for me? It was quite an experience, and it has been a fantastic year.
Where were you when ServiceChannel came calling?
I've been a service technician for 25 years, and moving into facilities management has been a wild ride so far. And I'm loving every minute of it.
What does a typical day look like for you at ServiceChannel?
I take and return phone calls, review quotes from providers, and lend a hand to our team of professional facility coordinators whenever they're in doubt about a technical diagnosis or need help putting the pieces together for a client. It's really our facility coordinators who juggle the needs, wants, and desires of each individual client we have.
You know, one client may be very particular. They want everything just so, because it makes their system flow. They may require a different set up or different information on each work order. The next client may be more hands-off.
So, the facility coordinators are the intermediary between the trade specialists, the provider, and the client — they look at everything, manage the day-to-day operations. And they're invaluable to me because I can go to them and say, Hey, this is going on. I see such-and-such is wrong with this proposal. It may be something minuscule, but some clients want everything broken down in a specific way.
Each trade specialist is assigned so many clients, and there's no way that we can know all the ins and outs of each individual client. We know the technical aspects of it, but the personal relationship with the client — that's where our coordinators come in.
What about your job gives you a sense of purpose and meaning?
I pride myself on being available to my team and our customers and providers any time of the day or night. It's not strictly a nine-to-five, per se. It's important in this business to get back to people right away, so I check my email messages while I have my morning coffee, and I check continuously throughout the day. Even when I'm watching TV in the evening, and hanging out on the weekends, I'm checking my phone — the team has my cell and knows if they need me, I'll help out however I can.
I probably meet most with the other service experts — Bruce, Aaron, or Tony — looking for some input or advice, or it could be one of our facilities coordinators, like Brittany, Sarah, Cara, Kym, or Ian reaching out, like, Hey, I've got a question for you, what do you think about this? Does this look okay to you? Or, Hey, I see you wrote this in the work order. Can you give me more detail on it? And I'll give them my opinion or advice. I also make sure I'm available to any individual technicians or their bosses in case something goes south on the job or they have questions about a particular repair or installation.
What's the latest you've ever gotten a call?
I'm in Savannah, Georgia, so I'm pretty much as East Coast as you can get. And we've got companies out in Hawaii running these service calls, so I try to make sure that I'm available for them whenever they need me. But the latest I've actually been on the phone with a technician so far was 10 p.m. EST, so that's not too bad. The guys in Hawaii haven't had a lot of issues where they've had to reach out to me, so I'm thankful for that.
I volunteered to go to Hawaii just to make sure the job's done right. But unfortunately, my request was turned down. Well, they actually didn't say no — they just laughed.
Sometimes ServiceChannel is, like, Hey guys, y'all have got to disconnect. But it's hard to disconnect when you know that the people who are reaching out to you are doing so because they need help. And my wife is really supportive and proud about that — but she's also really excited right now, because for the next few days, we'll be in the Caribbean and won't have phone signals. I'm probably going to go crazy, checking my phone for no reason.
What are you looking for when you review provider quotes?
One of the things we're tasked with is determining whether their proposed solution, timeline, and price align. We want to ensure the solution addresses the customer's issue. And most of the time everything looks good.
I had a situation with a piece of equipment last week where the customer said that whenever the power cord gets bumped or moved, the unit shuts off. That means we probably have a short in the power cord — it's pretty self-explanatory. Well, the provider went to the site, and said, Hey, we also need this, this and this, and I'm going to quote you $2,000. So my response to them was, okay, but why do we need it? Not that it's not needed, but I need to understand why. Because it wasn't related to the first call.
As a technician, I know that happens. You go out to the site and the customer says, Hey, my fryer's not working right, the power cord is bad, but they only see part of the issue. A professional technician is going to look at your whole unit, from the wall to the floor to the sky — however big it is, they look at the entire thing and address the whole problem while they're there.
So my job is to look at it and get to the bottom of it so I can let the client know that they need this other thing repaired while the technician is on site. Or sometimes I'll look at a quote and say, You know, your labor is high, in my opinion. Why are we doing it this way? or, Why is there extra labor? Because I'm not the person walking into the kitchen or onto that rooftop, so I need to make sure that I have all of the information I need.
Sometimes, there are special circumstances where we have to spend more money to get the job done, whereas if it was a different situation, the labor would be two or three hours less. I just sort of work with the provider to make sure everything is clear.
And do you know how long each different type of repair should take on all of the different types of equipment?
Yes. It's easy for me to know roughly how long a particular job should take to complete. And of course, we try to make sure that we give the provider a little room — not every technician is as efficient as the next, so there's that. Plus, we've all heard the joke, a 30-minute job is one broken screw away from a three-day ordeal.
When I'd do my quotes in the field, if I figured the job was going to take me three hours, I'd quote three and a half or four, depending on what the job was. Because you do get those oh, crap! moments where something doesn't come apart, or something doesn't work right, and you want to make sure you're covered.
So when I go to our clients, I'm the middleman who says, Hey, yeah, everything's in order here — the pricing that the technician provided was spot on, and it was reasonable for the amount of time it should take to do the repair.
What does a commercial kitchen equipment expert like yourself fix, maintain, or install?
Everything that can be found in a commercial kitchen. I can not only fix any kind of kitchen equipment, but with my 25 years of experience in the industry, and having achieved a Master Commercial Food Equipment Service Association (CFESA) certification, an HVACR certification and multiple manufacturer certifications, I also provide tech support as needed.
Do you venture out into the field very often?
Typically, we trade specialists work from a desk — we're on the computer, taking phone calls, answering emails, that sort of thing. But one of our jobs is hands-on training. When we took over one big job recently, I went out and worked with one of our vendors — I met the gentleman in charge of the project and one of his techs, and we did some hands-on training.
So on occasion, I do have direct contact with the client and their people, and that's always nice. But mostly, client communication comes through our facilities coordinators.
Earlier, you said that before you started working for ServiceChannel, you thought of them as the top-shelf provider, the pinnacle of service. Now that you work there, what would you say is the key factor for ServiceChannel's success, why they're looked up to by service providers?
I think it's the relationships we have with our clients. I really see it now that I'm on board and am working with them. Our facilities coordinators who are in charge of our customer accounts are great people, they really look out for their clients. They're a lot like I am — they have that work ethic that, Hey, you need me on a Saturday, and I'm at my kid's ball game? Pick up the phone, give me a call. I'm here for you.
And it feels like ServiceChannel seeks out people who have that mindset, who really do care about other people and who truly want to provide our clients with great service.
So, I think it's that relationship piece, and also the understanding that for this type of client-platform-provider model to work, it's a give-and-take on all sides. We have to help everybody see the middle ground, we have to take things on a case-by-case basis, because every client's needs are different, every job is different, every piece of equipment is different.
I used to always say to my boss, the customers don't need us. That sounds funny because they need someone to repair their walk-in cooler, their air conditioner, their fryer. But there's always another company, always somebody else — there's Bob down the street, and he's eager to take my place.
So the relationship with the client is definitely the foundation, but we also want our customers to trust us, to see that we're sending out top-notch providers, the best we can find, who work for fair prices, and who we're willing to stand behind. We have a team of provider development folks who go out and work with the providers to help them — to give them coaching and training. You know, tell them, This is what your clients are looking for. What can we do to get you there so we can get this to them?
There's that relationship with the customer, but also within the ServiceChannel family. Here, you work with passionate people who bring you up to their level. If you work with negative people, you become negative. And when you work with good people — and in this case, great people — it just makes all the difference for us, and for the client. There's a camaraderie here that's really special. Like, when someone messes up — and everyone messes up sometimes, right? — they're never like, oh God, you screwed up again. It's like, Hey man, we missed the mark on this. Let's see how we can do it differently. It's always us, we. It's a collaborative atmosphere, a culture of we're in it together, as a team. Everybody checks in on each other, and all that stuff means a lot, you know. I honestly can't say enough. It's a great group of people.
So, what happens if something breaks down, like a meat freezer or something, and the supply chain tells you that a part is not going to arrive for three weeks?
It depends. Speaking as a master technician, I'd say if it can be made to work, let's get it to work, as long as safety is not compromised. I have walked away from jobs where I was like, I can't do this and do it safely, so we're not going to do it.
I had a walk-in cooler at a large convenience store chain where they had a low pressure switch on the walk-in cooler, and it wouldn't reset, because it was a bad switch. It was a Sunday afternoon, raining outside, and everything was closed, so there was nowhere to get the part. I was able to fix it temporarily until the next morning, when I could go to the supply house and get what I needed to fix it properly.
We got them going, and it wasn't the best solution, but the bottom line is that if it's at all possible to get the customer's equipment up and running, at least temporarily — even if it has reduced capacity — then we'll do whatever it takes, use whatever is available to us to make sure the customer stays in production until the permanent repair can be done.
How do you decide whether to provide a temporary solution?
Sometimes we have to make hard calls, calls that we don't want to have to make. And so if I go in and I see a bad heat exchanger, I'm shutting your heat off. You know, I'm sorry you're going to be cold, but I can't put your safety at risk. And, you know, not everybody sees it our way, but at ServiceChannel, we're very safety conscious, and we want to make absolutely sure we're doing the right thing. And that's one of the advantages of having the four trade specialists here.
We can reach out in good conscience, tell our facility coordinators that we can't do a job because it's not safe. And ServiceChannel management is going to stand behind us 100%, even if it upsets the client. They may come to us, like, I've got, so-and-so mad because you won't do the work, and they're partially out of business. All we have to do is tell them it was a safety issue, and that's pretty much the end of the conversation. Because they understand safety first. And the vast majority of the time, our clients are on the same page.
What are the main commercial kitchen equipment challenges that facilities face today, and how are you solving them for your clients?
The lack of well-trained and talented technicians. Everywhere I look, companies are looking for good, qualified techs. At ServiceChannel, we trade specialists use our industry insight, personal experience, and large network of connections to recommend companies that can fill the needs of our clients. Every single piece of equipment in your kitchen — in your facility — will fail at some point. We work to ensure our clients have the right people available to minimize that downtime.
And most of our clients are larger corporations, because let's face it — when you have multiple stores in multiple cities in multiple states, and multiple issues at each location, it can be real time consuming, real difficult to manage all of that without a central provider. We add a lot of value to our clients, because we're the single point of contact for all of their facilities issues at all of their locations. There's plumbing, electrical, HVAC, and refrigeration, but there's also other smaller things that we handle, like doors, roofs, and warehouse equipment like pallet jacks and forklifts.
We can help streamline maintenance and repairs, help clients stay on top of their equipment. Whereas the typical mom-and-pop shop has one, maybe two locations, they're going to know their equipment and know when they need maintenance or repairs.
What's going on for commercial kitchen equipment in 2022? Like, what's the big buzz, the word on the street? Anything on the horizon that will keep you busy?
The trades are constantly updating. For HVAC and refrigeration, it's all about new, natural refrigerants like CO2. For kitchen equipment, it's about new technologies that enable units to become more energy efficient and experience less downtime. And there's always new safety features and new best-practice standards becoming available to improve how we do things. But mainly, for this year and for the foreseeable future, we're going to need more technicians coming into the field, and existing techs are going to have to become more skilled and specially trained.
If you could give a facilities manager the golden egg of kitchen equipment advice that would save time, money, and heartache, what would it be?
A complete and thorough preventive maintenance program. It's the key to success — preventing down time, saving money, and increasing the operating life of the unit. But that doesn't stop at the preventive maintenance itself — part of it is following up on recommendations from the technicians that can minimize downtime and increase profitability.
How often do you recommend preventive maintenance for a larger facility?
It depends on the equipment, how heavily it's used, and the type of environment it's in. Obviously, for HVAC, maintenance should be done at least twice a year — usually when the seasons change. So, you'll get your cooling cleaned and inspected in the early spring, and your heating in the early fall.
But if you have an ice machine in a bakery that has a lot of yeast and stuff in the air — you may not see it, but it's there — and it can cause bacterial growth, so you're going to want to clean it more often. I was in a facility doing an ice machine preventive maintenance call, and the owner walked by and saw that it was pretty gross, and he goes, oh man, we need to do this more often. And it wasn't that his unit may fail. It was, I want to make sure I provide the best ice for my customers.
So, in general, most equipment should be maintained no less than every six months, and for some things, it's going to be three times a year, maybe four, depending on the environment. And that especially really goes for ice machines and any other high-production equipment that's used constantly.
Well, it looks like our time is up. Have a great voyage, and say hello to the Caribbean for us. And don't even look at your phone unless you're taking a picture!
Well, Tony — he's the HVAC specialist — he's backing me up this week, and I'm absolutely confident that he'll handle everything that comes up without batting an eye. I'm thankful for that peace of mind, knowing that my team has my back. That's what it's all about. Check in next week to meet Tony Johnson, our resident HVAC expert who always keeps his cool when things heat up.
Check in next week to meet our resident HVAC expert, Tony Johnson, who always keeps his cool when things heat up.
Want to be the first to know when we publish our next Q&A? Join our mailing list and subscribe to our blog.