What to Include in a Hotel Maintenance Checklist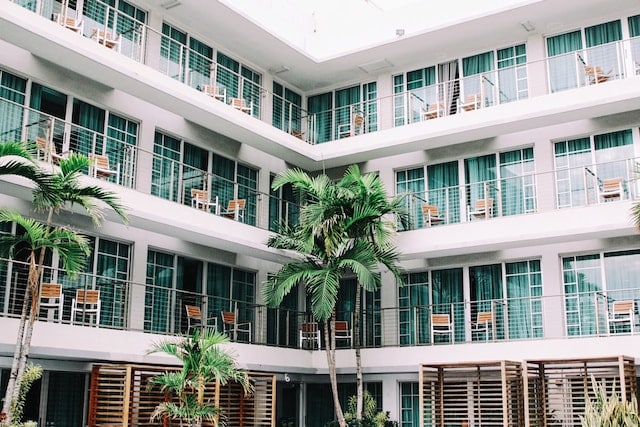 Hotel maintenance is the upkeep of the hotel's buildings, systems, amenities, and equipment. Proactive preventive maintenance, rather than waiting for assets to break down, ensures that guests are comfortable and safe during their stay. It also helps extend the lifespan of the asset and enables you to save money by being able to shop around for spare parts rather than having to acquire them urgently. Well-maintained assets also keep the hotel safe for employees.
Hotel Areas Requiring Maintenance
Maintenance is vital throughout the hotel and especially in customer-facing areas.
Guest rooms. Well-maintained guest rooms make a good impression on guests and make their stay enjoyable for example.
Common areas and amenities. Guests often choose hotels based on their amenities, such as a pool or fitness center, and expect to use them during their stay. If the pool must close because of maintenance issues, guests are disappointed, for example. Poorly maintained gym equipment can be dangerous.
Building Systems. Guests also expect to have heat, cooling, and electricity, and the hotel's profitability depends on these systems operating efficiently.
Facilities. Well-landscaped and safe facilities improve the hotel's image and prevent accidents.
Equipment. For example, inoperable elevators mean guests will have to wait a long time to go from floor to floor or may have to use the stairs. A poorly functioning refrigerator makes food preparation unsafe.
In short, safety, profitability, and the guest experience all depend on proactively maintaining equipment and assets. A good hotel maintenance checklist can help ensure all areas of the hotel receive the preventative maintenance they require.
How to Build a Hotel Maintenance Checklist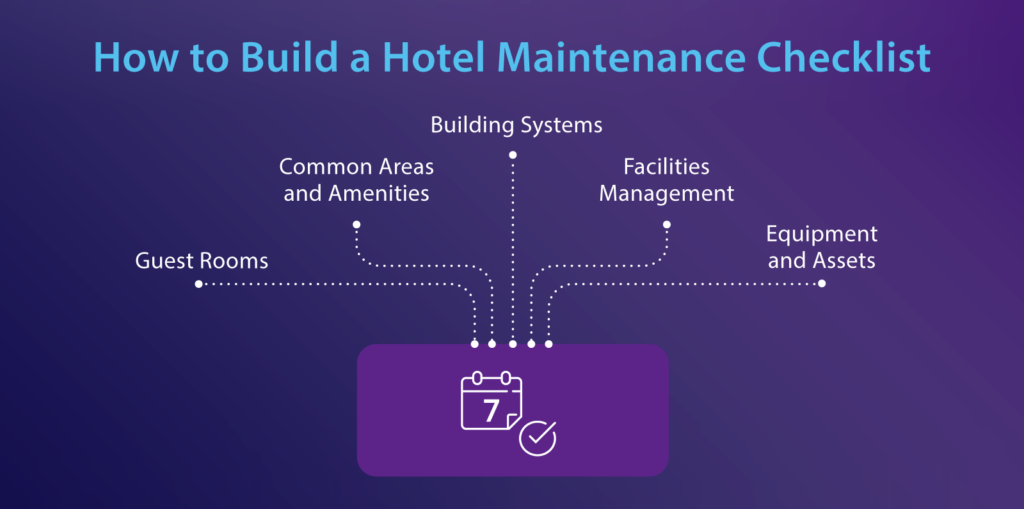 When building your hotel maintenance checklist, you want to consider the types of tasks to be completed and the frequency of maintenance. For instance, there are tasks that should be completed daily that have a direct impact on safety, cleanliness, and guest satisfaction. Conversely, some tasks occur less frequently accounting for seasonality and routine maintenance.
Daily Maintenance Tasks
Several hotel maintenance tasks require daily performance. They fall into five areas: guest rooms, common areas and amenities, building systems, facilities, and equipment and assets.
Guest Rooms
Facilities staff should inspect guest rooms daily, looking for problems that can affect guest comfort or safety.
Plumbing: Look for drain clogs
Lighting: Ensure that lights work and replace bulbs if necessary
Thermostat: Ensure proper functioning
Appliances: Ensure proper functioning
Furniture: Look for wear and tear and functionality
Fixtures: Look for damage or wear
HVAC filters: Replace if needed
Caulking: Repair as necessary
Common Areas and Amenities
Pools, whirlpools, laundry rooms, and fitness centers require some daily maintenance to operate efficiently and safely. Daily checks of the common areas include:
Laundry rooms to ensure equipment operates properly
Pools, including tiles and decorative pieces and chlorine and PH levels
Whirlpool chlorine and PH levels
Equipment in the pool pump room
Fitness centers, including all equipment
Building Systems
Daily preventive maintenance checks of building systems focus on routine cleaning and identifying symptoms of poor functioning.
Obtain meter readings for HVAC systems, boilers, and chillers.
Ensure safety alarms function and that warning notices are visible.
Inspect plumbing and roofs.

Clean and check to see that all toilets and sinks operate properly.
Clean pools, storm drains, and gutters.
Check for any leaks or damage.

Check the hot water temperature in the accumulators.
Facilities Management
Facilities management includes both internal and external facilities. Daily tasks include:
Prune plants and shrubbery to remove overgrowth.
Watering lawns, plants, and shrubbery .
Checking the condition of sidewalks, the driveway, and the parking lot for safety and cleanliness.
Clearing away debris from all pathways and guest facing areas.
Looking for any peeling paint or other issues that prevent the facility from looking and performing at its best.
Equipment and Assets
Some assets require daily checks to ensure they operate safely, efficiently and do not interfere with the guest experience.
Ensuring the elevators are running smoothly and free of obstructions or debris.
Checking the temperature of the refrigerator and freezer to ensure they are in a safe range.
Monitoring the state of the laundry equipment and facilities, including cleaning or changing dryer filters and cleaning the machine drum.
Weekly or Monthly Maintenance Tasks
Some tasks, while important, can be done less frequently while still meeting compliance, manufacturer standards, and ensuring an optimal guest experience.
Guest Rooms
Facilities teams should check equipment and appliances in guest rooms and perform other repairs at least once a month.
Check TVs in guest rooms and guest spaces, repair or replace as needed.
Check smoke alarms and carbon monoxide detectors to ensure they are operational, repair or replace as needed.
Perform any necessary pest control tasks, including setting glue traps, spraying insecticides, or checking in with your pest control vendor.
Common Areas and Amenities
Common areas, especially gyms, pools, and spas, require monthly maintenance.
Check gym equipment for signs of wear and safety.
Lubricate the equipment monthly
Adjust weights on weight-training machines monthly
Remove any unsafe or inoperable equipment
Tighten bolts monthly
Inspect floors and surfaces for damage monthly
Clean walls in the spa and/or sauna monthly.
Inspect and clean water injectors monthly
Check hoses in the laundry
Building Systems
Various monitoring, cleaning, and adjustment tasks should be performed monthly to ensure the systems operate efficiently.
Once a month, inspect the condition of the HVAC unit, including checking for vibrations or unusual noise. Include the belts, louvers, and makeup valve.
Adjust the water level in basins monthly.
Inspect and clean the condensate tray monthly.
Analyze the quality of the water and the level of aerobic bacteria in the tray in cooling towers.
Clean the fan and unplug fan drain holes monthly in cooling towers.
Clean and calibrate control devices and check tanks and piping purgers in the plumbing system
Check the tanks and piping purgers monthly.
Disinfect showers, waterfalls, and similar areas monthly
Do meter readings and clean HVAC filters and components monthly
Check the boiler monthly for corrosion.
Facilities Management
Some tasks must be scheduled monthly to ensure the facilities look good and are safe and that equipment operates properly.
Check the functioning of safety equipment at least monthly.
Maintain garden areas
Inspect fire pits and other recreational areas for functionality.
Check the automatic sprinkler system.
Bi-Annual or Annual Hotel Maintenance Tasks
Bi-annual or annual maintenance tasks are still crucial even though they can be completed less frequently.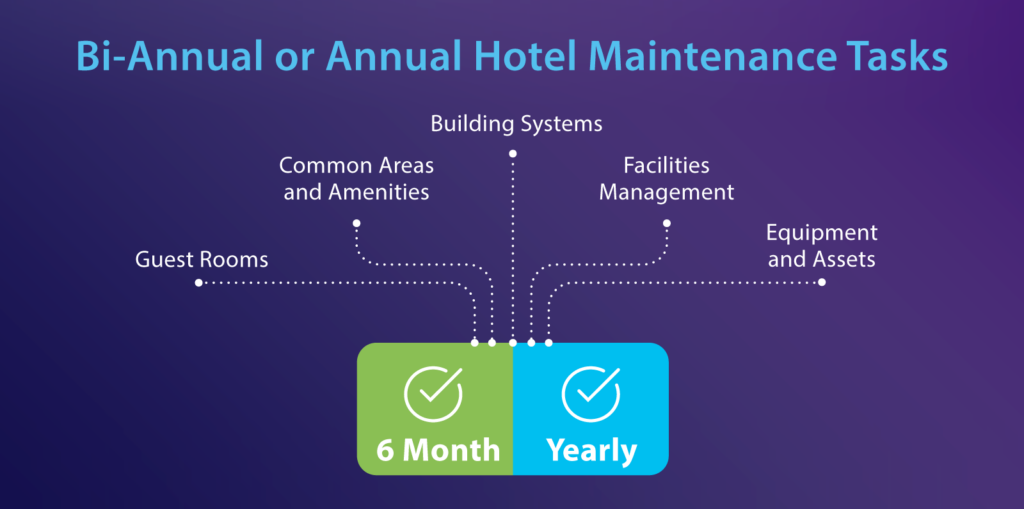 Guest Rooms
Guest comfort and safety are critical. Facilities staff should make the following checks every six months or annually.
Check the operation of everything in the room, including TV, lights, Internet, doors, windows, and toilets, bi-annually.
Check all safety equipment bi-annually.
Replace mattresses annually.
Common Areas and Amenities
Common areas and amenities must look sharp and operate properly. To ensure proper functioning over the long term, some tasks must be done every six to 12 months.
Thoroughly clean and disinfect pools and spas bi-annually.
Check the operation of recirculation pumps, turbines, filters, and pressure gauges bi-annually.
Change the water in pools and spas at least annually.
Building Systems
Building systems need thorough checks bi-annually and annually to operate at maximum efficiency.
Thoroughly check chillers, including the differential pressure in the compressor oil pumps, the condenser, oil levels in compressors, pressure gauges and thermometers, flow switches, all components, and the electrical panel bi-annually. Also, check for corrosion.
Purge the water in cooling towers and adjust belt tension annually.
Replace AQS aluminum anodes.
Perform fire drills bi-annually.
Replace batteries in smoke detectors and carbon monoxide detectors annually.
Facilities Management
Equipment and systems that help you maintain your facilities should be checked bi-annually or annually.
Check the irrigation system bi-annually.
Check all features for safety and functionality bi-annually.
Check the status of all landscaping equipment.
Maintaining the outdoor and garden spaces, including planting and weeding.
Checking the functionality of door and window seals.
Salting or plowing the parking lot as needed.
Inspecting and repairing, as needed, the backup generator.
Equipment and Assets
To keep your equipment operating efficiently, the facilities team should schedule some tasks at least bi-annually.
Inspect cooling towers thoroughly and disassemble and clean the system bi-annually.
Check and wash the dossers in the industrial laundry. Check hoses, steam, and hot pipes insulation bi-annually.
Check the condition of pipes bi-annually.
Lubricate electrical and mechanical components in air handling units and check the condition of heating and cooling batteries bi-annually.
Clean the boilers bi-annually.
Do a complete service of all the equipment in the laundry room at least annually.
Hotel Maintenance Tips
Of course, many hotels will want to customize their maintenance checklist to match the manufacturer's standards or their own experience. Hotel operators should take other steps besides a hotel maintenance checklist to ensure proper facility maintenance. These include developing an asset management process, writing standard operating procedures, and installing a computerized maintenance management system to automate the preventive maintenance process.
Always Be Guest-Ready
The success of your hotel business depends upon always being ready to provide safe, comfortable, and luxurious accommodations to your guests. Ongoing monitoring and preventive maintenance can help you do that. Service Channel can help you with your facilities management needs. Contact us for more information.