Top Compliance Risks for Retailers and Strategies to Mitigate Them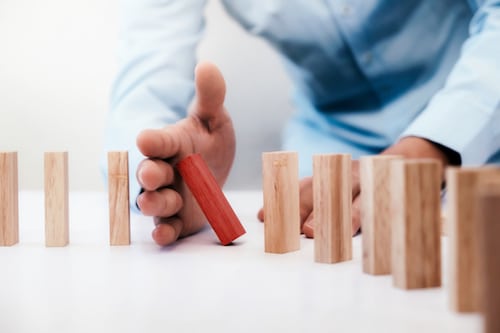 A 2018 survey conducted by Deloitte and the Retail Industry Leaders Association (RILA) reports that consistency, resources and budgeting, and third-party risk are going to be the biggest risks to compliance that the retail industry faces. Compliance risk is when you face the potential for financial forfeiture or legal penalties if your company fails to act in accordance with laws or regulations. These guidelines are in place to force companies to act ethically and fairly, and it's growing to be an essential aspect of facility management.
An illustration of the complexity in managing risk and compliance is the case of a retailer who was sued when an improperly installed equipment fell on and injured a shopper during a store grand opening. A thorough investigation of the claim ultimately revealed that the third-party contractor was out of compliance in terms of liability insurance, which forced the retailer to assume the litigation costs.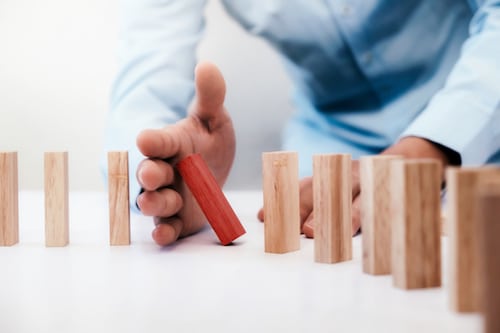 Cases such as this is perhaps why the same 2018 survey revealed that nearly half (46 percent) of respondents said that their company's compliance team is viewed as a partner to business units' company-wide. The survey also reported that 40 percent of respondents expect to increase their compliance program budgets in 2018 and beyond. Mitigating common compliance risks is a wise decision because it promotes stability, improves operational efficiency, and most importantly protects you against financial penalties. However, there isn't a singular solution for your compliance needs.
Even retail businesses that are upstanding and well-run face several risks. Managing any stores requires hiring remote contractors, improving existing processes, maintaining a secure facility, and protecting yourself against insurance issues.
Let's explore the risks that come with each task, and share strategies for mitigating these risks:
Procuring Services Remotely
Managing multiple retail locations requires hiring contractors remotely to fulfill your needs, whether it be replacing shelving and lights, or keeping your air ventilation systems up to the necessary standard.
The Risk:
Procuring these types of services is inherently non-compliant because of the extra steps you need to take; If you aren't at the location, you will need to find a way to ensure that the work done is high-quality and completed on time. Otherwise, you don't know who showed up, or even if they showed up.
Getting what you pay for when hiring contractors will help avoid accruing excessive fees down the road. If work is done right the first time, you won't need to circle back and waste money to clean up any mistakes. Knowing that they are doing the work that you hired them for, especially if the cost is substantial, is vital. There needs to be a confirmation of service and performance.
The Solution:
Consider these strategies for verifying the work that contractors complete: Visual confirmation from a remote employee, photograph evidence of completed work, having contractors check-in via GPS, or managing a paper trail in some other form. Proper access controls such as badging and identity verification are also crucial in mitigating the compliance risk that remote services introduce to the equation.
Poorly Maintained Stores
Being fully compliant is a marketable accomplishment. Health, safety, and cleanliness, specifically, make up such an outward facing portion of your store that it's tough to fake. Taking the necessary steps to achieve compliance with health and safety regulations has no downsides.
The Risk:
When someone enters your store, they should see clean floors, working lights, and organized product displays. In fact, customers may choose to shop elsewhere if your store doesn't maintain cleanliness.
Issues with complying with health and safety regulations can stem from a lack of data visibility, a lack of organizational flexibility, or simply a lack of attention to detail. However, the fact of the matter is that poorly maintained retail locations aren't easy to hide and they will leave you vulnerable to compliance risk. Should a shelf fall and injure an employee or a customer, you will potentially be facing fines and lawsuits that far outweigh the cost of properly securing that shelf.
The Solution:
Being compliant with safety standards will provide a safe work environment, keep the doors open for your customers, and reduce the risk of costly legal trouble. Regular site audits and equipment inspections combined with preventative maintenance will go a long way to improve not only safety but the look-and-feel of the retail space.
Managing these work orders efficiently may require that existing compliance processes via facilities management software upgrade that will have benefits for your existing processes. Consistency is going to be key for mitigating the risk of violating health and safety regulations.
Process Failures
As your operation grows and you find yourself overseeing the financials for an increasing amount of locations, everyday processes become more complex. In addition, there are higher costs associated with keeping an increasing number of stores stocked, staffed, and maintained – including upkeep, repairs, and upgrades.
The Risk:
There is a risk of certain equipment failing or being out of compliance, like an HVAC unit that has a refrigerant leak. If your team doesn't identify the problem immediately, you open yourself up to extra costs due to the emergency work order, as well as a loss of business if your operational efficiency is impacted.
Compliance risks extend beyond your facilities day-to-day performance. Failing to maintain accurate service history for your facilities, or neglecting proper accounting practices are just a few things that leave you vulnerable to compliance issues and potentially extensive fines.
The Solution:
Technologies such as service automation will be your greatest defense against process failures, and it will reduce the risk of any compliance issues. Service automation platforms can serve as a central repository of essential business and FM data and act as the single source of truth for all key stakeholders. By automating processes across all your locations, you can improve visibility into how well the sites are functioning and how the stores are spending every dollar.
Issues with Contractor Insurance
Not only will hiring remote contractors present issues when trying to verify their work, but you are also running the risk of hiring a contractor who is under-insured or has expired insurance as noted in the opening example.
When it comes to retail, maintenance is the primary focus unless there are major expansion projects in place. Sometimes these maintenance tasks are simple, but in the event that a contractor is doing something as routine as fixing a light fixture or adjusting a store sign and the ladder tips over, the issue of insurance coverage will come up immediately.
The Risk:
This is even more of a risk if you are going through a middle man. The financial implications of hiring under-insured contractors can be huge. If the contractor causes collateral damage to your store or an injury, there are going to be huge costs associated with cleaning up that mess that would have been avoided if proof of insurance is provided.
The Solution:
How can you know that your contractors are meeting your compliance requirements? Well, that's easy by automating compliance management through service automation. Retailers can easily track all of its strategic vendors and contractors for critical compliance information such as insurance, financial health, certifications, etc. Retailers can simply flag out-of-compliance partners through the platform and bring them "up-to-code".
Final Thoughts
Reducing operational risk at your retail locations and gaining confidence in your ability to meet all the expectations for compliance needs is a daily challenge. Remaining proactive with compliance is the best way to protect yourself against violations that can lead to payments for damages, fines, and voided contracts.
Mitigating operational risk is priceless. See how service automation software can help mitigate compliance risks across your organization.