Doubling Down on Facilities Management: Highlights from Day Two at ServiceChannel CONNECT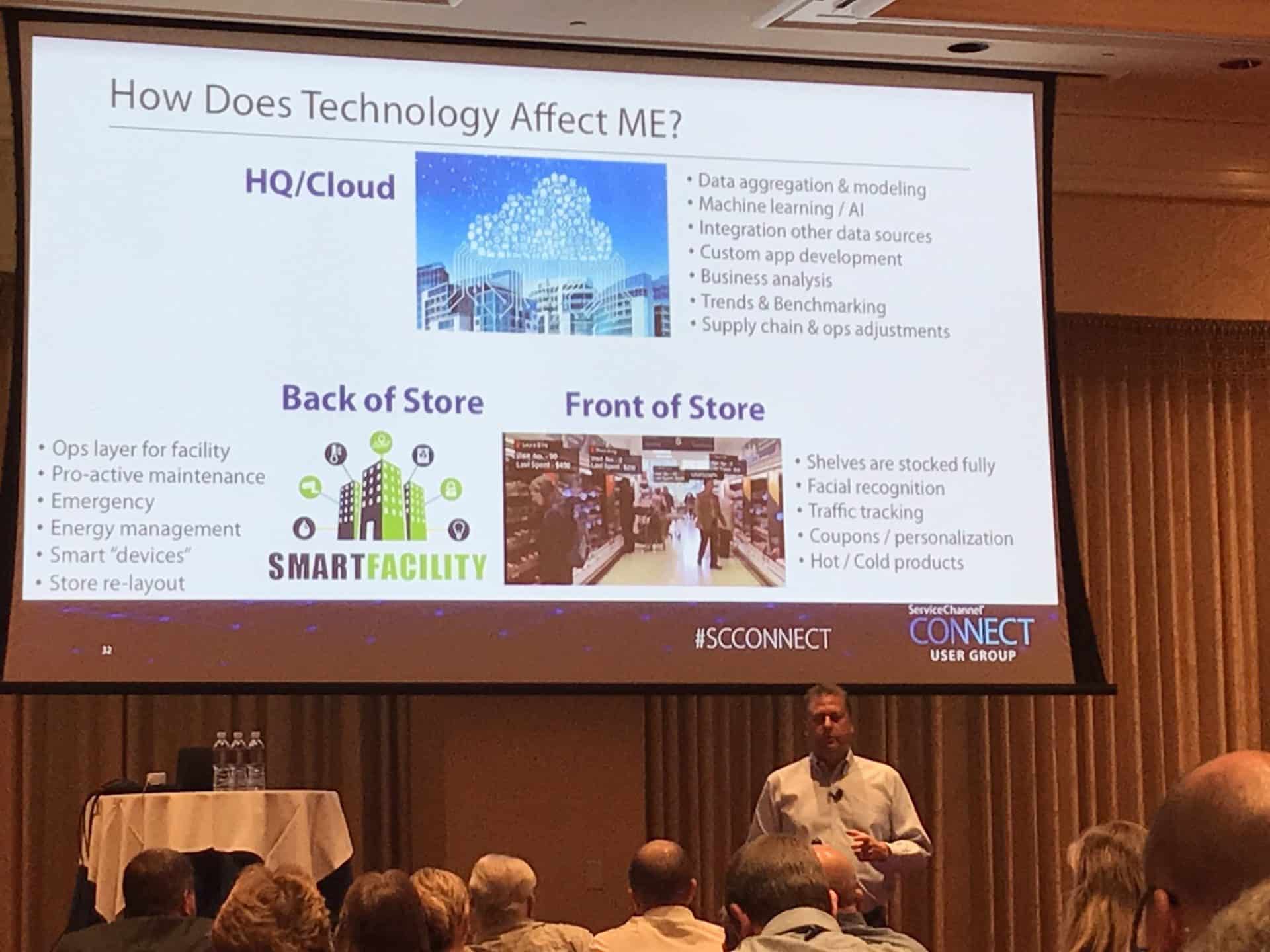 As we covered in our User Group Day One recap from Las Vegas yesterday, we got off to a great start exploring the tremendous inefficiencies across the facilities sector (namely the $20 billion in fat and waste) and what one can do about it, the challenges and new approaches to take in the face of the market evolution and technology advances impacting the retail industry, the expanding universe of FM solutions offered through an array of new ServiceChannel partners, and a number of best practices and learnings shared separately by our Solutions team as well as restaurant client, Bloomin' Brands.
Technology and Customer Experience Are Transforming Facilities Management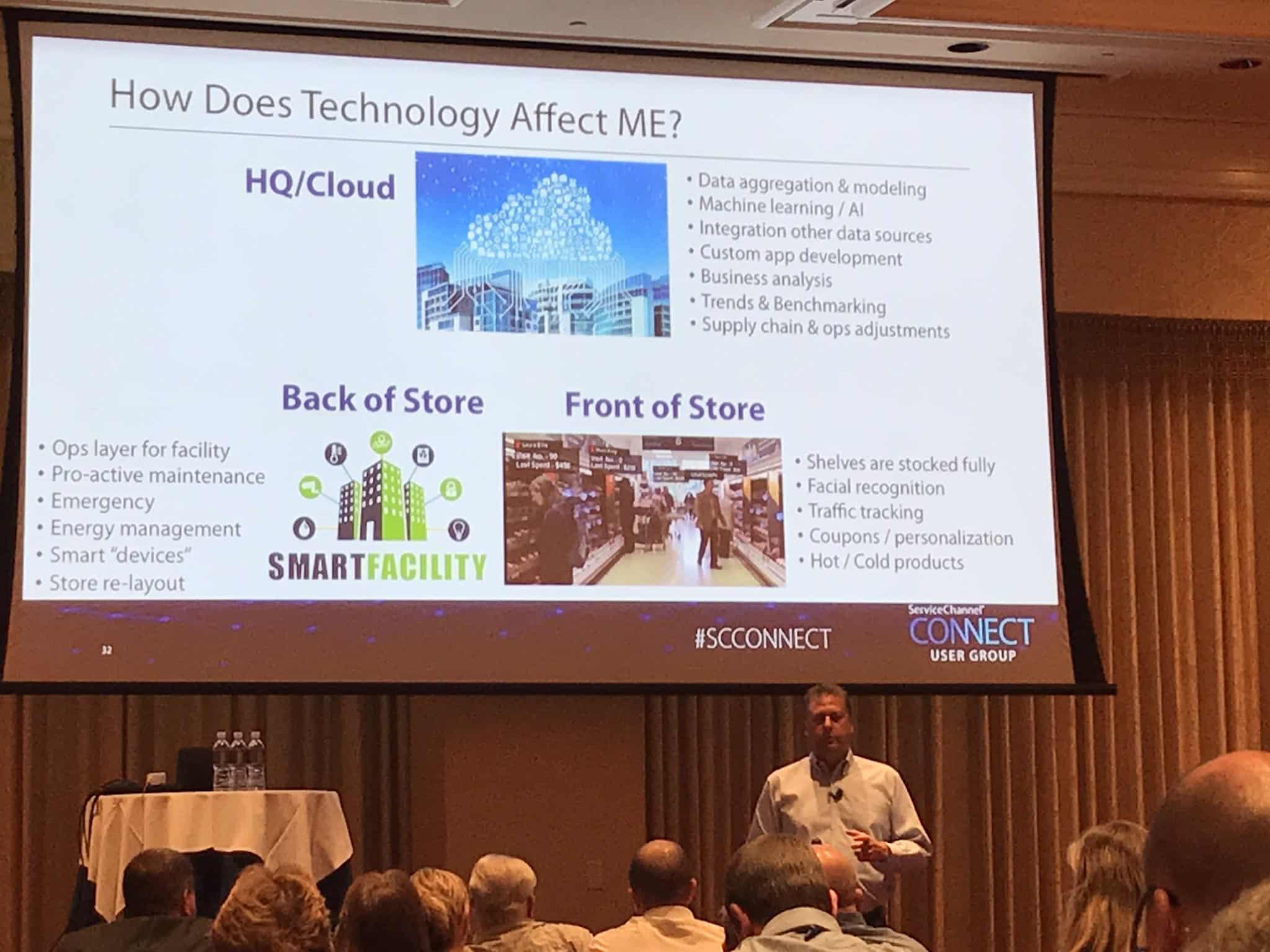 Following an evening of entertainment (remember, Vegas) we reconvened, a bit later in the morning, with our Chief Product Officer, Hugues Meyrath, kicking things off on how facilities managers need to look at their emerging roles as the retail industry continues to evolve and more and more emerging technologies are put into the field.
Following on retail futurist Doug Stephen's talk the prior day, Hugues continued the focus on 'experience' – for retail and 'retail-like' industries.  He shared how the younger generations are spending more on experiences, and highlighted the growth of on-demand facility and retail experiences (like stores within a store, concept stores and pop-up stores).
Retail is becoming a multi-channel experience: online, physical and social.  What does this mean for the facilities sector?  Hugues emphasized how FM roles need to shift, from focusing on cost efficiency to focusing on business optimization and transformation.  With a proliferation of technology going into stores and other physical locations, it's important to know who is responsible for that – i.e., the facilities manager.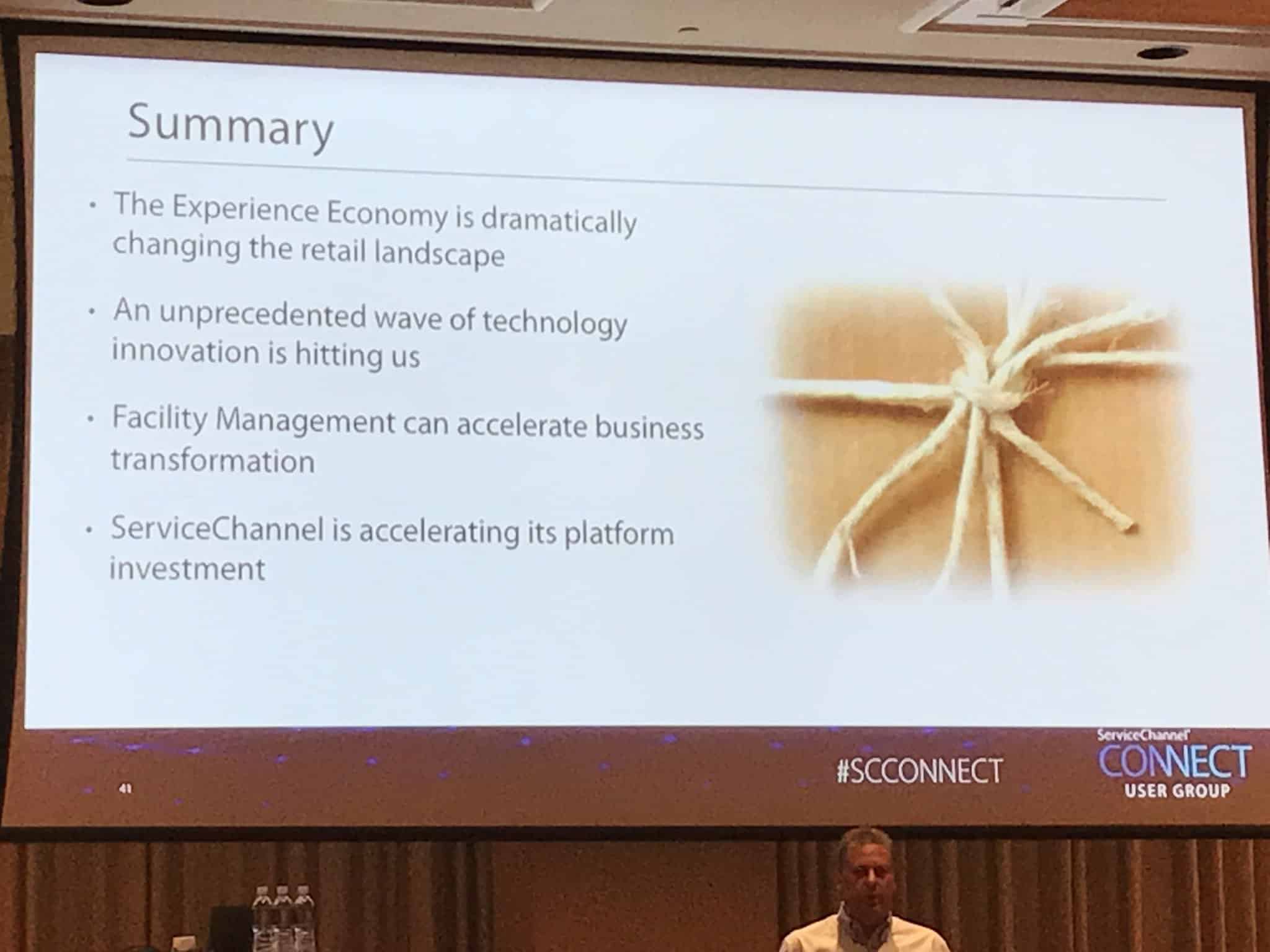 FMs have traditionally focused on operations and the 'back' of the store.  However, experiences are driven by the 'front' of the store.  The key?  Work orders connect the back and front office, everything from proactively fixing equipment to changing display shelving based on traffic to controlling contractor access.
With the three transformational waves of facilities management, from reactive to proactive to self-managed, Hugues stressed how ServiceChannel is accelerating that industry transformation.  He covered a lot of the exciting innovations planned in our Service Automation roadmap, and how these transformational technologies will be bringing real benefit to the ServiceChannel community.
Digging Deep into the Latest FM Solutions
Another feature of day two's agenda, a continuation from day one's, was a number of product-specific sessions led by our Product Managers.  These sessions allowed our team to share lots of the details on the latest new FM software functionality and features that have been recently developed and rolled out.
The session are also a great opportunity for customers to ask detailed questions about software use, future plans and how they can best benefit from all these new updates to the Service Automation platform.
Multiple versions of each session were offered over the two days, giving attendees the opportunity to get to learn about all the functionality most relevant or interesting to them.  
During the CONNECT User Group, our Product Management team and customers explored:
How CVS Health Wins Big With Service Automation
Our closing 'main stage' presentation was an insightful presentation from another ServiceChannel customer.  Deb Millette, Senior Operations Manager, Facility Management from CVS Health shared a detailed case study on why and how they deployed Service Automation across 12,000 locations (including CVS Pharmacy, Minute Clinic, CVS Caremark and Coram) with over 50,000 active users (and a facilities program comprising 1.3 million work orders, 150,000 proposals, 1 million+ invoices, and 600 vendors and internal techs).
After starting by explaining it spent "ten years with the wrong software," CVS Health moved to ServiceChannel to address the challenges it was facing.  It had a number of goals, including:
Transparency of real-time data to stakeholders across the company

Automation of preventive maintenance work orders

Alleviating back office workload

Objectively analyzing vendor performance

Cost analysis reporting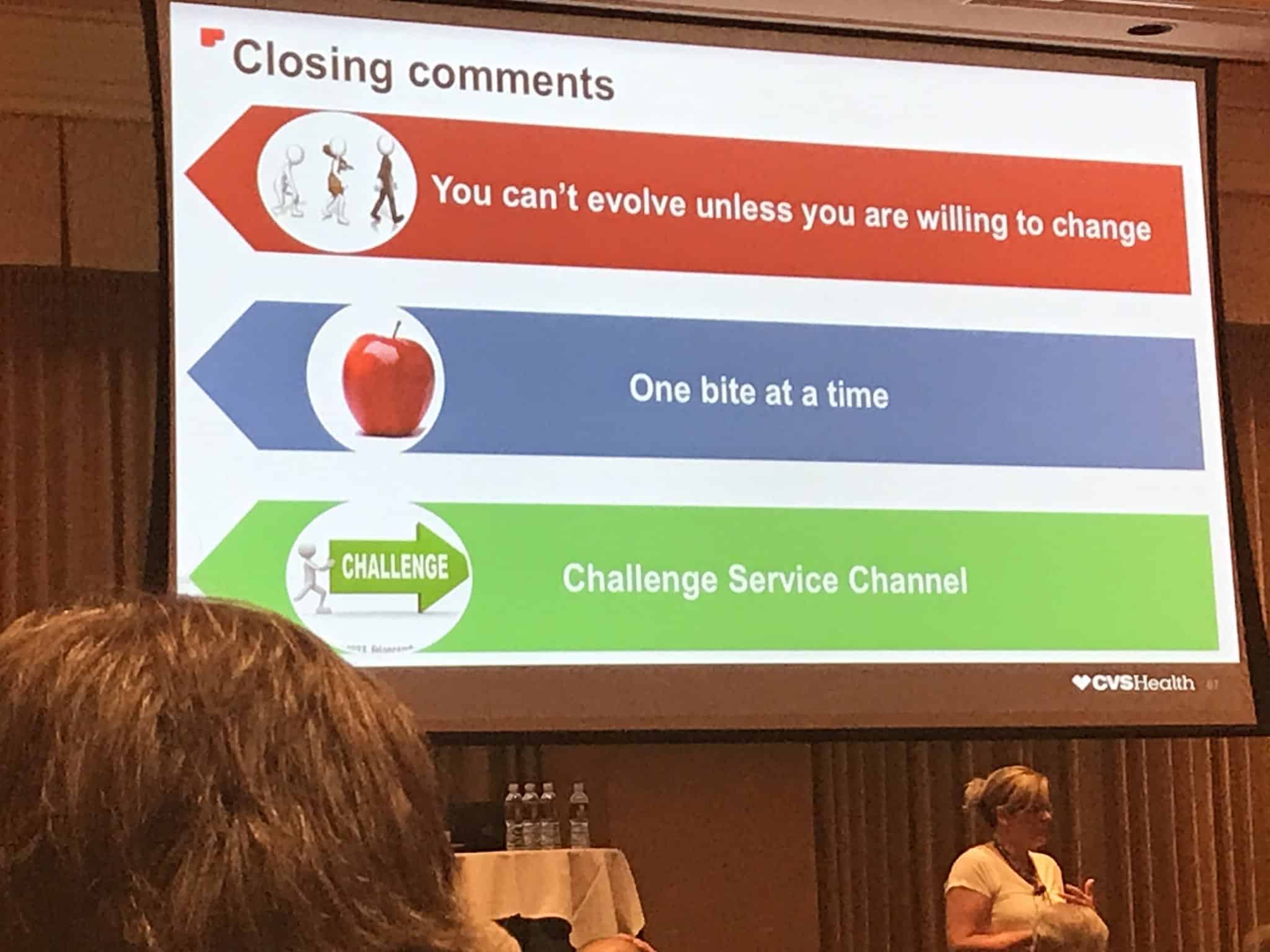 Deb detailed the range of stakeholders for ServiceChannel (outside of facilities management) it has across the company like Store/Pharmacy Ops, Branch Managers, Finance, Treasury, Tax and Loss Prevention, and secondarily, functions like Risk Management, Lease Administration, Audit, Safety, Environmental and Utilities.  Service Automation is clearly an enterprise-wide platform with a wide array of functionality and benefits for all of CVS Health.
One of the key points Deb made was that with a new system, it was finally in a position to answer a simple, yet crucial question regarding any word order or service request, "What is this going to cost us?"  
In addition, CVS Health now had compliance and importantly, trusted that all the data it had was accurate.  One of its biggest wins according to Deb was getting the Finance department to adopt the ServiceChannel platform.  
Other areas Deb reported that CVS Health is focusing on to drive benefits from its FM software were:
Leveraging analytics (e.g., tracking proposal versus invoice error ratio, savings metrics to committed spend, vendor performance metrics, year over year metrics, percentage to spend trade average, line item invoicing, etc.)

Scorecarding not only its contractors but its own team

Leveraging automation (e.g., relying on the

Contractor Initiated Work Orders mobile app

to automatically handle certain recurring service needs like snow removal, approving invoices within 10% variance to NTE, etc.)
Going forward, Deb and her CVS Health colleagues have certainly put their chips on ServiceChannel.  New and expanded functionality they're targeting over the next months include Decision Engine, Asset Management, Invoice Automation and more.
That's A Wrap!
We want to thank everyone who attended this year's CONNECT User Conference, and both enjoyed getting a chance to share what we're doing and hearing feedback on what's important.  
There's been a lot of great feedback already and while we take a breath and head home, we're already excited to work with the entire ServiceChannel community on future events and incorporate what we've learned into the continued development of our solutions.
Learn more about ServiceChannel's facilities management software and how it can help businesses across all industries optimize their facilities operations.