What is Preventive Maintenance Management & How You Can Streamline It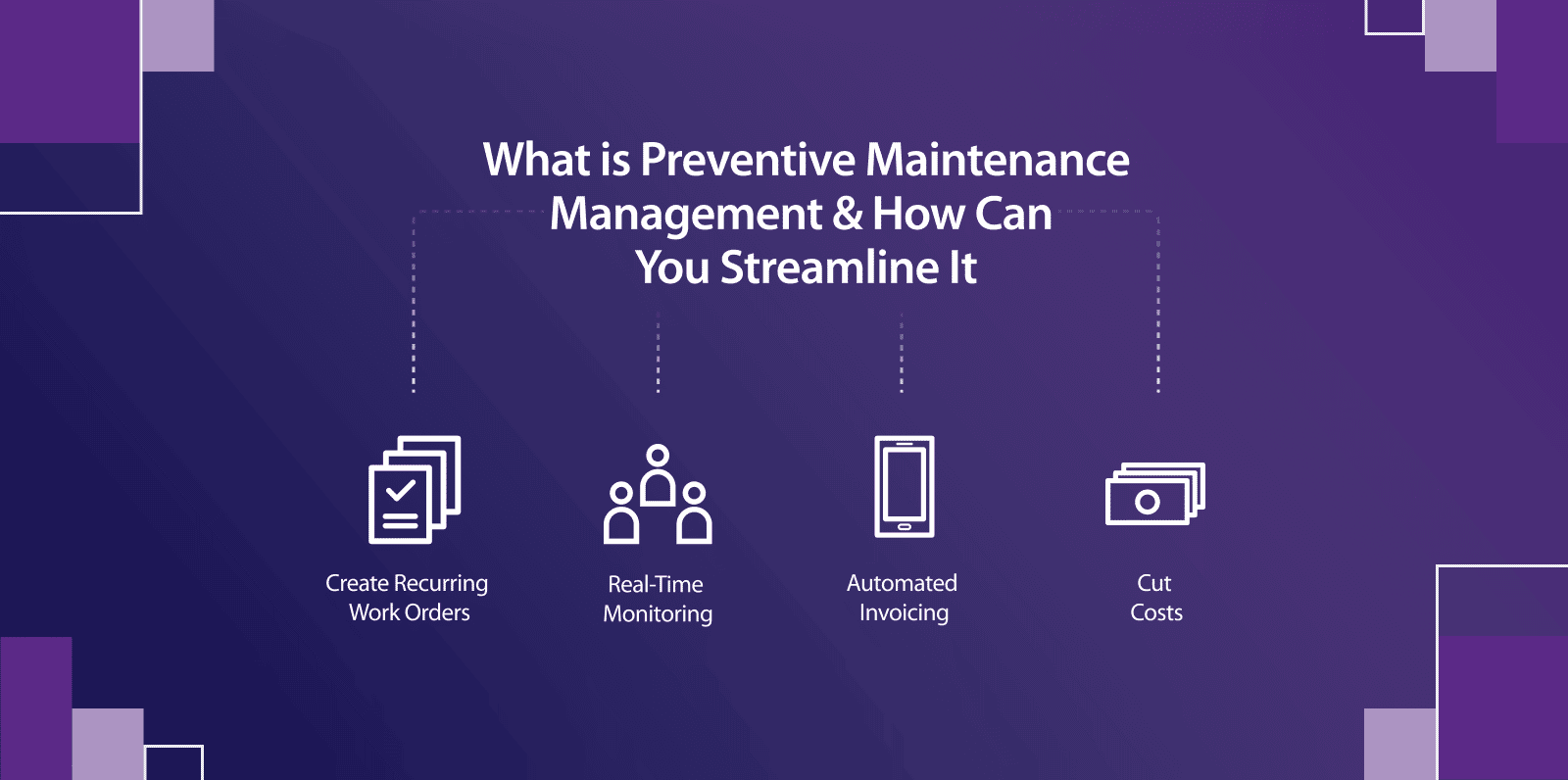 As President Eisenhower once said, "planning is everything." This rings true for facilities management, as pre-scheduled repair and maintenance efforts work to keep equipment functioning optimally and reducing downtime.
Facilities managers know that preventive maintenance should be performed, yet they often have trouble organizing all of the factors needed for success; constantly scheduling work orders, monitoring contractors, and sorting through invoices is extremely time-consuming and lends to unnecessary spending. That's where preventive maintenance management comes in.
What is Preventive Maintenance Management?
Preventative maintenance management is a system facilities managers use to keep their preventative maintenance on-time, on track, and well-documented. This can include tracking assets like equipment, vehicles, stores, buildings, and inventory, as well as scheduling repairs and maintenance, monitoring work orders, tracking and managing costs, and adhering to compliance standards. Having an established and smooth preventative maintenance management system increases efficiency, reduces spending, and leaves facilities managers to focus on other critical initiatives.
Types of Preventative Maintenance Management
How can you make your preventative maintenance as smooth, efficient, and consistent as possible? It all starts with a management plan. Depending on your objectives and priorities, your preventative maintenance management strategy could include one, several, or all of these key types of preventative maintenance management.
1. Plan Development
If you currently have minimal preventative maintenance or if you're using an informal, "we'll figure it out as we go" approach, it's all but guaranteed that you're missing important maintenance tasks. One of the most fundamental types of preventative maintenance management involves putting together a cyclical, clear, step-by-step plan that covers all the essential preventative tasks you need to perform. Depending on your facilities operations, you could separate your plan by systems or put it all together into one strategy.
2. Task Tracking
Having a well-planned maintenance strategy is only effective if your team is following that strategy. This is where the second type of preventative maintenance management comes in: task tracking. This method involves breaking down your maintenance plan into a series of tasks, each scheduled for specific dates to align with best practices and your systems' needs. Your team members will need to mark off each task as they complete it so you can verify and document that you're keeping up with the preventative care your facilities need.
3. Inspection Planning
Inspections are a cornerstone of preventative maintenance, and each system or component throughout your facilities needs inspections at different intervals. Inspection planning is a type of preventative maintenance management that schedules and tracks all the necessary inspections for your facilities. These can include external inspections needed for code compliance as well as internal inspections to identify potential problems.
4. Budget Alignment
Preventative maintenance is largely meant to save money in the long run, but it's important to make sure you're conducting your maintenance efficiently enough to stay on track with those savings. Budget alignment is a type of preventative maintenance management that tracks the cost of each maintenance task and inspection, comparing it against your projected budgets.
Advantages and Disadvantages of Preventative Maintenance Management
Preventative maintenance management can be a promising but potentially significant investment for your business, so weighing the pros and cons is a vital step in deciding how to move forward. Consider these top advantages and disadvantages.
Advantages of Preventative Maintenance Management
Preventative maintenance management has the power to make significant improvements to your facilities operations both in the short term and in the long term. With a well-formed strategy, you stand to gain a variety of benefits:
Ensuring that facilities are maintained properly and that all systems are getting the preventative upkeep they need.
Keep costs low by tracking spending on preventative maintenance to ensure that it aligns with the allotted budget.
Document the preventative maintenance measures you've taken as a way to justify costs to stakeholders and, in the case of system failures or problems, to prove that you took reasonable precautions to prevent it.
Create a well-documented and well-operated preventative maintenance plan to make transitions easier when you have employee turnover.
Align preventative tasks on a master schedule to distribute them across your calendar in a manageable way rather than risking numerous tasks falling due on the same day.
Plan your maintenance tasks in alignment with your staffing so you can identify when you have a need for additional staff members.
Disadvantages of Preventative Maintenance Management
As beneficial as preventative maintenance management can be, it does require something of you before you start reaping the rewards. Consider these potential disadvantages:
You'll need to take time out from your day-to-day maintenance work to create a strategy and put together a way to put it into action.
The smoothest preventative maintenance management will come from using tools that were created for this purpose, and these tools come with an added cost.
It could take additional supervisory oversight, particularly in the early weeks, to ensure that your team is following the preventative maintenance plan and using the management software appropriately.
The key fact to note when weighing the pros and cons of preventative maintenance management is that while the disadvantages are primarily short-lived, the advantages can be long-term game-changers for your business or your facilities team.
How Preventative Maintenance Management Reduces Risk
One of the most critical benefits to preventative maintenance management is its ability to minimize risks for your organization. This alone makes preventative maintenance management critical in keeping your business financially and legally stable and sustainable.
Risk to People
Poorly maintained equipment and facility systems pose severe threats to your employees and contractors. When you aren't managing your preventative maintenance thoroughly, equipment is more likely to malfunction, potentially in dangerous ways. This can vary from obvious dangers like a malfunction in an industrial shredder to less clear yet still serious dangers such as the health hazards of a non-functional or moldy HVAC system.
Risk to Property
In addition to keeping personnel safe, preventative maintenance management lowers the risk to your property and financial assets. There are many types of equipment failures that can cause extensive damage to your property, like water damage or a fire. On a smaller scale, preventative maintenance management typically helps your equipment and building systems last longer so you reduce the cost of repairs and replacements in the long term.
In fact, preventative maintenance management even lowers the risk to your assets by lowering the risk to people. Certainly, you want your employees to be safe and well out of simple empathy, but injuries and illnesses can hurt your finances too. If poor maintenance management leads to an injury or illness, not only do you have the cost of the employee's recovery time but you are likely to be legally responsible too, and this can be costly.
Why Preventive Maintenance Matters
Without preventive maintenance management, your organization is at greater risk for equipment failure, which is costly due to both repair spend and revenue loss from lost productivity. Facilities managementFM software helps facilities managers perform preventive maintenance, keeping facilities in top working condition.
This not only improves the efficiency of facilities managersFMs, but also improves the experiences of customers who visit locations kept in optimal shape. Customers place importance on how a commercial business looks, whether it is clean or not, and how it appears to be run. These on-site experiences directly impact the customer's perception of the brand (hence, the importance of maintaining brand uptime).
Thus, it's imperative that businesses maintain the best outward appearance to create exceptional customer experiences. Preventive maintenance management helps businesses to achieve this at the lowest possible cost.
How to Streamline Your Preventive Maintenance Management
Facilities maintenance software can help you streamline your preventive maintenance management program, discover the top four ways below. 
1. Create Recurring Work Orders
Facilities management software not only allows for work orders to be created and sent digitally, but it also allows facilities managers to schedule recurring work orders. Using this feature, facilities managers do not need to make new work orders whenever preventive maintenance should be performed, saving time.
Additionally, facilities management software has the ability to store photos, descriptions, and compliance requirements of various assets, which can be included in recurring work orders. This gives service workers a detailed knowledge of what type of work needs to be done and when.
2. Real-Time Monitoring
With facilities management software, facilities managers are able to view all preventive maintenance management efforts via calendars by location and preventive maintenance reports. Also, facilities management software can be used to validate preventive work via GPS check-in and check-out. These features give you the ability to monitor planned maintenance work from anywhere, reducing travel between locations and time spent physically watching over contractors.
3. Automated Invoicing
Another important capability of facilities management software is electronic invoicing. This can auto-generate invoices based on predetermined rates each time preventive maintenance is scheduled. It can then be sent to and completed by the contractor digitally, reducing paper and processing costs. Because preventive maintenance is done regularly and therefore results in many invoices, streamlining your preventive maintenance management enables quick and accurate invoicing processes.
4. Cut Costs
The analytical dashboards within facilities management software help give visibility into preventive maintenance spend by trade, category, provider, and other dimensions. When facilities management software reports on this data, it can expose trends and areas in which spend can further be utilized.
Additionally, the advanced knowledge of upcoming planned services that preventive maintenance management provides helps facilities managers keep costs in line.
The Future of Preventative Maintenance Management
Preventative maintenance management has a promising future of advancement and innovation thanks to ever-evolving artificial intelligence. As AI technology grows, we can expect to see more and more remote monitoring capabilities and predictive analytics tools that alert you to potential issues and wear on your systems so you can repair them before they fail.
The internet of things (or IoT) is another bright spot in the future of preventative maintenance management. Connecting vital systems digitally to preventative maintenance management software or other platforms allows you to keep a constant eye on your systems and streamline your preventative maintenance. The future is bright thanks to this ongoing advancement and growth.
Getting Started with Preventative Maintenance Management
At this point, you have an understanding of top concepts and questions like "What is preventative maintenance?" and "What does preventative maintenance involve?" What is the next step?
Getting started with developing and launching your preventative maintenance management program all begins with the right tools. Learn more about ServiceChannel's user-friendly preventative maintenance management platform and put it to use for your team.
Learn more about including preventive maintenance initiatives within your facilities management.