How ServiceChannel Scout Unlocks an Age-Old Facility Management Challenge With Data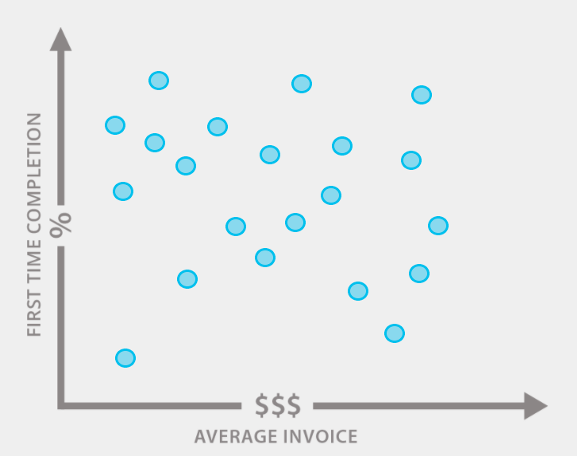 A grocery store staff member notices the freezer is running warmer than usual and calls an HVAC technician. If they rely on the wrong provider, it could mean waiting up to four times longer than average. What's more, a top-performing provider would complete work up to five times as quickly. That time could be worth a lot of melted ice cream. To prevent food spoilage and unsatisfied customers, you need to be confident you are working with the right service providers. But how can you know for sure?
Work Order Resolution Time Breakdown (HVAC)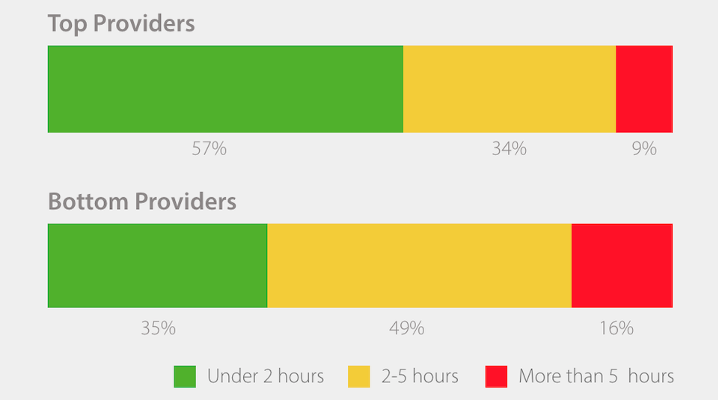 Top providers finish more of their work faster.
Historically, knowing details about provider performance has been difficult. It can be hard to track your own providers; and even if you can, you don't have benchmarks to compare against. The importance of working with the right contractor is even greater right now when top performers are in short supply and emergency demand is high.
Seeing Providers in a New Light
When you can't have the whole picture, you don't know what you don't know. That's why many brands resort to hourly rates to make hiring decisions. But as we've seen with the grocery store example above, total work time can make a huge difference in customer experience.
What are some other meaningful ways to measure your vendors? Higher first-time completion rates mean the job is done right without the need for repeat visits. An incomplete store cleaning is a health risk to vulnerable customers and can delay openings until the job is done properly. For restaurants, every hour of downtime on critical assets means thousands of dollars in lost revenues. Pinpointing a provider's resolution time will let you keep your grills – and sales – up.
But does choosing contractors with higher performance mean breaking the bank? Surprisingly, ServiceChannel's platform data shows that higher costs do not necessarily mean better service — providers vary vastly across all metrics including price.
Performance vs Total Cost for Different Providers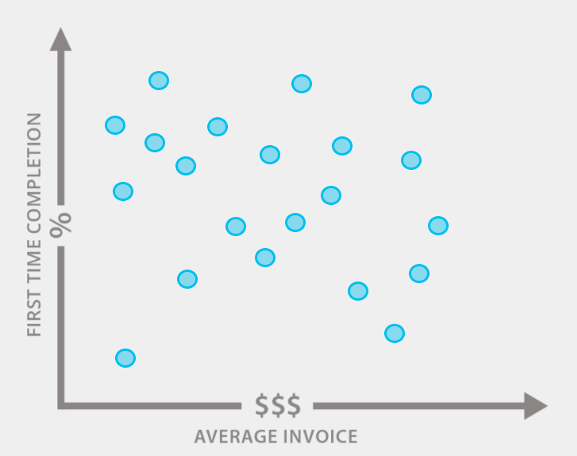 Myth: Better service has to break the bank
ServiceChannel Scout Puts Data to Work for You
How can you take advantage of these rich insights? ServiceChannel Scout takes a modern approach to identifying and engaging with the very best service providers in the country. Leveraging over 4 billion data points from our platform on actual provider performance, we can provide objective measures and recommend providers based on a breadth of criteria you never thought possible — and give you a full picture of how your vendors stack up against our network of over 70,000 service providers.
When you can see your providers in this brand new light, the possibilities are endless. You can boost service performance by replacing poorly-performing providers. Expand your network with proven performers that meet your compliance requirements. Drive savings by working with faster vendors and self-performing contractors. Whether you're looking for performance, speed, cost, or the optimal combination of all of those, ServiceChannel Scout can help you leverage the industry's richest data to meet your service provider needs.
Check out an interactive showcase of the power of provider performance insights. When you're ready to make data the secret ingredient for your provider sourcing and management strategy, let's talk.