What is Integrated Facilities Management (IFM)?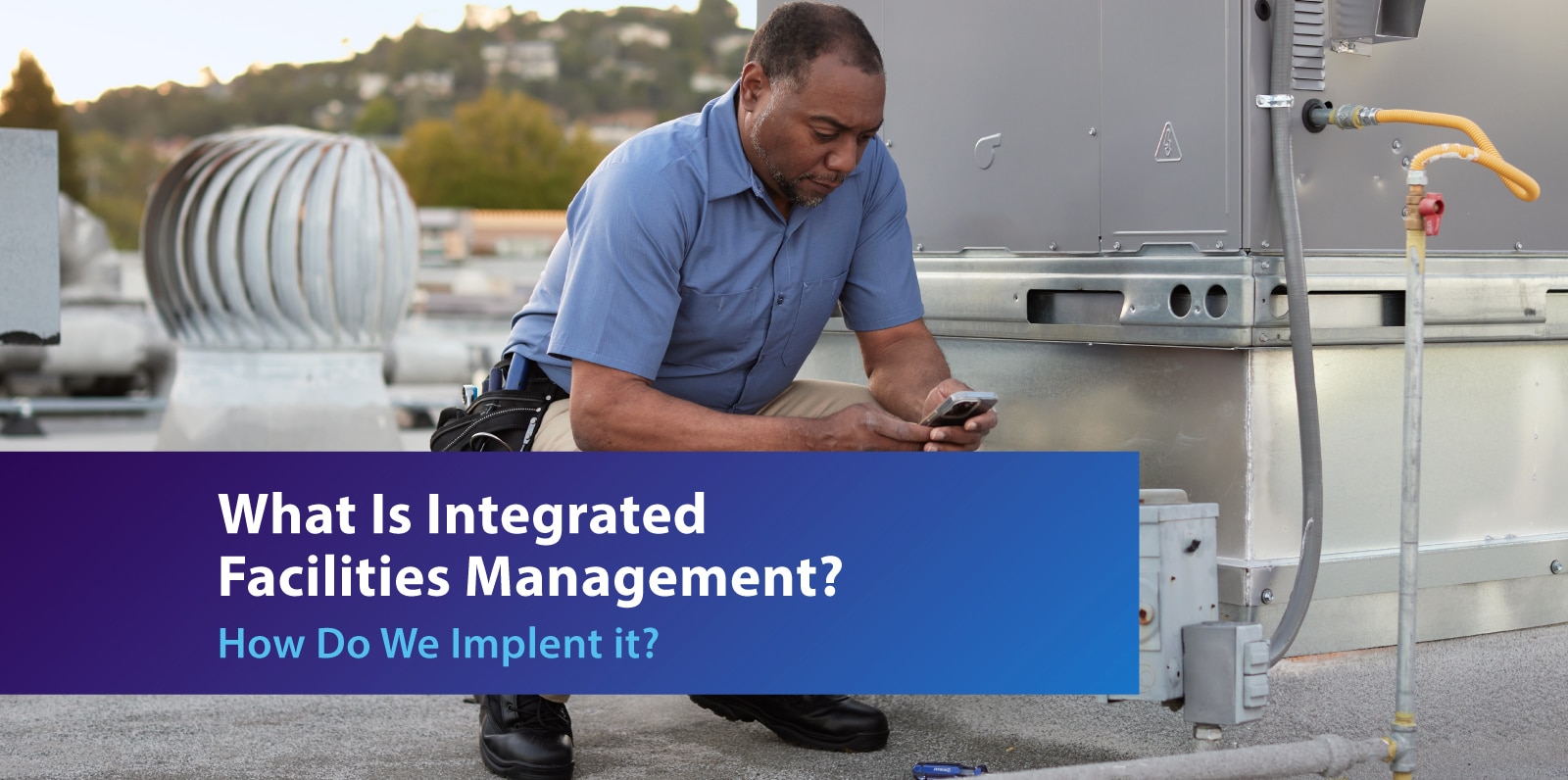 An organization with many different vendors and software systems can really benefit from Integrated Facilities Management. Here's what you need to know about Integrated Facilities Management and how you can make the transition.
What is Integrated Facilities Management (IFM)?
Integrated facilities management (IFM) brings all your processes and technologies under the direction of one team of people and one software solution. These processes and technologies include relationships with suppliers, contracts, real estate, and space management.
IFM originated out of the movement to tear down silos between departments. The movement aims to improve efficiency, streamline management efforts, and allow organizations to adapt quickly to external changes.
Why IFM Matters
IFM ensures that the company implements its overall strategy across various departments. Other benefits of IFM include:
Streamlining operations by having one contract that covers multiple departments
Cost Savings
Improved visibility. Management can easily see what's happening across various departments or properties and use that data to make better decisions.
Improved wellness because you'll be less stressed with your management tasks. Other employees will also feel less stress when operations are smoother.
Integrated Facilities Management vs. Traditional Facilities Management
Facilities management involves maintaining a company's physical plant and equipment. Traditional facilities management does not coordinate all the facilities, processes, and equipment in the way that IFM does. Every department or facility has its own software and supplier list that it must manage. Departments also often operate with competing goals.
As a result, organizations with traditional management struggle to keep up with their operations and often fall into outdated practices that cost them money. Sometimes, routine maintenance slips, and organizations face downtime because equipment breaks down. Traditional facilities management is also expensive because as the complexity grows, the cost grows with it.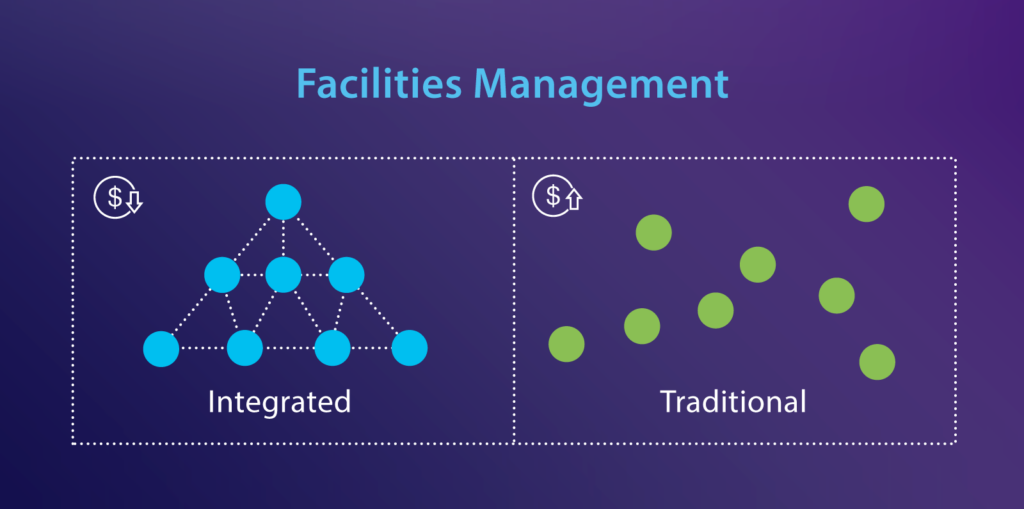 IFM, in contrast, is a holistic process. An organization sets overall goals, and each process and facility works toward achieving those goals. IFM provides data that strengthens decision-making. It also streamlines and automates processes. Because IFM takes the complexity out of the facilities management process, costs decrease.
How to Implement Integrated Facilities Management
The move from traditional facilities management to IFM is a significant undertaking that involves your whole organization. A successful transition requires careful preparation and a systemized approach.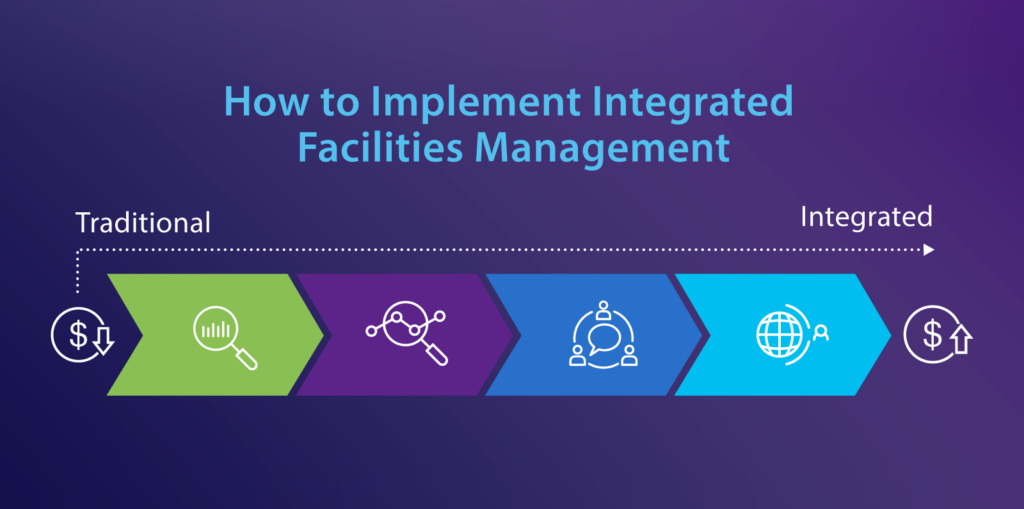 Analysis
The first step in the transition to IFM is to be sure you understand your current facilities management processes as well as IFM best practices. Develop an outline of what you are currently doing as a starting point. For example, who is in charge of facilities management tasks? How many vendors are you presently using across all your departments and properties? What are your current costs?
Once you understand what you're doing currently, you want to create a roadmap for your transition. Do research to determine best practices. You can read white papers and industry publications and consult with IFM vendors.
Align Your Goals
After you've done your research, you determine the organization's goals for IFM. You probably have discovered good benchmarks in your research to determine reasonable goals. For example, what ROI are you seeking? How much money do you want to save? Ensure these goals align with your overall company objectives and mission.
Communicate Consistently
You want all stakeholders to support the change. You can gain their support by presenting a solid case for how the switch to IFM will benefit them and the organization. For example, what cost savings do you expect, and how will the savings translate to better profits and improved financial security? How will the switch make their lives easier? Will it mean less downtime or less need for them to do mundane tasks?
Use various communications techniques, including Intranet, one-on-one, printed, and group communications. Be sure to provide opportunities for stakeholders to provide feedback, such as surveys and focus groups. Also, be sure to foster good cross-department relationships.
Throughout the process, ensure that you have a process for dealing with conflicts that might arise. Without a clearly-defined process, these conflicts could get out of hand and affect the transition to IFM and the entire operation.
Consider Outsourcing Your IFM
Your facilities management team will likely gain new responsibilities due to your transition to IFM. An outsourcing partner can help manage the workload and provide access to IFM experts. When you outsource, however, ensure that your team will still have access to all the information about your facilities and your provider's activities.
IFM requires a sophisticated technology solution, so you'll want to partner with a facilities management software provider. Facilities management software provides the information you need for your IFM program in one easy-to-read dashboard. When choosing a software partner, ensure that the software's features align with your needs. For example, do you need the software to help you find and link up with provider partners? And, will the software scale with you?
How ServiceChannel Can Help
ServiceChannel is the top provider of IFM software and services. Your company can partner with ServiceChannel in several ways. If you have a facilities management team, the software solution will provide the team with the necessary information to drive automation and cost savings across the company. You can also collaborate with them to manage your facilities or work with top regional providers through the ServiceChannel platform.
ServiceChannel has helped organizations of all sizes across all industries implement successful IFM programs. Some of the key industries include restaurants, retail, grocery stores, financial services firms, education firms, spas, and fitness centers.