Integrating Asset & Energy Management with Service Automation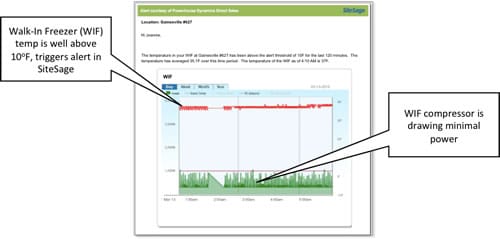 ServiceChannel works with a range of partners in adjacent solution categories, bringing best-of-breed capabilities to the facilities management ecosystem. This is the next in a series of guest posts from our partners highlighting how these new technologies are driving innovation and real value across the enterprise.
Ordinarily, the process of discovering a problem in a key piece of equipment, alerting the appropriate people, creating a work order to fix the problem, and confirming the repair was effective can be prolonged, disruptive, and expensive.
For retail stores, restaurants, convenience stores, or any other type of location with assets, maintaining efficient and proper operating conditions is critical to ensuring a positive customer experience.
Discovering and rectifying issues in mission-critical equipment – such as HVAC or refrigeration – can be dramatically accelerated by integrating asset and energy management, which has the ability to automatically detect faults and alert both on-site and remote teams, with a computerized facilities maintenance system, to ensure such issues are addressed promptly.
Integrating Energy Management with Facilities Management
To put this approach into practice, Powerhouse Dynamics, a ServiceChannel partner, has integrated its SiteSage asset and energy management platform with ServiceChannel's Service Automation platform. This joint solution uses IoT (Internet of Things) technology to connect, monitor, analyze and control equipment to enhance equipment performance, provide operational transparency and reduce expenses.
Asset Monitoring Drives Real FM Benefits
Without remote access to equipment performance data, there is no way for a multi-location company's staff to easily know when there are equipment problems that could impact a store's environment, jeopardizing everything from food inventory to the customer experience.
To boost its operational visibility and enhance its productivity, a national convenience store chain recently deployed SiteSage. It's now in a much better position to respond promptly as issues arise, avoiding costly problems.
Use Case: System-Generated Work Order
For example, one morning, the chain's regional manager received an automated email alert from SiteSage notifying her that one of her stores' walk-in freezers was well above the acceptable temperature.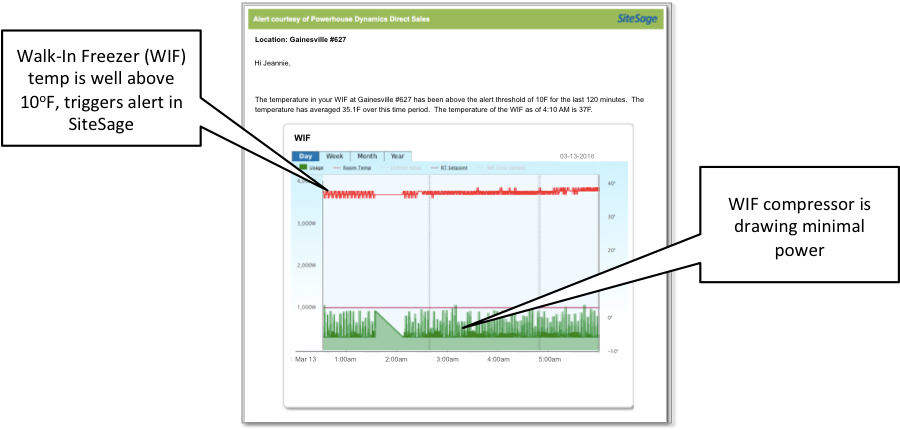 At the same time, SiteSage sent the alert to her ServiceChannel system, which in turn automatically generated a work order to get the unit repaired. The work order not only detailed the store and the unit in question, but also included a link to a chart that clearly revealed the nature of the problem, greatly helping identify the underlying cause.

After reviewing the work order and clicking the link to see the data from SiteSage, it was clear that there was a problem with her freezer. The chart showed that the temperature was indeed well above the acceptable threshold of 10o F, and the compressor for the freezer was drawing only minimal power. Given that insight, the regional manager approved her local technician to go to the store to fix the faulty unit.  
The technician could clearly see from the data in SiteSage that the walk-in freezer's compressor was faulty – likely from loss of coolant, ice buildup on the evaporator coil, or failure of the evaporator fans.
After finding and fixing the issue, the data from SiteSage showed the unit was functioning properly again. The freezer compressor began drawing power at the expected levels, and the temperature inside the walk-in dropped below the acceptable threshold of 10o F.  
Problem solved.  Quickly.  Efficiently. Cost-effectively.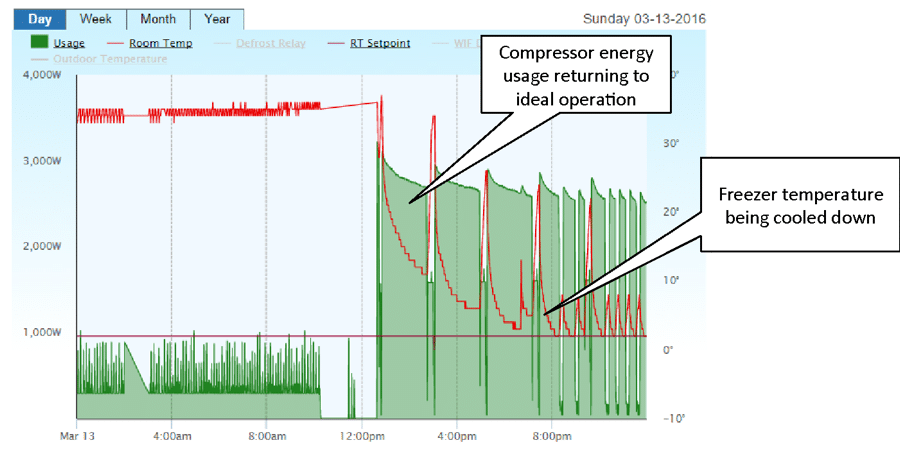 Asset Visibility Drives Operating Efficiency
Without this level of visibility into system performance, it is often challenging to verify that the mechanical problem is fixed. As a result, the repairs that technicians make are often mere "band-aids" rather than more permanent solutions, often meaning the problem returns…requiring yet another costly service call.
The automated nature of this type of integration:
Reduces the time to detect problems in equipment

Cuts the administrative burden to create and approve a work order

Improves the likelihood of resolving an issue with a single service call
In short, your equipment uptime is maximized, the effort required from staff to resolve issues is eased, and the cost to repair and maintain your equipment is reduced. Most importantly, service quality remains high and a positive customer experience is ensured.
Jay Fiske is VP, Business Development at Powerhouse Dynamics. Powerhouse Dynamics, a ServiceChannel Solution Partner, is the creator of the SiteSage asset and energy management system. SiteSage is targeted at companies managing large portfolios of small commercial properties, such as chain restaurants, convenience stores, and retailers.
SiteSage employs a combination of cloud-based software, mobile apps, and locally deployed controls and sensors to help companies enhance asset performance, provide operational transparency, and reduce energy consumption.  Powerhouse Dynamics has integrated SiteSage with ServiceChannel's Service Automation platform.
Please contact Jay to learn more about the benefits from its SiteSage solution and ServiceChannel's facilities management platform.