A Guide to Choosing the Right Facilities Management Software for Gym Facilities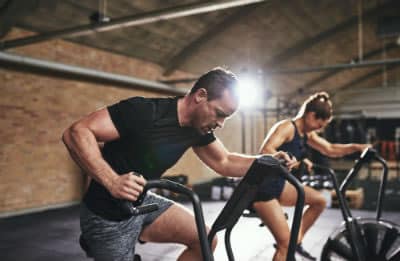 The health and fitness industry is growing at a rapid pace – more than 66 million Americans used a health club in 2016, a record-high. With over 36,500 health club facilities in the United States for customers to choose from, gyms need to do all they can to stand out and attract new business.
Effective facilities management ensures fitness locations are clean and in peak condition, thus attractive to potential customers. Many FM teams have chosen to implement facilities management software to keep up with the enormous pressure industry popularity is putting on fitness facilities.
In this post, we will look at the unique challenges fitness facilities managers and GMs face in their industry, as well as how they should go about selecting the optimal FM software platform for their business.
Unique Facilities Management Challenges for the Fitness Industry
Due to the sheer number of gym and club options, there is immense competition in the fitness industry. In order to be successful, fitness facilities need to create exceptional customer experiences – which depend heavily on the state of the facility. It's important that gyms are clean, stocked with amenities like water bottles and towels, and filled with functioning equipment.
Download Free Case Study: See how this Health/Fitness chain cut R&M costs by 49%
Cleanliness
Cleanliness is absolutely essential in fitness environments. Gyms are heavily trafficked facilities, which means maintaining cleanliness can be a challenge. Additionally, by nature fitness facilities are home to lots of sweat, providing fitness facilities managers with the additional responsibility of keeping locations sanitized.
Equipment Uptime
Fitness facilities house specialized exercise equipment and sometimes feature steam rooms, pools, or saunas. Facilities managers need to know the lifecycles of these machines and amenities, as well as how to properly maintain them to keep fitness locations running optimally.
In fitness facilities, equipment uptime is essential, as out of order equipment hinders the customer experience. This can mean that fitness FMs have to find and hire contractors on very short notice. However, customers don't want to have to weave in and around service workers during their workout. Thus, fitness FMs need to find contractors who can perform repair and maintenance during the gym's limited off-peak hours.  
Facilities Management Software Features Fitness FMs Should Look For
Certain facilities management software features are highly beneficial to fitness FMs. Let's take a look at these features and how fitness facilities managers can utilize them to address their industry's challenges:
Contractor Management
A platform that helps find, hire, oversee, and evaluate service providers can help fitness FMs increase efficiency and ensure they are allocating spend to the optimal contractors. Fitness FMs should look for a facilities management software solution that includes a comprehensive contractor directory; it should be easily sortable, include contractor compliance statuses, and have evaluation capabilities.
A filter that sorts by trade capability is extremely helpful to fitness FMs, as a contractor might be experienced with one type of machine— say treadmills— but has never had to repair something like a steam room's air filter. Because fitness equipment and facilities are so specific, contractors need to have skills in those particular trades. Additionally, fitness FMs should select a platform that allows for easy, real-time monitoring of contractors so that they can always know when they're on-site and what work is being performed and to what standard.  
Work Order Management
Fitness FMs should also look for a facilities management software solution that automates work order management. Creating and monitoring work orders can be time-consuming for fitness FMs due to the high number of individual pieces of equipment. Additionally, work orders need to be very carefully scheduled to repair equipment promptly while avoiding peak fitness center hours. With automation, facilities management software shortens work order processes.
An FM platform with preventive maintenance capabilities is also beneficial for fitness FMs. Preventive maintenance involves routine upkeep work, preventing costly breakdowns and maintaining positive customer experiences.
Analytics & Business Intelligence
It's difficult for facilities managers to properly manage and analyze the large amounts of fitness facility data. This task can drag fitness FMs away from other responsibilities, begging the need for FM software with analytics capabilities.
Fitness FMs should select a facilities management software system that not only includes analytics, but displays them in easy-to-read – and then act on – dashboards. Data analytics can identify key trends, outliers, metrics and insights to help fitness FMs find areas in which they can reduce spend, increase efficiency and streamline processes.
FM Software for Health/Fitness/Gym Facilities in Action
An example of successful facilities management software use in the health, gym and fitness industry is national boutique chain, CorePower Yoga. The company implemented a facilities management software solution to help them increase visibility into its FM spend and to simplify its contractor management processes, which were initially done through decentralized emails from individual studios.
Quickly after implementation, CorePower saw a 15% reduction in average invoice amount, increased contractor check in compliance and eliminated redundant payments.
Before implementing an FM software platform, fitness facilities managers should evaluate their FM needs, develop goals with realistic completion deadlines and take stock of how much data they manage. Once these aspects are clearly understood, fitness FMs will be prepared to select a software solution that will help them gain incredible insights, substantial cost savings and greater efficiency.
Learn more about how health, fitness and gym chains reduce expenses and improve operating performance while boosting their customers' experiences.