Becoming a Maintenance Technician: Job Description, Skills, and Responsibilities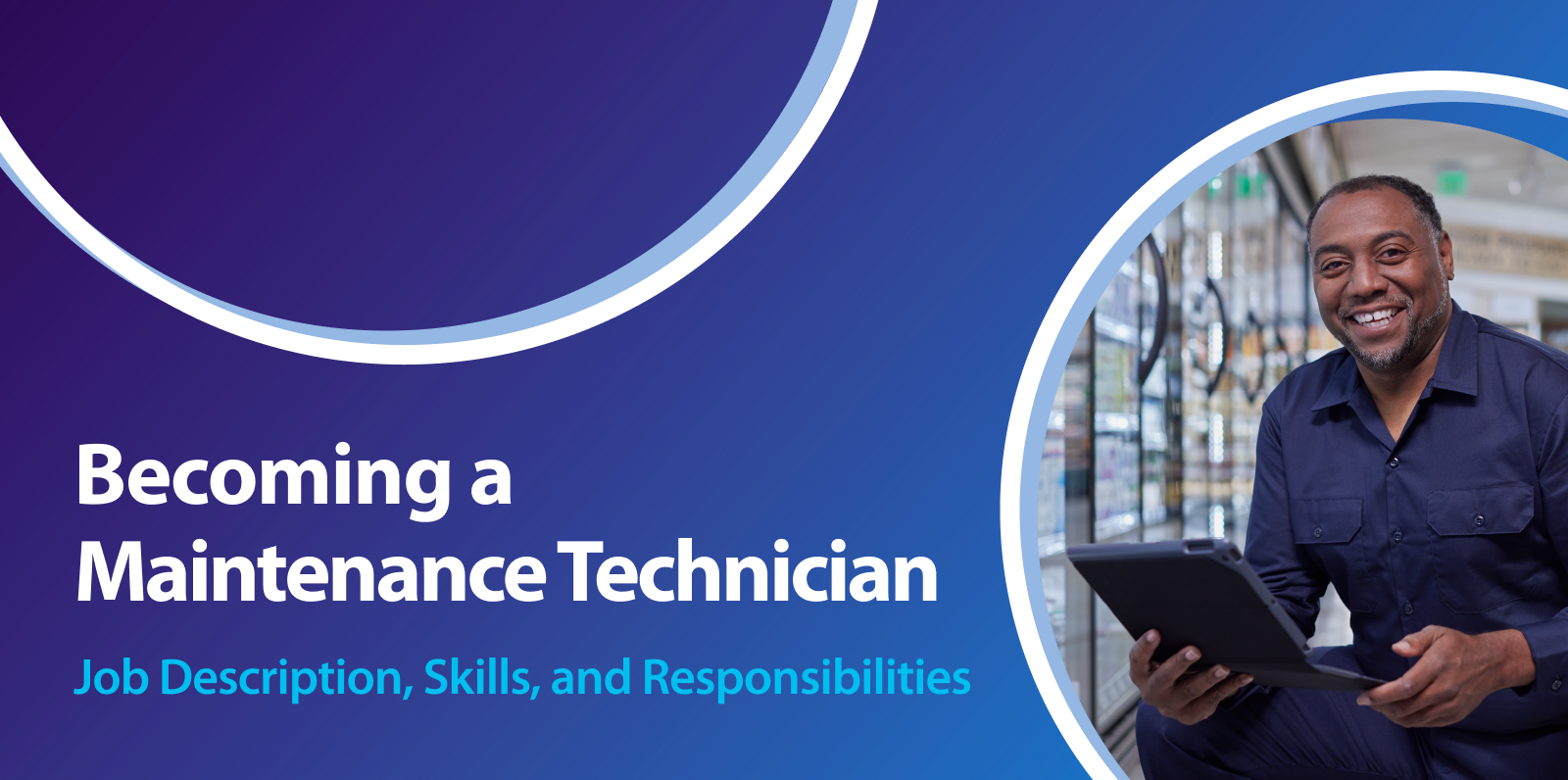 A maintenance technician is responsible for repairing and preserving a particular facility, including its equipment and systems. A maintenance technician regularly inspects the building and its assets, maintains inventory, and helps to develop preventive maintenance procedures.
More than 1.5 million people work as maintenance technicians or in similar jobs in the United States. The number will grow about 5 percent a year through 2031, according to the Bureau of Labor Statistics.
What is a Maintenance Technician?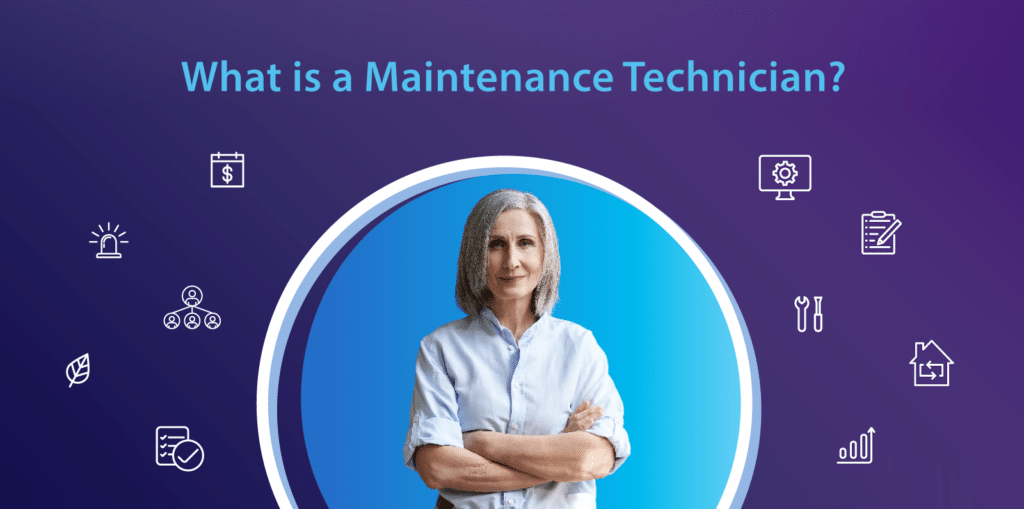 A maintenance technician repairs and maintains buildings, grounds, and equipment. They help with ventilation, HVAC, electrical, and other systems. They also regularly check systems and equipment to ensure they are up to standards and running efficiently. Finally, a maintenance technician ensures that documentation is up to date, which is especially crucial in regulated environments.
What are the Responsibilities of a Maintenance Technician?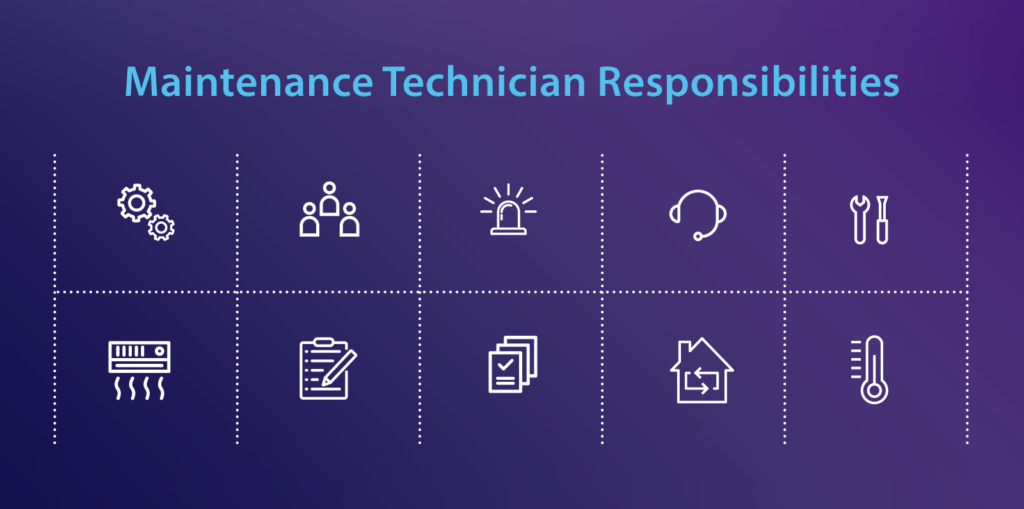 The responsibilities of a maintenance technician can vary depending on their experience and skill and the size and complexity of the facility. For example, a maintenance technician for an apartment community may have to handle a broad spectrum of maintenance and repair issues, while a technician at a larger company might specialize. Some companies also may designate different skill levels for maintenance technicians based on technical aptitude.
Typical responsibilities of a maintenance technician are:
Regularly inspect buildings, grounds, machines, and equipment to identify potential issues.
Perform diagnostic tests as necessary.
Help develop preventive maintenance programs and use preventative maintenance software.
Repair machines, equipment, and systems.
Assemble machines and equipment.
Deal with incoming work order requests and enter progress using CMMS software.
Clean and maintain the tools they use.
Help develop and implement the maintenance department budget.
Maintain inventory records.
Work with contractors to impart site-specific knowledge.
Abide by company policies and safety regulations.
What Education Do You Need to Become a Maintenance Technician?
Maintenance technicians usually need a high school diploma and technical education beyond high school. Some complete a two-year associate industrial maintenance degree, and some also serve an apprenticeship or complete on-the-job training. Several certificate programs exist for maintenance techs, including a Certified Maintenance and Reliability Technician and a Certificate for Apartment Maintenance Technician.
Maintenance technicians can also specialize in plumbing, electrical, or public works. Some states may require licensure for specialties such as electricity or plumbing.
Courses a maintenance tech might study include:
Mechanical drawing
Woodworking
Electricity
Blueprint reading
Computer programming
Electronics
Shop mathematics
Welding
Basic plumbing
What Skills Does a Maintenance Technician Need?
In addition to training, a successful maintenance technician also needs specific traits and characteristics called soft skills. Unlike hard skills, soft skills aren't taught but are innate. Maintenance technicians also need technical training to develop hard skills.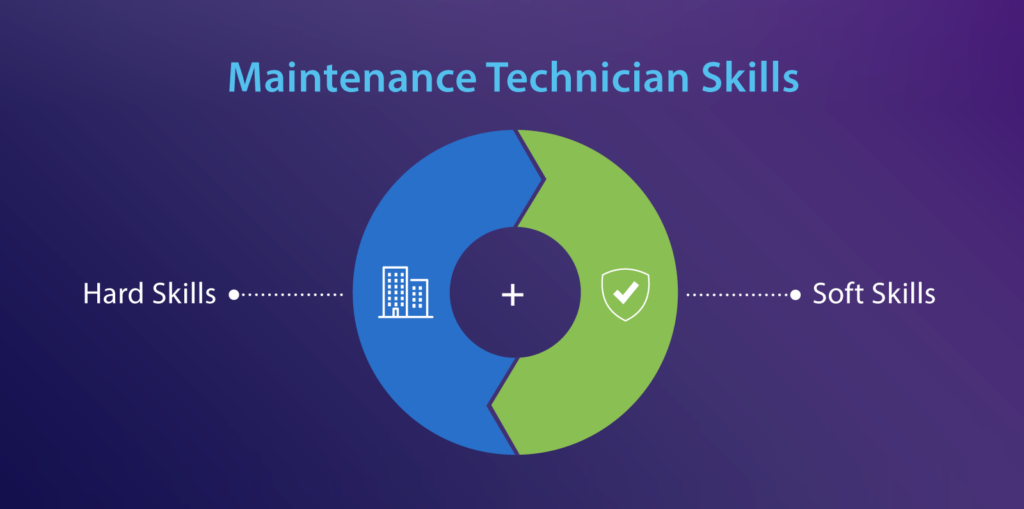 Soft Skills
Soft skills are nontechnical core skills and attributes that affect relationships and the ability to work effectively. Maintenance technicians need these soft skills:
Attention to detail to quickly find problems
The ability to organize and prioritize tasks
Excellent communications skills for working with team members and with colleagues in other departments within the company
Ability to work as part of a team
Ability to work well under pressure
Problem-solving skills
Physical ability and agility
Patience to find the root cause of the issue and explain it to others, some of whom will have little technical knowledge
The ability to be proactive and see the big picture
Hard Skills
Hard skills are the quantifiable technical requirements for a maintenance tech. These skills include:
Technical knowledge of how various machines, equipment, and systems work and how to keep them operational
Understanding of general maintenance procedures
Knowledge of general electrical and mechanical principles
Comprehension of OSHA and other safety standards and local regulations
Basic computer skills
Why Should You Become a Maintenance Technician?
Becoming a maintenance technician is an excellent career for those who love working with their hands, fixing things, and solving technical problems. Career prospects for maintenance technicians are excellent. As organizations increasingly use automation, the opportunities in this industry will continue to grow.
Being a maintenance technician can also be personally rewarding because your work keeps the organization functioning. Maintenance technicians also often enjoy a considerable amount of independence and a relatively low stress level. Indeed, a maintenance tech role makes US News and World Report's list of the best jobs without a college degree.
Where Can Maintenance Technicians Work?
Maintenance technicians can work in various environments. Any organization with physical assets hires maintenance technicians or contracts the work out to a maintenance firm. Maintenance technicians can work alone in small organizations or be part of a team reporting to a Building Supervisor or Facilities Manager in a larger organization.
Some industries that hire maintenance technicians are real estate, aviation, construction, retail, engineering, grocery, manufacturing, government, and health care.
Work With a Trusted Facilities Partner
A trusted facilities partner can help a maintenance technician work more efficiently. ServiceChannel's software can automate work orders for repetitive tasks and help you develop a preventive maintenance program. It also can track your inventory of critical parts, so you'll have what you need to complete repairs quickly. The software can also provide data to enable you to be proactive, tending to issues before they disrupt the organization's operations.
No matter where you work as a maintenance technician, ServiceChannel can make your job easier. With our expansive partnership network, we can match you with the right service provider for your needs in the ServiceChannel Marketplace.
Are you a service provider looking to connect with customers, explore our Service Provider Marketplace and get easy access to insights and administrative support. Explore our Provider Solutions here.