What Is Service Automation – Why So Many Flavors and Why Should I Care?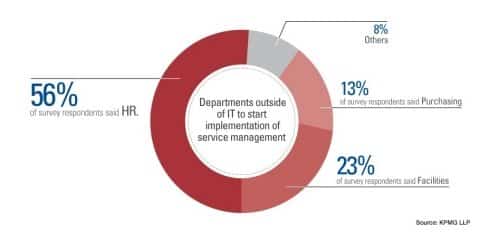 OK, I have to admit that Service Automation wasn't exactly a term I had used much before I came to ServiceChannel.  I half expected it to be something related to robots serving me a hamburger or pizza.
Turns out, it's a pretty widely used term, and used in a bunch of different contexts, but pretty much always translates to "using technology to help you to get things done faster, better and more efficiently."  But there are a lot of different flavors of Service Automation, as you might imagine.
Automating Services Drives Corporate Efficiencies
I previously worked in the Tech/IT/Data Center market, where Service Automation is touted by the likes of IBM and HP with respect to their cloud-based computing solutions.  In this context, Service Automation refers to technology that helps to transform "manual, error-prone tasks into reliable, repeatable and timely processes to gain control over application packaging, deployment, change, troubleshooting, recovery and auditing."  Lots of buzzwords, got to love it!  But when it comes to a buzzword, it can mean different things from different people.
Across the enterprise, there are numerous services being performed manually –  and thus likely, inefficiently and costly.  When viewing how other companies characterize these to be automated services, the differentiating factor is on what services are being automated and who in their environment is being impacted.
For example, ServiceNow and others have done well by marketing Service Automation as a model that "defines, structures and automates the flow of work, removing email and spreadsheets, so you can streamline the delivery and management of services."  In ServiceNow's case, they've been focused on IT services within an enterprise ("I need a laptop and email account for my new employee"), but have extended nicely to HR ("I need to get my new employee set up with benefits") and internal facilities management ("I need a new cubicle and desk for my new employee").
Oracle's PeopleSoft Enterprise Services Automation applications "enables project-centric organizations and departments to establish core operational processes that support full project lifecycle management—across operations and finance—from project selection, planning and staffing, through execution, cost control, and analysis."
KPMG LLP, the U.S. audit, tax and advisory firm, notes in a recent survey (co-sponsored by ServiceNow), that HR, facilities and purchasing are the most likely departments to apply Service Automation.  More than half (56%) of survey respondents said that HR was the best department outside of IT to implement Service Automation. Facilities (23%) and purchasing (13%) came in second and third respectively as candidates for services management and automation.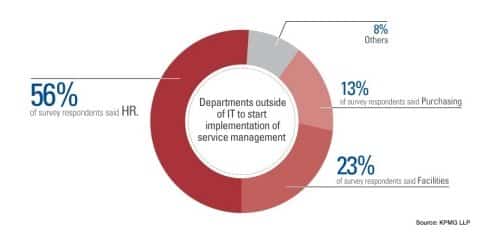 Facilities Service Automation Has Its Own Challenges – And Needs Its Own Solutions
All these companies are targeting important – and often inefficient – parts of corporate organizations: IT, HR, Operations, Finance and Facilities Management (in most companies, there's certainly plenty of inefficiency to go around!).  But what about managing the myriad of third party vendors and contractors that manage and support all your company's locations: stores, outlets, restaurants, properties, etc.  The services needed to manage both the contractors and the sites themselves can be the most challenging given all the moving parts, costs, assets, external workforce and geographically dispersed locations.
That's where our flavor of Service Automation comes in.  How's it different from the myriad of others?  It's simple – we help facilities managers, procurement departments, operations teams and on-site staff manage outside contractors with service automation – in other words, we help them to find, manage, analyze and pay service providers who are not on their payroll.  That's different.
Think about how hard it is to provide Service Automation for people who for you.  Now, think about applying Service Automation to people who don't work for you.  Think about how many contractors you might need to manage across various trades and specialties, across geographic locations, across dozens, hundreds, or even thousands of properties, in multiple countries.  This multi-site, multi-vendor, multi-trade flavor of service automation is a whole other ballgame.
Service Automation is not a one size fits all technology approach.  Before you investigate it, make sure you know "what flavor" you're looking for.