What Facilities Managers Should Know About Equipment Maintenance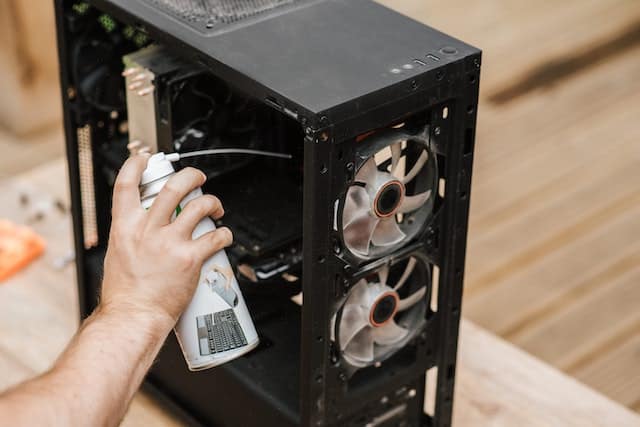 Discover what facilities managers should know about equipment maintenance for their facilities including who's responsible and how to track it.
When dealing with equipment maintenance and repair within a facility, managers must consider planning at a high level. These plans must include overseeing supervisors, asset management, enhancing productivity and efficiency, and increasing the lifespan of the equipment and assets.
This is an essential part of running any facility and should be taken seriously. Following best practices, obtaining key certifications, training, and ensuring the equipment maintenance workers have the tools and resources they need is crucial to your success.
What is Equipment Maintenance?
The definition of equipment maintenance deals with maintaining different equipment types throughout the facility. This could include computer systems, vehicles, tools, and heavy machinery. There are different types of equipment maintenance, such as planned maintenance, corrective maintenance, preventive maintenance, predictive maintenance, scheduled maintenance, emergency maintenance, and condition-based maintenance.
What is included in Equipment Maintenance?
In equipment maintenance, it is up to the facilities manager to determine specific equipment needs and how to prioritize those needs. There are specific objectives for equipment maintenance such as reducing the likelihood of downtime, cutting equipment maintenance costs, lengthening the lifespan of assets and equipment, protecting the equipment, and increasing safety.
Equipment maintenance can be achieved through:
Training
Inspections
Inventory
Schedule Maintenance
Cleaning and storage
Lubrication
Repairs
Asset Management vs Equipment Maintenance
Asset management is all about the activities and things to do that track the assets within an organization. Asset management directly aligns with the overall business plan to lower costs, provide a higher ROI, and optimize performance. Equipment maintenance guides the physical performance of maintenance equipment to make sure it is always working without unexpected downtime or repairs.
Goals of Equipment Maintenance
Your goals usually depend on the type of equipment maintenance you are focused on. In most cases, the main goals are ensuring your equipment and assets are safe to use, downtime is eliminated, and the duration of that downtime is minimized. Other goals are making sure the equipment has a long lifespan, maintenance records are accurate, everything is in compliance, and costs are low.
Who Needs Equipment Maintenance?
The main industries that need equipment maintenance are:
Construction
Manufacturing
Aerospace
Hospitality
Sports arenas
Oil and gas
Food production
Mining
Equipment Maintenance Best Practices
There are quite a few best practices that should be followed when developing preventive maintenance management programs:
Keep detailed records
Using a CMMS is a better alternative than manual records. This ensures you have an entire database of your information easily accessible for complete and accurate records.
Continuously inspect equipment
Even with regular maintenance, parts can easily become worn if often used. Smaller parts like hoses, belts, and other elements needed for general operation should not be overlooked.
Check warranties
It is very important to check the warranty to make sure you are following their guidelines. There may be clauses or restrictions that could void your warranty if used incorrectly.
Follow the manufacturer's recommended schedules for maintenance
Every manufacturer has a planned maintenance schedule. They should be integrated into your preventive maintenance plan. This keeps the equipment in great operating condition and maintains safety.
Keep parts most used on hand
If you use certain parts more often than others, you should keep them in your inventory. This helps keep costs down when they need replacing.
Who's Responsible for Equipment Maintenance?
The facility manager has the overall responsibility of equipment maintenance, but there are other roles involved in making sure everything runs smoothly. For instance, maintenance managers supervise the work of the maintenance team. They report to the facility manager, make sure schedules and tasks are distributed, and ensure the team has all the resources and tools they need. In some cases, maintenance managers can perform some or all of the tasks usually delegated to the technicians, mechanics, and engineers.
How Roles on the Maintenance Team Differ
The role of maintenance technicians involves inspection, servicing, and repair. Maintenance mechanics are specialists and service different types of equipment and machinery. They have more training and experience than maintenance technicians. Maintenance engineers work with the facility manager and handle planning, analysis, and optimization of the work being done. They have an extensive background in engineering and can identify any issues within the current system.
How to Track Equipment Maintenance
Equipment maintenance can be tracked using a CMMS that focuses on the different types of equipment maintenance. Equipment maintenance logs are often used by organizations to:
Record the activities of the assets
Track PM compliance
Optimize tasks and schedules
Improve communication and accountability
Maximize equipment ROI
You can also refer to the logs to determine which assets should be updated or replaced, which models have a history of failure, and the costs for repairs. This helps in making better decisions based on real-time data.
When creating an equipment maintenance log, you should have a standard template to track from the same starting point to make sure there are no errors, and the analysis is genuine. Using a digital platform helps with accuracy. Make sure the logs are accessible to all the people who need them and define how the logs should be shared and used between the maintenance team.
Your Trusted Maintenance Partner
If you're looking to create or optimize your maintenance program, ServiceChannel's suite of solutions provides the tools and resources you need to get things in order. Learn more about how ServiceChannel supports asset management here.