WATCH: Roto-Rooter Sends Work Order Management Problems Down the Drain with ServiceChannel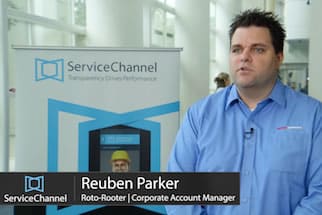 The majority of ServiceChannel's customer success stories focus on facilities managers who rely on our service automation platform to improve their facilities operations and better manage their network of service providers across all trades. However, what may truly set ServiceChannel apart from our competitors is the value we provide for contractors as a system of engagement with their customers.
Ensuring efficiency, ease of use and superior quality of service across the facilities management ecosystem, to all participants, is a key tenet of our business approach and strategy.
One example of this comes from one of our restaurant clients. Hat tip to Director of Facilities Jon Ahrednt, our customer at Bloomin' Brands, who pointed this out to us when he said, "We liked that [ServiceChannel] cared about its clients and service providers equally."
Making this point even more crystal clear is this short video featuring Rueben Parker, a corporate account manager at Roto-Rooter, a company founded in 1935 who has grown to be the largest provider of plumbing and drain cleaning services in North America. 

Commercial Contractor Software Drives Better Performance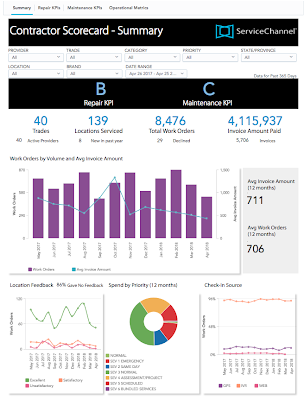 Here's an example ServiceChannel
contractor scorecard
Although Roto-Rooter is obviously on the contractor side, the company uses ServiceChannel contractor software solutions in a way similar to facilities managers by tracking and managing the full lifecycle of all work orders they accept. This includes having visibility into everyone who's been involved with the work order to ensure accountability and rapid resolution. Mr. Parker calls this "following the breadcrumbs."
One of the most valued items that Roto-Rooter gains from using ServiceChannel is its performance scorecard that indicates how well its technicians are performing across a number of key performance indicators such as on-time check-in, resolving issues on the first try, and many others.
Having its own scorecard allows any service provider to quantitatively measure its performance in the same way as its customers.  This ensure much more productive conversations as everyone's focused on the same metrics and data points.
Learn more about the ServiceChannel contractor solutions and services.