Transform Your Outdated Facilities Management Program with ServiceChannel in Scottsdale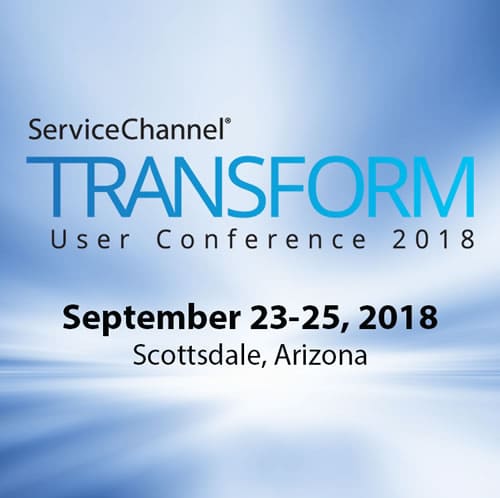 So much keeps happening in the FM field, related technologies, and best practices, and with ServiceChannel's software. To keep your stores, restaurants, branches, and locations delivering superior customer experiences, it's important to stay up-to-date w/the latest happenings, learn from peers and get the latest from our Product team on the most recent and planned innovations for the Service Automation platform.
How can get a handle on all this information, in one place (and enjoy a sunny respite at the same time)?  Glad you asked! We know just the place that will help you transform your own facilities program into a higher performing one.
For those that have attended before (if you haven't check out our Day 1 and Day 2 recaps from last year), our annual user conference is your one-stop shop. This year's ServiceChannel user conference will be held in sunny Scottsdale, Arizona, September 23-25, 2018.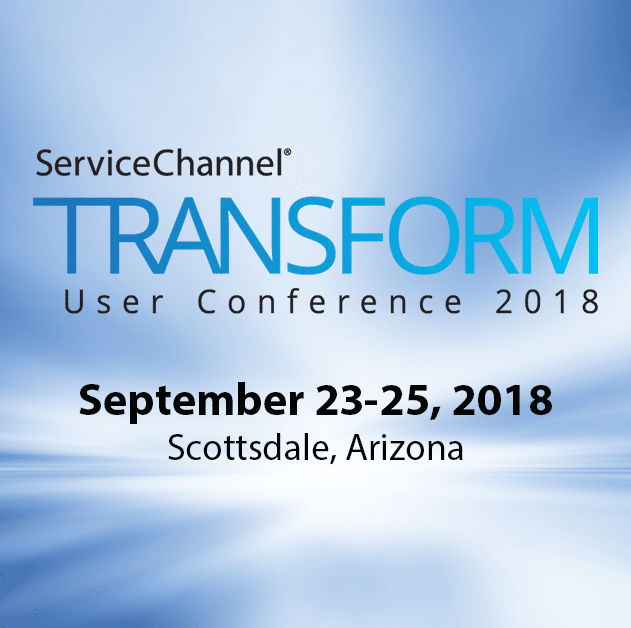 The TRANSFORM User Conference is a two-day event built specifically for you to connect and collaborate with industry peers and ServiceChannel experts while learning how to optimize and modernize your FM program.
What You Can Expect at ServiceChannel's TRANSFORM User Conference 2018
Why is this not an event to be missed? Check out our TRANSFORM User Conference summary.
Over a packed day and a half schedule, we have a full agenda of sessions and activities for anyone looking to boost their facilities program performance – and their career – to the next level.
Highlights of this year's event include:
Keynote Speaker – Peter Shankman: The New York Times calls him "A public relations all-star who knows everything about new media and then some." An author, entrepreneur and corporate keynote speaker, Peter is recognized worldwide for radically new ways of thinking about customer service, social media, PR, marketing, advertising, and ADHD.
He is the founder of ShankMinds: Breakthrough, an online community of business professionals from around the world, as well as the founder and CEO of The Geek Factory, Inc., a boutique social media, marketing and PR strategy firm located in New York, with clients worldwide.At this year's TRANSFORM User Conference, Peter will speak on: "The Economy of the Next Fifty Years Will be Run by Customer Service."

As we all know, the days of begging for

likes

are over. The customer economy is all about doing likable things.

As the network gets smarter and smarter, it'll know your favorite places before you do, and share those with the world – when the world is looking. What does this mean for your business? It means that it's time to start focusing on the customer experience!What You Can Expect to Learn
The five rules of the customer economy

Why speed matters

How to stay "top-of-mind" in every customer's mind, from beginning to end

How millennials, as well as Generations Z and Alpha, are consuming content, and how you can get in front of them.

Peter will discuss topics from his acclaimed book, Zombie Loyalists – Using Great Service to Create Rabid Fans

, where he teaches companies how to create customers who are loyal and passionate so that they go out of their way to bring new customers with them each time they come back.
Concurrent Education Sessions

: Dig into specific Service Automation and ServiceChannel Partner Solutions features & functionality to help you maximize the value from your software.  Discover tools and tips that can impact your own facilities management program.
Birds of a Feather Sessions: NEW SESSION! Meet with like-minded peers with shared interests and discuss topics such as API integration or how other non-facilities teams can benefit from service automation in their departments.
Customer Stories: Hear use cases from your peers on how they are benefiting from the ServiceChannel platform. Learn best practices and real-life use cases on using the product and the value other companies have realized.
ServiceChannel Solutions: Get the latest on our exciting product-related announcements and get a sneak peek into our roadmap and see where we're headed from our Chief Product Officer.
Networking Opportunities: Join us for our unique networking events as you mingle with your peers and the ServiceChannel team.

Opening Party, Sunday evening, September 23 at the Omni Scottsdale Resort & Spa at Montelucia. Join us on a culinary adventure with breathtaking views and international flavors!
Welcome Reception & Entertainment, Monday evening, September 24 at Topgolf Scottsdale. Enjoy a private space just for Transform 2018 attendees with hours of Topgolf game play, bottomless cocktails, and heavy appetizers.
Customer Appreciation Luncheon, Tuesday, September 25 immediately following the closing of our general session.
Don't miss your chance to attend TRANSFORM User Conference 2018 – Reserve your spot by Registering Today!