Top Six Reasons You Don't Want to Miss TRANSFORM User Conference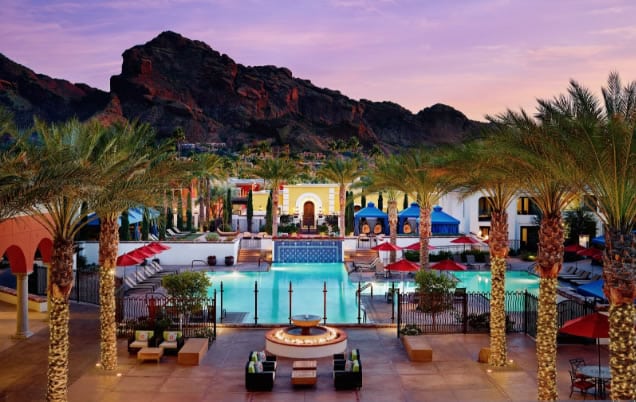 As summer vacations end, the kids go back to school and it starts getting a little cooler (hopefully!), we encourage you to make plans for the fast approaching ServiceChannel TRANSFORM User Conference 2018. If you're a ServiceChannel subscriber client, this is the one event you want to make sure you attend.
Being held this year in beautiful Scottsdale, Arizona on September 23-25, the annual user conference is packed with awe-inspiring keynotes, practical how-to sessions, customer presentations on best practices, insights into the product roadmap, lots of useful facilities management content and much more.
If that's not enough to pique your interest, here are six reasons you don't want to miss this amazing two-day experience: 
It's a FREE Event!
This is a complimentary annual conference we offer to our Service Automation subscribers. With two action-packed days of comprehensive learning and networking, you will walk out of here with new ideas on how to boost operational efficiencies, understand new features on the ServiceChannel platform and ways to implement best practices to enhance your own facilities management program.
Genius Hall Open Daily
Take your facilities management operations to the next level. Visit with ServiceChannel experts in both product management and implementation services and get advice on anything (well, almost anything!).
The Genius Hall is open daily and staffed with an onsite support team that will help you fine tune your Service Automation software platform to your specific environment and walk you through hands-on demos that will help enhance your facilities program.
Incredible Line-up of Speakers
Learn best practices from leading multi-location brands as well as insight on how to enhance your facilities operations with key actions to take on your platform.
Retail Facilities Best Practice, "Streamline Operations"


Retail brand

Charlotte Russe

will share how it overcame operational challenges by improving transparency and inter-department communications, streamlining work order service requests and mitigating corporate risk by providing easy access to operational data.


Speaker: Shannon Markwell, National Facilities Manager, Charlotte Russe
Transform Your Facilities Program with the Power of Analytics


Chipotle will share examples of how it monitors certain reports to maximize visibility into its data set. The restaurant chain will also share how it has made efficient operational changes based on its learnings.


Speaker: Spencer Schweitzer, Facilities Software & Systems Manager, Chipotle
Restaurant Facilities Best Practice, "Cost Gatekeeping"


Habit Burger will share the challenges and risks that restaurants and other companies can encounter from operational costs going out of control. It'll provide the tools it used to keep down costs and give control back to the operations team, resulting in a big financial impact.


Speaker: Rob Wach, Vice President of Facilities, Habit Burger
Intelligently Partnering to Enhance Customer Experience


This session will examine how P.F. Chang's automates its solutions by using a combination of solution partners to create a more comprehensive approach to its facilities management program.


Speaker: Gregg Collison, Director of Facilities, P.F. Chang's
Meet Our Partners
ServiceChannel continues to expand the facilities software ecosystem by integrating with more and more best-of-breed offerings.  Take a moment and connect with our Solution Partners as they share their powerful solutions and extend the value of your ServiceChannel investment. On Day 1, attendees can learn more about these opportunities at the partner panel education session:
Making Technology Work For You: An Expert Partner Panel


Our panel of partner experts will share where they see IoT and other technology going, suggestions for adopting and using new technologies to deliver results for your organization and the latest integrated solutions for extending the value of your Service Automation platform.


Moderator: Kevin Permenter, Sr. Research Analyst, IDC
Featured Keynote Speaker, Peter Shankman
At this year's TRANSFORM User Conference, author and entrepreneur Peter Shankman will speak on how "The Economy of the Next Fifty Years Will be Run by Customer Service."
As we all know, the days of begging for likes are over. The customer economy is all about doing likeable things. As the network gets smarter and smarter, it'll know your favorite places before you do, and share those with the world – when the world is looking. What does this mean for your business? It means that it's time to start focusing on the customer experience! Learn more information on our keynote here.
Interactive Breakout Sessions
We have doubled up on our highly successful Education Sessions this year, offering you not only product specific education sessions, but also interactive roundtable discussions to help streamline your facilities operations.
Bonus Reason!
Like to meet new folks, have fun and hit a few golf balls?  After a full day one schedule, we'll all head over to Topgolf Scottsdale for an evening of networking and entertainment.
Sign Up Today – Before It's Too Late
You know that if you attend TRANSFORM User Conference, you'll bring back great ideas and new practices that will save time and reduce costs at your facility. You also know you'll make connections that will help your facility and your career.
To give you a flavor of what's in store, here's a great recap from Day one and Day two of last year's CONNECT User Conference in Las Vegas.
And if that's not enough motivation to register, here's what our attendees are saying about past ServiceChannel User Conferences:
"Great opportunity to connect with other users and get re-energized about the product and share our processes and struggles."
"I get so much from attending this user conference. It's a great opportunity to speak with people at all phases of use and/or implementation, whose days are spent doing what I do. The chance to quiz a peer and use that information to better our every day, is invaluable."
Still need help justifying your trip to TRANSFORM User Conference 2018? We've got you covered in our conference summary. 
But time's running out – so don't miss your chance to attend TRANSFORM User Conference 2018 – Reserve your spot by Registering Today.