Event Recap: ServiceChannel Product Train Keeps On Chuggin'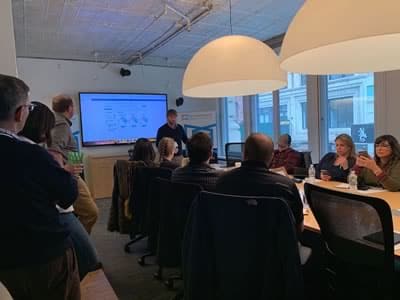 Those in the ServiceChannel community (currently over 500 brands strong!) are familiar with our Services teams (from Implementation and Support, to Customer Success and Learning & Development) from their ongoing interactions with them. But they might not be as familiar with our fast-growing Product teams and the Development organization backing them.
Whether in our NY headquarters or development hub in our fast-growing California office, our technical teams are usually heads down, working on bringing the latest innovation in facilities software to market based on what our customers need as well as the latest available technologies.
Product Teams Take the Stage
However, what's particularly exciting is when they get to share with our customers both recent major functionality as well as 'sneak peeks' into what they're working on. Customers benefit from getting an 'up close' look at how some of the latest features work from those who helped design and build them, while our Product teams gain great feedback on in progress initiatives.
Our most recent event occurred a few weeks ago in our NY office where approximately 20 customers from across a range of industries (e.g., retail to restaurant to grocery brands) got a deep dive into the latest on the Service Automation software platform. There was a tremendous amount of back and forth discussion, with lots of good ideas coming from everyone in the room.
Chief Product Officer Hugues Meyrath kicked things off, providing an update on some of the more recent innovations (from asset tag & scanning to service provider ratings to invoice insights to work order troubleshooting).
From there, he highlighted a number of they key roadmap investment areas for both subscribers and providers, and third-party integrations, as well as a number of advanced development projects underway around AI, machine learning, visualization, IoT and augmented reality technologies, among others.
From there, several of our Product Managers provided in-depth reviews of major system areas, including:
Decision Engine: Greg Wilson dug into the latest with this prescriptive analytics technology that uses historical data and machine learning to improve decision making with proposals, asset repairs/replacements and invoices.

He shared how customers can benefit from:

data-based proposal recommendations,
supporting asset information when reviewing proposals and invoices,
data on 'like' proposals and
identification of labor rates that don't match agreed rates and invoiced labor hours that do not match reported check-in/out data


Product Manager Greg Wilson showcases
new Service Automation product functionality

Asset Management: Leum Fahey then recapped all the new asset management functionality that's now available, particularly how one can scan asset tags (barcode, RFID or QR) via our mobile app, build an up-to-date asset inventory and easily create work orders for the right asset from a scanned tag. He shared some information on all the asset tagging already occurring across the platform, and a number of new partners that are available to help with such activities.

He also shared some of the upcoming asset-related features, including an improved user experience when managing assets, and support for asset components & circuits and planned maintenance for specific assets.
IoT Strategy: We've been doing a lot of work on the IoT front with both customers and partners, particularly around integrating all types of connected devices to the Service Automation platform. Following on this, Doug Ingraham, head of the Product Management team, explored one particular use case to give participants a real-life example of the benefits this technology can deliver in the facilities space.

Doug showed the business drivers with a 'connected restaurant,' including how energy savings, food cost reduction and customer comfort & safety can all be enabled by IoT-driven proactive equipment maintenance and repair. Specifically, he highlighted the benefits from automatic work order creation based on incoming alerts from sensors and preventive/prescriptive maintenance based on alert intelligence. Whether in restaurants, convenience stores, grocery or retail stores, there are tremendous opportunities for IoT to drive powerful competitive advantage.
Payment Manager: We continually get a lot of interest from our customers in expanding our payment capabilities. With all the service work going through the platform, it increasingly makes sense for customers to pay their service providers with the Service Automation software to improve efficiencies and cut costs.

In this session, Doug recapped the ways that ServiceChannel automates payment processing and highlighted some of new functionality that's coming soon that will bring greater control and self-serve capabilities along with various payment options.
New Service Provider Experience: One of our important tenets in serving the facilities community is the importance of supporting all constituencies: FMs, location staff and corporate users as well as Service Providers and Contractors. That's why we've been putting a lot of resources into improving the capabilities, functionality and experience for the 50,000+ provider company base on the ServiceChannel platform.

And to keep our subscriber customers apprised of developments for their Provider partners, Zac Wolf and the head of our Provider Strategy, Bashir Abdallah, shared an overview of what we're building around unification, simplicity and supportability. Specifically, they shared all the investment we're making, focused on Provider Registration, Navigation & User Management, Mobile Application Experience and In-App Support, Learning & Localization.
ServiceChannel University: With all the new functionality regularly coming out, we understand that staying on top of it all can sometimes be a challenge. Chellie Esters, who leads our Learning & Development team, highlighted the recent launch of our greatly improved ServiceChannel University Knowledge Base.

She highlighted the new, engaging experience of the site, specifically designed for FMs, Location Users and Service Providers, along with lots of new content from a Getting Starting section to more educational videos. Chellie also discussed new informational areas for Release Notes to ensure everyone's kept up-to-date on the latest system features.
Analytics Best Practices: Jess Countess, head of our Customer Success team wrapped things up with a very useful, interactive session on best practices. She first led a discussion with everyone, eliciting a number of report 'favorites' that people found helpful at their respective companies.

She then highlighted a number of reports and metrics that we've found quite helpful and when most appropriate to use: weekly (e.g., Aging Outliers), monthly (e.g., Performance Trends) and quarterly (her top pick – Facilities Program Discovery Dashboard). Of course, should you have any questions on what reports and practices are best for your own organization, definitely reach out to her team.
Overall, we received very positive feedback on the event from all the attendees. Key customer takeaways included insight into the roadmap, all the new product functionality and how a number of new technologies are directly leading to software innovations. From personal growth & development to content knowledge to networking, everyone felt it was a highly productive event.
If you're a ServiceChannel customer interested in seeing the slides from the event, please contact your Account Manager who can help you out! And if you're interested in attending other events like this or learning more, please check out the upcoming schedule.