FM Tech Road Show Wraps Up 2015 National Tour


We recently concluded ServiceChannel's 2015 National LEARN&LEAD road show.
LEARN&LEADs are regional networking events that provide information on our newest facilities management software products and professional services, and FM best practices. It's also an opportunity to meet and collaborate with our team of experts and FM peers. We've been fortunate to host these half-day meetings at many of our clients' locations in 2015. Most recently, we welcomed attendees to customer locations in Denver, CO (Nov. 5th) and Cupertino, CA (Nov. 20th).
Mile High Facilities Management!
Denver's LEARN&LEAD kicked off the day with updates on ServiceChannel customer outreach support.
The highlight of the afternoon was the keynote presenter – Brian Peoples, from CorePower Yoga. Brian sparked a discussion on how to effectively establish a successful facilities mantra with ServiceChannel as the backbone. Brian's expertise on streamlining processes for Accounts Payable and finding trends that contribute to high spend on both studio and store levels captivated the audience's attention. As expected his ideas led to a roundtable of further discussion on additional best practices in the industry.
FM Technology Advances Come to Silicon Valley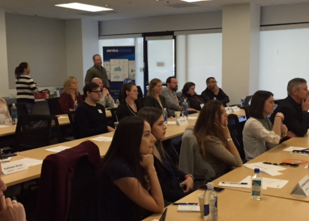 LEARN&LEAD guests had the rare opportunity to visit a customer's headquarters in Cupertino, CA. ServiceChannel CEO Tom Buiocchi kicked off the event and wasted no time in getting down to business. He highlighted where Service Automation technology is headed in 2016 and the marketplace successes from ServiceChannel's range of product advances.
The afternoon included a full-audience discussion on how our products can further automate the life of a Facilities Manager. Some of the interesting ideas discussed were:
The on-call process

The alerting process for "stale" WOs

Leveraging mobile as an alerting platform
We're just getting started! Join us in 2016 for our LEARN&LEAD series that will continue to showcase the latest advances in web and mobile-based FM technologies, industry best practices and plenty of networking opportunities.