When you name the company after yourself, and that name is on trucks all over the area, you better make sure that quality and service are at its best. Tony Weston doesn't just own Weston Lawn Service and Snow Removal, he's also the lead coordinator—making sure that the right people are hired, bills are paid, and customers happy. Tony's recipe for success starts with trust. He says, "It's about being honest with your customers, and then, of course, following through with quality, hard, efficient work."
Sometimes the road to success has obstacles. Equipment may be crucial, but for Tony the hardest part to achieving success is dealing with employees and their problems. And it shouldn't come as a surprise that for a company that specializes in lawns and snow, weather can have both positive and negative effects.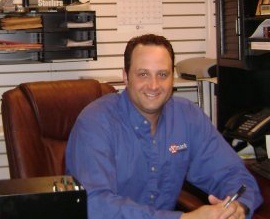 Tony believes the best way to work with customers is by being "completely honest and having their desires and needs first in our mind. We also strive for very thorough communication, which in turn, leads to complete satisfaction." Lack of honesty among competitors is one of the most disturbing elements of running a business for Tony. As he says, "It's hard to compete against contractors who classify their employees as subcontractors or 1099 employees in order to avoid paying roughly thirty-five percent (because workers' compensation is based on payroll and so is unemployment). This puts our company at a huge disadvantage. Thirty-five percent is a pretty large margin to overcome." Tony has heard this firsthand from employees who have come to Weston Lawn Service and Snow Removal from competing contractors.
When competition is this tough, Tony needs everything in his arsenal to maximize efficiency. He uses ServiceChannel "to the fullest extent that I am capable of. It is simple, easy and the support is helpful and friendly. It also helps for quicker cash flow by allowing a quicker way to invoice."
It also means that Tony needs to be very proactive when it comes to his employees and quality control. "We train in many different ways, though most of it is hands-on training with a close eye from the crew foreman. We also have a morning meeting to deal with all types of issues from safety to quality of service."
As the company owner, business is never far from Tony's mind. That's why family time is so precious to him. You can hear the warmth in his voice when he says, "I absolutely love and crave spending time with my family. I really don't care what we decide to do, even if it's nothing. I just love to be with my family."