The Right Bet on Facilities Management: Highlights From Day One at ServiceChannel CONNECT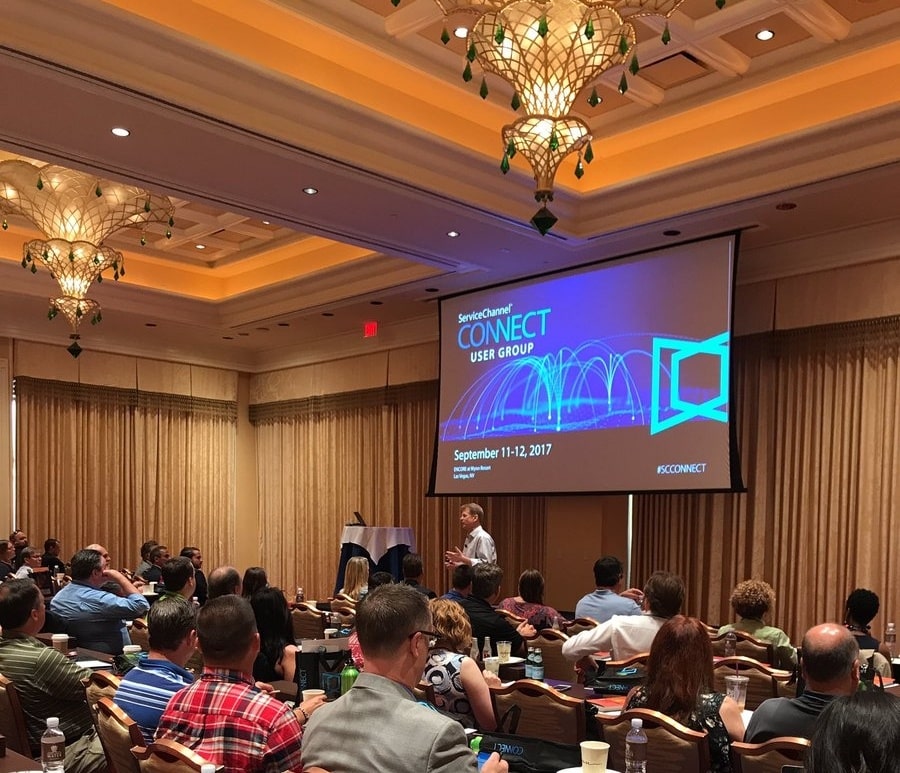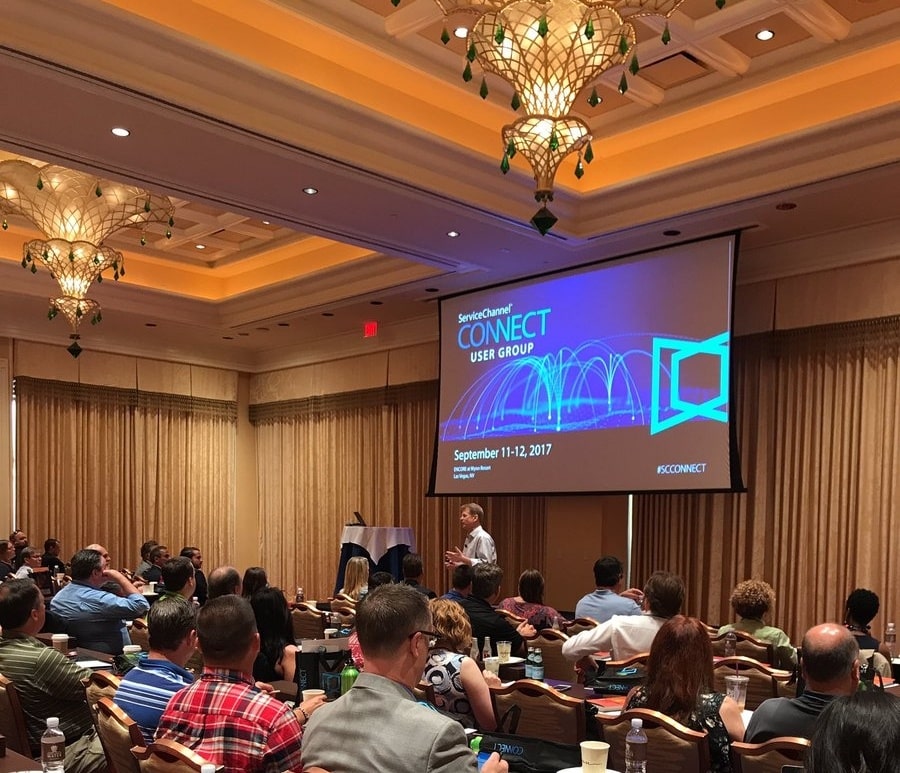 Much of the facilities management world found themselves in Las Vegas this week at the ServiceChannel CONNECT User Group. The event brought together facilities and related professionals from a range of industries – from retail, restaurant, hospitality and convenience stores to fitness, financial services, storage and transportation, among others.
The annual event enabled ServiceChannel customers to learn about trends and new technologies, best practices and product improvements from the ServiceChannel team, industry experts and each other.  There was also plenty of time for peer-to-peer networking and of course, some fun.
We all know that what happens in Vegas…Well, we thought it'd be okay to share some of the highlights.
A Ton of Money For You: The Inefficiencies in Retail Facilities Management
ServiceChannel CEO, Tom Buiocchi, kicked things off by sharing his thought-provoking thesis on the economics of the facilities management sector.  Basically, Tom highlighted the tremendous inefficiencies in how much of the retail and 'retail-like' industries manage and pay for repair and maintenance (R&M) services.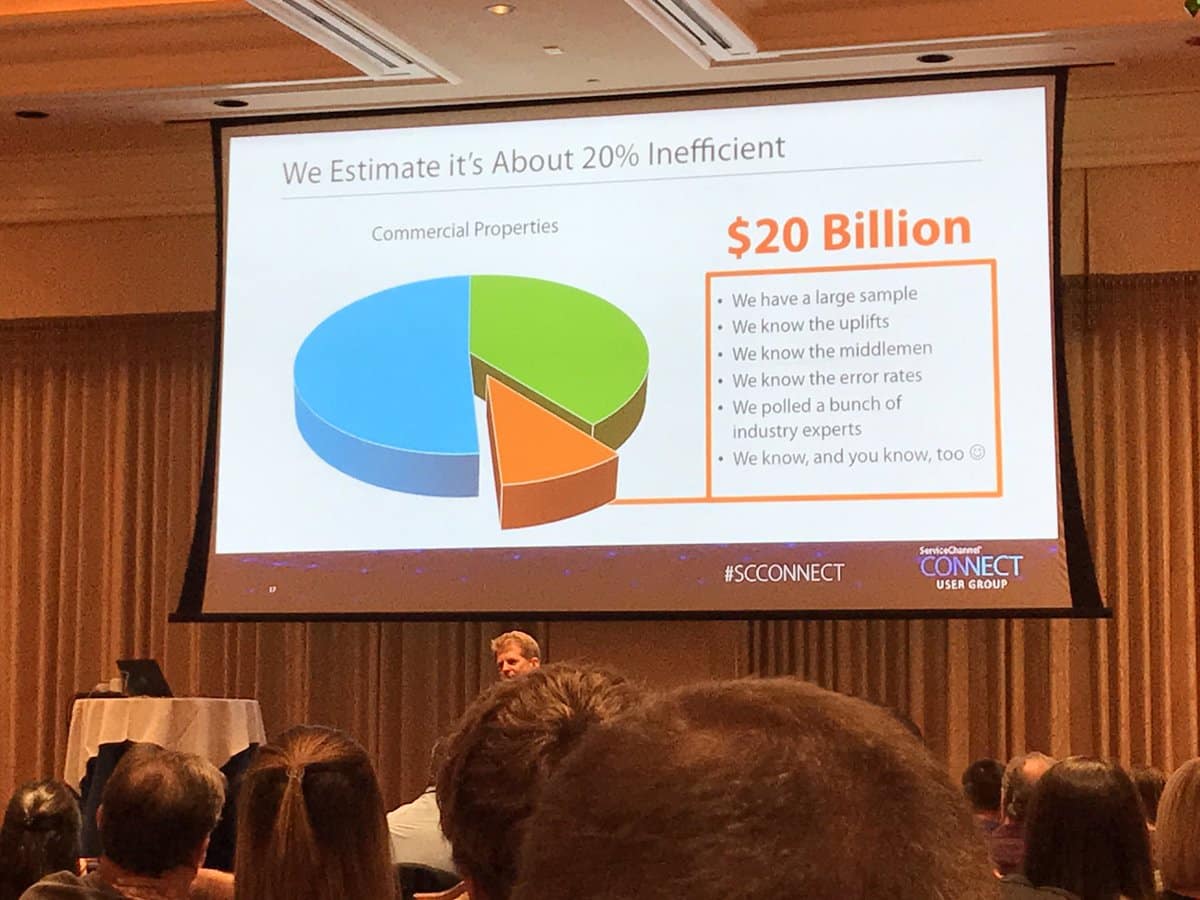 With $100 billion of R&M work performed in over 2 million physical locations in the US, Tom explained how there's 20% of fat, waste and inefficiency in this spend, resulting in over $20 billion that's there for the taking.  (Fun fact: $20 billion in currency is in fact, over a 'ton' of money!)  Check out Tom's recent post for more details on how to get your share.
Transforming Empty Spaces into Remarkable and Memorable Places
The audience was treated to a compelling presentation by Doug Stephens, one of the world's foremost retail industry futurists.  Doug discussed the current state of the retail industry, the impact e-commerce is having and the impact that connected devices and other emerging technologies like mixed reality and augmented reality will have (e.g., how machines will reorder supplies they need).
But most importantly, he emphasized that retail is not going away. He stated:
"We shop because it's social and we get a physical rush."  
Brands need physical connection with their customers; that's the driving reason more and more online players are opening physical stores.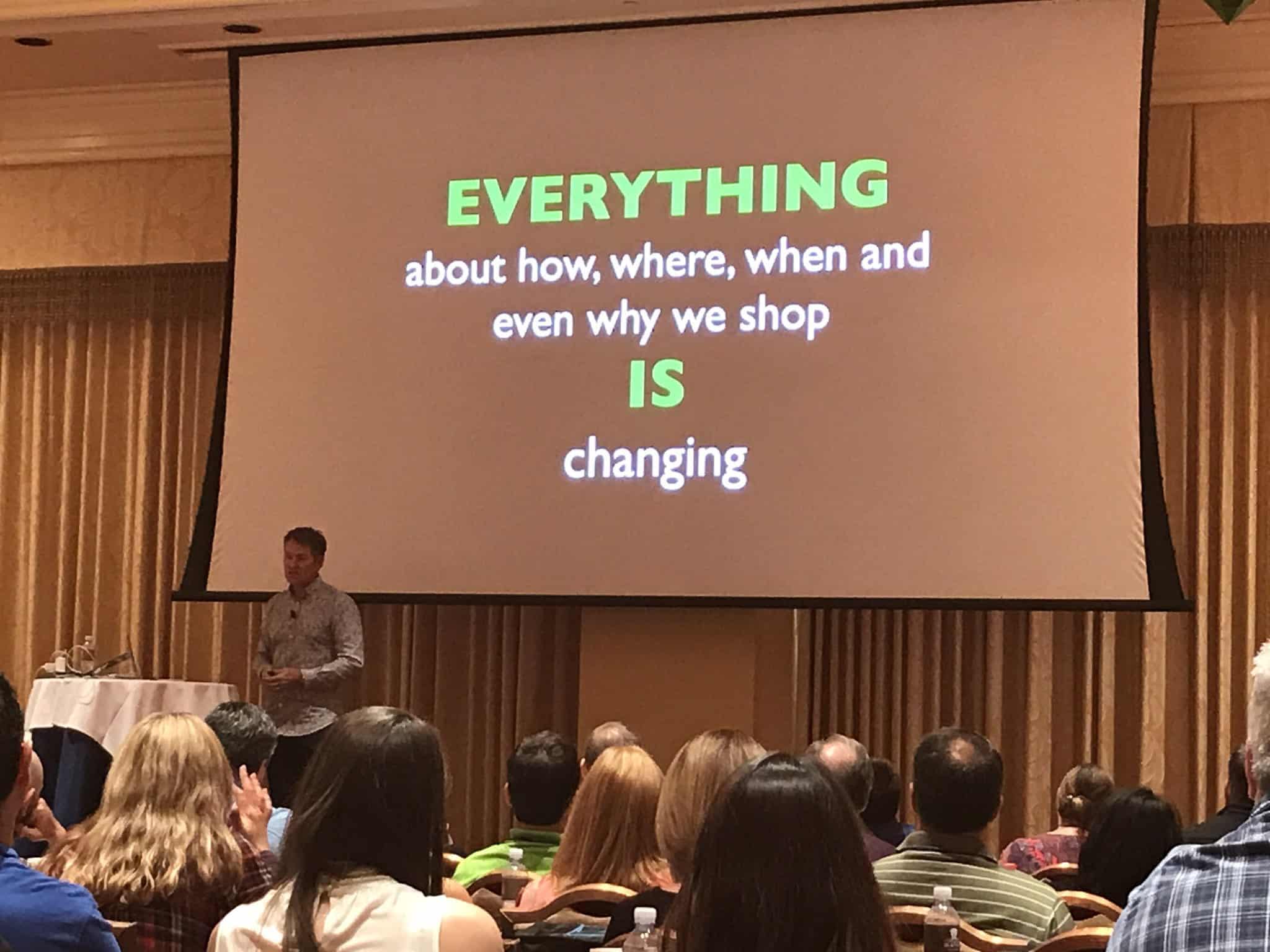 Doug shared that while physical retail spaces are staying into the future, the "purpose of the store" is changing.  Physical and online retail is not a zero sum game.  They need to work together in a complementary fashion.
A fascinating insight was how he sees media "becoming the store."  In fact, Doug emphasized that the "store is becoming the most powerful and measurable form of media."  As is often said, it's all about customer experience.  Sounds straightforward…but how?
Doug believes that retailers need to "distribute experiences."  They need "less store and more story," and to "engage all a consumer's senses."  The key is to create unique experiences a la Tesla, Casper and Sonos.  The store needs to be the "catalyst for creating a relationship with the customer," not simply a location solely focused on conversion.
The Center of an Expanding Facilities Management Ecosystem
ServiceChannel is the provider of a full-featured, comprehensive facilities management platform.  As a core technology for hundreds of companies' facilities programs, we endeavor to offer as broad a solution as possible by partnering with numerous best-in-class solutions.
Customers were interested in hearing from a number of these companies and their offerings from adjacent sectors, from energy management, site inspections and gas tank monitoring to space management, food/medicine monitoring and the Internet of Things (IoT), recently introduced as part of our new partner program.
A panel included ServiceChannel partners Archaio, Phoenix Energy, Powerhouse Dynamics, SpaceIQ, TempAlert and Titan and covered a far reaching discussion on how they're bringing their solutions and emerging technologies to help expand the ServiceChannel ecosystem through product integrations.
Getting the Most from ServiceChannel Technology
There's a lot to the ServiceChannel Service Automation platform.  That's why we're constantly focused on sharing knowledge and educating customers on all the ways to maximize the benefits they can get from the software.  Another session featured Kristen Rhodes and Paul Lehman from our Solutions team on a number of ways to best use Service Automation.
Kristen and Paul shared a number of best practices and tips that aren't always known or practiced as much as they should including:
Budget controls and reporting

Mobile FM app

Dashboard issue list best practices

Multi-department usage

Analytics
Customer Key Learnings – Bloomin' Brands
One of the highlights of our events is when our customers share their own experiences and learnings.  On Day 1, we benefited from hearing from Jon Ahrendt, Director of Facilities at restaurant chain Bloomin' Brands (Bonefish Grill, Outback Steakhouse, among others).
Jon highlighted his focus on stakeholder management, specifically the need to gain alignment at all levels and to make sure to over-communicate.  With a facilities program managing 174,000 work orders and approximately 2,000 contractors comprising $190 million in spend, there was much to learn.
Jon discussed the importance of reporting across his various brands, identifying spending trends (e.g. the reasons and outliers) and relying on quantitative contractor scorecards so he can have data-informed discussions with his providers.
"Without ServiceChannel, we'd be negotiating blind."
A number of the wins he shared with the audience included:
Incredible visibility

Locked-in savings (how he proves out FM initiatives that he can share with the Finance department)

Strong partnerships (both between Bloomin' Brands & ServiceChannel and ServiceChannel & his Providers)
We also held a number of product-focused education sessions around a number of new FM software solutions.  These are continuing into the second day so we'll cover those tomorrow.
Was that it?  Of course not!  Following a full day, everyone prepared for an exciting evening.  But you know, what happens in…