RaceTrac Accelerates Facilities Maintenance and Repair Improvements through ServiceChannel Service Automation

Convenience Store Chain Slashes Unresolved Daily Service Tickets by Half
Using Cloud-Based Automation and Big Data Analytics
NEW YORK, July 27, 2015 – ServiceChannel, the leading SaaS service automation platform for facilities managers and contractors, today announced that its customer RaceTrac improved maintenance and repair services across its distributed enterprise of more than 700 convenience stores by integrating the ServiceChannel portfolio within its operations.

Through service automation, RaceTrac achieved a number of operational benefits and cost efficiencies for maintenance and repairs. These included more effective contractor management through advanced features such as mobile/GPS check in on site, streamlined invoicing and payment process, and more transparent service work orders management from start to finish.
RaceTrac also gained advanced analytics and reporting capabilities to deliver more visibility and transparency to the spending/budgeting process, including resource allocation for specific repair and maintenance categories. ServiceChannel also provided RaceTrac a new level of customization and self-sufficiency for more than a thousand active users who can create and track work orders to successful resolution.
These benefits helped the RaceTrac support organizations, which includes Facilities Management and the Field Services teams, decrease the volume of unresolved daily service tickets by 50 percent without adding headcount or operational budget. These improvements also helped these teams better meet their service level agreement (SLAs) and overcome some existing perception challenges internally and externally.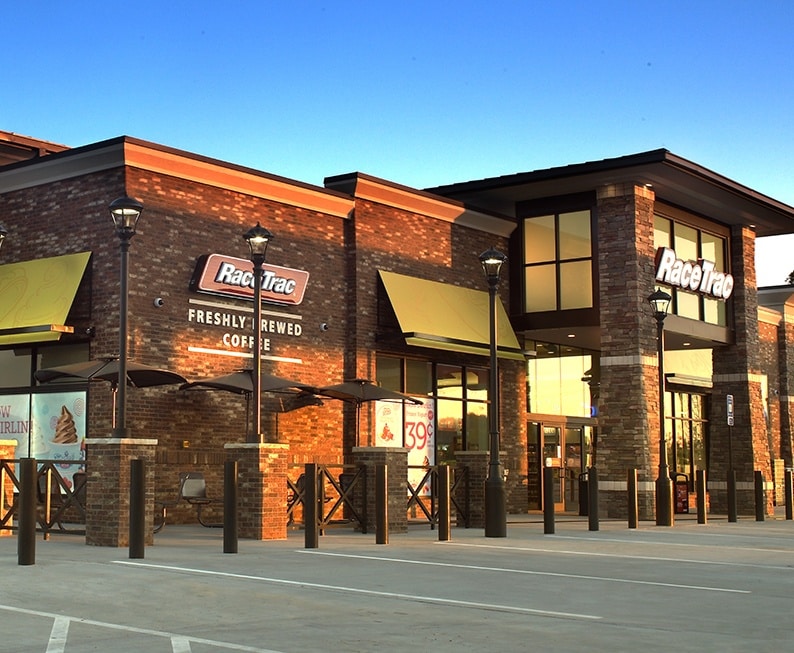 "Previously there was definitely a 'cost of business' mentality when it came to facilities repair and maintenance costs," said Jelani Headley, Senior Manager, Field Services Support at RaceTrac. "Beyond the cost issue, we were constantly challenged to meet SLAs which made it difficult for our store teams to deliver an exceptional guest experience."
RaceTrac selected ServiceChannel after a thorough search process to replace its legacy facilities management software and processes. The search criteria was for a solution that could deliver superior functionality, automation, and flexibility that can be accessed by anyone on any device, at RaceTrac's Store Support Center or in its stores. RaceTrac also required a solution with an analytics engine that can produce custom reports of any number of data sets.
Specifically, RaceTrac deployed:
ServiceChannel Service Automation platform to automate key business and service processes such as sourcing and activating of contractors in every region of operations, consolidated management of invoices and payments, and providing visibility and data for improved performance, compliance, and risk management

ServiceChannel Custom Analytics, which provided the detailed visibility and transparency of repair and maintenance costs based on any number of criteria such as by contractor, by trade, and even by specific equipment

ServiceChannel Site Audit Manager, a mobile application that allowed anyone at Racetrac to conduct a fully guided yet comprehensive on-site audits of facilities using smart phones or tablets. This replaced  a "pen-and-paper" site-audit model requiring surveys to be faxed and rekeyed into the appropriate databases
"There has been significant improvement since we established a relationship with ServiceChannel," Headley said. "Our vendors appreciate the faster, more accurate process while our store teams and guests reap the benefits."
The successful deployment also made the RaceTrac Support organization more effective internally by enhancing their levels of collaboration and simplifying inter-department planning. In fact, other departments at RaceTrac have begun to leverage ServiceChannel for their operations with the goal of the platform serving as the company's enterprise "system of record" for planning, budgeting, vendor performance management and analytics & reporting.
"Sometimes a tool does not have the capabilities to support various areas within a company, but ServiceChannel was able to engender support at all levels of RaceTrac," Headley said.

To download the full RaceTrac case study, please go to:
http://info.servicechannel.com/racetrac-convenience-store-facilities-management-case-study

Additional Resources
About ServiceChannel
ServiceChannel provides facilities managers with a single platform to source, procure, manage and pay for repair and maintenance services from commercial contractors across their enterprise. By providing a real time, web-based view of service data across all trades, locations and contractors, facilities managers drive significant brand equity and ROI for their organizations without outsourcing or investing in new infrastructure.  The world's leading global brands use ServiceChannel daily to conduct business with over 50,000 contractors at more than 120,000 locations in 63 countries.
Media Contact for ServiceChannel
Name: John Noh
Phone: 408-242-3852
Email: jnoh@servicechannel.com