Chain Store Age: Retail ROI REPORT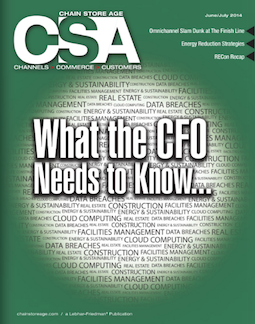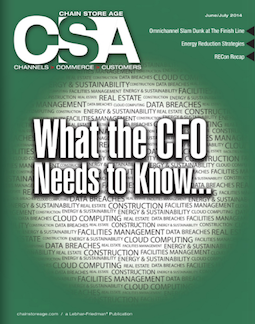 Chain Store Age Q&A with Andy Brabender, VP Sales, ServiceChannel
ChainStoreAge: Why should CFOs care about facilities management?
Andy Brabender: Stores are the essence of a retail brand, and creating a positive, memorable in-store shopping experience is key to producing repeat customers and strengthening brand loyalty. As such, facilities maintenance is a crucial piece in ensuring what ServiceChannel calls "Brand Uptime." The problem is that corporate procurement typically hasn't had the time, tools, or resources to strategically manage this spend. Without systems in place to properly manage costs, performance and compliance, facilities departments historically run over budget and are viewed negatively from the corporate to the store level. The good news is that retailers are beginning to look at managing their facilities spend more strategically and tap into the savings opportunities.
CSA: Why is the facilities spend so important?
AB: The repair and maintenance spend directly impacts the brand quality and the store experience. Managing it strategically is the best way to ensure a consistent and positive experience for customers across a portfolio. It's also the best way to minimize compliance risks, operational risks and credit risks.
CSA: Are the savings opportunities significant?
AB: On average, ServiceChannel clients are able to reduce their overall repair and maintenance spend by about 18% to 22% and these are hard dollar savings. There are also soft savings for the retailer, including the ability to make more informed business decisions.
CSA: What is an example of a hard dollar saving?
AB: Most retailers we work with pay their contractors via check or ACH. Third-party studies suggest that after processing an invoice, it costs a company approximately $7.50 to cut a check or $4.50 to process an ACH transaction. Using an e-invoicing solution will dramatically reduce the cost of processing each payment down to $2.50.
CSA: How do you achieve the savings for retailers?
AB: There are several different savings levers driving the results, including reducing the effort and resources required by retailers to effectively manage a contractor network and optimizing the not-to-exceed amounts assigned to work orders. Ways in which we drive savings include: managing equipment and the associated warranties, having visibility into the lease and the building responsibilities, invoice accuracy and three-way matching, invoice consolidation and reduction, working capital management and dynamic discounting.
CSA: How do analytics figure into your services?
AB: We use regression analysis and several proprietary algorithms to help our clients anticipate trends within their spend categories and to further automate the management of their spend. We use economic forecasts and demographic data, among other variables to help predict the volatility or stability of certain categories. We also use benchmark data and trends analysis to provide intelligence on pricing and variance reporting.
CSA: What insights can ServiceChannel provide a CFO?
AB: We capture a vast amount of information and ensure that our clients understand their own cost and performance data — and leverage it in their business decision-making process. Our proprietary database contains more than 12 years of independent cost and performance data. This enables retailers to adopt best practices, benchmark results, generate and track savings, and optimize their business for greater efficiency.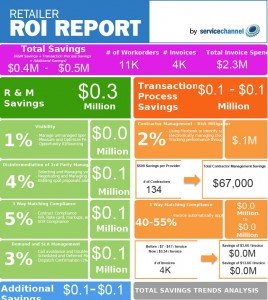 Get your free Retailer ROI Report, custom tailored to your company's operation today.