In-Store Experience Trends: Can Your Business Keep Up?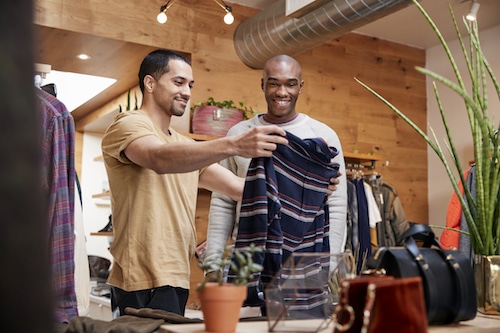 The term "Retail Apocalypse" has been thrown around for a few years now; it refers to the belief that online shopping is driving the extinction of brick-and-mortar stores. While the growth of digital may make this seem like a logical conclusion, the reality is that of the $4.2 trillion spent in the U.S. retail industry, only around 13 percent of those sales took place online.
UBS investigated further by surveying 2,500 U.S. consumers over age 18. They found that 40 percent reported a strong desire to feel or test products in stores before buying them, often because of the "instant gratification" they felt from being able to leave the store with a purchase in hand. Who knows what technological advances the future will bring, but for now, e-commerce is not able to replicate these benefits of in-store experiences.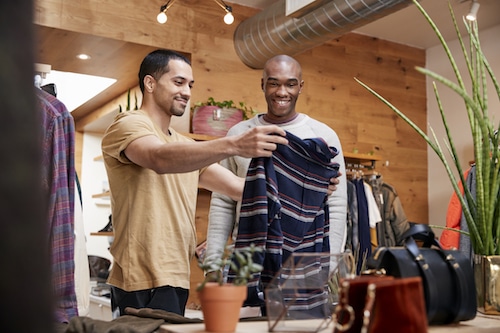 In fact, the notion of "Retail Apocalypse" has been exaggerated in many cases – several brick and mortar retailers, like Costco and Best Buy, are seeing blowout earnings this year.
4 Trends Changing the In-Store Customer Experience
Since customer experience is king in the modern market- 89 percent of companies compete primarily on the basis of customer service, up from just 36 percent in 2010- and brick-and-mortar shopping still pulls in the majority of retail sales, it is crucial that retailers deliver excellent in-store experiences to their customers in order to be successful.
Here are four elements customers are looking for when they shop, and how your organization can deliver them:
1. Connecting Online and Offline Experiences
Technology allows shoppers to interact with brands in new, more personal ways, and there are a variety of methods they can use: mobile apps, social media, websites, online advertisements, and more. Consumers are now integrating technology into their in-store shopping practices, spurring the omnichannel experience trend.
Omnichannel experiences are connected, meaning that shoppers have continuous purchase journeys, no matter how many methods they use to interact with brands. For example, shoppers are now able to save clothes online and then have them ready to try on once they get to stores.
Stores can use advancements like VR and AR technology to enhance omnichannel experiences still further. These solutions offer exciting experiences like the ability to digitally "try on" the clothes in specialized mirrors, helping customers save time in fitting rooms. Additionally, furniture retailers are employing VR platforms that can virtually place pieces into shoppers' homes prior to purchase, connecting their in-store shopping experiences to their real lives through technology.
In order to offer these omnichannel experiences, businesses not only need to invest in capabilities like VR and AR, but must also install the physical infrastructure necessary to support, such as smart mirrors. The decision to integrate these types of omnichannel experiences should involve stakeholders from IT departments and CIO who will support the technology side, to facilities managers and operations teams who will lead the installation, use, and upkeep of supporting assets.
Be sure to develop a comprehensive integration plan and lay out a step-by-step timeline for how your stores will adopt omnichannel experiences; this will ensure that you are able to successfully implement what you need to without disrupting shoppers, maintaining brand uptime.
2. Offering Alternative Checkout Methods
The popularity of alternative checkout methods like click and collect or portable registers that allow employees to walk the floors and run customer transactions on the spot have been growing in popularity. It's easy to see why – these alternative checkouts save customers time, enhancing their experience while also improving store flow and efficiency.
This also impacts bottom lines. Consider this: 86 percent of customers will abandon a store if they see a long checkout line. Alternative checkouts keep lines down, encouraging customers to remain in stores and complete the purchase journey.
To successfully integrate alternative check-outs in your stores, reflect on your space planning. Your stores may be currently laid out to accommodate a large register station and organize long lines, which shifting to other methods of checkout may negate. Perform an audit of your assets and layouts, then determine what organizational shifts you may need to make.
3. Hosting Events
In-store events, which can be anything from pop-up shops to private shopping parties, are on the rise; 70 percent of marketers are now allocating more money for events. Events are great opportunities for stores to promote personalization and exclusivity, give product demos, and, perhaps most importantly, create strong brand communities.
When planning in-store events, consider your goals. These may include raising brand awareness, introducing a new product, and/or driving sales. Putting on events requires buy-in across the organization, from the marketers responsible for promoting them to the contractors tasked with decorating and readying spaces. Ensure you have proper communication flows established when you move to put on events, looping in internal teams and any involved third-party vendors. Also, don't forget to set event KPIs like attendance and conversion rates and track performance to determine ROI.
4. Providing Unexpected Services
Many stores are starting to branch out and provide additional types of services in the hopes of standing out from the crowd, delighting customers, and earning their loyalty. One example is Ulta Beauty, which incorporated salons into their makeup stores a few years ago. The result was a 23.7 percent increase in net sales, demonstrating significant ROI. Other stores are trying out offering amenities like personal shoppers, and even integrating food and beverage services into their locations, like Capital One's Cafes.
Implementing these kinds of unexpected services into stores first requires strategic space planning to outline where you'll put these new amenities; ensure placement does not negatively impact customer flow. Also, take stock of what new assets you'll need and how you plan to maintain them. You may need to find new contractors who have experience with the assets you put in. When doing so, be sure you have processes in place to hire, manage, and pay contractors efficiently.
Final Thoughts
The so-called "Retail Apocalypse" isn't the only factor changing the face of brick-and-mortar shopping — evolving customer experiences play a role too. Think of providing excellent shopping experiences as an ongoing process. Customers must have great experiences every time they interact with your brand, since it only takes two poor experiences for customers to stop shopping with you. Therefore, keeping up with experience trends is vital. You need to continuously innovate in order to win and keep customer loyalty.
Learn more about how to keep up with industry trends using strategic facilities management.