Facilities Management – Extending Service Automation to Outside Contractors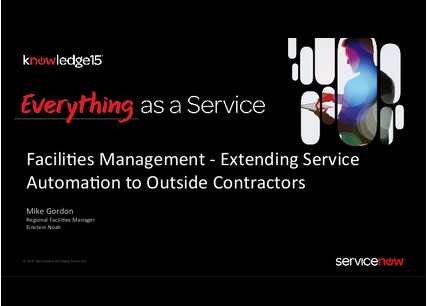 Facilities management is a big part of the broader approach to Service Automation.  More and more, facilities management software is no longer operating in isolation from the rest of an organization's systems, especially those related to supporting other corporate services, from IT requests to HR processes.
Recently, ServiceChannel client Mike Gordon, Construction & Facilities Manager, Einstein Noah Restaurant Group presented (at the Knowledge15 Conference) how his firm takes a more holistic view of automating all their services with both ServiceChannel FM software and ServiceNow applications in a combined approach.
Mike shared why service automation is a big part of their operating strategy, highlighting that:
Service levels have a direct impact on customer experience (their 'Brand Uptime')
Service levels directly impact company revenue
Operational visibility is crucial
Service management is historically costly and inefficient
In his presentation, Mike detailed how ServiceChannel's used for facilities management service automation in conjunction with ServiceNow being used for Enterprise/IT service automation – across Einstein Noah's 850+ locations.
There're a lot of good insights from Mike on how he's using both these systems today for service automation:
Managing both IT and FM service requests
Directing internal staff while finding/managing/paying external contractors
Tracking contractor performance
Helping partners with insights into their business)
as as well as what Einstein Noah plans to do soon:
Track historical trends
Highlight immediate concerns
Compare locations and geographt performance data
Identify and review outlers (good and bad)
Analyze spend and location-based feedback
Gain insights on site aging and operational tradeoffs
The key takeaway for them: They use service automation everywhere – for both inside and outside services and resources.  This has only become possible with data and analytics which crucually, is enabling its move from being a reactive to a proactive organization.