Facilitating 'FM' Goodness at Zoe's Kitchen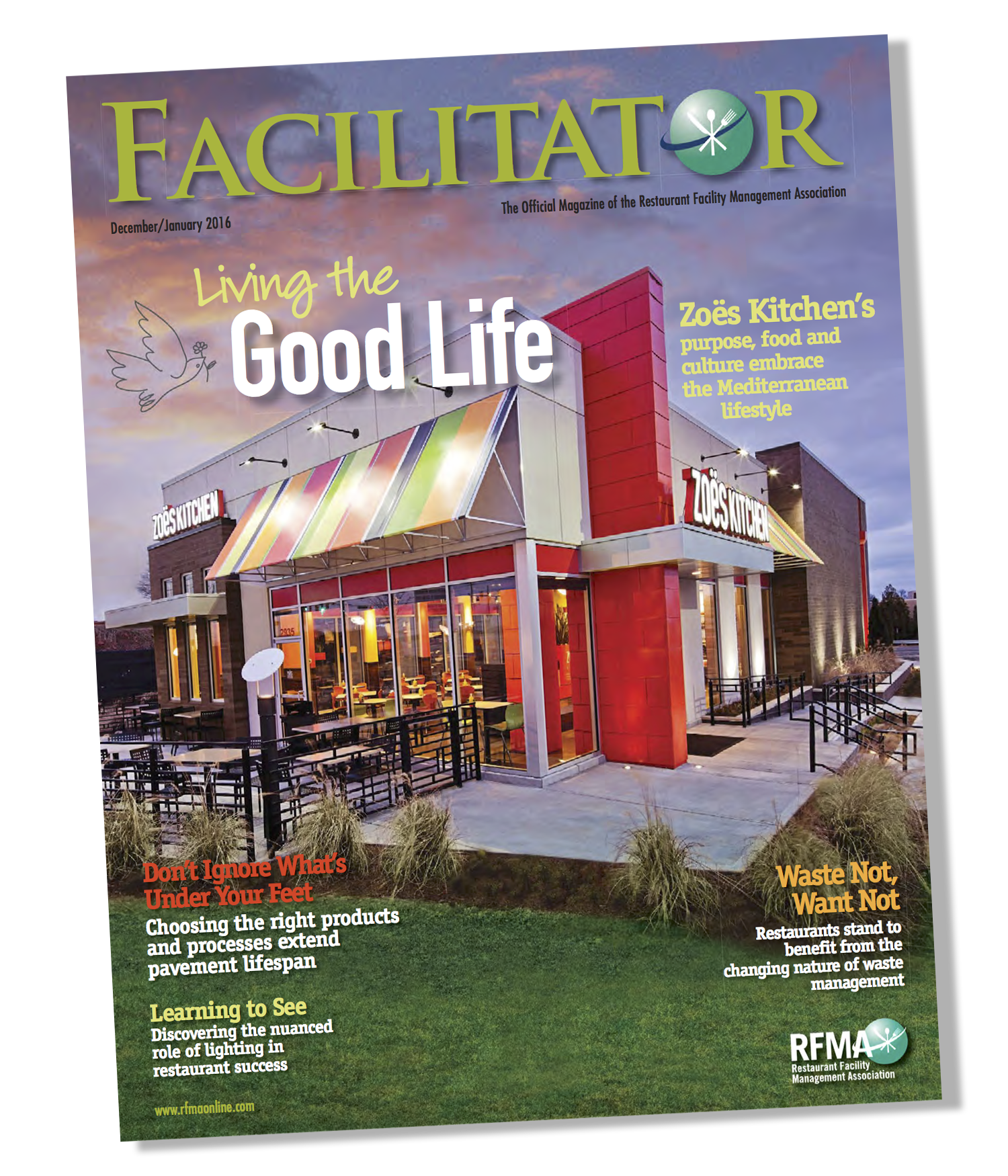 When you're hungry, where do you go for 'goodness?'  If you want to experience the ways the Mediterranean lifestyle inspires goodness, then you'll want to be sure to visit Zoe's Kitchen.  Its motto of "Delivering goodness from the inside out," is a philosophy in evidence across 164 restaurants in 17 states.
Zoe's style of healthy living and healthful eating was featured in the January 2016 issue of Facilitator Magazine, The Official Magazine of the Restaurant Facility Management Association.  The feature highlights Zoe's lifestyle approach for both its customer base as well as its own employees.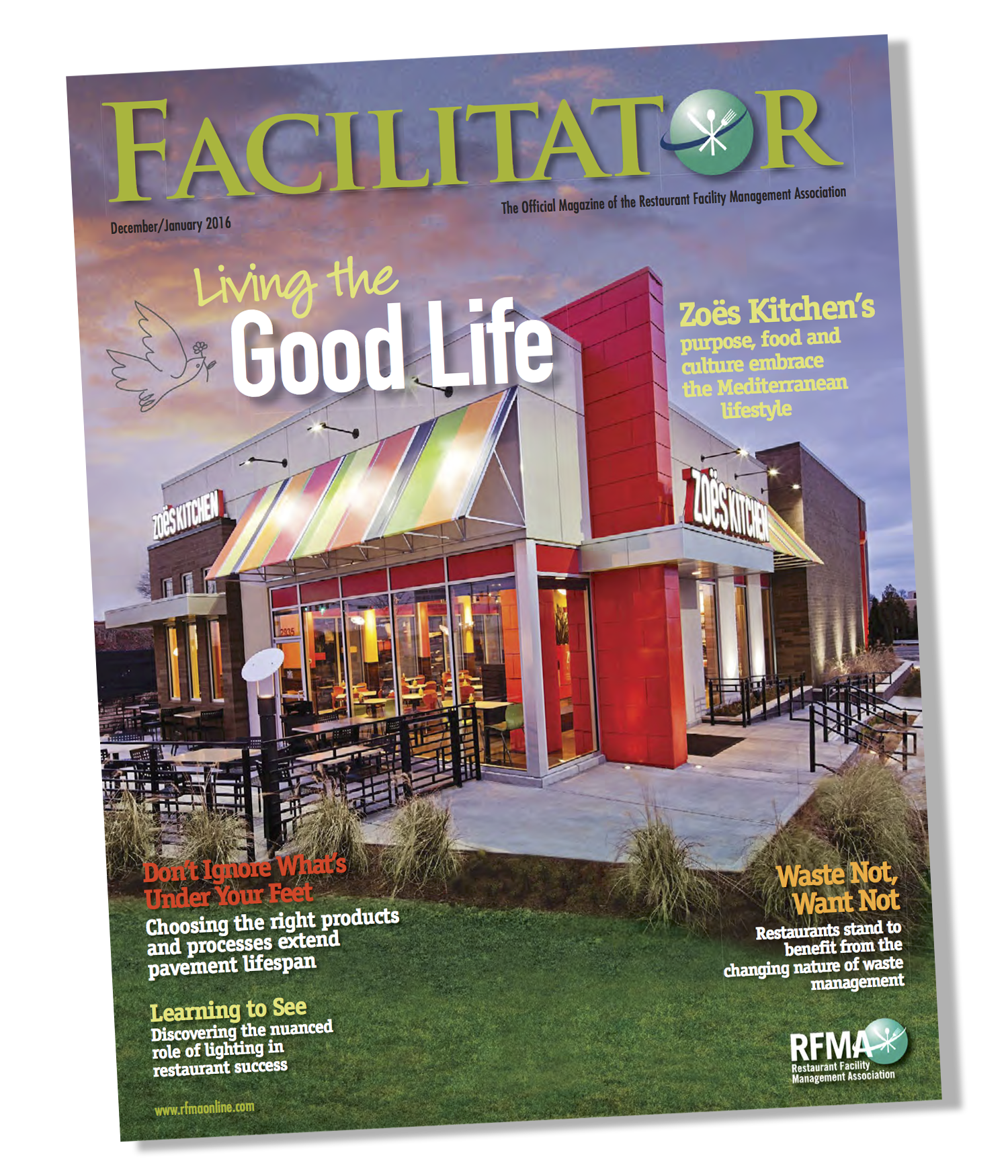 Not surprisingly, the Zoe's Kitchen brand is critical.  But with most customer-facing organizations, this means more than simply a logo and design.  Maintaining its 'brand uptime' plays into its focus, underlying philosophy and most important, the customer experience.
With over 160 company-owned restaurants and related corporate facilities, managing all these locations' repair and maintenance work (including asset protection, waste management and capital projects) is the responsibility of Zoe's Kitchen's facilities department.  And as Facilitator Magazine reports, "for the past year, the facilities team has relied on ServiceChannel…"
Automating the Facilities Management Process – From Contractor Sourcing to Program Visibility
The chain has seen substantial benefits in their operational effectiveness:
"Prior to ServiceChannel, repairs and maintenance were decentralized and managed by the general manager of each restaurant. They used third-party outsourcing vendors as well as local vendors selected by the restaurants.

Now, ServiceChannel allows the facilities team to have more control in sourcing vendors, more effectively review the cost of services across all locations and develop more consistent expectation of the services. The solution also tracks assets and the repair expenses to maintain them.

The restaurants can review the status and cost of each work order and process invoices electronically, which ensures vendors are paid more efficiently and on time."
Improving Service with Planned & Scheduled Maintenance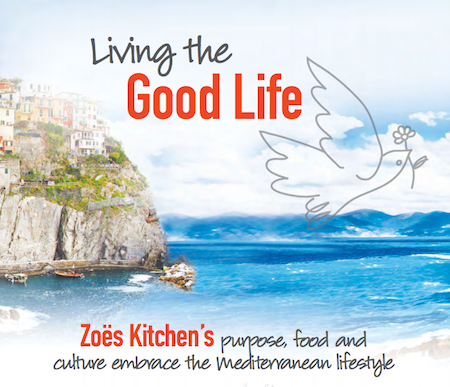 Planned and scheduled maintenance services are implemented to reduce if not eliminate unnecessary downtime and its corresponding impact on customer service:
Work orders for recurring services, such as pest control, fire protection inspections, hood cleaning and grease trap maintenance, are now prescheduled to ensure the services are performed at the appropriate times and the proper documentation is submitted and retained.
Not every restaurant chain avoids – or is even aware of – one of the common sinkholes in unnecessary facilities spend: preventing warranty leakage while boosting warranty entitlement.  Zoe's Kitchen is careful to make sure they're not wasting money in repairing assets and equipment that's under warranty with ServiceChannel Asset Manager functionality:
"ServiceChannel has also helped the team develop a warranty program for the refrigeration and cooking equipment. It keeps track of each asset and its warranty. If a work order is submitted for an asset, the warranty is automatically checked, and if the warranty is still valid, the work defaults to the warranty vendor."
FM Software for Restaurants Benefits Both Corporate and Individual Locations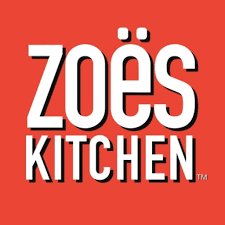 Most important, Zoe's Kitchen is benefitting both at the corporate level (through greater visibility) and at the individual restaurant level (through improved operational efficiencies and quality of service):
"We've had ServiceChannel for a year, and it's working great," Phil Byers, Director of Facilities  said. "The restaurants really enjoy it, and it allows us to have more information and more history and to track our assets better."
To learn more about Zoe's Kitchen and in particular how its facilities team is driving true business value in support of its corporate mission, check out the Facilitator Magazine article here.  
And if  you're interested in how another restaurant chain some quantifiable benefits from FM technology, don't miss the Ovation Brands Case Study below.