Don't Be Fooled by Labor Rates: How to Save 20% with One Procurement Shift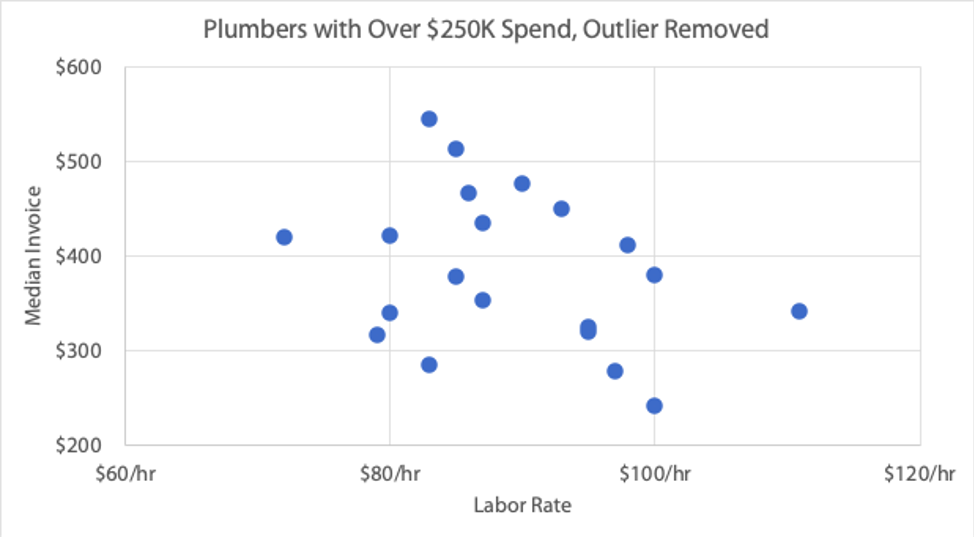 A facility manager of a large restaurant chain told me that he was attempting to swap providers, but was blocked by the procurement department because the new provider's labor rate was higher than the incumbent's. He was frustrated because he was trying to introduce a high-quality plumber into the mix, but what he didn't know yet was that our data could help show that hiring the new provider would also save his company an estimated $50,000 annually. This blog details how ServiceChannel helped this FM leverage provider insights to capture these savings while getting better provider performance.
Labor Rate: A Deceptive Metric
Cutting operational costs is one of the most common goals for multi-location organizations determining which service providers to hire for their repair and maintenance jobs. Yet, conventional thinking that bases hiring decisions on labor rates can result in tens of thousands in missed savings — and substantially more as this approach is applied across all providers and locations.
It may sound unintuitive, but labor rates do not tell the full story of service cost; they actually tell almost nothing about total spend. While the aforementioned facility manager's proposed provider had one of the area's highest labor rates, it actually charged about $90 less per invoice compared to the incumbent. This is further supported when we look at ServiceChannel platform data on plumbers who have completed a considerable amount of work, illustrated in the graph below.
Invoice vs Labor Rate for Plumbers with Over $250K in Work Orders
Getting the Full Picture of Cost and Quality
Among contractors, labor time is far more variable among service work orders than labor rate. In fact, labor time is five times (5X) more predictive of total cost than labor rate is, but procurement departments tend to only focus on labor rate, unintentionally costing their organization dollars and quality.
Not only does labor time do a better job of predicting the cost of work, but it is also indicative of provider quality. If a plumber shows up without the right part to complete the job, this is reflected in the labor time. If a plumber is taking longer than necessary to complete the job, this is reflected in the labor time.
Furthermore, a provider's time to completion also affects your business experience. Consider the following:
What is the value of fixing a broken grill or toilet in your restaurant two hours faster?
How does it affect your customers' perception of your business?
What are the direct and indirect hits to revenue as a result?
The challenge is that labor time hasn't traditionally been available for procurement and hiring decisions. ServiceChannel Scout changes that — by leveraging performance data from a network of over 70,000 service providers and 110 million work orders to ensure brands can get the insights they need to get the full picture of provider quality and cost.
Takeaway: Make Better Procurement Decisions with Richer Data
Procurement departments and facility managers have objectives of minimizing cost for their organization while maximizing the quality of their customer experiences. Focusing on solely labor rates misses the mark for both of these objectives.
So, what can your organization do to cut provider costs?
Look beyond hourly rates and evaluate current and potential providers using their cost per invoice, labor time, and first-time completion. Make sure providers separate these line items for you so you can analyze the drivers of cost and quality – a provider not breaking it out is doing so for a reason. When searching for new providers, tap into ServiceChannel's performance data for better provider hiring decisions.
Service Provider Profile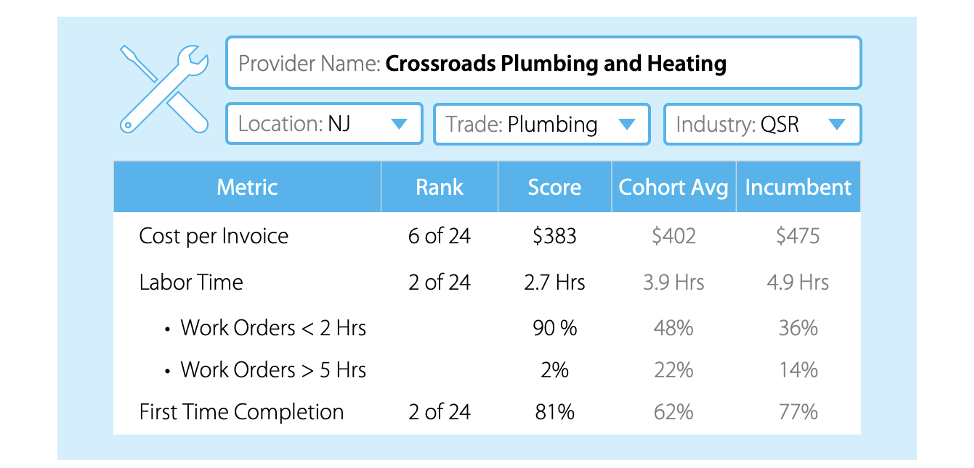 Armed with regional performance insights from ServiceChannel, our facilities manager friend at the quick-service restaurant convinced procurement to complete the provider swap, which would save 24% in plumbing costs and improve their bottom line by over $50,000 a year.

Want to get similar insights about your providers, but don't know where to start? ServiceChannel Scout uses the data from hundreds of millions of work orders to let you see providers in a new light. Now you'll never have to risk losing out on savings again by relying on the meaningless metric of hourly labor rate.