Best LinkedIn Groups for Facilities Management Professionals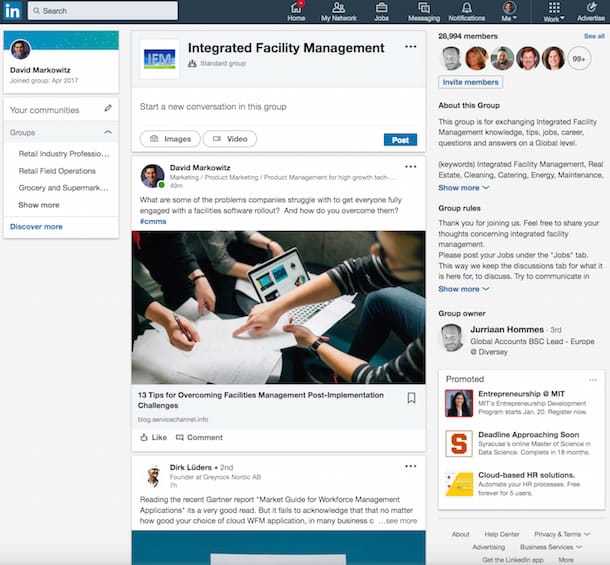 Facilities management no longer needs to be a siloed profession.  FMs and other professionals responsible for managing multiple locations are increasingly in the spotlight, and need to coordinate with the rest of their organizations to deliver a positive customer experience.
Working with their peers is often the only way to ensure a clean, safe and fully-operating environment in their store, restaurant, clinic, center, building or other facility.  But in addition to learning from their corporate colleagues, the facilities space is known for knowledge sharing and cross-pollination across companies as well.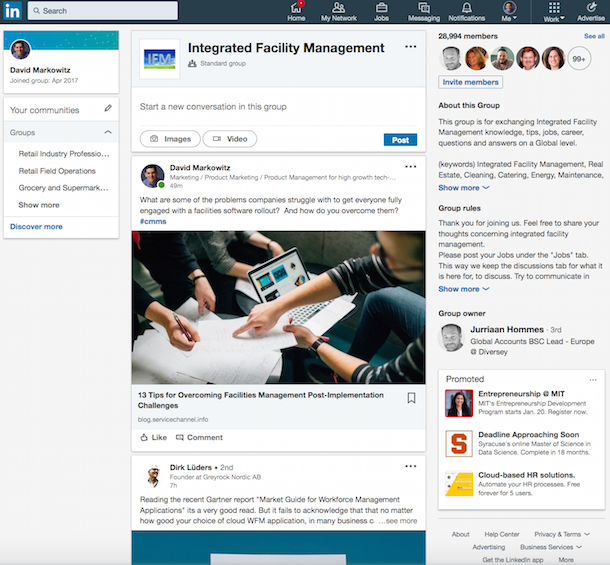 The facilities sector continues to grow and change constantly.  Staying on top of the latest trends & technologies and connecting with peers is crucial at both a personal and business level.  Facilities industry events are a great way to interact with your fellow professionals.  Another way to learn from others is of course via online and through social media channels.  
You most likely already have a presence on LinkedIn (right??).  But are you engaging in all the communities and discussions occurring there? Regardless of your role or industry, there's likely a group for you.
Our popular Facilities Management Survival Guide ebook includes a comprehensive listing of Industry Groups on LinkedIn.  They're a great way to keep abreast of what's happening and learn what's occurring industry-wide.
Here are some groups to check out across general facilities management, industry-specific facilities management, and specific industries.
Facilities Management – General
| | | |
| --- | --- | --- |
| International Facility Management Association | IFMA is the world's largest and most widely recognized international association for facility management professionals, supporting 24,000 members in 104 countries. | 63k members |
| Facilities Management Professionals International | The Facilities Manager organizes, controls and coordinates the strategic and operational management of buildings and facilities in public and private organizations to ensure the proper and efficient operation of all physical aspects, creating and sustaining safe and productive environments for occupants. | 48k members |
| Facilities Management Group | The Facilities Management Group serves the professional needs of Facility Management professionals. It promotes the common interests of its members, exchange of thoughts and ideas, continuing education, and seeks to improve understanding of the role of facilities management professionals. | 128k members |
| Integrated Facility Management | This group is for exchanging Integrated Facility Management knowledge, tips, jobs, career, questions and answers on a global level. | 29k members |
| Building Owners and Managers Association International (BOMA) | BOMA International is a primary source of information on office building development, leasing, building operating costs, sustainability, local and national building codes, legislation, occupancy statistics and technological developments. | 82k members |
| Facilities Management Network | In this group you will have access to some of the best jobs available in the FM sector along with general recruitment advice. A perfect place to network and share knowledge within the FM marketplace. | 20k members |
| British Institute of Facilities Management | This group will be used to help facilitate discussions on key topics within the facilities management (FM) industry and to keep you updated with the latest that is happening within the British Institute of Facilities Management (BIFM). | 36k members |
| Global FM – Global Facility Management Association | The Global FM Discussion Group on LinkedIn provides a forum of discussion about Facilities Management to Global FM members and to everyone interested in the progress of the FM profession. | 9k members |
| Facilities Management and CMMS Forum | Forum to discuss topics, share best practices, and network with like-minded professionals in the areas of preventive maintenance, facilities management, asset management and CMMS solutions. | 1k members |
| Facilities Management Journal (FMJ) | Facilities Management Journal is a monthly magazine providing industry-specific intelligence to FM professionals in the private and public sectors. | 1k members |
| MyFacilitiesNet Facilities Professionals | MyFacilitiesNet is the hub of the facilities management industry. This community allows facility professionals to connect with their colleagues, discuss management strategies, share valuable resources and build strong relationships. | 5k members |
Facilities Management – Industry Specific
| | | |
| --- | --- | --- |
| PRSM Association | The Professional Retail Store Maintenance Association (PRSM) is comprised of North America's most innovative and reputable retailers and suppliers that need an equally dynamic organization committed to advancing the industry and the careers of those engaged in the retail facilities maintenance profession. | 4k members |
| Retailers of PRSM (Professional Retail Store Maintenance Association) | The "Retailer Members of PRSM" group is limited to multi-site facilities, store construction and store development professionals for retail/restaurant organizations who would like to network and collaborate with industry peers on ideas, products, services or other issues they may encounter in their day-to-day. | 1k members |
| Healthcare Facilities Management Forum | The Healthcare Facilities Management Forum is a complementary event for Directors of Healthcare Facilities. The event allows you to meet one-on-one with solution providers based on your needs – simplifying the sourcing process! | 4k members |
| Healthcare Estates and Facilities | A Group for Senior level Healthcare Estates & Facilities Professionals to share ideas, knowledge and information. | 5k members |
Industry Specific
| | | |
| --- | --- | --- |
| Retail Management Executive Group | This is a group of retail management executives networking to share ideas and answer questions that relate to the retail industry. | 248k members |
| Store Ops Specialists | Thought leaders in the Retail Store Operations space use this group to share the latest cutting edge strategies retailers are using to drive workforce optimization, headquarters to store communication and also improve customer satisfaction levels through improved service. | 17k members |
| Retail Field Operations | For Retail professionals who are specifically in, or actively support, the field Operations aspect of the Retail industry. | 34k members |
| VP of Operations, Vice President of Stores and COO Network | Top place to network and exchange ideas. Must be a VP of Operations, Regional VP, VP of Stores or Operations Officer or Senior VP or C-level officer to join. | 19k members |
| NACS, the Association for Convenience & Fuel Retailing | Founded in 1961, NACS is an Alexandria, Virginia-based trade association that represents members of the convenience and fuel retailing industry. | 15k members |
| Convenience Store Network | This group is designed for professionals in the convenience store business as a vehicle to network. If you are interested in sharing ideas, benchmarking, and networking with professionals, please join! | 10k members |
| National Restaurant Association | To help restaurant and foodservice professionals grow and advance. | 57k members |
| Self-Storage Industry Group | Group will provide information and assistance to one another on issues of importance to the self storage industry, including notification of upcoming meetings and events, educational programs and other pertinent information of benefit to the group. | 6k members |
| Grocery and Supermarket Technology and Merchandising | The grocery and supermarket technology and merchandising group was created to share the latest news on grocery technology and how to increase sales and improve your bottom line. With members in the self-checkout, cash handling, bagging technology and merchandising design. | 5k members |
| Franchise Owner/Franchisee & Entrepreneurs | The Franchise Owners group is managed by Franchise-Info. | 28k members |
| The Franchising Industry – Franchise Opportunities, News, and Resources | The Franchising Industry is a social network of franchise professionals organized and moderated by Franchise Update Media. Learn how to make the right franchising decisions by joining in discussions, receive tips from franchise professionals, and connect with prominent figures in the franchise industry. | 12k members |
| Franchise Operations and Support | If you are a field/region manager/director, business consultant, area manager, region vice president, vice president or COO providing operational support in a franchise or multi-unit environment, then apply to join this group. | 5k members |
Learn more best practices for connecting with other FMs in our Facilities Management Survival Guide ebook.