Choosing Between In-House Maintenance vs. Third-Party Vendors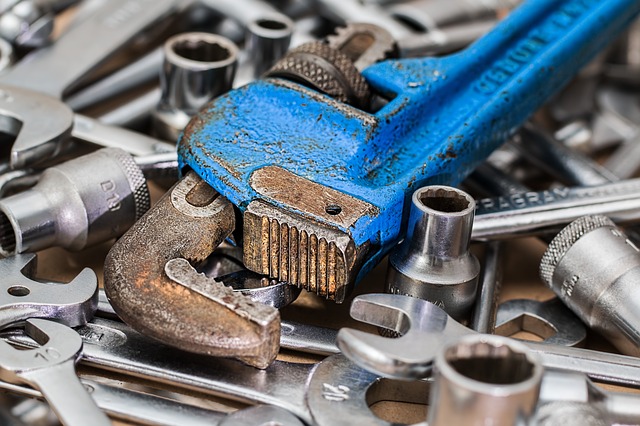 ServiceChannel has become increasingly aware that many of our customers have been investing more and more into in-house maintenance technicians, rather than completely relying on third party service providers and contractors. These companies have efforts of varying sizes and scopes, with many using a hybrid model by only bringing a portion of their service calls in-house. Whichever model is considered – all in-house, hybrid in-house and third party, or only third party – the following factors come into play.
1. Cost Control and Savings
Possibly the biggest driver when considering the differences between in-house or third party maintenance is cost. Some companies choose to use in-house technicians in pursuit of cost savings. Bringing technicians in-house can give the facility department more control over their costs – avoiding markups and controlling labor and travel costs.
It is important, however, to consider the overhead that is required to manage an in-house technician program. Costs can be high when considering many of the other factors on this list, such as staffing, training, asset and inventory management, etc. Third party providers are typically able to spread these costs out, making it difficult to match, or lower costs when bringing techs in-house. When making the decision on whether to use in-house technicians, all of these costs must be carefully factored in to determine the true return on investment.
2. Time Savings / Response Time
In addition to cost, time can be an important factor when making the decision between use in-house maintenance and external maintenance providers. Having technicians in-house can be an advantage when it comes to response time for a number of reasons. First, your technicians are dedicated to doing work for one client – you – and do not need to schedule a new service call in-between other client visits. Additionally, these technicians are typically already in the area, or possibly even in the location once an emergency is reported.
On the other hand, with in-house technicians, time savings could be compromised as the technician team is being staffed up. If there is not enough coverage initially, it may take technicians longer to travel from location to location, or they may be held up on other high priority work. Third party providers tend to have more specialized technicians that can ensure the problem is fixed efficiently the first time. This can be an advantage when it comes to reducing re-work.
3. Customer Service / Quality Control
As mentioned above, in-house maintenance technicians are dedicated to an individual client, making them more accountable for their work. With the added factor of technicians spending more time at specific locations and with the staff at those locations, the quality of work and overall customer service from these technicians can be increased.
The caveat to this is if the technicians do not have the proper expertise or training to complete the job. Third party providers should ensure that their technicians have the skills necessary to complete the job before they are dispatched. With the in-house maintenance model, if not enough time is spent to ensure that the technicians have the proper skills, knowledge and resources to perform at a satisfactory level, then the quality of their work may suffer. Due to this factor, many companies are choosing to continue using third party providers for the specialized work, while only relying on in-house technicians for general maintenance.
4. Expertise and Core Competency
The performance of each and every technician relies heavily on the overall investment into training and hiring the proper individuals. While third party contractors typically have expertise into the work that their technicians will be completing, one main downside to using in-house technicians is that such work often strays from the core competencies of the overall business.  Trade and equipment-specific training can prove to be necessary to meet the quality of service demands of an internal maintenance program.
In order to overcome this gap, it is important to hire the proper individuals to lead the maintenance division. These individuals must have the right resources to ensure that their technicians can complete their jobs at a satisfactory level.
5. Assets and Parts
Skilled technicians and managers are not the only key resource that is needed to ensure that maintenance can be taken in-house. To reap the cost and time savings that an in-house R&M approach can bring, it is crucial to maintain an inventory of the necessary equipment and parts that those technicians will use on the job.
Without proper inventory in place, technicians will need to take time to order parts and will often need to pay more for one-off parts or supplies purchases. Third party contractors will often already have these types of inventories in place in order to get their work done quickly. Time and effort will need to be spent building out and maintaining an inventory for a successfull in-house maintenance program.
6. Management
Along with the many other factors involved in deciding whether or not to move to an in-house model for maintenance, it is important to have a good management core to ensure that everything runs smoothly. The management core ensures that the right personnel is staffed for the job, inventory is up to date, work is assigned properly for each technician and the program as a whole is performing satisfactorily in terms of cost and time savings.
7. Technology
At the center of all of these factors is technology. With the right technology, management of all of these aspects can be greatly reduced. To ensure success of an in-house repair and maintenance program, Internal field tech management software needs to:
help manage service requests, technician assignments and dispatching

track parts and supplies inventory

provide the proper tracking methods to report the cost and time savings achieved through an in-house maintenance initiative
If the decision is made to move some or all service to an in-house model, it is imperative to deploy a technical solution that can automate as much of the process, while providing control and visibility as possible.
What Service Provider Model's Right For You?
Moving to an in-house maintenance model can have a number of benefits and can greatly impact the bottom-line in many instances. However, it is extremely important to consider all of the above factors, and we have seen that more often than not, a hybrid internal – external provider model can have the most positive effect.
Focusing on general maintenance and/or emergency repairs as an internal initiative, while using third party providers for more specialized services might be the best option for one organization, while using third party providers for all maintenance services might prove more effective for another.
No matter what model is best for your business, the right personnel, resources and facilities management technology to support those individuals are the main keys to success.