Provider performance scores highlight your great service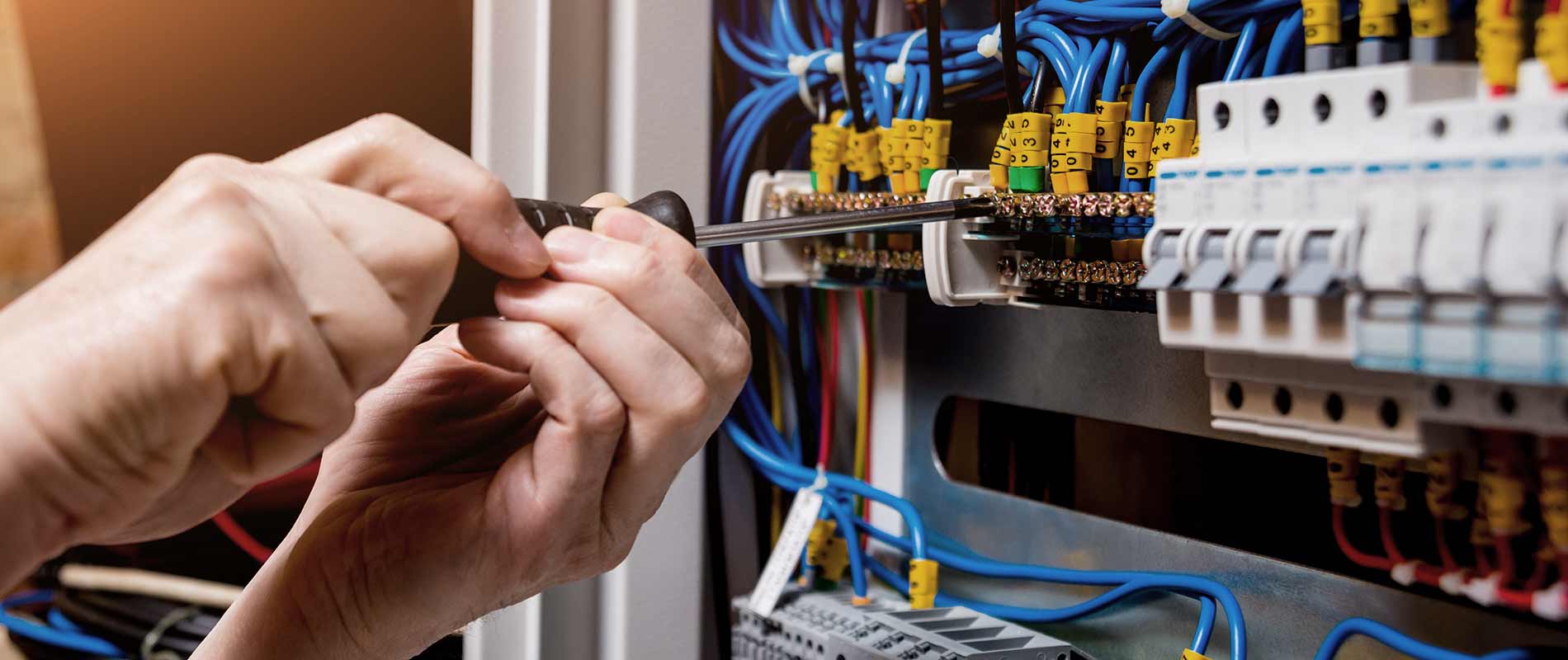 Track your scores to boost efficiency, get paid faster, and get discovered by new customers.
Your good work recognized and rewarded
Based on millions of work orders over thousands of customer locations, ServiceChannel is in a unique position to objectively evaluate and score provider performance in the four traits facilities managers care about most:

Speed: How fast you show up and complete the work. 
Quality: How often you finish the job right. 
Price: How cost-effective you are relative to your peers. The higher your Price score, the more cost-effective your service.
Engagement: How well you use the power of the ServiceChannel platform to instill customer confidence.
You also have an overall Search Score which is a weighted average of your four individual scores. This overall score shows up in ServiceChannel Provider Search and you can see it on your provider homepage.
Track your scores to boost efficiency, get paid faster, and get discovered by new customers
Strong performance scores are a great way to highlight your exceptional service standards to your customers and to hundreds of other top multi-location brands on ServiceChannel.
Tracking your scores gives you invaluable insights into how you can improve and expand your service, streamline your operations, and get paid faster.
Good scores also help you win new business. More and more facilities managers now rely on ServiceChannel Provider Search to find and invite the best. Your four scores — along with an overall search score based on the trade and geographic area specified in their search — are front and center to help guide their choice.
Many top brands also engaging ServiceChannel experts for hands-on help to build the best, most cost-effective provider network — and in some cases even manage their work orders. That means your good scores can also increase your opportunity to be tapped by ServiceChannel as a preferred provider to work for these premier customers.


"With ServiceChannel we're out there in front of potential customers. They can see what our ratings are, and it's a meritocracy. You're rewards for being good. It's an industry first for me. It sure beats the heck out of trying to make cold calls to get new business."

Chris Lampien, Lampien Mechanical Services
See and track your scores right from your provider homepage
To see your scores, simply log on to your ServiceChannel provider homepage. In the "Marketplace Score" section you see at-a-glance your scores for Speed, Quality, Price, and Engagement, along with an overall search score that's a weighted average of the four.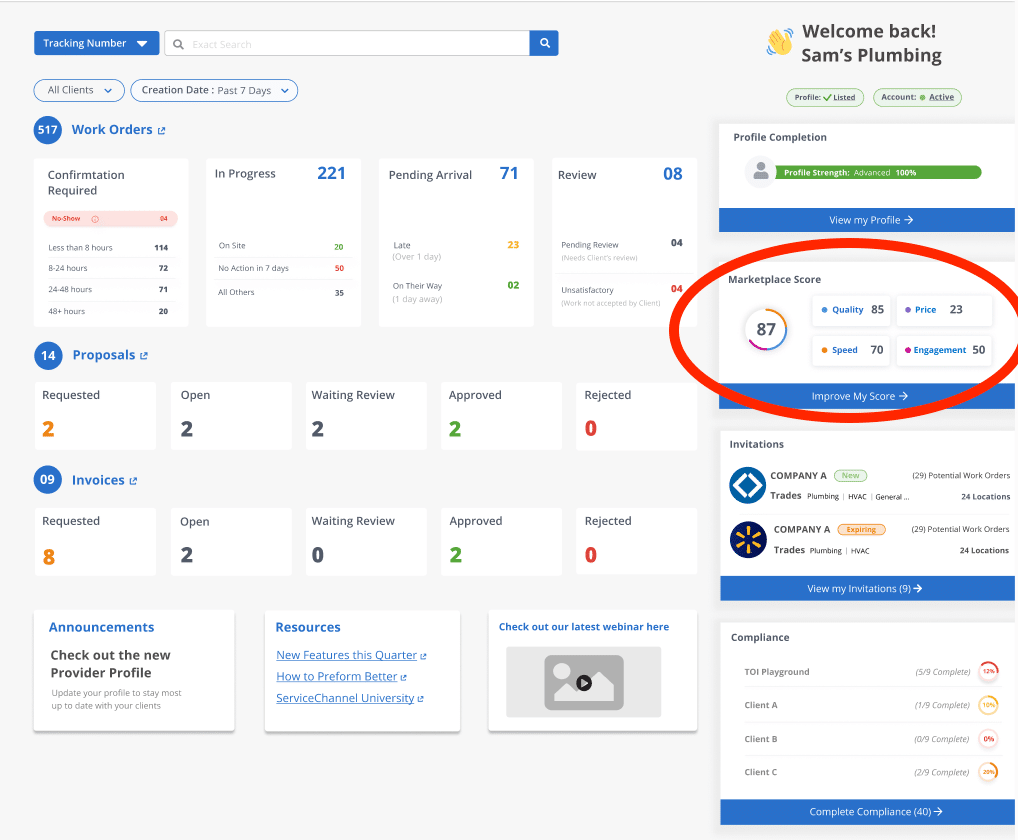 From your homepage, you can also track and take action on all the components of your ServiceChannel business that impact your scores:  
The status of each work order
The completeness of your business profile
Invitations to work for new customers
The status of your compliance with new customer requirements
Use your Contractor Scorecard 2.0 to delve into the details
To get an in-depth look at your scores and to see where you stand on each contributing KPI, click the "Scorecard" tab at the top of any page and choose "Scorecard 2.0."
From your scorecard you can drill down on any score to see where you stand on the contributing KPIs and the specific work orders behind those standings. You can also benchmark your scores to see where you stand compared to just the providers in your specific trade and geographic area of service.
More on scores
Contractor Scorecard. Use your scorecard to track your scores and KPIs in near real time for all of your customers, down to the work order level.
New benchmarking feature: See how your scores stack up compared to providers in your own trades and service area.
What your scores mean: See how your scores are calculated and what defines top performers based on current market conditions.
Top tips to boost your scores: Follow these best practices to provide great service and get discovered by new customers in Provider Search.
How is ServiceChannel qualified to score my performance?
ServiceChannel is able to score and rank provider performance based on data from millions of work orders, from thousands of customer facilities. ServiceChannel Provider Search is the only truly objective resource available for facilities managers to find proven best providers in their trades in any given location.
What defines a top-performing provider?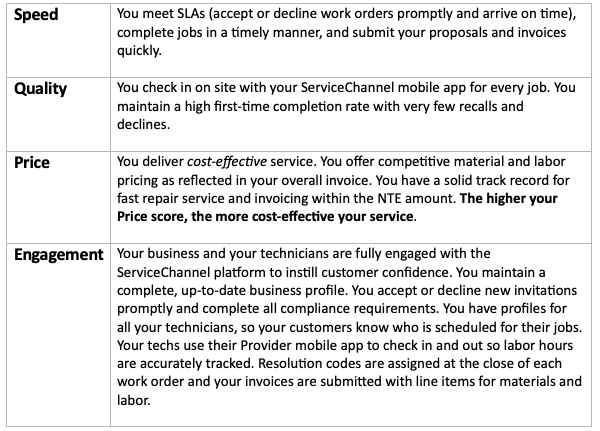 Can my customers see my performance scores?
Your customers can see your performance scores for their work orders in the customer version of Contractor Scorecard 2.0. They can also see your scores in Provider Search if they search for you by name.
Do customers and prospective customers see the same scores in Provider Search that I see on my provider home page and in my contractor Scorecard 2.0?
Although the metrics and calculations in Contractor Scorecard 2.0 align with Provider Search, the scores that search users see are not the same as the ones you see in your scorecard.
The scores shown in Provider Search — as well as your ranked position in search results — are based on a complex algorithm that includes the user's specific search criteria, such as geographic locations, trade, and industry. The scores you see in your Contractor Scorecard 2.0 are based on your existing customers.