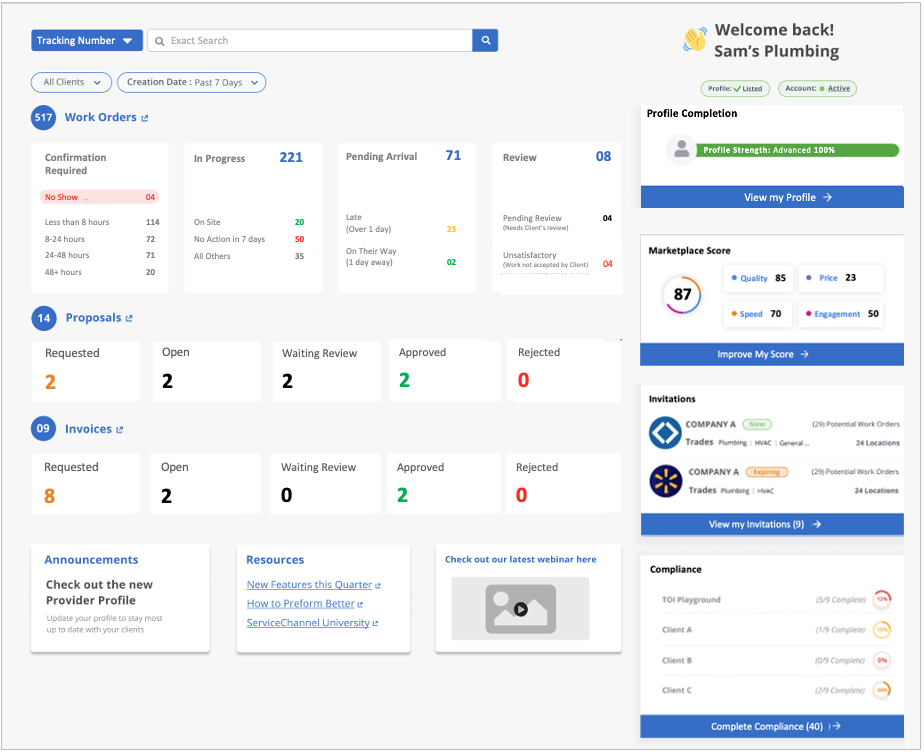 Take Charge from Your Provider Home Page
5-minute video: Get everything you need at your fingertips to run your business—right when you log in.
Manage work orders with ease
Your new home page gives you the transparency and insight you need to focus your work day, boost your efficiency, make your customers happy, and get paid faster.
See at a glance the status of all work orders, proposals and invoices. See all, or filter by client or creation date.
Easily spot situations that need your immediate attention like no shows, late arrivals, or work orders with no action in the past week.
Optimize for growth
Take advantage of the unique opportunity ServiceChannel provides to win new business.
Monitor your performance scores. Take action to improve your scores and get discovered by new customers using ServiceChannel Provider Search.
Easily see and track invitations from new customers so you can be sure to respond before they expire.
Track your progress toward compliance with client requirements to streamline onboarding and build trust with your customers.
Get detailed guidance in ServiceChannel University.
Download this guide to using the correct work order status.
Watch this video on creating a great profile.