New Scores Highlight Your Great Service
Now stay on top of all your scores right from your ServiceChannel homepage.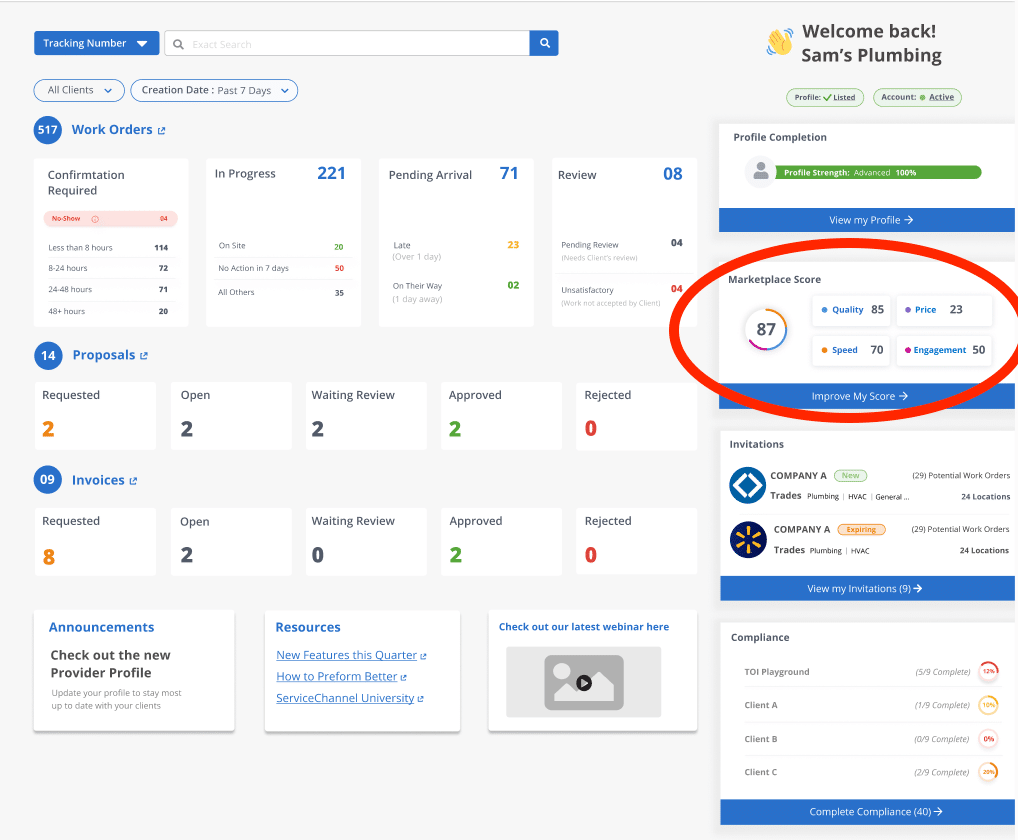 New Price and Engagement scores  
Based on millions of work orders over thousands of customer locations, ServiceChannel evaluates provider performance in the four traits facilities managers care about most: Speed, Quality, Price, and Engagement. 
Until now you — and customers using ServiceChannel Provider Search — have been able to see how you stack up with scores for Speed and Quality. Now two new scores for Price and Engagement complete the picture. 
Plus, you can now see and monitor all four of your scores, along with a new overall score, right from your ServiceChannel homepage. 
What your scores mean: 
Speed: A high speed score, 67 or higher, means you meet SLAs (accept or decline work orders promptly and arrive on time), complete jobs in a timely manner, and submit your proposals and invoices quickly. 
Quality: A high quality score, 71 or higher, means you check in on site with your ServiceChannel mobile app for every job. You maintain a high first-time completion rate with very few recalls and declines. 
Price: A high price score, 66 or higher, means you deliver cost-effective service. You offer competitive material and labor pricing as reflected in your overall invoice. You have a solid track record for fast repair service and invoicing within the NTE amount. The higher your Price score, the more cost-effective your service. 
Engagement: A high engagement score, 57 or higher, means that your business and your technicians are fully engaged with the ServiceChannel platform to instill customer confidence. You maintain a complete, up-to-date business profile. You accept or decline new invitations promptly and complete all compliance requirements. You have profiles for all your technicians, so your customers know who is scheduled for their jobs.  Your techs use their provider mobile app to check in and out so labor hours are accurately tracked. Resolution codes are assigned at the close of each work order and your invoices are submitted with line items for materials and labor.  
Track your scores to boost efficiency, get paid faster, and get discovered by new customers 
Keeping track of your performance scores is the best way to spot opportunities to improve service with your current customers, streamline your operations, and get paid faster.  
Achieving and maintaining high performance scores also increases your opportunity to be discovered and invited by new customers. Customers using ServiceChannel Provider Search now also see all four of your scores in their search results pages, along with a new overall Search Score based on the trade and geographic area specified in their search.   
Best of all, by tracking your scores from the same page where you have an at-a-glance view of all your current work orders, you can move jobs along smoothly and efficiently, and instantly spot potential issues so you can take steps to resolve them quickly to keep your scores high.  
From your homepage, you can also track and take action on other important components of your ServiceChannel business that impact your scores:  
The completeness of your business profile 
Invitations to work for new customers 
The status of your compliance with new customer requirements. 
What you see on your provider homepage
What customers see  in Provider Search results
Best Practices for a great score
Strive for the "perfect" work order
The best way to achieve and maintain great scores: strive for a perfect work order on every job. A perfect work order is:
Accepted quickly, within 30 minutes or less for emergencies and within 24 hours for non-emergencies.
Dispatched promptly: Your technician arrives within the SLA and uses the mobile app to check in.
Completed in one visit: Your technician completes the job in the first visit (with no callback) and checks out via the mobile app. If a proposal is required, you submit it quickly.
Invoiced quickly: Your invoice is submitted within the "not to exceed" (NTE) amount as soon as the work order is closed.
Less than perfect, but still great
Of course, not every work order will be "perfect" and your scores account for that. For example:
Beyond whether SLAs are met or missed, the scoring model looks at the percent of your total work orders with missed SLAs.
It also factors in the severity of the miss. Missing by 20 minutes, for example, is less harmful to your score than missing by 24 hours.
If a work order requires a proposal, the model looks at how quickly you submit it and whether your invoice is within the amount of the approved proposal.
Follow these top tips to earn high scores with every work order
Accept work orders promptly. If you need to decline, include a detailed reason.
Always check in and check out with the Mobile app
Keep your work order up to date
When you can't dispatch or arrive within the SLA

Get there as soon as possible
Update your expected arrive time
Include detailed explanations in the work order notes field

Come prepared

Stock up on often-needed parts
Have the right materials on hand when you arrive on the job site

If you find the work will exceed the NTE

Advise and get approval from the customer before proceeding
Enter details notes in the notes field

Submit proposals promptly

Submit proposals within 24 hours for emergencies and within 48 hours for non-emergencies).
Itemize with parts and labor
Include photos
Include any asset information

When you need to order parts:

Use expedited shipping
Update the work order status to "In Progress: Parts on Order"
Include an estimated arrival/installation date and update as necessary
Complete the installation as soon as you have the parts

Enter root cause and resolution codes when you close every work order
Invoice promptly

Invoice within 10 days of closing the work order
Itemize parts and labor costs
Include asset information
More ways to boost your scores and grow your business
Make sure your business profile is accurate and complete

Make timely updates if something changes (e.g., technicians, trades, contact information, geographic areas of service)
Note that correctly identifying and keeping your geographic areas of service up to date is critical to being found by the right customers in search. It also ensures that you won't get invitations from customers outside your range of service that you then have to decline.

Include profiles for all your technicians.
Monitor your invitations from new customers and accept or decline them promptly, within 48 hours
Invest the time upfront to complete customer compliance requirements as quickly as possible.
Frequently Asked Questions
What is considered a good score? 
Each individual score is comprised of individual objective performance KPIs from actual work order data.  Use the following general guidelines as an indicator of how you're doing, but keep in mind that these guidelines can shift up or down by region or market depending on the available supply of providers:
Overall
65 and higher: you are an excellent provider on the platform
50 – 64: you are an average provider on the platform
49 and below: you need to improve your overall performance
Speed
67 and higher: you're doing great
45 – 66: your speed is average for the platform
44 and below: you need to improve
Quality
71 and higher: you're high quality
63 – 70: you meet the average on the platform
62 and below: you need to improve
Price
66 and higher: you're a cost-effective provider
33 – 65: you are an average cost provider
32 and below: you're a costly provider
Engagement
57 and higher: you're highly engaged with the platform
33 – 56: you engage with the platform on par with the average provider
32 and below: you need to improve your engagement
How is ServiceChannel qualified to score my performance?  
ServiceChannel is able to score and rank provider performance based on data from millions of work orders from thousands of customer facilities. ServiceChannel Provider Search is the only truly objective resource available for facilities managers to find proven best providers in their trades in any given geographic location.  
What are the specific data points included in each score? 
These are the key performance indicators (KPIs) contributing to each score with examples of how customers see them in search results:
% KPIs for Quality Score
Check-In
One Time Visit
Recall Work Order
Recall on Linked Work Orders
Decline Work Order Percentage
% KPIS for Price Score
Median Invoice Amount (No Proposals)
Median Invoice Amount (w/Proposals)
% Invoices with < 2 Hours of Labor
% Invoices with > 5 Hours of Labor
Invoice to NTE Comparison
% KPIs for Speed Score
Same Day Completion
On Time Arrival (Original date)
On Time Arrival (Scheduled date)
Timely Dispatch Confirmation
Proposal Submission Time
Provider Completion Time Without Proposals
Provider Completion Time With Proposals
Time on site
Time to site
% KPIS for Engagement Score
Active Technicians
Added Technicians
Invitations
Line Item Invoice
Line Item Invoice (Material)
Resolution Codes
Technician Profile Completion
Average Compliance Completion
New Provider Profile Completion
Where can I see my scores?
You can see your individual scores and your Overall score in the "Marketplaces Score" section of your ServiceChannel provider homepage.
What is the benefit of having good performance scores?
Good scores document your great service for your current customers and open doors for you to grow your business with new top-brand, multi-location customers.
How does having good scores help me grow my business?
High performance scores improve your ranking in ServiceChannel Provider Search. They also give you the opportunity to be tapped by ServiceChannel as a preferred provider to work for customers who engage us directly to help them find and work with the best providers.
Is the new Price score the same as my hourly rates?
No, the new Price score is NOT the same as your hourly rates. It reflects the cost effectiveness of your services based on total invoice amounts for repair work orders, which include both your rates and time you spend resolving a typical issue. In fact, providers with the lowest hourly rates are very often not the most cost-effective. 
Why are the Overall score and Price score I see on my home page different from the Search Score and Price score a customer reported seeing for me in their search results?
The Search Score customers see in search is related to their specific search. The ServiceChannel Provider Search algorithm considers the customer's industry and geographic region in calculating the Price and Search Score. The scores you see on your homepage are based on the same criteria but are an average over all your trades and service locations. So the Price score and Search Score the customer sees in a specific search are very likely to be different than what you see on your home page.
Could a provider with lower scores than mine ever rank above me in a customer's search results?
ServiceChannel Provider Search is based on a complex algorithm that factors in many nuances, including industry, to ensure an accurate comparison of providers related to the customer's specific needs. For example, an HVAC&R provider who mainly services complex, high-end refrigeration systems in the grocery industry may have inherently longer times spent on typical repairs. When a customer in that industry searches for the best, most cost-effective provider available, that provider – even with a lower score – will rank higher for that specific customer's search.
Why do I have "N/A" as a score?
A minimum of ten repair work orders during the trailing three years is required to calculate a meaningful score. If you don't yet meet that threshold, your score will be shown as "N/A."
Even if you meet the ten work order threshold overall, you may not meet it for Price in a specific trade in a specific region. In that case, your Price score will show as "NA" and be calculated as "0" in the Search Score shown to the customer for that search.
Can I see my performance scores by trade and geographic region?
At this time, providers are not able to see how they score for a specific trade in a specific region. We are working to provide this detailed view in a future release.
Can my current customers see my performance scores?
Your current customers can see your performance scores if they search for you specifically in Provider Search.
How are the scores for Speed, Quality, Price and Engagement related to what I and my customers see in my Contractor Scorecard?
The current Contractor Scorecard provides high-level information about your ServiceChannel track record including how many work orders you've serviced over time, the total amount you've invoiced, and an A/B score for your overall performance for repairs and maintenance. It also shows many of the individual Key Performance Indicators (KPIs) such as on time arrival and first-time completion rate that contribute to one or more of your performance scores.
Both your scorecard and the new Marketplace Scores module on your homepage are useful sources of information. A new version of the scorecard is in the works that will consolidate all your performance data. But ultimately, your four scores for Speed, Quality, Price and Engagement determine your ranking and are shown to customers in Provider Search.
Is one score more important than the others?
Both the Overall score you see on your homepage and the Search Score customers see in search results are a weighted average of your four individual scores, with the highest emphasis on Speed and Price. But following the best practices to achieve and maintain high scores for all four is important since some of the specific factors used in one score overlap with others. For example, your same day completion rate is factored into both your Speed and Quality scores, and your average time on site is a factor in both Speed and Price.
Some circumstances are out of my control—can this negatively affect my scores?
Circumstances such as supply chain issues and labor shortages affect all providers, and since scores are calculated relative to all other providers, they are inherently reflective of these common issues.
Also, ServiceChannel's scoring system is designed to factor in the inevitability of circumstances beyond your control. For example, we look not only at missed SLAs but also:
What percentage of your overall work orders have missed vs. met SLAs?
How severe are those misses? Being twenty minutes late is less serious than being five hours late.
Are your work orders updated when ETAs change? Do you include detailed explanations in the work order notes field?
What are your resolution times and invoice amounts for work orders with proposals vs. work orders without proposals?
Often a missed SLA is caused by my customer, does this negatively affect my scores?
We are well aware that customer practices can impact both provider performance and the customer's bottom line. Improving the efficiency of the relationship between facilities managers and providers is part of our core mission.
Along with this update to performance scores, we are also publishing a list of best practices for customers to help their providers do their best work. Our Customer Success team works closely with customers to identify and coach them on recurring issues. We are continually making updates to the product and the onboarding process to improve efficiency and productivity for both facilities managers and providers, such as the introduction of resolution codes and support for asset management.
Are my scores negatively affected every time I decline a work order?
The number of work orders you decline is just one metric used to determine your Quality score. Obviously, being available for all your customer's needs is an important part of being a high-quality provider. One-off declines won't have a serious negative impact on your score and it's always best to decline a work order if you know you can't deliver good service in a reasonable timeframe. But patterns of decline suggest issues with your availability and capability to provide consistent service when needed. You can't, for example, decline without penalty every work order classified as an emergency or accept only work orders of a certain scope.
Are my scores negatively affected for declining an invitation to work from a new customer?
No, as long as you respond promptly, there is no penalty for declining an invitation to work for a new customer. Who you do or do not work for is totally up to you.