Women in Facilities Management: Rose Oscar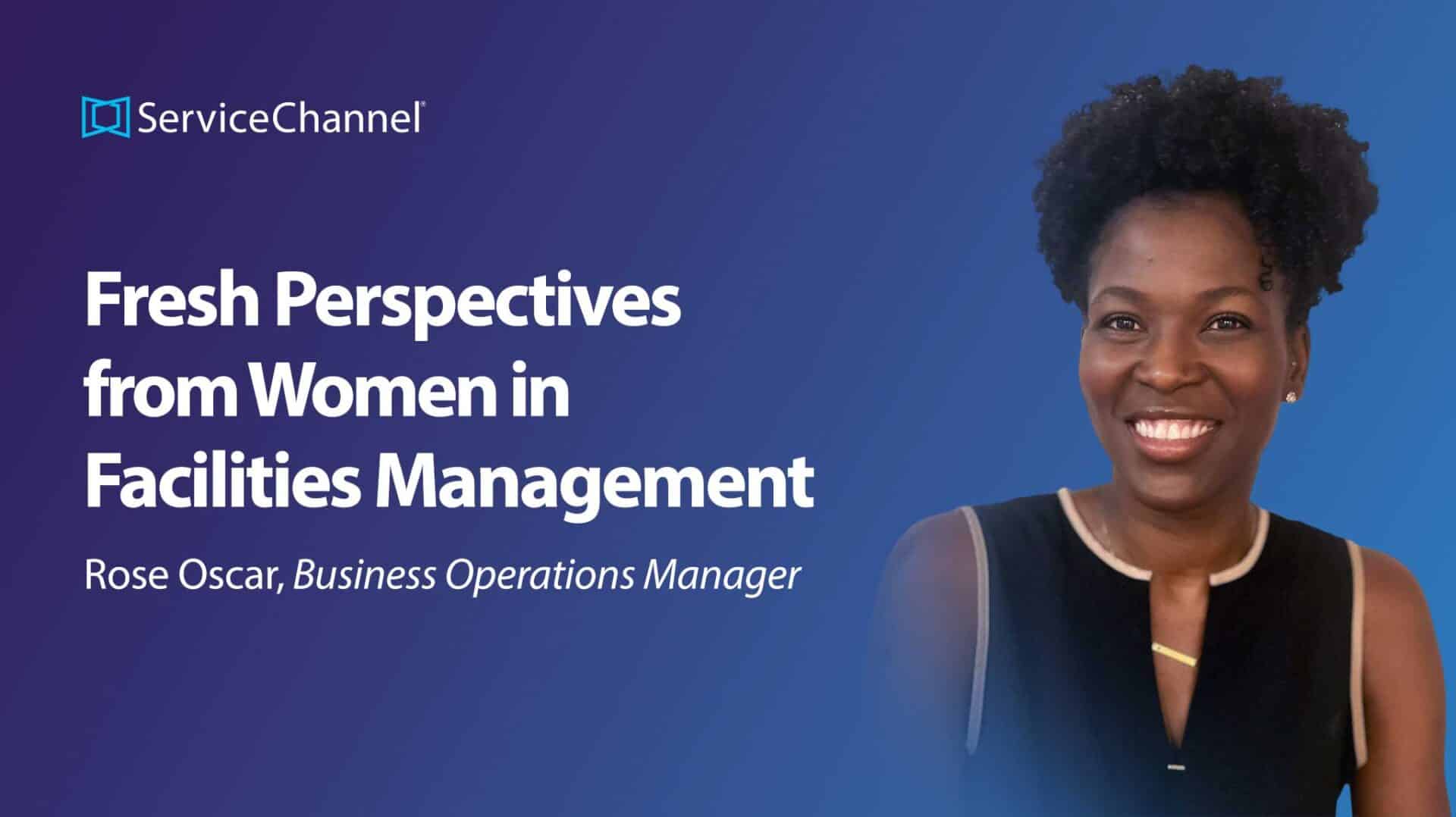 Rose and her team work closely with customers and service providers to ensure that day-to-day operations are optimized and channels of communication are seamless. Learn about her experience helping to enhance critical tools on the platform, like Search and Scout, and how she challenges herself to be the best leader that she can be.
What is business operations at ServiceChannel? And how do you and your team help customers get the most out of the platform?
Prior to business operations you were in provider development and business development. How do those experiences influence your current role?
I started my career in provider development and business development. Those roles gave me the experience to work directly with service providers and to help build the supply for our Scout optimization initiatives.
Scout optimization leverages historical work orders, and other data points, to bring cost-saving analysis to our customers and help them to optimize their network of providers. We also help customers run their companies and facilities more efficiently by increasing the quality of the services that they use.
These are just a few of the experiences that have prepared me for my role in business operations, where I currently oversee provider onboarding and compliance, as well as the supply operations for our Search tool.
What is your favorite thing about your job?
How is facilities management changing? Any big surprises?
The facility management industry faces many challenges. One in particular is supply-chain constraints. It's just not as easy as it used to be to get parts and materials. I'm sure many of us have felt this at the grocery store when our favorite items are out of stock. It's the same situation for service providers who are finding it difficult to get the parts and materials that they need to do the jobs in their pipeline.
In addition to the supply-chain constraints, we are also seeing a shortage of technicians. Part of that is because the service providers in this industry, who are predominantly senior technicians, chose to retire early when the economy came to a standstill during the height of the pandemic.
ServiceChannel is helping by leveraging the historical data on our platform to identify trends, possible solutions, and proven cost-saving methods, including work order management to help facility managers, and our customers, manage these constraints.
This also improves communication and transparency between service providers and customers, which helps set realistic expectations for deliverables. It also provides alternative solutions in the short run, as we continue to work on long-term solutions.
Any recent success stories or new projects you can tell us about today?
What are some of the major challenges for facilities managers? And how is business operations helping them overcome these issues?
Facility managers face many challenges. So they seek effective ways to run their day-to-day operations in such a way that they can save time, which includes staying on top of the status of their work orders.
They look to ServiceChannel for our technology, our expertise, and the wonderful teams that we have who are dedicated to helping them manage those constraints — including our work-order management team and our support team.
This gives them valuable time back to focus more on delivering exceptional customer service, and not wondering if issues are getting resolved. They know that we have their backs.
Tell us about women who inspire you.
Have you had a mentor throughout your career?
I've had many mentors throughout my life — not specifically an individual, but a collective group of wonderful people, whom I can depend on. These are people that I can count on to guide me in the best way that they can. And part of that means providing me with constructive criticism that promotes my professional and personal growth.
How do you challenge yourself to be the best leader that you can be?
What advice would you give to yourself as a woman at the start of her career, knowing everything you know now?
I would say to younger Rose: Believe in yourself! That feeling of self-doubt and impostor syndrome is a real thing. You are not alone. It's something that we all go through. I would also say to continue to be ambitious, driven, and loving. And at the end of the day, know that you gave it your very best. That is all that anyone can ever ask. Lastly, take a moment to acknowledge your accomplishments and recognize your greatness. I didn't understand the importance of this at the start of my career as much as I do now.
Building relationships is a big part of success in any job. Do you have any tips for creating strong bonds with clients and colleagues?
My advice on building relationships and expanding your network is to never burn any bridges. Because you never know where those bridges will lead you in the future.
Also, if you say you're going to do something, do it. If someone assigns you a task, make sure you give them status and progress updates. For people to develop trust in you, they need to know that when they assign something, they don't have to worry about it — you've got it.
This is key to your potential growth, because you are building trust and a good work ethic. If an opportunity arises for you to move to a higher position, or get involved in a bigger project, they will look to you because they know they can trust you. Make sure that honesty is first and foremost in everything that you do.
What advice would you give to women who want to get into this industry?