Women in Facilities Management: Catie Cardone Stumpf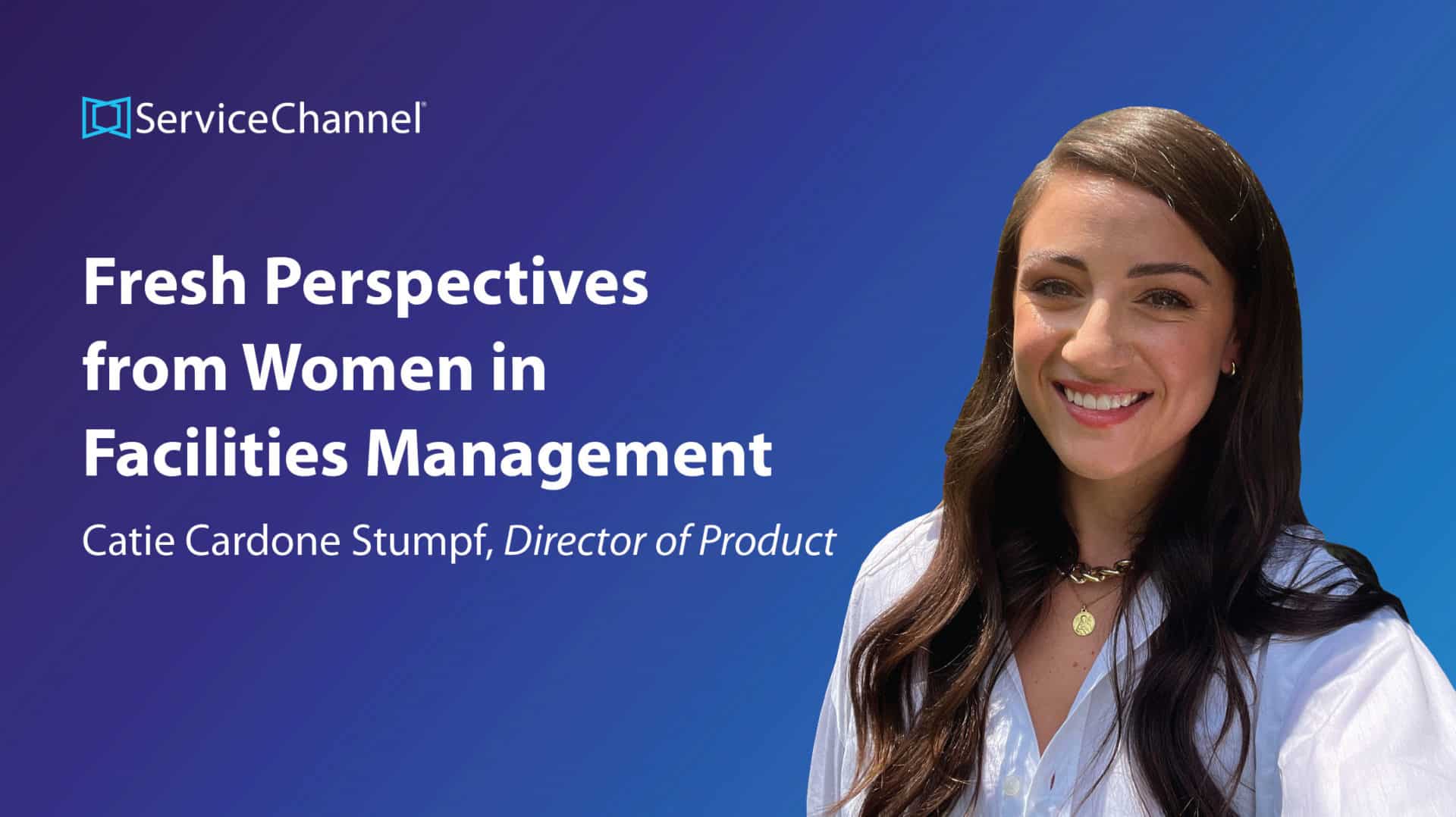 Meet Catie Cardone Stumph, a leader who works closely with teams across ServiceChannel to deliver innovative software that makes life easier for facilities managers around the world. Check out our recent conversation with Catie to learn about her role and unique perspective on the industry.
Tell us about your role at ServiceChannel. What's a day in the life like for you?
How did you get into this industry? And what's your journey into facilities management been like?
My journey into facilities has been a little bit different than your typical facility management professional. One thing that I love about tech is the fact that it does give you access to so many different industries.
I got into product management early on in my career, thanks to a couple of mentors. And then I joined a real estate startup. And then during COVID, the opportunity to join ServiceChannel came up. There's a certain amount of overlap between building real estate software and building facilities management software. So I was able to leverage some of my expertise from my time in real estate into facilities management.
But I have to say, the learning curve into facilities management is a very steep one, that I'm still climbing. I feel very lucky that we have customers who are very generous with their time, and I learn from their expertise every single day.
How do you approach your job?
How is ServiceChannel helping facilities managers support and enhance their businesses?
What else do you think is keeping facilities managers up at night? And what do you think success looks like for facilities managers?
Something that people outside of the facilities industry may not know is just how much facilities professionals feel directly responsible for delivering on their company's brand promise.
We usually think about marketing, or even construction and real estate or the onsite staff, as the people who are responsible for that — and that's not wrong. But we can easily forget about the people who are behind the scenes making sure that everything stays running smoothly. We forget about them until something goes wrong! And then they're the first person that we call.
The thing that keeps them up at night is that fear of unpredictability — those moments when something goes wrong that completely halts the customer experience, or that 3 a.m. Saturday phone call.
We see the best facilities managers using the data available to them to identify trends that reduce unpredictability, and then leveraging automation to handle the other things that are inevitably going to go wrong.
So I think the ultimate success for a facilities manager is being seen as an equal partner in delivering on their organization's brand promise and on the end customer-experience.
What has surprised you most in those recent conversations that you had?
What kind of challenges have you encountered as a woman working in the industry?
Tell me about women who inspire you?
Yeah, this one is so important! Especially as I advance in my own career, being able to point to examples of women in the types of leadership positions that I'm working towards makes me feel confident in going for it — or feeling like I deserve to be there. These female leaders are paving the way for us to be successful.
Since I've been working at ServiceChannel, two women have been hired into our C suite: our Chief Marketing Officer, Edurne Jorda-Sierra, and our Chief Data Officer, Alicia Barco. I admire them so much and feel lucky that I get to work with them closely on most days. I've learned so much.
As a recent people leader, myself, I also take a lot of inspiration from how they run their teams. I see them having confidence in their convictions and taking up space, and not being afraid to fail. And I think it's really important to be able to see them in action. I feel like that creates space for me to do the same.
So I feel very grateful to be in an environment like this. Certainly not everyone has access to this kind of experience. So it's really important.
What kind of advice would you give to women who want to get into this industry?