What is Commercial Building Maintenance Software?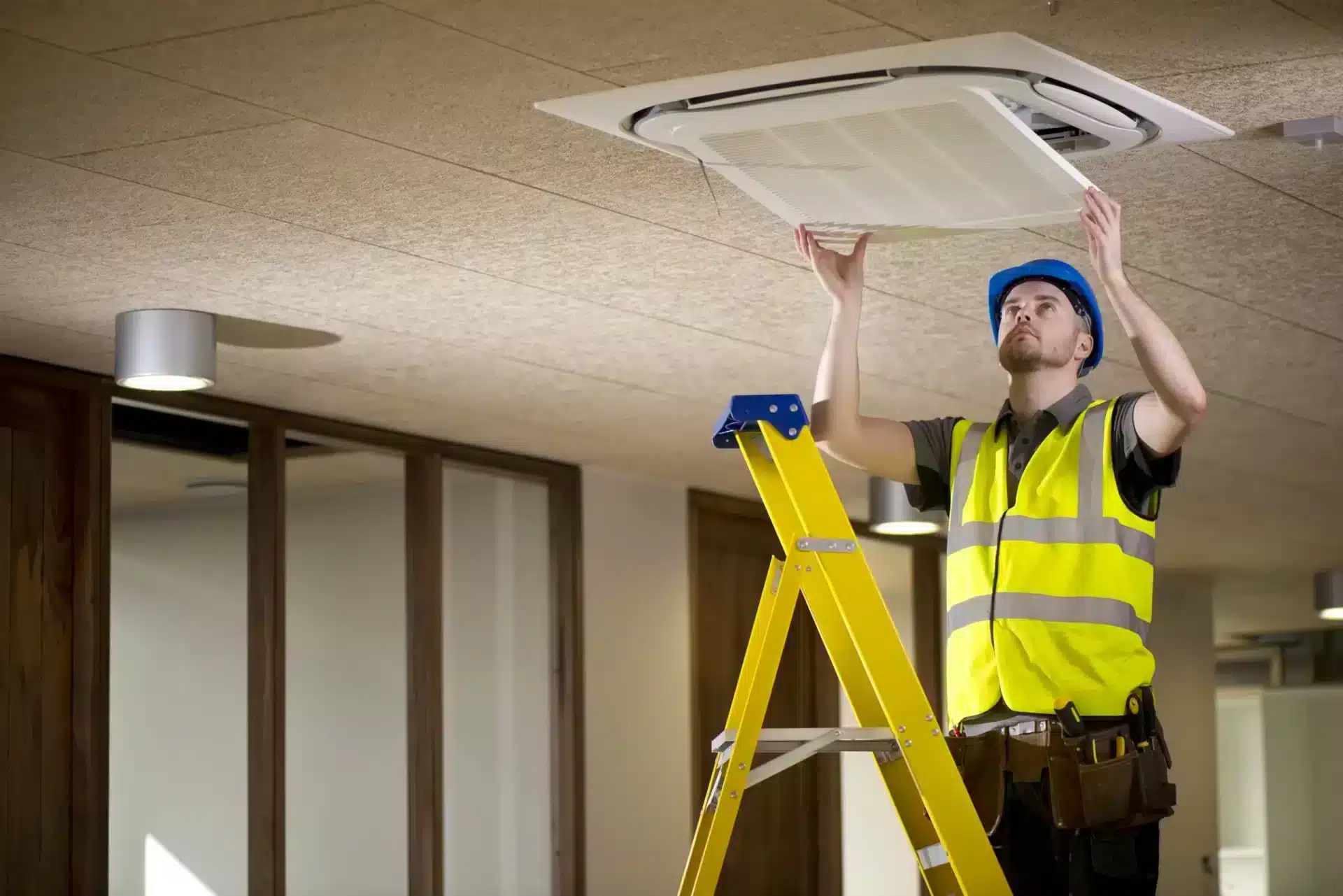 Commercial building maintenance software assists facilities managers in running the cleaning, repairs, and maintenance (reactive and preventative) more efficiently. You may also know this as facilities management software, or computer-aided facility management software (CAFM). It has all the components needed to help a building operate at optimal levels while streamlining workflows, extending the life of assets, and lessening risk while monitoring those assets. All-inclusive, the software provides data-driven insights and recommendations through an automated solution that schedules tasks and keeps everything operational.
Benefits of Commercial Building Maintenance Software
Commercial building maintenance software can offer a number of benefits to improve the day-to-day operations of your facilities. When evaluating your options, you should prioritize these benefits to ensure you choose the right software for your business.
Increase Efficiency
Automations and reminders give building managers autonomy in time management and the handling of resources. Commercial building maintenance software adds an additional layer of accountability that improves efficiency, which offers managers more time to focus on building functionality and core values.
Reduce Operating Costs
Reducing operating costs is top of mind for every facilities manager. A commercial building maintenance software can help with this through several different functions such as: preventative maintenance and automated checklists.
When assets are tracked and maintained in a timely fashion, this reduces the likelihood of downtime due to inoperable machinery. Maintenance schedules can be tracked from anywhere, saving time and money. Centralized and automated checklists and maintenance schedules reduce the administrative time burden and expenses.With building maintenance software, insurance expenses are also reduced. Compliance-related tasks are monitored and modified based on changing rules and regulations, helping avoid costly claims as a result of noncompliance.
Ensure Compliance
Keeping track of all the moving parts requiring compliance can be challenging, especially when there is more than one facility. Inspections must be ongoing, data evaluated, and a robust records management system in place. The software alerts managers to the need for inspections, while tracking the progress of assets to pinpoint what may need adjusting or replacing, and which assets are improving because of the inspection.
Automate Maintenance Processes
Having the ability to create checklists that keeps the processes employees should follow makes things easier. With an automated workflow, tasks are streamlined from beginning to end, with managers having the power to create specific rulesets for technicians based on skillset. This is a vast and transformational improvement over analogue methods, such as paper, pens, and Excel sheets.
Access From Anywhere
Commercial building maintenance software adds flexibility and mobility to the workplace. As technology continues to incorporate ways to enhance the workspace, employers can adjust and adapt this software to small, medium-sized, and large enterprises to improve visibility and connections for better communication, asset management, and tracking of work orders. Accessible from anywhere through the use of mobile devices and apps, facilities managers can coordinate, monitor, and issue directives while on the go, creating an agile system that helps in making decisions across facilities while reducing downtime.
Learn more about the ServiceChannel Facilities Management Platform.
Commercial Building Maintenance Software Features
When looking for the right commercial building management software for your facilities, it is important to consider how the software provides the following features to your team. There are several types of software in the marketplace today that have one or more of these features, but only ServiceChannel has all of these features available out-of-the-box.
Preventative Maintenance
Preventative maintenance is key. This software allows managers to create inspection checklists, schedule recurring inspections of the structural integrity of the building, and schedule repairs if needed. The goal is to stay in preventive mode instead of having to take reactionary measures. All tasks are managed through the ServiceChannel software to keep the assets and other equipment efficient and effective, resulting in lessened breakdowns.
Maintenance Scheduling
The right software will help building managers assign repairs as they come in or get discovered by automating the maintenance scheduling process. This increases productivity and efficiency, alleviating backlogs on work orders. With ServiceChannel, you'll be able to take your maintenance from planned to performed and get work done faster.

Work Order Management
Work order management helps manage work orders from start to finish. The orders are prioritized, and major jobs are attended to quickly. When a user requests maintenance services, the system creates a work order based on the task and routes it to a specific team member. Managers can adapt the system to specify roles, tasks, and tasks to fit certain needs. The system issues status change notifications to monitor the pipeline, along with customized workflows for approval, time and cost tracking, and work order schedules that are automatically generated based on time. Every member of the team is alerted when a work order has been issued for them.
Analytics
The ability to track, manage, and analyze your facilities data in order to make informed decisions should be an essential function of your commercial building management software. Proper data analytics should allow you to see issues based on location, spend, or job, as well as, understanding the full picture of how your facility is performing. ServiceChannel analytics compiles your data into dynamic insights allowing your team full visibility into everything going on to make strategic decisions.
Inventory Management
A commercial building maintenance software can keep inventory spending in check while managing inventory, assets, and parts management. This should include tracking all work orders to record what materials are used and must be replaced. Inventory is tracked in real-time, and managers can see what was used, where it was used, how often, and the total cost. This helps control costs while keeping the resources you need on hand with alerts and reminders. When you choose ServiceChannel, you're able to track the entire inventory life cycle from purchase request through usage allowing your team to act quickly and empower technicians to manage the parts needed.
Asset Tracking
Assets can be tagged for identification using your system, which includes the make, model, and serial numbers of your system, the manufacturer, or both. Images can also be uploaded to ensure the parts are correctly tracked. These assets can also be grouped based on location and the type of equipment they are used on.

The system is also robust enough to add manuals and other files for streamlined data management. Scalable for any size operation, the system supports expansion with bar codes, meter readings, and triggers for specific work orders.
Learn more about the ServiceChannel Platform.
Frequently Asked Questions
What is commercial building maintenance software?
Building maintenance software is used by facility managers to organize and manage assets, deliver preventative maintenance, and help mitigate the risks and costs of those assets while monitoring and locating issues. Work orders are tracked and managed from anywhere through one simple interface. Processes are streamlined and efficient, the productivity of assets is increased, insights deliver results, and operations are at optimal levels.
Why should I use commercial building maintenance software?
Commercial building maintenance software helps facility managers efficiently manage building repairs, upkeep, cleaning, and preventative maintenance. Centralizing your building maintenance records and operations will make it easier to schedule and perform preventive maintenance more efficiently.
Want to Know More About Commercial Building Maintenance Software?