Weathering this Record-Breaking Hurricane Season with ServiceChannel's Weather Module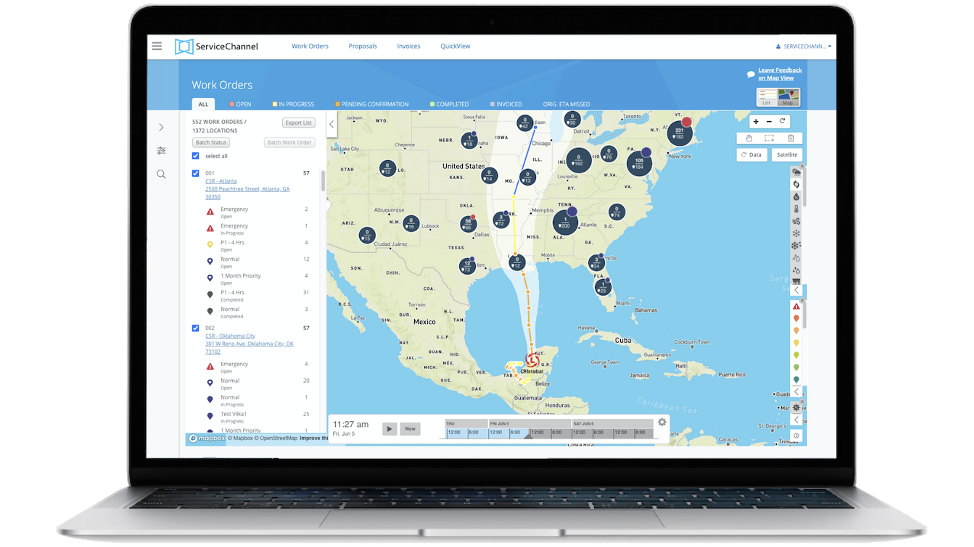 As if 2020 hasn't been difficult enough, facilities leaders now face a new challenge — a record-breaking hurricane season. Tropical Storm Cristobal is forecasted to arrive at the US Gulf Coast this weekend, possibly as a hurricane. Doug Edgerton, a twenty-year retail facilities professional, reached out to me to ask how we could help him prepare hundreds of locations that would be impacted by this extreme weather event. In this post, I discuss how ServiceChannel's Weather module can help you plan for and protect your locations, staff, and service providers.
Increasing Weather Risks
Just three days into this hurricane season, Cristobal has become the third storm powerful enough to be named, arriving earlier than any other third named storm in history. In fact, this usually doesn't occur until August. In addition, the National Oceanic and Atmospheric Administration has projected that this season will see up to 10 hurricanes, with up to six of those being considered major hurricanes.
More so than usual, facilities management leaders need to be on their A-game to deal with the increasing risks of extreme weather. So, how can you prepare your locations and protect your business?
Preparing for Cristobal: A Brief Case Study
"Being agile in the face of unpredictable weather is so important for keeping our locations safe from damage, and avoiding more expensive repairs. ServiceChannel's predictive weather capabilities allowed us to prepare in a matter of minutes rather than hours."
– Doug Edgerton, 20-Year Retail Facilities Leader


Background:
Doug Edgerton, a veteran facilities leader at a specialty retailer, reached out to me recently for help. Leadership from his organization's Global Safety and Risk Management group requested a plan for Hurricane Cristobal's impending arrival along the Gulf Coast.
Problem:
Doug needed to find out which locations would be in Cristobal's path, how they could be impacted, and where to put in work orders for sandbagging to prevent flooding. This would have taken many hours using traditional methods of gathering research from multiple sources, tracking down locations, and seeking providers to serve his at-risk locations. With the urgency of the incoming storm in mere days, he needed a more agile approach.
Solution: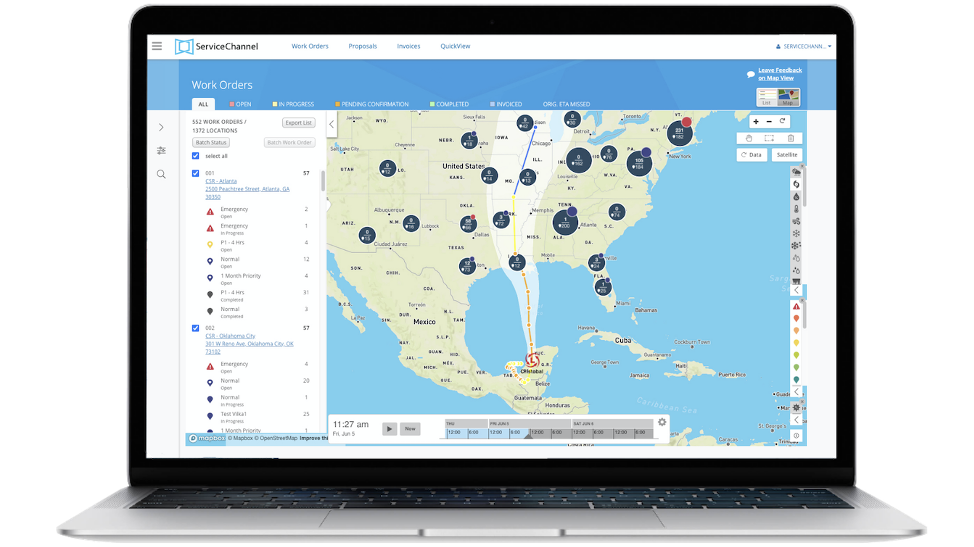 I showed Doug the ServiceChannel Weather module, which integrates with our Work Order Manager, to give him a bird's eye view of which locations were in the storm's projected path.
On top of that, ServiceChannel's Weather module allowed him to:
Get up-to-date forecasts for national and global weather events overlaid on his locations
View details on weather events such as hurricanes, ice, snow, temperatures, and wind speeds
See how these events have moved recently and how they are predicted to move across geographical regions along an animated timeline
View local weather events and forecasts for individual locations
And with our July 2020 release, he'll be able to proactively create service requests for impacted locations in bulk, directly from the map.
In less than a minute, Doug was able to provide the data that the Safety and Risk Management leadership requested, and he was also able to put in work order requests for his at-risk locations. Thanks to ServiceChannel Weather, he had a plan for locations impacted by Cristobal — and is ready for whatever else this unprecedented storm season has brewing!
Takeaway: Proactively Protect your Business with ServiceChannel Weather
Climate change has led to stronger storms, heavier rainfall, and record-breaking hurricane seasons. With more extreme weather events forecasted at an upward year-to-year trend, you need a plan to minimize risk and prevent damage to your locations and staff.
ServiceChannel allows you to prepare for extreme weather events in a pinch. Instantly see which locations are at risk and need proactive protection. Then, with the push of a button, create bulk work orders to ensure that each of these at-risk locations are properly protected from hurricanes, flooding, or anything else mother nature has in store.
If you need help with planning for weather events, feel free to contact me; and if you're already a ServiceChannel customer, you can reach out to your ServiceChannel representative who'll help you enable the Weather Module.
Contact us today.