Driving Growth: The Power of Construction and Facilities Collaboration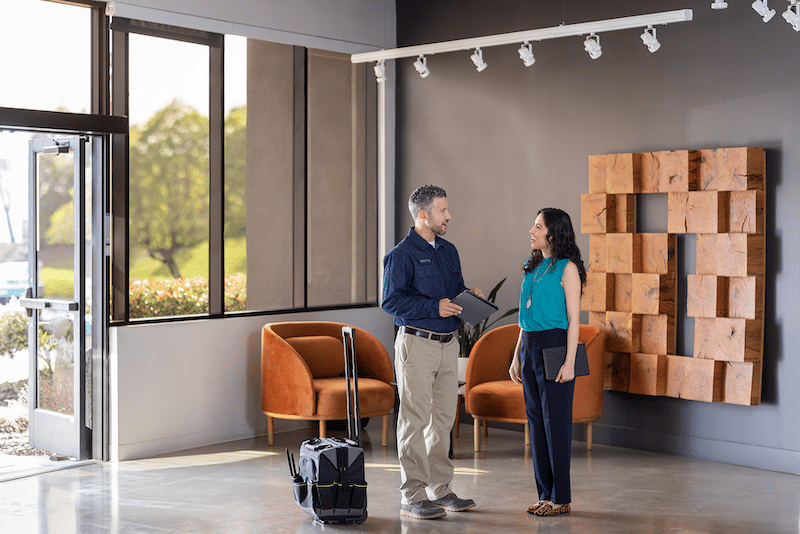 Prioritizing cross-functional relationships, customer-centricity, and data-driven decisions allows facilities and construction teams to drive success and better business outcomes at the highest levels.
When facilities management and construction have the mindset and technology to collaborate effectively, they can amplify their company's bottom line.
Facilities management and real estate and construction teams encompass a broad range of responsibilities that drive a business forward, from site selection and planning to implementing sustainability initiatives. What they have in common is their significant impact on the customer experience.
But in many cases, these departments aren't operating in an integrated and aligned way. Decision-making occurs in silos, which creates less-than-optimal outcomes.
Leading brands ensure that these teams are making moves based on shared data-driven insights. The learnings of those that care for the locations impact how new locations are designed and budgeted for, and vice versa.
ServiceChannel Marketplace Project Coordinator, Jen Sanchez, spent many years in facilities management for consumer retail brands and is a big advocate for "facilities teams having a seat at the table during new store project conversations, particularly those related to store design and construction." She recalls that the real estate and construction side did not always understand the operational needs of a brand's asset fleet, which led to new locations being opened without necessary capital planning. "We ultimately incurred high repair costs and emergency services, meaning we always felt behind the eight ball," says Sanchez.
This impacts not just the facilities spend but the customer experience. When the real estate and construction teams and facilities management have a seat at the same table, they'll see improved project outcomes and optimized, integrated processes that lead to cost savings and stronger ROI.

How facilities management can join construction at the planning table

To reach their potential as strategic growth partners, facilities and construction leaders need to articulate the missions of their teams and how they enable brand preservation and optimal customer experiences even as the brand grows.

As Jamie Goldberg, Vice President of Real Estate and Development at One Medical, recently told ServiceChannel in an episode of its podcast, "Elevating Brick and Mortar, "We're really a partner for the growth we get. We articulate what our department does for new leaders that come into the company and show them how we work together and partner with operations, clinical, marketing, and finance. One of the phrases I coined is we #hitourdate. We're aligned on opening a location on time in a high-quality manner — that really resonates within the group."
Many facilities leaders find it tricky to articulate the essential role they play in maintaining best- in-class real estate portfolios. If they can identify the top areas of spend and the requirements of care for their asset fleet, and then benchmark the investments needed to keep locations running at peak performance, they'll find it easier to convey how their voice must be heard during the construction planning process.
And Sanchez agrees. "Having real estate, store design, construction, and facilities as a cohesive unit in constant communication within a company leads to growth and brand preservation while being proactive and controlling costs," she says.

Harnessing technology for a powerful facilities management and construction partnership
Technology plays a vital role in facilities management and construction, enabling better tracking, measurement, and process improvements. From construction project management to preventive maintenance management to work order systems, technology empowers both teams to enforce standard processes, track progress, and identify areas for improvement. The ability to measure and analyze data allows the teams to continually enhance their overall management practices.
A centralized platform like ServiceChannel offers the quickest route to discover insights and gain alignment. When facilities management and construction and design work together from shared set of real-time data and strategic insights, they gain visibility into all operational levels. Whether facilities needs to audit assets for proactive maintenance, track spend and trades, or monitor fleet health, the information is always within reach. If construction wants to review provider performance ahead of a new project, or stay in the loop on capital planning, the insights are always on hand. Operating from a shared, single point of truth makes collaborating easier and ensures that design and construction decisions are not made in a vacuum.

In addition, operating within a centralized platform allows facilities management and construction teams to contribute to and align with the organization's environmental, social, and governance (ESG) goals. Using data to demonstrate cost savings and environmental benefits can drive the adoption of environmentally conscious practices, such as optimizing HVAC systems and advocating for durable, sustainable materials.
The growth potential of integrating facilities management and construction
The happy marriage of facilities management and construction is essential for business growth. Prioritizing cross-functional relationships, customer-centricity, and data-driven decisions allows facilities and construction teams to drive success and better business outcomes at the highest levels.
One Medical has disrupted the healthcare industry by doing just this. Such partnerships provide new opportunities when executed well, unlocking growth through collaboration, innovation, and resource optimization that ultimately benefit the bottom line.
Connect with the ServiceChannel team to learn more.