ServiceChannel Updates Site Audit Manager to Deliver Unprecedented Transparency and Actionable Insights for Facilities Inspections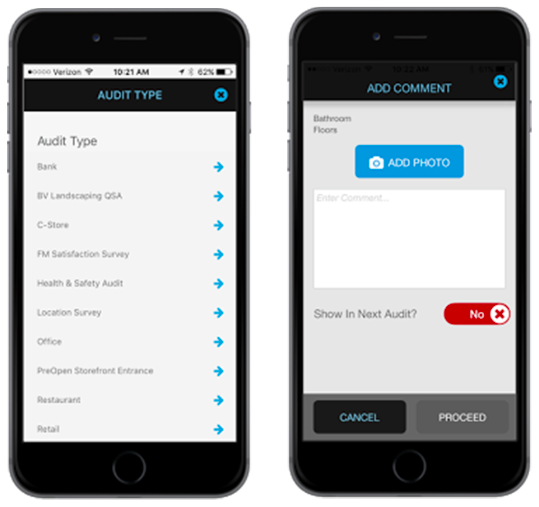 Simplified Mobile User Experience Enables Speedier Facilities Audits, Safety Inspections, New Store Walkthroughs and Visual Merchandising
NEW YORK – Sept. 29, 2016 – ServiceChannel, the leading SaaS service automation platform for facilities managers and contractors, today announced the newest version of its Site Audit Manager application designed to capture standardized facilities condition data while on-site using mobile devices, empowering facilities managers to make more informed budgeting decisions and monitor location condition trends – all fully integrated with their work order creation process.
New features and functionality available in the Site Audit Manager application include enhancements such as:
Faster and simpler navigation through the audit process that is as easy to use as the ServiceChannel

Mobile App

Capacity planning using visual merchandising at each location

Data sets to better understand total repair and/or replace decisions necessary to maintain a facility's "

brand uptime

"

Use of photography to capture current status and for on-going facilities operations process.
ServiceChannel Site Audit Manager offers a fully guided audit experience that walks facilities managers through a step-by-step process that can be pre-defined and populated by the designated administrator(s). This simplifies the audit process significantly, enabling the staff at any given store, restaurant or other facility location to perform audits, saving time and money. All data from the audits can be stored and are accessible, which gives facilities managers benefits such as easily identifying cross-audit trends or frequently recurring, persistent issues at any given location.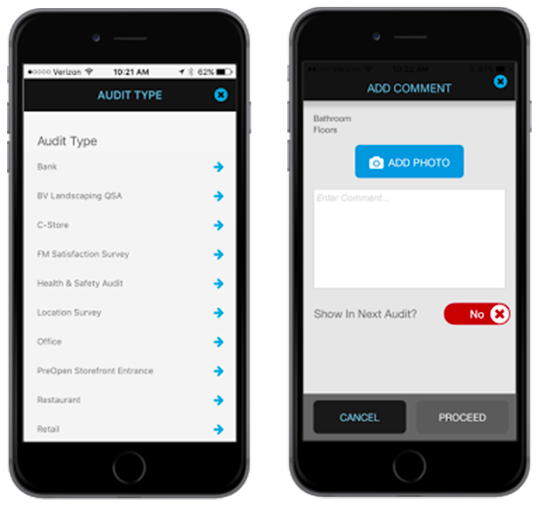 ServiceChannel Site Audit Manager offers a fully guided mobile user experience to speed up and simplify facility audits.
RaceTrac, a regional chain of gas stations and convenience stores operating more than 400 locations, uses ServiceChannel Site Audit Manager to organize and manage its formal and on-going facility audit program.
"ServiceChannel Site Audit Manager gives us the ability to organize and manage the way we inspect our facilities in a consistent way, documented with photos, yet tailored to the equipment and areas specific to each facility across a broad spectrum of audit requirements," said Wendell Crawford, Regional Service Manager at Racetrac. 
"It simplifies the remediation process by giving us the ability to create and dispatch work orders as part of the audit process itself. It also enables us to provide visibility to our store operations, improving inter-department communications and collaboration as well as enhancing overall transparency of the facilities management operations."  
The increased use of enterprise mobility tools such as ServiceChannel Site Audit Manager is one of the seven key trends that ServiceChannel has identified as having the most impact for facilities managers and contractors in 2016 and beyond.
"Mobility empowers today's facilities managers to accomplish just about every important task anytime, anywhere and on-the-go," said Tom Buiocchi, CEO of ServiceChannel. "From managing work orders to conducting site audits and safety reviews, mobile computing is boosting operational efficiencies and ensuring completeness and reducing time-to-resolution of open issues for the service automation enabled facilities manager."
Availability
ServiceChannel Site Audit Manager 2.0 is generally available now to all ServiceChannel facilities management software customers as an optional module within the ServiceChannel enterprise suite.
For more information about the ServiceChannel Site Audit Manager, please view this video. Go on a virtual tour of the ServiceChannel Service Automation platform and view our other helpful videos.
Additional Resources
About ServiceChannel
ServiceChannel provides facilities managers with a single platform to source, procure, manage and pay for repair and maintenance services from commercial contractors across their enterprise. By delivering unprecedented transparency and data-driven analytics of service quality, across all trades, locations and contractors, facilities managers drive significant brand equity and ROI for their organizations without outsourcing or investing in new infrastructure. The world's leading global brands use ServiceChannel and Big Sky solutions daily to help optimize millions of transactions and billions of dollars of spend annually.
Media Contact for ServiceChannel
Name: John Noh
Phone: 408-242-3852
Email: jnoh@servicechannel.com