New ServiceChannel Offering Helps Enterprises Increase Compliance in Managing Contractors and Suppliers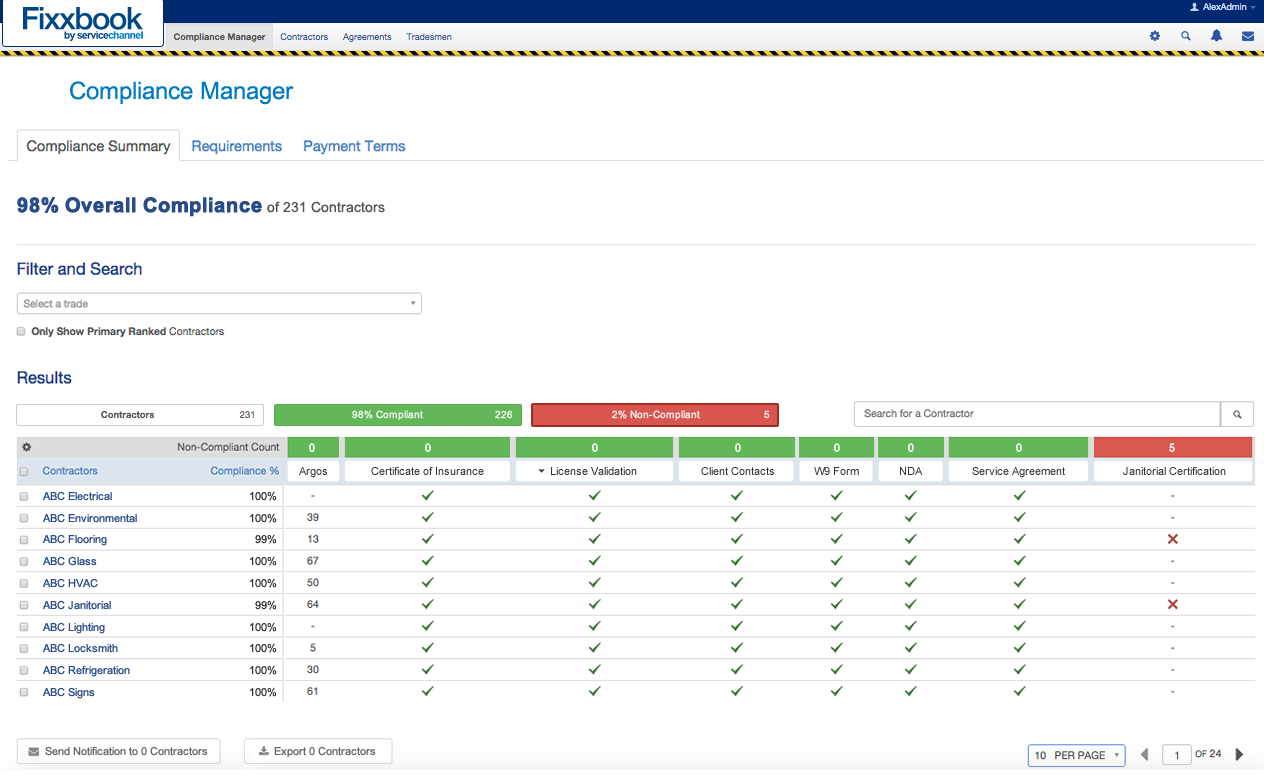 Compliance Manager Provides Web-Based, Single-Dashboard View for Quick and Efficient Monitoring, Management of Compliance Requirements throughout the Distributed Enterprise
NEW YORK, Oct. 7, 2015 – ServiceChannel, the leading SaaS service automation platform for facilities managers and contractors, today announced the availability of ServiceChannel Compliance Manager, a new web-based module designed to help enterprises efficiently monitor and manage regulatory and corporate compliance requirements of their facilities repair and maintenance contractors, and equipment and parts suppliers.
Compliance Manager helps enterprises save time and money by providing a single, consolidated view of global contractor and supplier compliance. This eliminates the need individually to track documents such as insurance certificates, trade licenses & bonds, warranty expirations, tax statements, NDAs and other vital compliance information on a contractor-by-contractor or supplier-by-supplier basis.
Instead, ServiceChannel customers using Compliance Manager can search and view compliance information by all contractors, suppliers or by trades to quickly determine who and what requirements are at risk or out-of-compliance. The new tool then enables customers to proactively send customized notifications and alerts to contractors to address compliance issues in a timely manner. Other advanced functionality within Compliance Manager includes the ability to:
View compliant vs. noncompliant contractors or suppliers,

Activate new compliance requirements in bulk to all contractors in a customer's network,

Receive proactive alerts on contractor insurance policies that will be expiring in 30 days,

Drill down on any contractor profile to access the full credentials and compliance statistics.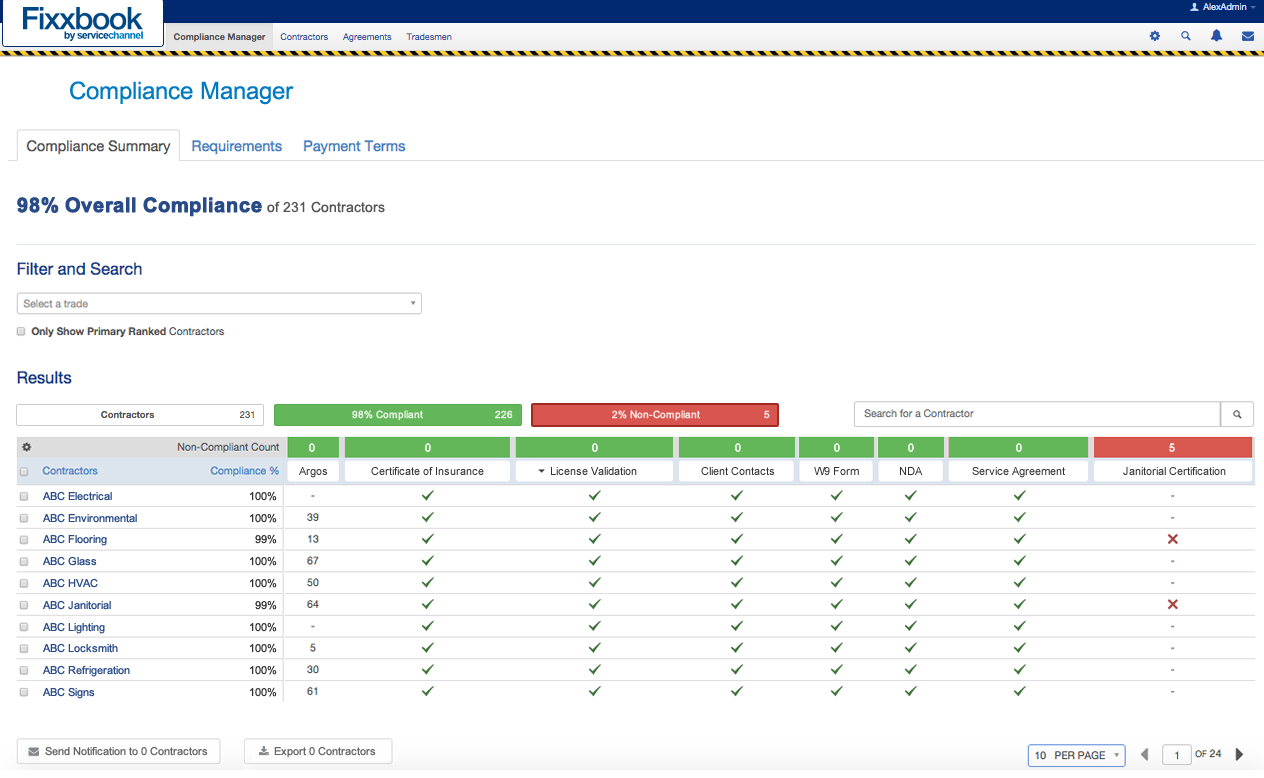 According to a recent article published in Facilities Insider, industry best practices in compliance management include being aware of critical compliance milestones as well as developing a clear path forward in terms of compliance impact and costs. The visibility and ease-of-management available through Compliance Manager can help facilities managers and their companies integrate these and other compliance best practices.
Shake Shack, the modern day "roadside" burger stand serving a classic American menu, deployed Compliance Manager as part of its enterprise-wide ServiceChannel service automation deployment across its more than 40 locations.
"Effective vendor management is critical to the facilities management mission at Shake Shack, which includes ensuring timely and on-going compliance to our corporate standards as well as the many regulatory requirements impacting our business," said Joe Stallone, Facilities Manager at Shake Shack, whose day-to-day responsibilities include maintaining and managing vendor performance and relationships. "Our experience with Compliance Manager has shown it to be an effective tool to improve the efficiency and speed of monitoring and managing our overall vendor compliance program."
ACS Commercial Services, a provider of complete facilities maintenance services, has successfully completed projects for some of the largest global brands who all manage strict compliance requirements with their contractors and suppliers.
"Compliance Manager gives our customers real-time, pin point data to help ensure that we remain compliant with important corporate and regulatory requirements," said Anthony Tallerine, owner of ACS Commercial Services. "This only enhances our relationship with our customers and helps us provide better, more value-added services."
"Contractors and suppliers who are out of compliance can increase the corporate risk for companies relying on them for important repair and maintenance services," said Bashir Abdallah, Head of Supply Chain Products at ServiceChannel. "Compliance Manager will be an essential tool for our customers to help them protect their investments by driving increased compliance."
Pricing and Availability
ServiceChannel Compliance Manager is available now and is free to customers with a ServiceChannel enterprise license and that are registered on ServiceChannel Fixxbook, the free commercial contractor directory with information on more than 50,000 contractors across all trades.
Additional Resources
About ServiceChannel
ServiceChannel provides facilities managers with a single platform to source, procure, manage and pay for repair and maintenance services from commercial contractors across their enterprise. By providing a real time, web-based view of service data across all trades, locations and contractors, facilities managers drive significant brand equity and ROI for their organizations without outsourcing or investing in new infrastructure. The world's leading global brands use ServiceChannel daily to conduct business with over 50,000 contractors at more than 170,000 locations in 63 countries.
Media Contact for ServiceChannel
Name: John Noh
Phone: 408-242-3852
Email: jnoh@servicechannel.com