Facilities in the EU: Leum Fahey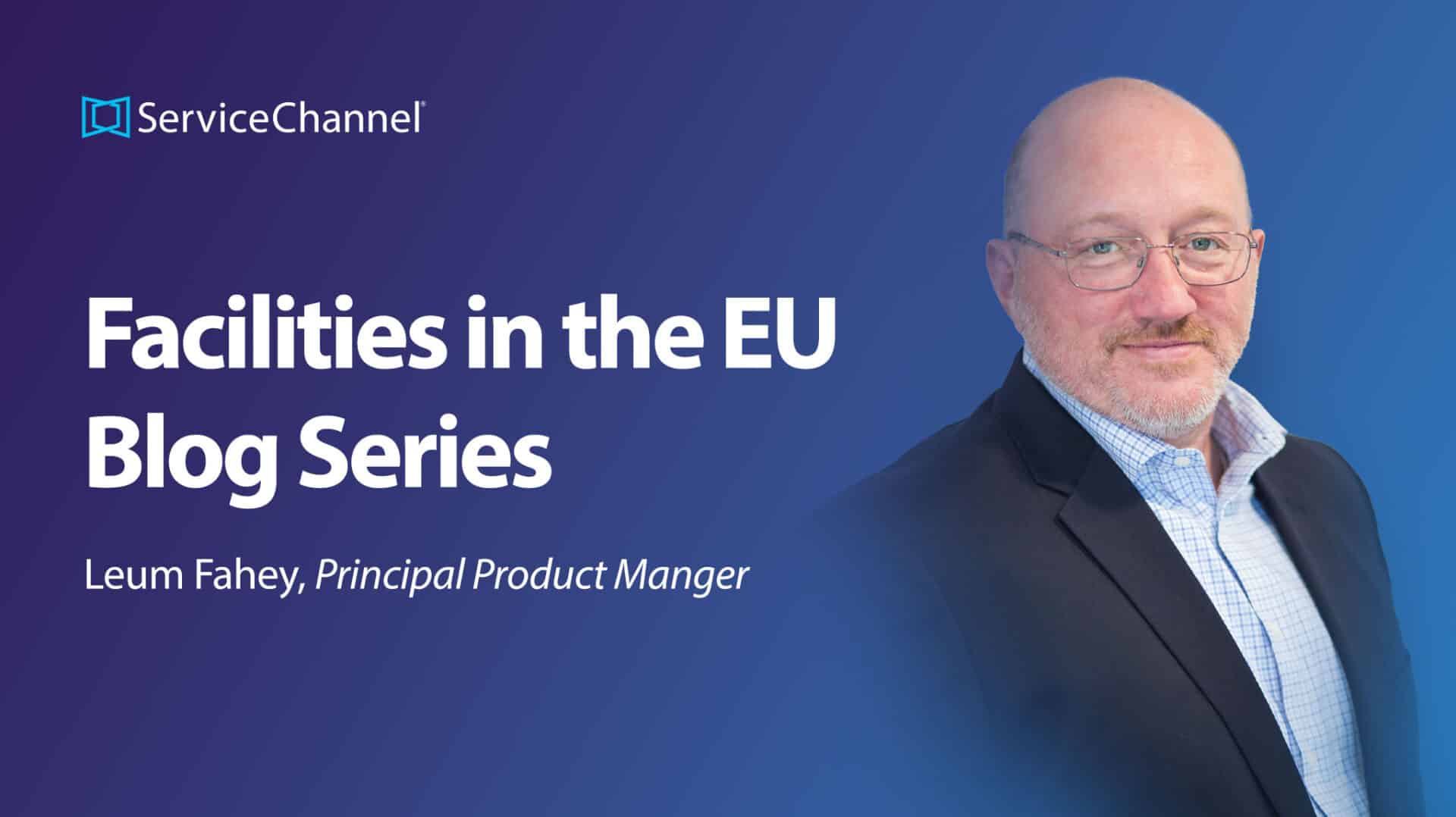 Leum Fahey is a driver of industry best-practice initiatives in facilities management and engineering—and a builder of software solutions that improve productivity, reduce expenses, and promote sustainability. With more than 20 years of experience in the field, Leum is ServiceChannel's Principal Product Manager and resident expert in all things refrigeration and sustainability. He sat down with us to talk about how ServiceChannel is helping businesses run sustainable facilities across thousands of locations.
How has the renewed focus on sustainability and energy conservation changed business goals across various industries that rely heavily on refrigeration?
Considering the energy required for large-scale refrigeration—not to mention the environmental impacts of refrigerants themselves—where would you put refrigeration costs on a pie chart of facilities management costs?
Based on my experience, refrigerant costs in the supermarket vertical specifically usually range between 25 and 35% of the overall cost of managing facilities. This is impacted by a couple of different things—the cost of labor and travel time and the cost of the refrigerants themselves. As regulations change, the cost of the refrigerant goes up, especially if it's a refrigerant with high global warming potential.
With the EU now imposing stricter sustainability mandates, what would you say are the top three actions the C-suite can take to manage their energy costs, hit their sustainability targets, and create positive impact?
We know that regular maintenance is key to extending the operating life of refrigerated assets and keeping their energy consumption at a minimum, yet many businesses don't have their equipment looked at until it breaks down. How can C-levels justify the cost of preventive maintenance for a large number of assets to those making financial decisions?
I think the justification for the preventative maintenance measures is the fact that there's no more expensive service than the service that needs to happen. There are hard numbers out there that show emergency service is going to be more costly than planning a service visit to the location. And a lot of times with these systems—whether they're refrigerated assets or not—you don't know that there's a problem until there's a failure and someone has to call and report it to you. So planned maintenance means getting there earlier to help prevent the system from failing—and it's going to save you on energy costs. Because when these systems start to fail, they start using more energy. And you don't know that unless you're using some kind of IoT device to monitor the power consumption of the unit. So comparing emergency costs to preventative costs—and looking at the higher energy consumption of poorly maintained equipment—shows the benefits of inspecting these pieces of equipment earlier in their lifecycle.
What does routine maintenance entail, and how do the components touched affect the energy consumption/ emissions/ lifespan/ breakdown frequency of the equipment?
What types of data are collected during routine maintenance that can help a business lower their overall costs associated with refrigeration—and what can these different types of data reveal about various aspects of facilities management?
How big of a difference can IOT, automation, and new equipment features make to a company's bottom line? How do these benefits extend beyond equipment and energy expenditures?
So IoT are connected devices. It's a powerful tool, because it gives you insights without having someone on hand to look at a piece of equipment. Instead of waiting until the planned maintenance—where you can physically be there and physically see that there is a problem—you can leverage these automated processes and see specific data points that allow you to be even more proactive than just doing planned maintenance. The other thing that's kind of overlooked in the industry is that as equipment becomes more smart, it can also be integrated. So it doesn't have to be just a refrigeration system or HVAC monitoring system—it can impact all aspects of the business. And this goes well beyond equipment and energy expenditures. Because you're investing in the more efficient assets, which can bring the equipment to the next level, it gives you that level of data that you can use to push forward your initiatives within the company and drive sustainability goals.
What are some market trends in the EU for facilities infrastructure & equipment, and how can businesses take a proactive approach to meeting their sustainability goals?
What changes do you see in the next 5 years around energy and sustainability? What about the next 25 years? 50 years?
I think in the next five years, we're going to see a huge focus on IoT and smart assets. I think, today, the industry is a little bit fragmented when it comes to these technologies, because there's a lot of players in the industry that offer IoT solutions. There's a lot of technology in retail that's old, outdated, and has different pathways to viewing the data. And I think for that, for the next five years, there's going to be a focus on filtering that information and consolidating it into one platform where you can see all the data about the retail location in one place—no matter the age of the technology. I think in the future, there's going to be iterations on that movement, which is trying to get to that end point of the self-managed facility, where the information on an unmanned facility comes into a centralized location where you look at the data, you analyze the data, which will tell you the condition and performance of each retail location.
What action can business leaders take today to start building a foundation for future sustainability and profitability despite the many global energy challenges ahead?